iven the new interest in incentives demonstrated by the Canadian and Ontario governments when it came to huge automotive projects in recent months, Quebec might have been pardoned for feeling a bit ignored.
, which makes its home in Montreal, wasn't about to ignore the province when it came to deciding where to site assembly for its C-Series mid-sized jets, even with a game competing offer from Northern Ireland.
Aided by newly promised funds, Bombardier announced on Friday, May 13, that Montreal would indeed be the home of its $2.1-billion assembly site, which brings with it the promise of 5,000 jobs. The cost of development is expected to be shared equally with suppliers and governments, and Canada and Quebec have taken out the checkbook accordingly. A total of US$277.5 million from Canada and $87.2 million from Quebec will be forthcoming. But WTO challenges to that financial support from Bombardier's Brazilian competitor Embraer and from U.S. trade officials may be in the offing.
"The province of Quebec was selected as the final assembly site location because of the Canadian and Quebec governments' competitive partnership offers, as well as the overall favourable economic and manufacturing context,"' Bombardier said in a statement.
But the company's Belfast, Northern Ireland, location isn't losing out. The company has pledged to construct the aircraft's wings, engine nacelles and composite empennage — provided the $340 million promised by the U.K. comes through. Various accounts have pegged the seat count at anywhere between 100 and 135 seats.
But all of those transatlantic investments are contingent on one more thing: orders placed for the product. The count so far? Zero.
Besides the threats from Embraer and the U.S., the good news was somewhat dampened one week after the announcement, when it was announced that Bombardier had not managed to negotiate an engine contract for the new plane with either of the chief aerospace engine consortia: International Aero Engines (Rolls-Royce PLC and Pratt & Whitney Co. Inc., among others) and CFM International (General Electric Co. and Snecma Group of France). But that may just be a hiccup, as the company seeks now to negotiate with those companies on an individual basis. If a new engine is sought, development costs could add another $1 billion to the tab.
The original competition for C-Series assembly included Bombardier plants in Toronto and in New Mexico. Some speculated that if Ontario got another major corporate investment just after its huge successes with GM and Ford ($1.9 billion and $818 million, respectively), well, there might be
Meanwhile, New Mexico officials grew frustrated by continual delays in the final selection process, suspected being used as leverage and withdrew from the competition in early March.
But the biggest lever was union labor, which reached a key agreement with the company on March 6, 2005. As reported in the May issue of
, the Montréal plant's 6,300 workers themselves sent a powerful message by voting for a wage freeze in the first year of a six-year contract. The agreement would also reduce overtime and employee absenteeism. Bombardier spokesperson Sylvie Gauthier said the vote was of great interest to the company, and was "something we will consider seriously" in the final recommendation.
Now all Bombardier needs is some serious vendor and customer consideration.
A
s Bombardier queues on the runway to its product launch, another Canadian flight team pursues vertical liftoff.
That's the Maritime Helicopter Team, composed of
United Technologies'
Sikorsky division,
L-3 Communications MAS
and
General Dynamics
. Their goal is the successful deployment of Canada's new Cyclone fleet of military helicopters, and helping them toward that goal will be a new US$35.6-million Maritime Helicopter Training Center in Shearwater, Nova Scotia, that will eventually result in as many as 160 direct and indirect jobs.
The project comes in the wake of a November 2004 agreement between the Canadian Forces and Sikorsky International Operations for the provision of 28 Sikorsky H-92 helicopters, which the Canadians have dubbed the CH-148. The two-part contract includes $1.4 billion for the aircraft and and $2.6 billion for 20 years of service and parts.
The three-story facility, designed to meet the requirements for the Leadership in Energy and Environment Design (LEED) Silver Certificate, is expected to be ready by April 2008, under the construction leadership of PCL Constructors Canada. Under the contract terms, the first helicopter is expected to be delivered in November 2008.
Mirabel, Quebec-based L-3 MAS, a Canadian provider of aircraft fleet management, product life-cycle extension, support services and aircraft maintenance to government departments and agencies and commercial customers, employs 850 people at operating centers in Cold Lake, Alberta; Ottawa, Ontario; Montreal and Bagotville, Quebec; Fredericton, New Brunswick; and Williamtown in Australia.
Sikorsky goes back a long way with both the Canadian Forces and with Shearwater, where its Sea King helicopter — which the CH-148 will replace — was first deployed in 1963. The base itself was first established in 1918, and was designated as 12 Wing Shearwater in 1993.
General Dynamics Canada's role on the team is providing systems integration.
Spinoff So Far Includes
Connecticut Office, Lawsuit
In addition to the Shearwater complex, the contract has already resulted in new space in the U.S. as well: A 25,000-sq.-ft. (2,323 sq.-m.) office on Sikorsky's property in Stratford, Conn., where 180 Sikorsky employees work on the project. According to the Connecticut Post, the space includes "a 5,000-square-foot (465-sq.-m.) 'secure' area where 17 Canadian government employees will oversee the project," with Team staff from all three companies filling out the rest.
Meanwhile, the contract is being challenged in Canadian court by a losing bidder, AgustaWestland, which has called the Canadian government's bid evaluation "biased, unfair and contrary to the rules of the procurement."
But the April 21 groundbreaking went ahead without a hitch.
"The new centre will be among the most advanced of its kind in the world," said Paul Martin, Sikorsky's Senior Vice President, Government and Advanced Programs (and no relation to the eponymous Canadian Prime Minister). "This is yet another milestone that illustrates our team's commitment to ensure this program progresses according to schedule. We are on target for the first flight of Canada's new Cyclone in November 2007, and for deliveries to begin in November 2008."
Further spinoff promises to be substantial in this key geography. In a November 2004 speech to the Aerospace and Defence Industries Association of Nova Scotia, Nova Scotia Minister of Economic Development Ernest Fage noted that the direct payroll of military spending in the province hovers around US$514 million and employs 5,000, with overall spending arching toward $791 million.
"Major capital projects like the Maritime Helicopter Program will have a huge impact on increasing jobs over the coming decades," he told the audience. "It's the biggest news in our aerospace sector in recent history. The Maritime Helicopter Program is a major investment in the skills, infrastructure, and the design and manufacturing base of Atlantic Canadian partner companies. The consortium is already pursuing the local supply community, with benefits promising to total almost one billion dollars [Canadian] for Atlantic Canada.
"This sector has the capacity to take on major projects," he said. "And we have the potential to expand even further. Growth through major projects like the Maritime Helicopter Program will build the credibility of our region even more, and attract other commercial opportunities and more jobs to this region."
For more on Canadian and Nova Scotia projects, check out "Canada 2005,"
Site Selection
's just-published annual look at industrial development in the country. The Web edition includes an exclusive interview with Nova Scotia Premier John Hamm.
---
Toyota's Appalachian Spring
by

ADAM BRUNS,

Site Selection Managing Editor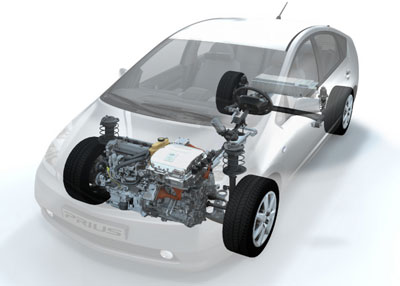 "According to the Hybrid Vehicle Sales Forecast, more than 50 hybrid nameplates could be on the market by the end of this decade alone. Why is this happening?" Jim Press, Executive Vice President & COO Toyota Motor Sales, U.S.A., Inc., asked attendees at the California Clean Energy Roundtable in January. "Because we have proven to consumers that hybrids can help the world without undue sacrifices on their part. They get 50 percent better mileage, improved performance and reduce smog-forming emissions 90 percent. And our costs are declining as volume increases." The company anticipates producing 100,000 Priuses for the U.S. market alone in 2005.
T
he irrepressible kaizen of
Toyota
is continuously improving regional economies throughout North America. The company just announced its $150-million
R&D investment in Michigan
, and rumors based on executive comments made in Japan are pinning Ontario as a likely location for another assembly plant. But the latest concrete outgrowth of the company's apparent North-South strategy has been series of reinvestments in West Virginia, Tennessee and Kentucky.
On May 17, Toyota Motor Manufacturing North America (TMMNA) announced it would add $10 million to the cumulative $5.3 billion in investment it has made at its Georgetown, Ky., plant since 1986 to produce a gas-electric hybrid model of its popular Camry vehicle. While no new construction or employment is planned, it's the first North American hybrid line for the company, and stands as just the first of many steps to come.
"Once the decision was reached to make a hybrid version of our best-selling vehicle — the Camry — the Georgetown plant was the natural choice for Toyota's first North American hybrid production," said Gary Convis, president of TMMK and a managing officer of Toyota Motor Corporation. "Our team members' hard work and dedication over the last 20 years will ensure that the production of these cutting-edge vehicles in Kentucky will also be hugely successful."
Hybrid Camry details are forthcoming, but the company's responsiveness has already produced the Prius and the Lexus RX 400h luxury hybrid SUV, which reached dealerships in April. In June, the Toyota Highlander Hybrid mid-size SUV will go on sale, and the 2007 Lexus GS 450h hybrid luxury sedan is targeted for sale in the spring of 2006.
Sippers vs. Guzzlers
"The continued success of Prius has demonstrated consumers' growing demand for hybrid vehicles," said Jim Press, Toyota Motor Sales, U.S.A. executive vice president and COO and a managing officer of Toyota Motor Corporation. "Hybrid production in the U.S. will allow us to be even more responsive to the desires of our customers."
That statement echoed sentiments Press expressed to the California Clean Energy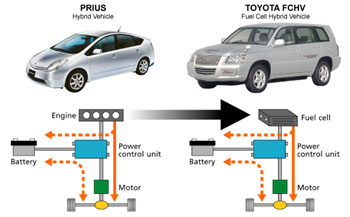 The hybrid systems of Prius and Toyota FCHV.
Roundtable held in Half Moon Bay in January. In fact, he noted that California "accounted for about one third of all U.S. hybrid sales, more than three times greater than Virginia, the next highest state." Press said there was a one-year backlog for Prius orders, and that the company planned to manufacture 100,000 of them in 2005 for the U.S. market alone.
But that state's climate for both operations and sales has been complicated by AB 1493, a set of regulations signed into law in 2002 that aim to reduce carbon dioxide and other emissions from cars and light trucks by 30 percent in a mere 11 years. As the California Air Resources Board looked to begin implementing the regulations, the Alliance of Automobile Manufacturers in December filed suit in federal court to block the California-only regulation from becoming law.
"At Toyota, it was a very difficult decision for us to join the automaker suit against California, especially due to our long history of supporting environmental progressiveness and working closely with government agencies here," Press told the roundtable in January. "But AB 1493, even though it has an admirable goal, takes a fragmented approach and creates an impossible situation where we would have to build different mileage cars for different states. And, it will restrict the kinds of vehicles customers want and are willing to buy. So, in the end, we chose to join the suit, with the thought that we could act as a positive force in creating alternative solutions."
For now, the positive force is creating real development and real jobs in other states.
Good News Comes in Clusters
A couple weeks prior to the Kentucky announcement, Toyota subsidiary Bodine Aluminum, still developing its new facility in Jackson, Tenn., announced it would boost employment by 20
(to 220) and investment by $40 million (to $164 million). Why? Because three days earlier, Toyota had announced a $120-million expansion of its engine and transmission production at its complex in Buffalo, W.V.
Bodine will begin casting aluminum transmission cases and housings in 2007, and will reach an annual capacity of 270,000. The facility is rising on a 200-acre site at Jackson's Airport Industrial Park.
"We haven't even started production but our business is growing," said Bodine President Bob Lloyd. "We're grateful for the support provided by state and local officials, and the entire community. We have been warmly welcomed."
Echoing a company philosophy that has been vividly stamped on the U.S. consumer's consciousness, Atsushi Niimi, president and CEO of TMMNA, said, "With the growing demand for Toyota vehicles comes a responsibility to build those vehicles where we sell them. The same is true for parts such as engine blocks and transmission cases and housings."
Niimi was fresh off the plane from Buffalo (W.V.), where the plant's automatic transmission capacity is being raised by 240,000 to 600,000 annual units. This fifth investment in the nine-year-old plant brings its cumulative investment to more than $920 million. What's more, employment will grow by another 150 jobs, bringing the Buffalo payroll to 1,150, or nearly quadruple its original size. It was only in April 2004 that the company announced an expansion to manufacture automatic transmission gears, slated to begin in 2006.