T
he payoff for Kentucky's latest trio of corporate facility projects promises to be much higher — if not more dramatic — than the high price paid for exotic bets on Giacomo at this year's Run for the Roses. But given the Commonwealth's recent economic momentum, nobody's calling these victories flukes.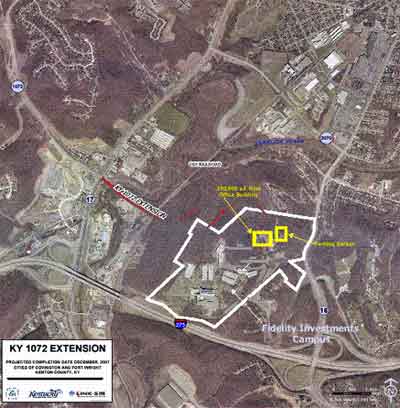 Fidelity already operates three buildings on its Covington, Ky., campus totaling approximately 780,000 sq. ft. (72,462 sq. m.). When the new facility is complete, Fidelity will relocate more than 700 employees currently in Blue Ash, Ohio leased space to consolidate its Midwest operations entirely on the Covington campus.


Click on the image above to view a high resolution pdf version of the map.
The first week of June was indeed a propitious one for the Bluegrass State. First to the wire was Boston-based Fidelity Investments, which announced June 2 that it would consolidate its Midwest operations with a $115-million expansion of its Covington campus. The integration will result in 1,500 new jobs in Kentucky, though no doubt some of those new employees will come from just across river in Ohio and Indiana.
The financial services and investment company will begin construction later this year on a new 350,000-sq.-ft. (32,515-sq.-m.) facility on its 188-acre (76-hectare) campus, where more than 2,900 employees already work. The building will be the fourth built on the Covington campus since 1994 and is expected to open as early as the end of 2007.
"Fidelity wants to thank Governor [Ernie] Fletcher as well as all of the elected officials and business leaders who have worked hard to create a positive business climate, and a highly educated and talented work force here in Kentucky," said Fidelity Investments Vice Chairman and Chief Operating Officer Robert Reynolds.
Covington serves as one of Fidelity's nine regional sites across the country. The others are situated in New Jersey, Massachusetts, Rhode Island, New Hampshire, New York, North Carolina, Utah and Texas.
According to the Kentucky Cabinet for Economic Development, the incentive package includes tax benefits up to $10 million under the Kentucky Jobs Development Act (KJDA), a program administered by the Kentucky Economic Development Finance Authority (KEDFA) and aimed at increasing the number of service- and technology-related jobs in the state.
In addition, as part of the Kentucky Transportation Cabinet's Six-Year Road Plan, a connector road near the Fidelity campus will be completed by December 2007. The $17.5-million project is also seeing funding and maintenance from the City of Covington and Kenton County Fiscal Court, and will open up more than 250 acres of landlocked property in Covington and in Ft. Wright for development.
Grass is Greener ...
Hydro-Gear, a manufacturer of commercial and consumer lawn and garden products, is moving a portion of its transaxle production from Sullivan, Ill., to Princeton, Ky. by November 2005 with the acquisition of a 67,500-sq.-ft. (6,271-sq.-m.) building on 30 acres (12 hectares) in the Princeton Industrial Park. The company's June 6 announcement touted a $3-million investment and 150 new jobs in the Caldwell County community, adjacent to the Western Kentucky Parkway and about an hour and a half southwest of Evansville, Ind.
"We chose Princeton for its strategic location and the community's strong work ethic," said Ray Hauser, president of Hydro-Gear.
"We have a very aggressive startup schedule, but it is the first of many important milestones in making the Princeton operation a long-term success," added Hydro-Gear's Vice President of Operations Mike Todd.
In this case, KEDFA has approved tax benefits up to $3 million under the Kentucky Industrial Development Act (KIDA), a separate incentive program aimed at increasing manufacturing employment in the commonwealth.
Another Game in Town
Finally, back in the home of the Kentucky Derby, media services company Sonopress LLC and Coral Graphics Services, both part of the arvato/Bertelsmann family of companies, announced on June 7 a joint venture to open a 260,000-sq.-ft. (24,154-sq.-m.) production facility that will open next month.
The 100 jobs created at the unique joint complex will pay anywhere from $10.45 to $34.76 per hour.
The Louisville facility will initially house printing, auto assembly and display build capabilities and focus on the entertainment and software industries. And the companies anticipate the integrated printing, product assembly and distribution processes wil greatly enhance their time-to-market.
"It is estimated that 60-70 percent of sales in the gaming industry occur during the first month of a title's release," said Joe Mann-Stadt, president and CEO, Sonopress US. "Therefore, it is absolutely critical that game publishers have an efficient supply chain to ensure that their titles are consistently available to retailers at a moment's notice. Our new facility in Louisville will enable us to produce, package and distribute high-quality games and software in a rapid and cost-effective manner, giving our customers even more confidence that their products will be on shelves during crucial sales periods."
On the ground, that means Coral Graphics will turn around projects fast for Sonopress customers.
"This partnership will be a significant benefit to the customers we serve and to both companies," said Dave Liess, president and CEO, Coral Graphic Services. "Our extensive decorative capabilities and technical expertise in prepress, remote proofing, digital printing and conventional offset and finishing, combined with Sonopress' packaging and replication services will create an efficient and competitively priced solution."
KEDFA has approved Sonopress for up to $2.5 million in start-up cost fuinds under KJDA.
---
Far From the Final Turn
by

ADAM BRUNS,

Site Selection Managing Editor
T
he Daytona Beach, Fla.-based National Association for Stock Car Auto Racing (
NASCAR
) wants to build a Hall of Fame. The race to land it has been going since January, and is now down to five contenders: Richmond, Va.; Daytona Beach, Fla.; Kansas City, Kan.; Atlanta, Ga.; and Charlotte. Final bids from those cities arrived in late May, after efforts in Michigan and Alabama ran out of fuel.
Atlanta's bid is estimated at $92 million,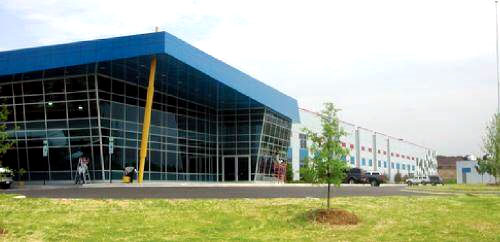 The NASCAR Technical Institute in Mooresville, N.C., certainly sets a Charlotte-area precedent for NASCAR-related facilities that don't require turning left.
but that's the low ball in this group. According to documents obtained by the Atlanta Journal-Constitution through Georgia's open records law, the state would pony up some $25 million for the Atlanta site, with the city itself offering some $5 million in tax breaks related to a downtown location. That would be some distance from the metro area's Atlanta Motor Speedway, located some 30 miles (48 km.) outside the city proper near Hampton.
Another $30 million would come from major Atlanta-based corporations that are already used to seeing their names plastered across NASCAR racing vehicles every weekend, among them Coca-Cola, SunTrust and Home Depot.
A study from Deloitte Consulting that was part of the Atlanta bid package projected as much as a $1-billion economic impact and 1,200 new jobs in the hall of fame's first 10 years, according to the Journal-Constitution.
Running Loose
Charlotte would certainly seem to be the city to beat. The city's campaign is summed up in its slogan: "We Eat, Sleep & Breathe Racing."
According to the Associated Press, Charlotte's bid is valued at some $137.5 million, to be funded in part by a 2-percentage-point increase in the city's hotel/motel occupancy tax. In addition — much as it would for a corporate manufacturing project — the state would pay for a highway interchange reconfiguration.
Atlanta bidders shot the moon in visitor projections of 1 million, while Charlotte estimates a more modest 500,000. Certainly Charlotte's choice of architect will help its chances: I.M. Pei, known for his work on the John F. Kennedy Presidential Library in Boston, the Louvre addition in Paris and the Rock and Roll Hall of Fame in Cleveland.
Alert readers will recall that the Charlotte-area community of Mooresville is already home to the
$12-million NASCAR Technical Institute
. That area is home to some 50 racing teams.
Richmond's bid amounts to $103 million, while Daytona Beach's bid came in at $105 million, which does not include $30 million from the state that Florida lawmakers voted against.
But if the age-old site selection adage that location is really determined by executive residence preference is any indication, this Florida home of the organization's founding France family and NASCAR headquarters might be a not-so-dark horse.
Payment and Profit
Now comes the battle of economic impact studies, which some would call over-wrought guessing. But one thing seems pretty certain: Building ownership details and ultimate profit destination would be — like everything else involving NASCAR — subject to negotiation with the Frances. The organization is now headed by Brian France, grandson of NASCAR founder Bill France, Sr. His sister Lesa France Kennedy runs International Speedway Corp., which owns 11 of the NASCAR tracks. Bill France, Jr., and his brother Jim.
A poll being conducted by
ThatsRacin.com
shows Charlotte in the lead among some 30,100 voters as of June 8, with 47-percent of the meaningless vote. Kansas City's $100-million bid, featuring a design by HOK Sport+Venue+Event, was bumping Charlotte's fenders however, with 42 percent. But one voter comment favored an alternative process:
"My answer isn't on the list," wrote somebody named RacinRhino. "It should be located anywhere that NASCAR is willing to pay for it out of their pockets."
NASCAR anticipates visiting sites this summer and making a final decision by the end of 2005.
---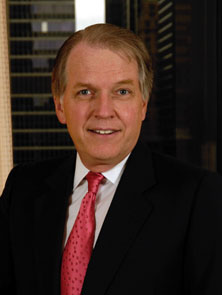 Jeff Peek, chairman
and CEO of CIT Group
C It Move
by

ADAM BRUNS,

Site Selection Managing Editor
I
t's re-naming its Livingston, N.J., campus as "CIT Corporate Center," but the Big Apple global headquarters of CIT Group Inc. will move one street over to 505 Fifth Ave.- the "CIT Building" — in Manhattan during the first quarter of 2006, the company announced June 8.
"Our more prominent presence in and commitment to New York City complements our position as a true global leader in commercial and consumer finance," said Jeffrey Peek, Chairman and CEO. "In addition to the business activities at our headquarters site, we look forward to contributing to New York's vibrant community by supporting numerous arts and educational programs, as we continue to do in New Jersey."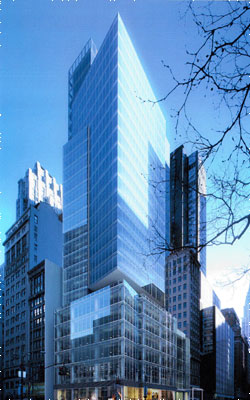 CIT Group will occupy 130,000 sq. ft. at the new building designed by Kohn Pederson Fox Associates at 505 Fifth Ave. in New York City. The 15-year lease was negotiated by CB Richard Ellis' Mary Ann Tighe, CEO of the New York Tri-State Region, and Gregory A. Tosko, executive vice president, on behalf of CIT, and Cushman & Wakefield's Paul Glickman, executive vice president, Matthew Astrachan, executive director, and Shawna Menifee, director, on behalf of the building's developer/owner, Axel Stawski of Fifth @ 42nd LLC.
More than 300 of the 550 employees currently located at CIT's offices at 1211 Sixth Avenue will make the move to the 300,000-sq.-ft. (27,870-sq.-m.) tower. Meanwhile, "the company will continue to evaluate the optimal mix and location for business operations in both New York and New Jersey." The New Jersey digs will still the principal base for corporate services and the Specialty Finance management team, said the company.
New Structures Everywhere You Look
The external move is just a concrete-and-glass reflection of CIT's recent internal move to get more lean, efficient and customer-focused.
Two days before the HQ announcement, CIT announced it was reorganizing its Commercial Finance group around an industry model, while also forming an its Investment Banking Services group to serve all sectors.
"The shift from a product-centric to a market-centric model is key to our overall corporate strategy, and with it, we will continue enhancing client service, identifying growth opportunities and improving our productivity," said Peek.
While the company will continue to serve customers across more than 30 industries, its industry focus will be organized into groups focused on aerospace, communications, media and entertainment, construction, diversified industries, healthcare, energy and infrastructure and rail.
Of the company's nearly $60 billion in assets under management, more than $5.1 billion is accounted for by aerospace, primarily through operating leases on some 329 planes.
The company's first-quarter financials reported an expense reduction of $17 million from the prior quarter, even as employee headcount grew by 270 to 6,130.