D
uring one week in June, a Spanish-Latin American energy company addressed at least two oceans' worth of its LNG strategy.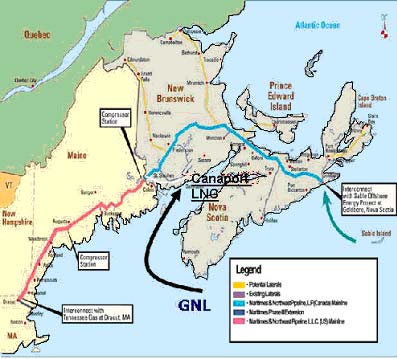 The Irving-Repsol YPF project in Saint John is the first of what may be several large energy-related projects to come in southern New Brunswick. Spinoff investment is already under way, as evidenced by the March 2005 announcement by Floating Pipeline Company Inc. that it would convert a warehouse within the Saint John Port Authority into a facility for manufacturing gas transport modules.
On June 7, Spain-based Repsol YPF and Canada's Irving Oil signed agreements to develop a US$750-million LNG import and regasification terminal in Saint John, New Brunswick, Canada, the first complex of its kind on Canada's East Coast. Key to the decision was a strongly opposed measure by the city's common council that froze property taxes at CA$500,000 (US$406,000) annually for 25 years.
The new operation — to be constructed, owned and operated by the newly formed company Canaport LNG — will have a capacity of 10 billion cu. m. (353 cu. ft.) per year of regasified LNG.
"This agreement is a key element for Repsol YPF's LNG projects in the Atlantic Basin, one of the principal vectors of growth for the 2005-2009 period as outlined in Repsol YPF's Strategic Plan," the company stated. For Irving Oil, it represents a crucial step in reaching Southern New Brunswick's goal of energy hub for North America's Eastern seaboard.
On June 2, Repsol reached an agreement with U.S. concern Hunt Oil regarding its strategy for Peru LNG and the Camisea fields that will mean the installation of a liquefaction facility in Pampa Melchorita, Peru. And again, the Spanish company referred to its strategic plan, "which contemplates growth in upstream and increasing the company's presence in those areas and businesses where there are high levels of profitability, such as the integrated LNG businesses in the Pacific Basin."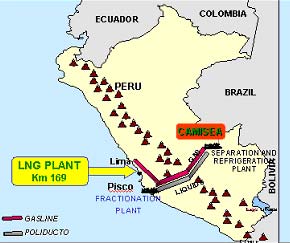 The Peruvian LNG investment by Repsol-YPF, Hunt and SK Corp. will aim its product toward the west coasts of Central America and North America.
Bicoastal Strategy
For the Canada project, Repsol will provide all of the LNG and will hold the capacity of the terminal. Irving Oil will market the regasified LNG in Atlantic Canada, while Repsol will market it elsewhere in Canada and in the U.S.
According to Irving, front-end engineering design for the terminal is now complete, and the companies plan to request proposals for engineering, procurement and construction (EPC) contracts during July. The goal is to be operational in 2008.
Opponents of the tax break petitioned the New Brunswick legislature in vain in May, hoping to halt the project that they say will cost the city as much as CA$125 million (US$101.5 million).
Meanwhile, the South America project, expected to be operational in 2009, will produce 4 million tons per year of LNG to be delivered "to the west coast of North and Central America."
Repsol YPF is the largest energy company in Latin America, as evidenced by its already strong selection of LNG projects in Venezuela and Trinidad &Tobago, as well as projects in Algeria and Iran. Hunt Oil and SK Corporation currently own the Peru LNG project. The new agreement brings Repsol YPF into the project as a third participant. It also involves the possible taking of a stake in Transportadora de Gas del Peru SA (TGP), the company that delivers natural gas and natural gas liquids from the Camisea area via a trans-Andean pipeline.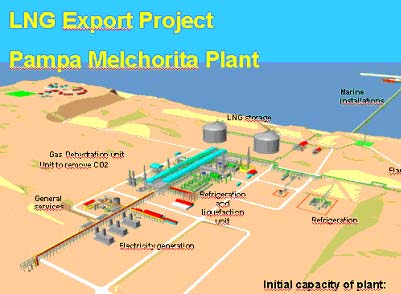 Pampa Melchorita was the second choice, after archaeological excavation at the Pampa Clarita site turned up culturally significant artifacts, including a 500-year-old mummy.
Once operational, the plant will draw raw material from the Camisea fields according to a separate 18-year agreement with upstream license holders. Plans call for shipping the LNG approximately once every five days.
In a detailed release, Repsol YPF explained the components needed for the complex, including "a unit for the reception and processing of natural gas; tanks to store the LNG; port facilities to load the LNG onto ships, including associated piping and a breakwater to create an area of calm water suitable for marine loading operations; administrative facilities, maintenance shops and warehouses; housing facilities for workers and associated sewage treatment."
In other words, both structure and infrastructure. That includes a desalination plant that will provide both potable and process water. The company plans to be self-sufficient for both water and electricity, using natural gas-powered turbine generators to meet its power needs. Related projects include construction of a gas pipeline from the Camisea fields to Lima, and a liquid export line.
Like the Atlantic Canada project, the site selection for the Peruvian plant was not without its hiccups. Only in this case, it had more to do with culture than tax base.
In this case, the originally chosen and most technically favorable site was Pampa Clarita, located 96 miles (154 km.) south of Lima. But as the company explains, "an archaeological site evaluation led to the discovery of the mummified remains of a two-year old boy that had lain under Pampa Clarita for an estimated 500 years. In an effort to avoid disruption of the area's rich cultural heritage, the decision was made to discard Pampa Clarita as a possible site."
---
Optimal for Optical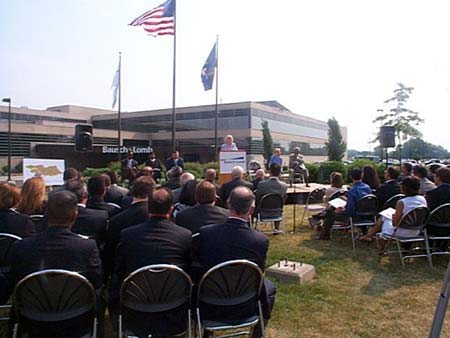 ON A CLEAR DAY, YOU CAN SEE ... well, maybe not forever, but the 150-year partnership between Bausch & Lomb and Rochester is only growing stronger with the company's latest R&D investment.
by

ADAM BRUNS,

Site Selection Managing Editor
U
p to 200 jobs will be created in Rochester, N.Y., as a result of a June 9 announcement by
Bausch & Lomb
that it would nearly double its R&D center in the city with a $35-million investment.
Five days later, one of the conditions of that investment was met, as the Rochester City Council voted to include a 22-acre (9-hectare) portion of the Optics Center campus in the City of Rochester Empire Zone, an action that, when approved by Empire State Development, will allow Bausch & Lomb to apply for various tax incentives through the Empire Zone program.
Meanwhile contact lens maker Coopervision said June 17 that it would invest $8 million in equipment and hire 225 people for a distribution center in nearby Henrietta that it will lease after a developer invests $12 million to construct it.
Not a bad week for Monroe County and the Empire State.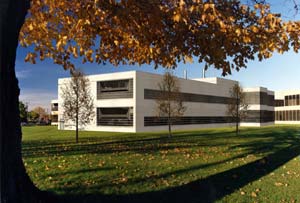 A rendering of Bausch & Lomb's new R&D wing.


Image credit: Flad & Associates
Momentum Builds ... Literally
Both projects could receive sales tax exemptions worth approximately $1.3 million. But they're not all that's unfolding in the county. Scannell Properties is working on a $9.1-million DC for FedEx Ground, also in Henrietta, and Unisys Corp. is creating jobs too.
Groundbreaking for the Bausch & Lomb project is slated for July, with a targeted completion date of early 2007. Plans call for a 75,000-sq.-ft. (6,968-sq.-m.), two-story building, with room for a 25,000-sq.-ft. (2,323-sq.-m.) addition. Approximately $25 million of the total investment will be spent on construction, with the balance going toward renovations, equipment and machinery.
"One of the deciding factors to expand our worldwide R&D center here in Rochester was the outstanding assistance from New York State, Rochester Gas & Electric, the City of Rochester, Monroe County and facilitated by Greater Rochester Enterprise," said Ronald L. Zarrella, Bausch & Lomb chairman and CEO since November 2001. "We thank them for their commitment to working together to improve the economic vitality of this region, and to making this an attractive location to grow our business and add jobs."
In addition to the Empire Zone assistance, the company is also eligible for a capital grant from Empire State Development. Incentives are also forthcoming from the County of Monroe Industrial Development Agency (COMIDA) and the City of Rochester.
"The impact of this project on the city cannot be underestimated," said Mayor William A. Johnson, Jr. "This is the home of Bausch & Lomb and our work force has been vital to Bausch & Lomb's growth for more than 150 years." For his part, Michael A. Finney, CEO of Greater Rochester Enterprise, lauded the economic development collaboration, and the highlighting of the region's strengths in optics and biotech.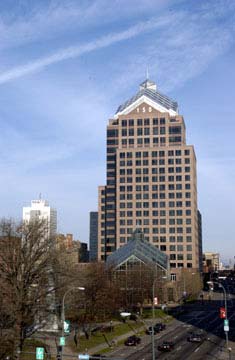 Bausch & Lomb World Headquarters building in Rochester, N.Y.


Photo credit: Tim Toal
The Strong Only Grow Stronger
Certainly Coopervision's project only makes it that much easier for Finney and his colleagues to make their case.
Coming in the wake of the company's acquisition of Ocular Sciences Inc., Coopervision's project involves shutting down Ocular's distribution complex in San Francisco, Calif. The volume from that center will be consolidated into a new 241,000-sq.-ft. (22,389-sq.-m.) facility in Erie Station Business Park in Henrietta, adding 225 jobs to the area's existing distribution center payroll of 206. In total, the company employs 948 people at three Monroe County facilities, including corporate offices in Perinton and a manufacturing plant in Scottsville.
"We worked closely with the company and local officials to help CooperVision expand and grow in Rochester," said New York Gov. George Pataki. "We're proud that they choose Rochester over a competing California location and decided that when it comes to finding the ideal place to do business, there's no better place than here in New York."
In consideration of CooperVision's commitment to New York State, the company is eligible to apply to Empire State Development for an $848,000 capital grant to assist with its proposed expansion and capital investment. Additionally, Monroe County will provide local tax incentives through its County of Monroe Industrial Development Agency (COMIDA).
"With this new distribution center in place, we will finally offer our customers the ability to order any product in our portfolio with a single phone call," said Jeff McLean, president of CooperVision's U.S. operations. "This represents a major investment on our part, and the incentives provided by New York State and Monroe County played a tremendous part in our decision-making process. We'd like to thank Governor Pataki and County Executive Maggie Brooks for their continued support. We look forward to a successful building project."
Headquartered in Lake Forest, Calif., Coopervision operates in 12 countries across five continents.
F
ollowing immediately in the wake of the dual South Carolina investments a few weeks ago by Canadian firm
Grant Forest Products
, fellow Canadian firm
Norbord Inc.
announced on June 15 a $135-million, 75-job investment to double its footprint in Cordele, Ga.
Construction is already under way, and scheduled for completion in late 2006.
"Canada is an important business and trading partner for Georgia, and this expansion illustrates the strong ties we have established," said Governor Sonny Perdue.
That relationship was reiterated later in the week in a speech by Canadian Ambassador to the U.S. Frank McKenna, before a group of diplomatic, government and business leaders at the Federal Reserve Bank of Atlanta.
As many as 152,000 jobs in Georgia are supported by Canadian trade, said McKenna, whose pedigree is more business than diplomacy. He joked that doing business with Canada can frequently enable Georgians to jump right past "those damn Yankees" to get things done. Canada wishes, meanwhile, that it could jump right past what McKenna called the "tough nut" of softwood lumber issues: "Crack that nut and we could really go places," he said.
Meanwhile, the wood and glue that make up OSB are holding together just fine for both parties.
Housing Drives OSB Demand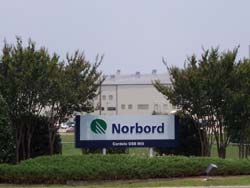 With six OSB facilities in the U.S. south, Norbord is just one of several OSB manufacturers that have found the region to its liking. Prime motivators? Equally promising supplies of both fiber and customers.
In addition to the cost-effectiveness of expandind at an existing location, Toronto-based Norbord found that the Cordele mill was in an optimal position for both fiber supply and markets.
"Expansion of the Cordele mill is consistent with our plan to continue growing our North American OSB business, particularly in the U.S. South where new housing construction is robust," said Norbord President and CEO Barrie Shineton in April, when his board of directors first approved the project, pending permitting. "In addition, the low-cost position, experienced work force and proven technology already in place at Cordele will ensure a fast start up with relatively low risk." He predicts that 200 additional jobs will be created by others in the region as a result of the Norbord expansion.
That expansion will enable the mill to add capacity of approximately 550 million sq. ft. (51 million sq. m.) of 3/8-inch panelboard product, taking the mill's annual capacity over the 1-billion-sq.-ft. (92.9-million-sq.-m.) mark. That in turn will ratchet up the company's North American and European capacity to approximately 5 billion sq. ft. (464.5 million sq. m.), at 11 mills.
The Cordele operation was built in 1991 and has been rated as one of the company's safest facilities. Norbord bought the mill in 2002. Other southern U.S. OSB mill locations include Huguley, Ala.; Guntown, Miss.; Jefferson and Nacogdoches, Texas; and Joanna, S.C. The company — the second-largest OSB producer in the United States — also operates a U.S. OSB mill in Bemidji, Minn., as well as a medium-density fiberboard mill in Deposit, N.Y.