O
il companies Exxon Mobil,
Saudi Aramco
and Sinopec in early July signed on to a US$3.5-billion refinery expansion in China's Fujian province. A few days later, an Aramco official said the company was also looking at a greenfield refinery joint venture with Sinopec, this one in Qingdao, in the northern province of Shandong. Meanwhile, other reports had the two possibly collaborating on a $1.2-billion greenfield refinery complex in eastern China. And Exxon is looking at another project in Guangdong in the south.
Saudi Aramco has already announced its intention to build an
integrated export refinery complex
worth some $5 billion in its home country. In addition, with Japan's Sumitomo Chemical Co., it launched a 400,000-barrels-per-day (bpd) integrated refinery and petrochemical complex in Rabigh, Saudi Arabia, in May 2004. That project, like the new Fujian project, is expected to come online in late 2008. The company is also looking at a $6-billion integration of its Ras Tanura Refinery and Ju'aymah Industrial Area complexes. All on the heels of the December 2004 opening of the Qatif Producing Plants Project, now the world's largest crude output facility, which raised the Kingdom's production capacity by 650,000 bpd.
In fact, Aramco is also working with Sinopec on a Saudi natural gas project, in the nation's "Empty Quarter," the Rub' al-Khali desert.
Aramco's footing in Asia was already solid, with stakes in projects in South Korea, Japan and the Philippines. But China — for Aramco as for other multinationals in other sectors — is the motherlode.
"Given the tremendous economic growth of your nation, and the extensive petroleum reserves and production capabilities of ours," said Saudi Aramco President and CEO Abdallah S. Jum'ah at the groundbreaking, "the bonds that join us together are among the most important energy relationships on the planet."
A Comprehensive Project Package
The promise of the 437-acre (177-hectare) Fujian project, located in the city of Quanzhou, lies as much in the downstream projects as in the downstream barrels. Included in the plan are a 650,000-metric-tons-per-year (tpy) polyethylene plant, a 400,000-tpy polypropylene plant and a 1-million-tpy aromatics plant. Such projects may draw the interest of fellow Saudi giant SABIC, which like Aramco is seeking opportunities for global downstream development in the petrochemical sector.
An added benefit of the Fujian project for Exxon and Aramco is the agreement's provision allowing the two companies their first access to China's retail sector, via some 600 service stations.
Initial agreements for the Fujian project were signed in August 2004, following Chinese government approval of the project's feasibility report in September 2002. The original expansion plan for the Fujian project, when approved by the Chinese authorities in 2000, only involved Saudi Aramco in the marketing joint venture portion. But now the company is fully involved in the production aspects as well.
"Partners intend that the project will become a world-class benchmark facility whose inherent synergies in integrated refining and petrochemical operations, as well as in manufacturing and marketing, will provide a competitive edge," read a release from Saudi Aramco. "The project is expected to further stimulate development of a broader petrochemical industry in China, and, in the process, enhance prosperity of the west-coast economic zone in Fujian Province, and provide economic opportunity for other Chinese enterprises."
The "Fujian Refining & Ethylene Joint Venture Project" will be split four ways, with 25-percent ownership each going to Exxon, Aramco, Sinopec and Fujian province. Projected to be complete in 2008, the project will have a refining intake capacity of 240,000 barrels per day. China's overall refinery activity is currently running at about 6.2 million barrels per day. A significant percentage of that total — some 450,000 barrels per day, or 7 percent — comes from Saudi Arabia.
In his speech at the groundbreaking, Jum'ah said, "By 2030, Chinese oil consumption is expected to more than double, rising to over 13 million barrels daily. Even more critically, China's oil imports will increase nearly five-fold over the same period, to nearly 10 million barrels per day — roughly equivalent to the United States' current crude oil imports."
But China is not the be-all and end-all for Saudi Aramco's global goals, as hinted at in Fujian by Abdulaziz F. Al-Khayyal, the company's senior vice president, Refining, Marketing and International.
"Asian markets are and will remain among the most profitable in the world," he said, "and we are keen to have a strong presence in Asia and the two other main global markets — Europe and North America — because these markets are strategically important."
---
Lafarge to Invest US$100
million in Aceh, Yanbu plants
by
ADAM BRUNS,
Site Selection
Managing Editor

In addition to its factory rebuild, Lafarge is simultaneously launching a program to rebuild 500 homes, a school, and a mosque in Lamkruet. The first phase of 275 homes should be complete by summer 2006 at a cost of approximately US$ 2 million.
Whether it's hurricanes, tsunamis or other natural disasters, rebuilding takes rebuilding materials, and French building materials giant
Lafarge SA
is doing its part in Indonesia.
Lafarge announced in early July that it would construct a US$90-million cement plant in Aceh, North Sumatra, Indonesia, to replace its PT Semen Andalas Indonesia facility, destroyed by the tsunami of December 2004. Lafarge originally located the plant there in 1982. The new factory will have a capacity of 1.6 million tons when it comes online in mid-2007.
But the community development by Lafarge goes well beyond the factory. The company is simultaneously launching a program to rebuild 500 homes, a school, and a mosque in Lamkruet, a nearby village about a mile away from the industrial site that was almost entirely destroyed.
"We have long been present in Indonesia, and today, beyond from the emergency situation, we would like to support affected populations and help contribute to economic development in this country, which is very needy in terms of reconstruction," explained Bernard Kasriel, at the announcement on July 7.
That same day, the company also launched a floating terminal named "Glory" in the nearby port of Lhoknga, where Lafarge will be able to unload up to 1,600 tons of cement per day from its Malaysian subsidiary. That measure should help the company meet the high demand for materials in Banda Aceh until its rebuilt plant is back up and running.
Shelter First,
Business Second
According to Lafarge, the first group of 275 houses should be completed by summer 2006, at a cost of approximately $2 million. "Lafarge will allocate its own funds to finance this operation, also using donations from Group employees throughout the world, and from other partners who offered their help for disaster recovery," announced the company. Lafarge has already renovated several mosques and schools in the province of Aceh, with the added service of mobile medical assistance across the area.
Each house, complete with running water and electricity, will include a bathroom, a bedroom, a living room, a kitchen, and a patio. This reconstruction program is overseen by Lafarge in partnership with Dompet Dhuafa Republika, which handles relations with local communities, Habitat for Humanity and Atlas Logistique, a construction site management firm.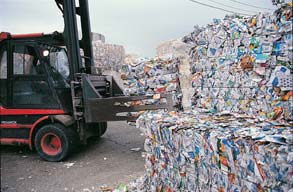 Used papers and cardboards recycled in plasterboard cardboards manufacturing.
Gypsum Growth
Everywhere Else
Lafarge announced its 40-percent stake in a plaster plant in Yanbu, Saudi Arabia. The Saudi plant is expected to come online in late 2006. It involves a 60-percent stake held by 13 different Saudi partners. It is expected to produce 300,000 tons per year of plaster. Lafarge says Saudi market demand has grown by 10 percent in the past five years. Project plans also include prospective spinoff manufacturing expansions for such products as ceiling tiles.
That's just one plank in Lafarge's global platform for growing its gypsum production by 20 percent in two years, following the division's after-tax ROI of 9.5 percent and 50-percent rise in operating income in 2004.
The company's plans to invest some $363 million in that span include its $75-million capacity doubling in New York, a $54-million plant in northern England, two new plants in Shanghai and Chongqing, a capacity doubling in Dangjin, South Korea; two projects in Istanbul and Ankara, Turkey; and a tripling of capacity in Bucharest, Romania.
In addition to the new incursion into Saudi Arabia, Lafarge is also entering other new markets with gypsum projects, including new plants in South Africa, Ukraine, Mexico and Algeria.
---
Survey Says:
Swedish and Swiss precision
instrument firms expand
(and retract) in U.S.
by
ADAM BRUNS,
Site Selection
Managing Editor
In a 360-degree turnaround from its plans to exit
Rhode Island for greener pastures in Connecticut
,
Hexagon Metrology North America
has signed a lease agreement with the Quonset Development
Corporation to develop a new 115,000-sq.-ft. (10,684-sq.-m.) facility on approximately 14 acres of land in Kiefer Park, Quonset Point.
In early 2005, an offer that in its 2003 incarnation included a site at the Quonset park fell through when it wasn't backed by an incentive offer from the Rhode Island General Assembly. As a result, and with $6 million in incentives and additional property tax breaks being offered by the State of Connecticut, Brown & Sharpe was going to relocate across the line to North Stonington, Conn.
Rhode Island Gov. Donald Carcieri in 2003 proposed that the state construct an $11.6-million, 116,000-sq.-ft. (10,776-sq.-m.) facility at the state-owned park. But the proposal, despite its approval by the state's economic development corporation, was shot down by the legislature during the summer of 2004, owing to concerns about the risk of the company walking away from the deal. Brown & Sharpe had been located in Rhode Island for more than 170 years, and had offered to pay annual debt on the facility for 15 years minimum.
A spring 2005 offer by Carcieri's office included $12 million of financing arranged through Sovereign Bank, as well as $4.8 million in incentives over and above that amount. But as of mid-March, the company was fully planning on transferring its 270 positions to North Stonington, and had already invested $2 million on 13 acres (5.3 hectares). The company was slated to receive a $4-million loan from the state, payable over 10 years at a 2.5-percent interest rate. An additional $2 million from the state's Urban Act program would have gone to the town for infrastructure improvements, and the town itself was ready to grant tax abatements.
"Connecticut presented to Hexagon a number of attractive incentives to assist us in the relocation process that made this clearly the best choice from among those we were considering, including our Rhode Island options," said Bill Gruber, president and CEO of Hexagon Metrology North America and Brown & Sharpe Inc. in February. In June, the tune was decidedly different:
"We are glad to have finally brought this process to a conclusion, and are pleased with the Quonset Point location," said Gruber. "Our primary motivation now is to move forward with construction and move into the new facility as quickly as possible. Our reason for relocating is the same as it's always been — we need a facility that better suits the operational requirements of our business as it exists today. A new facility at Quonset Point will meet these needs with minimal disruption to our operations and staff.
"With regard to the Connecticut plans, Gruber continued, "we really appreciate all the effort that the people of North Stonington had made on our behalf, including all the departments and commissions involved, and in particular First Selectman Nicholas Mullane. In the end, however, Hexagon and the State of Connecticut were unable to agree upon the terms and conditions of the State's assistance agreement."
Taking Shelter in Quonset
The news is the latest in a string of good developments involving Quonset. Southeastern New England Shipbuilding Corp. (SENESCO Marine), a double-hulled petroleum barge manufacturer and ship repair company based in Providence, had grown to 250 people in its brief five years of existence. In November 2004, it was positioned to grow to around 560 people in just one year. All that stood in the way was a $48-million statewide referendum bond issue to improve infrastructure in the 3,000-acre (1,214-hectare) state-owned Quonset Davisville Port and Commerce Park it calls home.
State officials said the measure's approval would result in 10,000 new jobs at the park, whose tenants currently employ around 6,000 people. By a vote of 57 percent to 43 percent, the measure passed.
Even before that, though, SENESCO had agreed to a 20-year land lease with the state, as well as leasing another former Navy warehouse on the property. In addition to paying approximately $587,000 annually in rent, the company is splitting with the state some $1.9 million worth of property improvements.
In June, that investment was followed up by one from the Rhode Island Economic Development Corp. [www.blueskyri.com], which is establishing a Marine BioScience Research and Business Park in that same development. Backed by its significant academic and marine resources, the state is positioning the park in response to previous studies that have identified regulatory permitting, financing, water-quality consistency and high cost-to-benefit risks as key factors limiting the growth of the sector.
The $19.5-million phase one of the project will feature laboratory suites for researchers to pursue their business ideas. Later phases call for commercial production facility sites.
"By moving forward with my vision for the Marine Bioscience Research and Business Park,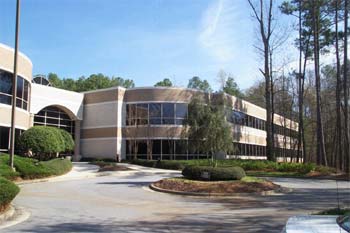 Located in Technology Park North in Norcross, Ga., this building will be the North American headquarters for Leica Geosystems and feature a state-of-the art corporate demonstration room, showcasing all of its divisions and technologies.
we are setting the foundation for us to attract new business from throughout the world to locate here and for existing companies in this important field to grow," said Carcieri. "This marks a significant investment in our scientific infrastructure, which will have a lasting legacy on our state for years to come."
Looking for More?
The Hexagon Metrology group of Hexagon AB (Sweden) is the world's largest manufacturer of precision dimensional measurement equipment and software, with ten manufacturing facilities on four continents and more than forty sales and support locations worldwide. But it's been looking to get bigger by acquiring the fellow European parent of another expanding North American operation.
Leica Geosystems is expanding into a 100,000-sq.-ft. (sq.-m.) regional headquarters for the Americas in Technology Park in Norcross, Ga. Leica Geosystems says the move will enable it to further leverage the resources of its operational units and drive its effectiveness in the market. The Norcross location offers a state-of-the-art demonstration room, enabling the company to showcase all of its technologies and divisions under one roof.
"Leica Geosystems has a strong position in the US and is market leader in spatial information technologies," said Hans Hess, CEO of Leica Geosystems. "Now, we further expand our local presence, supported by a dedicated team that knows the Americas market and its customers very well."
Concurrent with that announcement, Leica announced that it was acquiring Calgary, Alberta-based geospatial imaging firm Terramatics. Now Leica Geosystems itself is the target of an unfriendly $853-million bid by Hexagon to Leica shareholders. To counter the move, Leica has moved to buy back some $78 million worth of its own shares.
Leica has asserted that the offer does not appropriately value the company nor its growth prospects.

---
Work Proceeds on
$440-Million Alcoa Australia Project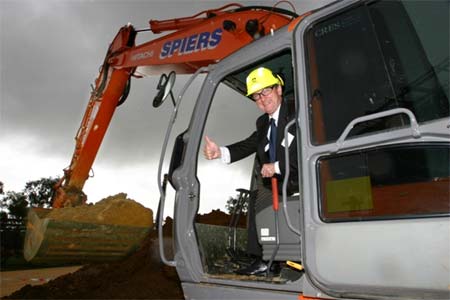 State Development Minister Clive Brown marks the start of the Pinjarra Efficiency Upgrade.
by
RON STARNER,
Site Selection
Director of Publications
PINJARRA, Australia
— One of the world's most successful and cost-efficient alumina refineries is undergoing a major facelift. In Pinjarra in Western Australia, Alcoa has embarked on a massive, $440-million project that represents one of the world's largest alumina plant expansions.
The project, first announced in July 2003, reached a milestone in April 2005 when Alcoa World Alumina Australia established a new office in Pinjarra as part of major changes designed to position the company for further growth in the region.
"Pinjarra is the most cost-effective refinery in the Alcoa system and produces 6.3 million metric tons of aluminum per year, or about 7 percent of the world's capacity," says Jim Winter, manager of corporate real estate for Pittsburgh-based Alcoa Inc. "Also, this plant is the most efficient in the world. The expansion project will increase our production in Western Australia by 600,000 metric tons per year."
The $440 million that Alcoa is spending is mostly an investment in new technology, but it is also adding new jobs to the town of Pinjarra, a largely agricultural community about 86 kilometers south of Perth and 19 kilometers inland from the coastal resort town of Mandurah.
The new Alcoa offices will house some 70 workers, most of whom are currently located at the firm's office in Booragoon. Alcoa director of finance and business services Tom Adams said that the decision to move some key positions closer to Alcoa's regional operation would improve service delivery and bring many business functions closer to company stakeholders.
"Importantly, the decision will also create major benefits for Pinjarra and the Peel region," Adams said. Those benefits include increased company expenditures in the local region;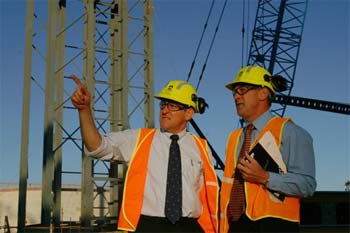 Federal Minister Ian Macfarlane views the construction with Alcoa Managing Director Wayne Osborn
employment opportunities associated with office construction; and improved communications and engagement with local communities.
"Ultimately, Alcoa must maintain competitiveness in a highly competitive global market, and this means being prepared to continually review our operations to ensure best practice in all areas of the business," said Adams. "This restructure is about securing our future in Western Australia and reaffirming our strong commitment to Pinjarra and the Peel."
Alcoa, the world's largest alumina producer, already directly employs more than 1,000 people at its Pinjarra refinery, plus hundreds of local contractors. The refinery upgrade will add up to 1,000 contractors on site during the project.
The expansion project is expected to be completed sometime in 2005.
Winter added that several factors were critical in the company's decision to expand the Pinjarra refinery. "The major factors were the efficiency and technology that was implemented there, as well as the labor, labor costs and utility costs," he noted. "Plus, the transportation costs were extremely beneficial, and this location gives Alcoa access to raw materials and key markets around the world."
Winter also credits the Australian government for making the project so attractive.
"Back in July of 2003, we began an engineering study to look at efficiency upgrades," says Winter. "We wanted to improve the environmental outcomes. We do studies such as this to make sure that it won't affect the environment negatively. We dealt with the local and state government and established a new benchmark for community engagement on projects such as this."
Winter even noted that the chairman of the Environmental Protection Agency of Western Australia described Alcoa's community engagement as a "best practice."
"We found the Australian authorities to be pro-business, and they helped us establish relationships with different stakeholders in the community," Winter notes.
When completed, the Pinjarra Efficiency Upgrade will increase export revenue by up to $160 million per year and increase the financial contributions Alcoa makes to local communities each year — currently $1.1 billion.
"Improving our competitiveness will provide secure employment for more than 4,000 West Australians employed by Alcoa in regional communities and 15,000 indirectly employed throughout regional Western Australia," said Wayne Osborn, managing director of Alcoa. "The upgrade project will create a peak of 1,000 jobs during the construction phase."
Worldwide, Alcoa has 120,000 employees in 41 countries. Winter, who manages all global facilities for Alcoa, is a member of the Atlanta-based Industrial Asset Management Council.
For more on Alcoa's global facility build-out, don't miss
Site Selection's exclusive interview with the president of Alcoa Russia
, from our July 2005 issue.