E
arth was going to move one way or the other where Campbell Soup Company's StockPot plant in Woodinville, Wash., was concerned. Either the company's Snohomish County plant would need to be expanded to meet growing demand for its refrigerated soups and sauces, or it would be relocated to make way for a water treatment plant at the Woodinville site. In the end, the latter scenario is playing itself out with an US$80 million, 18-acre (7.3-hectare) "culinary campus" slated for Everett, Wash., in nearby King County.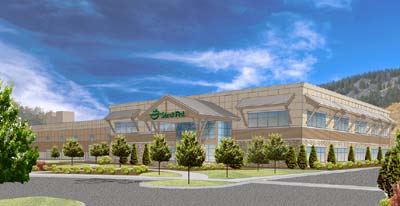 Soup maker StockPot puts local relocation on the front burner.
Campbell Soup acquired the StockPot business in 1998, and at that time, StockPot was already committed to building a new facility in Woodinville. Several years later, "We were notified that the site and surrounding area was the focal point of a potential condemnation in order to build a sewer treatment plant for King and Snohomish Counties," relates Bob Zane, vice president, real estate operations, at Campbell Soup. "Some of the protections in our CC&Rs [covenants, conditions and restrictions] said there could be no sewer treatment plant in close proximity."
King County agreed to relocate the facility where Zane and his colleagues directed, but the relocation-benefits package would be more substantial if the plant stayed in Washington. In the end, the plant did stay in-state, keeping the work force of 400 employees in place and $21 million in annual purchases in the region. The $23-million relocation-benefits package helped, but retaining the payroll was the "key location determinant" according to Zane, and minimizing disruption to the business.
"The business is growing very nicely," says Zane, "and we didn't want to risk changing the work force." StockPot products have been delivering double-digit growth to Campbell's bottom line for the past four years.
Still, as a national distributor to the food-service industry, there are more central locations than Washington State from which to operate. "We explored all kinds of relocation options, including a more central location, but we ultimately decided that the best alternative for us at this time is to stay in the Seattle market," says Zane. "We have acquired enough acreage from the Panattoni Development Co. to build a new facility that will enable us to produce 50 percent more product. It's a win-win situation."
---
N.C. Has Some Pineapple
With Its Cheesecake
by
JOHN McCURRY,
Site Selection
Senior Editor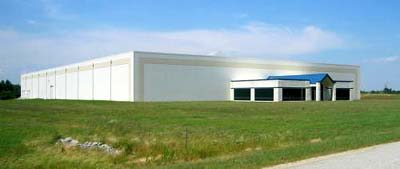 The Cheesecake Factory plans to put a regional bakery operation in thisfacility in Nash County, N.C.
E
xtension of the William S. Lee Act by the North Carolina General Assembly led to the recent announcements that two major food processing projects will be coming to the Tar Heel State.
Gov. Mike Easley signed into law in late July House Bill 1004, "An Act to Extend the William S. Lee Quality Jobs and Business Expansion Act and the Job Development Investment Grant Program." This legislation will extend both programs through the end of 2007.
Both of these programs were set to expire at the end of this year. The legislation, sponsored by Rep. Pryor Gibson (D-Anson), creates the Joint Legislative Economic Development Oversight Committee and charges the committee with overseeing economic development issues and strategies in North Carolina. The committee will perform a study of the JDIG and Lee Act programs and recommend any necessary changes to the 2006 Legislature.
House Bill 1004 also extends the Lee Act for qualified projects in development zones for four years. The state added a development zone program in 1998 to enable businesses in certified high poverty areas in cities or towns to qualify for enhanced credits.
The Cheesecake Factory Inc. announced that it has exercised its option to acquire an improved 15.82-acre (6.4-hectare) site to develop a second bakery production facility in the Whitaker Business and Industry Center located in the City of Rocky Mount in Nash County, North Carolina. Completion of improvements to the 100,000-sq.-ft. (9,290-sq.-m.) building shell is expected in early 2006. The facility will produce cheesecakes and other bakery products for the company's restaurants and other foodservice wholesalers, retailers and distributors. It will also serve as a distribution and fulfillment center for the company's restaurants and customers located in the eastern United States.
"We are very excited about this facility," said David Overton, chairman and CEO. "It will not only give us the added capacity to support our planned growth but should also provide significant benefits in the form of freight savings and risk diversification."
The company plans to equip the facility in stages as additional capacity is needed. The initial planned capital outlay in fiscal 2005 is approximately US$15 million. In addition, the company expects to incur approximately $1 million in pre-opening expenses during fiscal 2005. The company plans to employ about 500 by 2012.
The Cheesecake Factory worked closely with the City of Rocky Mount, Nash County, Carolinas Gateway Partnership, and state and local officials to complete a mutually beneficial economic incentive package covering site acquisition costs, utility and tax credits, and development and employment incentives. "We are very pleased to locate our second bakery in Rocky Mount," said Overton. "The state and local governments have been very receptive, the location is ideal for efficient distribution and there seems to be a very capable workforce. We look forward to generating new employment opportunities in the area."
Meanwhile, on the western end of the state, Bud Antle Inc., an indirect subsidiary of Dole, will invest $54 million to build and equip a processing plant for vegetables in Gaston County, creating 525 jobs within three years and a total of 900 jobs by 2016. Dole is the world's largest producer of fruits and vegetables.
"Dole's decision to locate in Gaston County is a real win for the county and the community because it means hundreds of jobs for hundreds of hard-working North Carolina families at a time when they need them," Gov. Mike Easley said. "We viewed this as an opportunity to replace some of the textile jobs foreign trade policies continue to export overseas."
David H. Murdock, Dole chairman and chief executive officer, has owned property in North Carolina since the early 1980s when he acquired the then-Cannon Mills Company. "Locating the plant in Gaston County will expand Dole's distribution network and facilitate delivery of its salad products to its Southern and East Coast customers," Murdock said. "The location, the incentives and potential workforce were all strong factors in making the decision to locate in North Carolina. I look forward to working with state and local officials to bring this project to fruition."
Dole also is considering locating a frozen fruit processing plant in North Carolina and has current plans to increase the acquisition of vegetable crops and berry products for existing plants, as well as these new plants.
Dole sells more than 200 products, including fresh fruit, fresh vegetables, packaged and frozen food, and fresh-cut flowers. Dole also is a produce industry leader in nutrition education and research. The company's 2004 revenues exceeded $5 billion with more than 64,000 workers in 90 countries.
This is the company's first facility in North Carolina. The new jobs will be mainly production workers who will take fresh vegetables and process them into bagged products for distribution in the southern and eastern United States. The average weekly wage will be $450 a week and benefits include health and dental as well as employee training.
Murdock, who took over Dole in 2003, recently visited the state Farmer's Market and indicated that, in addition to the new jobs he will create, North Carolina farmers may benefit by supplying some of the produce for the new processing plant, as well as for a potential frozen fruit plant.
The project will receive $500,000 from the One North Carolina Fund, which helps the state recruit and increase the number of quality jobs by providing financial assistance to businesses deemed by the governor to be vital to a healthy and growing state economy. Through the use of this Fund, more than 17,000 jobs and $2 billion in investments have been created since 2001.
Dole also plans to take advantage of tax credits offered through the William S. Lee Act, which the General Assembly recently voted to extend until Dec. 31, 2007. The Lee Act could net the company more than $6 million in tax credits.
---
HSBC Mortgage Unit
Moves HQ to South Carolina
by
RON STARNER,
Site Selection
Director of Publications
LANCASTER, S.C.
— Sometimes a move doesn't have to be a distant one to be significant.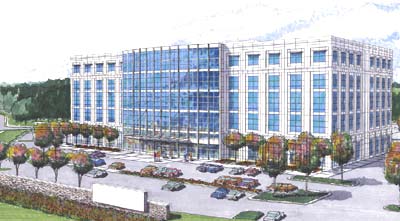 Decision One is a division of HSBC Mortgage Services. Lauth of Charlotte is developing a new campus for HSBC's corporate headquarters in Lancaster, S.C. Upon completion, the facility will house 450 workers that could double in size to 900 within five years.
That's exactly the case in South Carolina, where one of the top 10 financial services companies in the U.S. is relocating its mortgage services unit from just across the border in Charlotte, N.C.
The beneficiary of this corporate headquarters relocation is Lancaster County, S.C., where HSBC Mortgage Services will move into a 182,000-sq.-ft. (16,908-sq.-m.) building in the master-planned, class A office park known as the EdgeWater Corporate Center in the summer of 2006.
Located four miles south of Ballantyne Resort, just south of the North Carolina-South Carolina border, the new office complex will offer HSBC nearly 60 percent more space to handle the company's expected growth. EdgeWater is a 90-acre (36.5-hectare), 1 million-sq.-ft. (92,900-sq.-m.) development of Charlotte-based Lauth Property Group.
HSBC currently employs 450 workers in Charlotte, but expects this move to enable the firm to double its employment at its corporate headquarters within five years. About 120 HSBC employees will remain at the company's Decision One branch office in SouthPark in Charlotte. Nationwide, the firm employs more than 3,000 workers.
"The construction of our new headquarters will support our ongoing expansion plans," said J.C. Faulkner, group executive of HSBC Mortgage Services, whose business lines include Decision One Mortgage LLC and HSBC Mortgage Services Inc.
HSBC, which has operations in 77 countries around the world, reported this week the largest first-half profit ever achieved by a British bank — a record US$10.6 billion. Overall, the bank's pre-tax profit rose by 5 percent in the first six months of 2005. The bank has more than 60 million customers in the U.S. and Canada.
South Carolina Gov. Mark Sanford welcomed the company's move across the border. "Anytime you can attract the corporate headquarters of a rapidly growing company, it's going to be a tremendous shot in the arm for your state's economy," he said. "We're going to continue pushing for additional income tax relief and other reforms designed to improve our state's underlying business climate so that more announcements like this one are possible."
South Carolina Commerce Secretary Bob Faith said the move bodes well for Lancaster County's emergence as a strong banking area. "With this terrific news, Lancaster County has a great start toward developing a financial services cluster," he said. "This is an outstanding company with a strong nationwide presence. We're thrilled, but not surprised, that HSBC discovered the perfect place to grow in South Carolina."
The consulting firm of Mintax Inc. played a crucial role in advising HSBC to locate in Lancaster. Brian Corde, executive director of Mintax, said, "We are very pleased to be part of the team that resulted in today's groundbreaking. Mintax worked closely with Lauth and with HSBC to provide a unique perspective and analysis of a wide range of financial data, helping HSBC reach its decision to develop in this exciting new location."
Corde said that the most important site selection factors for HSBC were site infrastructure, state and locally funded road improvements, the ability to relocate the firm's existing work force and recruit new talent, and "a very competitive tax incentives package."
"We did a drive-time analysis and found that a large percentage of the work force would be retained in the new building," Corde said. "Also, without the incentives, the deal would not have happened in South Carolina."
Corde would not divulge the specific incentives offered to HSBC, but he did say that other locations considered by the company included sites in Illinois, Florida, Charlotte and York County, S.C.
Lauth is serving as the developer and general contractor for the EdgeWater complex. LS3P is the lead architect, while Burton Engineering will serve as civil engineer. The Stephens Co. represented HSBC in local negotiations for acquiring the property from the seller, Hans Lengers.
Wells Real Estate Funds, based in Norcross, Ga., provided a purchase take-out at completion, scheduled for July 2006. Joe Oglesby, senior vice president of Wells, said, "We consider this to be an extension of our national build-to-suit program and are very pleased to be a part of the EdgeWater development with Lauth."
In other news involving HSBC, the company announced July 12 that it was beginning a search for a new Chicago-area headquarters for HSBC North America Holdings, which employs more than 6,100 people in the region.
And just two weeks prior to that announcement, HSBC North America announced that it would expand its employment in the Tampa Bay region of Florida by as many as 250 by the end of this year and by 500 by the end of 2007. HSBC currently employs more than 1,000 people in the Bay Area.