U.K. Ingredient Company Finds Right
Mix in Tennessee, Indiana
L
ondon-based Tate & Lyle PLC is best known for satisfying the world's sweet tooth, its most famous logo, for Golden Syrup, depicting a lion on its side with bees building a hive in its belly. Now the company and its deep-pocketed friend are satisfying the folks in Loudon, Tenn., just south of Knoxville, with some building of their own.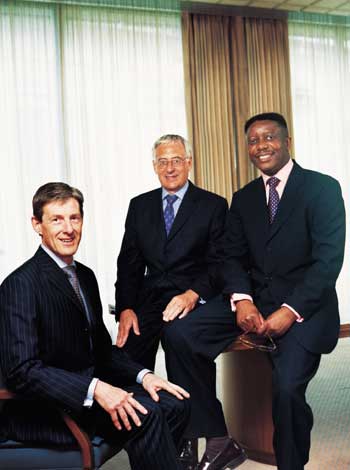 Stanley Musesengwa (right), Tate & Lyle COO, says these are "exciting times" for the Loudon facility. He is pictured with, from left, Stuart Strathdee, corporate development director, and Simon Gifford, group finance director.
On July 28, Tate & Lyle announced it would invest $75 million in expanding its complex in Loudon, Tenn., right next door to the $100-million DuPont Tate & Lyle BioProducts, LLC, joint venture plant already under construction. In fact, the expansion will supply substrate for the JV's product, 1,3 propanediol (Bio-3G), the key building block for DuPont(TM) Sorona(R), a UV- and chlorine-resistant stretch and recovery fabric made from corn.
At the same time, the company announced a $100-million expansion at its Sagamore corn milling complex in Lafayette, Ind., the company's main site for modified food starch and maltodextrin production. That facility's expanded capacity should be online by January 2007, while the new Loudon capacity should be operational by October 2007. The company expects to recoup the entire Loudon investment within the first year of operations. Also coming from the Loudon expansion will be 37 million more annual gallons of ethanol production.
And while both projects are subject to regulatory approval, both will involve significant investment in emissions reduction equipment.
The Big Plan
Of course, Tate & Lyle does a lot more than sweets. As the company Web site explains, "our products make ointments creamy, toothpaste soft and soap that lathers. We make paper smooth and cardboard stiff; we help detergents to clean effectively and glue to stick fast. We put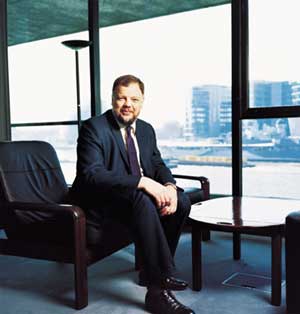 Iain Ferguson, Tate & Lyle chief executive
sweetness and flavour into soft drinks; and alcohol into gin and vodka. We create texture and body for yoghurts and ready-made meals; and provide the sheen on fruit pies and tarts."
That's enough business to employ 11,200 in its subsidiaries and joint ventures combined, operating in 41 manufacturing plants and 20 other facilities in 28 countries. But as the company's Iain Ferguson, chief executive, explained in his July 28 presentation to shareholders, the company is just getting started.
"In the 2005 financial year, we spent more than US$35 million on research and development, principally in the United States," he said. "This represents a 20-percent increase on 2004." And the company is continuing that pattern, most recently launching its own £25-million (US$ 45-million) venture capital fund to supplement its own R&D efforts with those of promising start-ups.
But production expansion is in line too. Industrial-grade xanthan gum production has been under way at the company's Decatur, Ill., facility since August 2004, and will commence food-grade production soon. The company's plant for astaxanthin (an ingredient fed to farm-raised fish worldwide) is now shipping worldwide from Selby, Yorkshire, U.K, as production ramps up.
And in Loudon, steel is going up on the Bio-3G joint venture plant with DuPont as it works toward an early 2006 start-up. Ferguson reiterated the DuPont assertion that the market for the Bio-Sorona (R) product could be as much as $2 billion, and told his audience that carpet maker Mohawk has just introduced a new line featuring the product.
As part of his presentation, Ferguson announced the Loudon and Sagamore expansions. "These expansions will increase both capacity for food ingredient products and ethanol, as well as offering substantial environmental benefits," he said.
Meanwhile, sweets come to the sweet. In this case, the tremendous success of the company's Splenda (R) sucralose product is spawning a £40-million (US$72-million) expansion in McIntosh, Ala., and a £100-million new plant in Singapore.
Corn By the Gobs
The Sagamore facility employs 225, and was formerly part of A.E. Staley, which Tate & Lyle purchased in 1988. Its products go into a variety of food products across several food groups. Like its paper-company cousins, Tate & Lyle has made great strides in reducing emissions and odor from its operation, and $7 million of this investment will continue that effort. The company employs another 250 people at its South Plant in Lafayette.
"The investments in both Sagamore and Loudon reflect our firm commitment to deliver against our strategy to grow our business, and in particular to grow the contribution from value added products," said Ferguson. "The expansions will increase the corn grind and demand for locally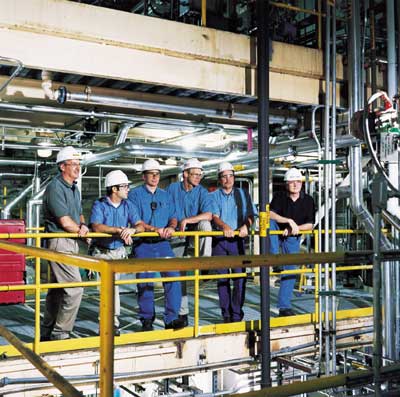 The BioProducts team at Tate & Lyle has been performing in award-winning fashion.
sourced crops whilst the environmental improvements are designed to reduce emissions and reflect Tate & Lyle's commitment to environmental performance and to the surrounding community."
Meanwhile, the real promise of the Bio-3G project is just beginning to dawn on Tennessee.
One indicator of its importance came in June, when DuPont awarded its 2005 DuPont Sustainable Growth Award to Tate & Lyle for their efforts as part of a team of nearly 40 DuPont and Genencor scientists, engineers and other experts.
While the biomonomer ingredient is made using a traditional petrochemical series of processes, explained DuPont, the unique use of corn starch sugar in the process cuts energy consumption by more than 40 percent, in addition to reducing emissions.
The pilot-scale innovation that fine-tuned the process is what led to the JV and its commercial-scale fermentation plant, originally announced in May 2004.
"The award recognizes all the teams who have worked over a period of almost 10 years to bring this innovative renewable ingredient to market," said Tate & Lyle's Iain Ferguson. "Our joint venture brings together DuPont's unrivalled track record in polymer manufacturing and Tate & Lyle's technical excellence in fermentation, corn milling and renewable ingredients."
In announcing the newest Loudon expansion, his colleague echoed those sentiments.
"These proprietary technologies, which have been developed by Group engineers in Europe and the Americas, allow significantly higher starch yields and lower energy consumption," said Stanley Musesengwa, Tate & Lyle COO. "In addition to lower operating costs, the expansion will be implemented at a lower capital cost per bushel than the traditional corn wet milling process and is an example of Tate & Lyle's experience and innovation at work.
"These are exciting times for the Loudon facility, which is seeing considerable investment and is creating jobs in the local construction industry," Musesengwa added. "We look forward to working with the Tennessee Department of Environment & Conservation and local environmental groups and are confident that construction will begin shortly."
---
Stone Wool Firm Picks Pican
by ADAM BRUNS, Site Selection Managing Editor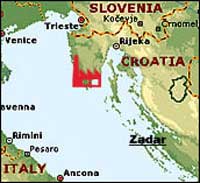 Located in Pican, near the river Raša, the Rockwool factory will boost the local economy in the western area of Istria in Croatia. The factory is expected to employ 130 operators, management and other staff.
H
edehusene, Denmark-based Rockwool Group's board of directors has chosen the town of Pican, on the northern Croatia peninsula of Istria, for a US$92-million investment in a greenfield stone wool insulation plant.
Expected to be operational in mid-2007, the Croatian project consumes half of a 2005 capital investment target of $185 million. The Pican expenditure will cover will cover construction, equipment and machinery, and training of staff.
The project follows the acquisition of the production facilities in Tapolca, Hungary, in December 2003 and the erection of new factory in Vyborg, Russia, which will be operational in early 2006. The company is building on an Eastern European profile that already includes plants in Moscow, Poland (2), and the Czech Republic. But while many such projects are geared toward concurrent development in Eastern Europe, the company says this plant's output will be headed toward markets in Southern Europe. That market is currently served by Rockwool facilities in Spain and Sardinia.
Seventy Years of Stone Wool
Rockwool Group was founded in 1909 as a gravel, mining and tile manufacturing concern, coming into the stone wool arena in 1935, when it purchased drawings and property rights for a stone wool insulation product popular throughout Scandinavia for the equivalent of US$5,000.
By 1938, the company had plants in place in Denmark, Sweden and Norway. The company's first non-Scandinavian plant opened in Germany in 1951, followed by Finland and Switzerland factories in the 1960s and U.K. and French facilities in the 1970s. That decade's energy consciousness saw more than a four-fold a rise in the company's fortunes.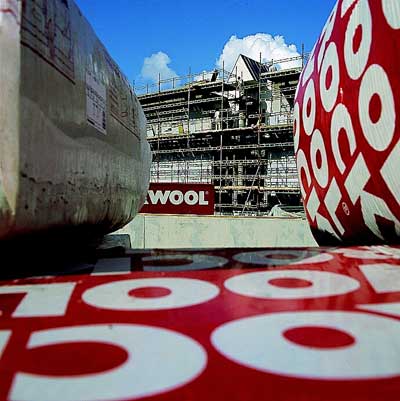 Rockwool hopes the presence of its insulation batts at construction sites around southern Europe will be a common sight.
So it was time to diversify into non-insulation products. Intensive R&D, always a Rockwool staple, produced new partition and acoustic products, among others, during the 1980s. Today that diversity includes a line of engineered stone wool products that can be friction components in brakes, as well as used in paper- and rubber-based gasket materials, plastics, coatings, adhesives and plasters.
The 1980s also marked the company's first foray into North America, with the purchase of a Toronto factory in 1988. In quick succession thereafter, the company bought facilities in the former East Germany in 1991, Poland in 1993 and 1995, Hungary in 1997, the Czech Republic in 1998 and Russia in 1999. It was in that year that the company also purchased the Italian plant and built the Spanish plant. And in 2000, Rockwool planted a foot in Asia with the purchase of a Malaysian facility. The total facility footprint is now 22 factories in 14 countries.
Croatia Movement Improving
Croatian economic development is on the mend and on the move. Balancing out the good project news in the north is equally good infrastructure news in the south.
To wit: A $73-million loan from the European Union's European Investment Bank for the construction of a 22-mile (36-km.) bypass road around the city of Split on the Dalmatian coast. The project will not only alleviate congestion, but improve access to one of the country's major airports.
Improving access is the crux of another aim in Croatia: EU accession. In an Aug. 2 news release from the country's main governmental Web site [http://www.vlada.hr/default.asp?ru=&sid=&jezik=2], Croatian Prime Minister Ivo Sanader said at a meeting in Salzburg that Croatia was ready to start accession talks, despite the lingering obstacle of finding and turning over to the Hague tribunal runaway general Ante Gotovina.
"If the talks start in the autumn, we could complete them by the end of 2007, after which we could participate in European elections in June 2009 as a full member of the EU," said Sanader. "I believe that this is a realistic goal and that Croatia can accomplish it."
The country of 4.4 million inhabitants has seen support for EU membership from officials in Austria and Denmark, among others. And another official at the gathering in Austria remarked on the country's promise. According to the release, the special coordinator of the Stability Pact for Southeastern Europe, Erhard Busek, who also chairs the Institute's Economic Council, said "that Croatia's economy was much more developed than that of Romania or Bulgaria and that the EU should definitely start entry talks with Croatia sooner than with Turkey."
Earlier this summer, after an extended visit to the U.S., Sanader said he expected economic growth of 4 percent in 2005. Industrial production in June rose by 12.3 percent in relation to June 2004 and in the first six months of this year it rose by 4.7 percent in relation to the same period the year before.
---
While Production Blossoms Out West, BD Distributes Capital to Indiana Too
by ADAM BRUNS, Site Selection Managing Editor
O
n August 5, medical device and instrumentation company Becton, Dickinson and Co. (BD) broke ground on a $40-million investment in a new distribution center in Plainfield, Ind., outside Indianapolis, that will replace the company's current Indianapolis facility.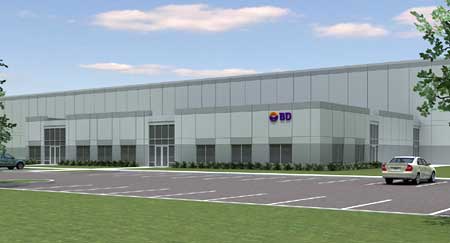 A rendering of the BD distribution complex in Plainfield, now under construction and due to be complete in early 2006.
The 655,000-sq.-ft. (60,850-sq.-m.) facility, announced by the company in late May, will be constructed on 62 acres (25 hectares) in the Plainfield Business Park. The project will preserve 94 jobs, and is projected to create 70 more over the next seven years. Completion is expected in February 2006.
"We have simply outgrown the Indianapolis site," said Larry P. Smith, vice president of Supply Chain and Customer Service for BD, in a May news release. "BD worked with state and local officials to make it possible for us to continue to deepen our long-term commitment in the Indianapolis metropolitan area. We are grateful for the efforts of all who contributed to this highly competitive process and we look forward to continuing to strengthen our partnership here."
Included in the incentive package were $560,000 in training and off-site infrastructure improvement grants from the Indiana Economic Development Corp. The Town of Plainfield and Hendricks Co. also did their part.
Not So Plain
The project is one of nearly three dozen projects since the beginning of 2000 in the distribution capital of Plainfield. Others of recent vintage include Epson, Redcats (formerly Brylane) and Indy-based pharmaceutical company Eli Lilly & Co. Several of the projects involve Duke Realty or Duke Construction, and surprise, surprise, so does this one.
Duke owns Park 100, where BD had outgrown its 311,000 sq. ft. (28,892 sq. m.). Now Duke is building the new facility too.
"BD has been a Duke tenant for 17 years and during that time we have built a long and trusting relationship." said Jay Archer, senior vice president of Duke's Indiana Industrial Group, in a July release. "We are honored and pleased that Duke was selected as the contractor for this project."
BD was represented by Patrick B. Lindley, SIOR, J. Bart Book, SIOR of Colliers Turley Martin Tucker, Indianapolis and Aileen Gozzola Sandstedt, SIOR of GVA Williams of Chicago, IL. Other members of the Colliers Turley Martin Tucker team representing BD included Robert A. Dugger for construction management and Gregg A. Gillman for economic incentive procurement. Duke was represented by Jay Archer, Doug Greer, Mark Hosfeld, Blaine Paul, Larry Richardson and Jeff Stone.
Sandstedt, who also is a principal with GVA Williams in Des Plaines, Illinois and co-chair of GVA Worldwide's Industrial Practice Group, said, "With access to resources around the country and globe, we were equipped to leverage our extensive external network of partnerships to connect BD with Pat Lindley's team, a superior local expert in the Indianapolis market to provide unprecedented services to our client."
The facility will feature a state-of-the-art warehouse management system, which is considered essential to competitiveness in the global economy, said the company.
"The first important element of our company strategy is to accelerate growth through innovation," said Smith in May. "Our focus on productivity, efficiency, resource utilization and customer satisfaction is an important part of supporting this growth."
BD On a Roll
The company's expansion roll started a couple of years ago with a slew of projects [http://www.siteselection.com/features/2003/jan/plains/pg04.htm] in three towns in Nebraska, with a cumulative investment of $146 million and some 287 new jobs. Last year it continued with expansions of its Vacutainer complex in Sumter as well as facilities in Las Piedras, Puerto Rico.
That production expansion trend is now unfolding at the company's Vacutainer complex in Sandy, Utah, with another $31-million project. (For more on this, see the Medical Device Industry Spotlight in the September 2005 issue of Site Selection.) But this is the first of the recent projects to address national distribution for the company.
"BD's commitment to this region is evident through their desire to build and own this facility and distribute their products on a national basis from this location," said Lindley in a July release.
That commitment may be even stronger: The Franklin Lakes, N.J.-based company has purchased land adjacent to the new Plainfield site to allow for further growth.