O
ne's in Ohio and one's in Pennsylvania. Collectively the two Mariettas welcomed the month of September by also welcoming US$150 million of international corporate investment.
In the Keystone State, U.K.-based GlaxoSmithKline PLC (GSK) will invest $100 million in a 90-acre (36-hectare) manufacturing site previously owned by Wyeth, where GSK will employ 270 people. This Marietta is in the Lancaster metro area, in the heart of Pennsylvania Dutch country. Wyeth had discontinued operations as of Dec. 31, 2004.
"We expect to develop new flu vaccine technology at our Marietta facility that we hope will enhance our future ability to rapidly produce flu vaccines for the nation in response to a pandemic," said JP Garnier, Chief Executive Officer of GlaxoSmithKline. "This new technology will complement our current egg-based flu vaccine manufacturing. We are working hand-in-hand with government officials to help meet public health needs by expanding our capabilities as a reliable supplier of vaccines for the U.S."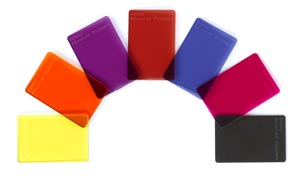 Solvay Advance Polymers' RADEL transparent polyphenylsulfone products are used in the automotive lighting, telecom and food service industries.
GSK on August 31 received FDA approval to make its current flu vaccine, Fluarix, available in the U.S. in time for the 2005-2006 flu season. That supply is being manufactured at the company's Dresden, Germany, complex, which is now seeing the doubling of capacity to meet worldwide demand. In July, the company finalized its acquisition of Seattle-based Corixa Corp., whose products, included in vaccines, can act as boosters to immune-system responses to the vaccines. GSK is planning to launch five major new vaccines over the next five years: Cervarix, an HPV vaccine targeting cervical cancer; Rotarix, a vaccine against rotavirus already approved in 13 countries including Mexico; a vaccine to prevent pneumococcal disease; an improved flu vaccine for the elderly; and a meningitis combination vaccine for infants in the US.
Pennsylvania is by no means a stranger to vaccine development. As documented in the September 2005 issue of
Site Selection
, Sanofi Pasteur is investing $150 million of its own in a flu vaccine plant in Swiftwater — a follow-up investment to the $127 million that predecessor
Aventis Pasteur
invested in Pennsylvania in 2004 in facilities in Swiftwater and Scranton. The company's chairman and CEO, David J. Williams, hails from northeast Pennsylvania, and the firm in 2004 established its headquarters in
Bridgewater, N.J.
. In August, according to the Financial Times, the company's Swiftwater complex received one of the largest orders of eggs ever placed by the U.S. government.
GSK is not stopping in Marietta with its vaccine and facility growth. On Sept. 8 it announced the purchase of Vancouver, B.C.-based vaccine maker ID Biomedical for $1.4 billion. And in August it announced a $92-million, 200-job expansion of its 22-year-old manufacturing complex in Zebulon, N.C., which will see incentive help via a $1.9-million Job Development Investment Grant and $500,000 from the One North Carolina Fund.
Meanwhile, back in Marietta, at least one resident is happy to see something happening relatively quickly at the former Wyeth facility.
"In March of 2004, I joined with Senator David Brightbill in requesting that the Governor assemble the Governor's Action Team to do whatever necessary to find a suitable buyer for the Wyeth Plant," said Pennsylvania State Rep. Dave Hickernell. "Since that time, I have closely monitored the status of this facility including the participation in meetings and discussions with representatives of GlaxoSmithKline and members of the Governor's Action Team. The purchase of the East Donegal Township plant by GlaxoSmithKline is the result of a great deal of hard work by many individuals. Local, county, state and federal officials, including Congressman Joe Pitts, Senator David Brightbill, the Lancaster County Commissioners, the East Donegal Township Supervisors, and the Donegal School Board all worked together successfully to make this a reality. This is a perfect example of various levels of government coming together to work with private industry in fostering economic development and job creation."
On the Banks of the Ohio
The other Marietta seeing capital investment for Labor Day was Marietta, Ohio, in Washington County, which will welcome a new $50-million plant from Solvay Advance Polymers for the manufacture of sulfone polymers.
"The magnitude of this expansion demonstrates our commitment to sulfone polymers and allows us to supply large growing markets, such as automotive lighting, telecommunications and food service," said Roger Kearns, president of Solvay Advance Polymers. The company's sulfone polymer lines offer high heat and chemical resistance, toughness, transparency and "dimensional stability," making them apt for use in those industries, as well as in aerospace applications.
Though the location had not been selected yet, the project was originally announced in December 2004. Construction on the plant, which will triple the entire company's polyethersulfone (PES) capacity, will begin during the fourth quarter of 2005. Shaw, Stone & Webster, a Toronto-based unit of Baton Rouge, La.-based Shaw Group, will provide front-end engineering for the plant, which is due to be commissioned in 2006.
Solvay is an international chemicals and pharmaceuticals group with headquarters in Brussels. It employs more than 30,000 people in 50 countries. The company last expanded the plant in 2002, at the same time it expanded a sulfone monomer plant in Augusta, Ga. The company's polymer division produces whose products with end-user applications stretching from periodontal probes to carburetor tubes, appliance handles to wine corks
Marietta and the larger Washington County region are known for a chemical industry that boasts one of Chevron's largest polystyrene plants. According to the Conway Data New Plant Database, Belpre, just down river and across the bridge from Parkersburg, W.V., has recently seen two chemical plant projects, from Kraton Polymers and Nova Chemical.
Marietta, named for Marie Antoinette, was the first permanent settlement in Ohio and in the Northwest Territory, and was a lively port and shipbuilding center at the height of Ohio River trade. That same Ohio dealt the town a tough blow in the fall of 2004, with devastating flooding as a result of Hurricane Ivan. The city's economic development director resigned earlier this month. A revitalization report compiled by Downtown Ohio Inc. is now being circulated among city leaders, perhaps a preamble to a Main Street program that has seen marked success in 33 other Ohio cities.
---
A Wyeth Landscape
by ADAM BRUNS, Site Selection Managing Editor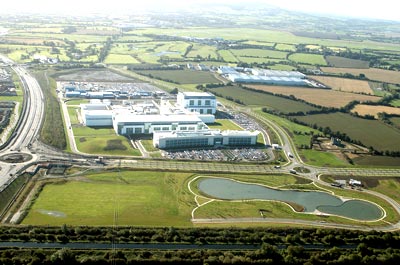 The $1.8-billion Wyeth Biopharma Campus at Grange Castle near Dublin seeks to replicate as closely as possible the atmosphere of a university campus.
D
on't let the above property sale fool you: Wyeth vaccine facility development isn't slowing, just shifting. Earlier this month — nearly five years after site planning began — Wyeth BioPharma opened its US$1.8-billion, 1,000-worker
production campus
at Grange Castle in Dublin, Ireland. The 90-acre (36-hectare) parcel, located eight miles (13 km.) outside the center city of Dublin, is equivalent in size to the parcel just sold to GSK in Pennsylvania. While the company's arthritis treatment Enbrel and antibiotic Tygacil will be produced there, part of the mission for the 1.2-million-sq.-ft. (108,000-sq.-m.) campus will be production of Prevnar, a pneumococcal vaccine for children.
When
Site Selection
first covered the announcement of the manufacturing and development project in
May 2002
, the price tag was $1 billion and projected employment was 900. The first shovel went in the ground in the fall of 2002. Since that time, the numbers include 7 million person-hours of construction work, 160,000 feet (48,765 m.) of process piping, 2,400 separate items of equipment and, befitting the tight specs required in the industry, 1,200 specific validation protocols.
The Drug Substance building on Wyeth's Grange campus (left) is where Enbrel is manufactured. Pictured right is the complex's main quality and administration building.
"The work performed in this facility will lead the way to better and more innovative healthcare through the application of biotechnology developed right here, in Ireland," Wyeth Pharmaceuticals President Bernard Poussot told a crowd of more than 1,200 at ceremonies on Sept. 8. "We expect to continue to invest in this new state-of-the-art facility and to make Grange Castle one of our key biotech development, production and distribution efforts in the coming years, complementing our U.S. presence in Andover, Mass."
A drug development facility, drug substance facility and drug product facility will gradually phase into operation over the next four years. In developing the campus, Wyeth strove to capture as much as possible of a university campus setting. One significant part of the work force will be 100 researchers developing new products.
Now the largest pharmaceutical company in a country that has welcomed vast investment from the sector, Wyeth employs more than 3,000 in Ireland, where it also operates plants in Sligo, Newbridge, and Askeaton. Overall, the country of 4 million people includes 17,000 working in the pharmaceutical industry.
---
Four Cities Welcome Lowe's Distribution Expansions
But Will Rockford Make it Five of a Kind?
by ADAM BRUNS, Site Selection Managing Editor
O
n August 31, Lowe's Companies, Inc., announced it would invest $150 million in a distribution network expansion that will result in a new distribution center (DC) in Lebanon, Ore., and expansions at the company's established sites in Valdosta, Ga.; Statesville, N.C.; and North Vernon, Ind.
It's all part of the company's Rapid Response Replenishment initiative, as it modernizes a distribution system that until recently often had products and orders frequently travelling directly between vendors and stores. According to interviews with analysts by
The Wall Street Journal
, the company's DCs were underutilized, with up to 50 percent of inventory taking the direct-to-store route from vendors. Today, says the report, direct-to-store deliveries are already down by 34 percent versus one year ago. At the same time, cycle time between the placement of a store's order and delivery has been cut in half.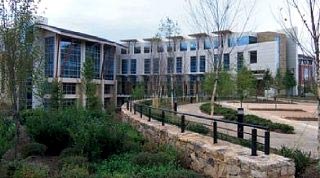 Lowe's headquarters campus in Mooresville, N.C., pictured here after its phase one completion in early 2004, has certainly had its share of economic spinoff in the surrounding area. Cities hosting Lowe's distribution centers see their own brand of positive ripple effects.
"With R3, we're moving safety stock out of the stores and into the distribution centers, while at the same time increasing in-stock levels," said Mike Mabry, Lowe's executive vice president of logistics and distribution.
The move comes at a time when the company plans to open at least 300 new stores during the 2005 and 2006 fiscal years. The 1.4 million sq.-ft. (130,060-sq..-m.) Oregon regional distribution center is expected to become operational in 2007. The combined square footage of the three distribution center expansions will equal that amount; those projects are expected to be online by spring 2006.
The 770,000-sq.-ft. (71,533-sq.-m.) Valdosta site, opened in 1996, already employs 800 people and supplies more than 100 stores in four states. It is also the main staging area for re-supplying Lowe's stores in the region impacted by Hurricane Katrina. Now it will see more than $20 million invested and more than 100 new jobs created. The expansion includes an addition of 350,000 sq. ft. (32,515 sq. m.) and a new stand-alone structure totaling 210,000 sq. ft. (19,509 sq. m.).
The announcement was just part of an ongoing DC explosion in Georgia. Two weeks later, Solo Cup announced a $35-million investment in a 1.3-million-sq.-ft. (120,770-sq.-m.) DC in Social Circle, which will employ 155 when it opens in September 2006. That facility is in the same county — Walton, just east of Atlanta along I-20 — that just saw groundbreaking for a $19-million DC expansion from Wal-Mart, which may employ up to 1,000 people.
According to city documents in Lebanon, Ore., the company plans to purchase a 204-acre (83-hectare) parcel for the project, and has demonstrated expansion potential of up to 2.1 million sq. ft. (195,090 sq. m.).The DC, which could employ as many as 750, will serve all of Oregon, Washington, and Idaho, as well as western Montana and portions of Nevada and California.
Lebanon is ready for the spinoff too: Approximately 125 acres (51 hectares) of vacant industrial property will benefit from infrastructure improvements made for the Lowe's project, and thus be ready for development.
According to the city, the project's total incentive package from the state of Oregon, the city and Linn County amounts to over $12 million dollars." The City of Lebanon's contribution of approximately $9 million dollars will be entirely paid back from property taxes paid by Lowe's," says the city Web site. "The estimated annual property tax Lowe's will be paying is nearly $2 million dollars per year."
Big Times in Rockford
Before this latest growth spurt, Lowe's most recent big DC project was in
Osceola, Fla
. The company's distribution network includes 11 regional distribution centers nationwide. But that might become 12 real soon.
One day before the multi-city announcement from Lowe's, aldermen in booming Rockford, Ill., approved up to $2.6 million in tax breaks for a proposed 1.4-million-sq.-ft. (130,060-sq.-m.) DC from Lowe's. In addition, the city agreed to purchase 180 acres (73 hectares) of land for $4.4 million, then sell 152 of those acres (61.5 hectares) to Lowe's for $2.43 million.
The DC would employ 500 at the outset, possibly growing to 750 if a projected expansion were to occur. In addition, Lowe's would be required to stay in the city for at least 12 years.
Rockford is the engine at the heart of an I-39 logistics corridor in northern Illinois that continues to gain momentum. Momentum is also the key word in describing the spinoff economic impact of Lowe's in places like Mooresville, N.C., where the retailer is
headquartered
.
Good things in home improvement are even happening in facilities that Lowe's has departed. In Hagerstown, Md., according to reports in August, manufacturer Builders FirstSource hopes to employ as many as 150 in the making of wall panels within a facility formerly occupied by Lowe's. The company operates 62 DCs and 51 manufacturing facilities in 11 states.