N
orth America's hunger for building materials shows no signs of abating. Neither does Lafarge's desire to feed it.
The French company's latest menu item is a US$120-million, 100-job expansion of Lafarge North America's gypsum wallboard plant in Silver Grove, Ky., in Campbell County, just across the Ohio River from the Cincinnati metro area. By adding a new product line and 143,000 sq. ft. (13,285 sq. m.), the project will bring the complex's annual capacity from 900 million sq. ft. (83.6 million sq. m.) of product to 1.6 billion sq. ft. (sq. m.). But that's just a bite out of the 10 billion sq. ft. (148.6 million sq. m.) of demand that the company says exists in the plant's 14-state service area.
The expansion is scheduled for completion by mid-2007 and eligible for as much as $3 million in Kentucky tax credits. It follows in the wake of Lafarge's Nov. 2004 announcement of a $75-million expansion at its wallboard plant in Buchanan, N.Y., along the east side of the Hudson River just north of New York City. Both projects are part of a $350-million spending plan to boost gypsum capacity by 20 percent worldwide over the next two years.
"All in all, Lafarge gypsum activity is committed to the ongoing construction of 2,900 million square feet additional annual production capacity in order to accompany the growth of its markets," read a company statement issued on Nov. 7, 2005.
The Kentucky expansion follows on a $12-million expansion announced in the fall of 2004. The Silver Grove plant was originally
announced
in 1999, with a capital investment of $90 million and an initial payroll of around 100. That payroll now stands at around 150. Like most wallboard plants, this one gets its gypsum raw material from the coal-scrubbing at a nearby power plant — in this case the Cincinnati Gas & Electric plant across the river in Moscow, Ohio.
Besides using the byproduct from the power plant's sulfur scrubbing, the plant further saves on emissions by employing a combined heat and power (CHP) system to satisfy some of its electricity and thermal demands. The system, designed by Trigen-Cinergy Solutions, not only produces up to 5.2 megawatts of electricity, but its exhaust up to now has been used to dry the plant's entire output of wallboard. For that accomplishment, Trigen-Cinergy Solutions of Silver Grove, LLC and Lafarge North America were honored with the 2004 ENERGY STAR(r) CHP Award by the U.S. EPA and the Dept. of Energy.
In the U.S., Herndon, Va.-based Lafarge North America also operates gypsum drywall plants in Newark, N.J. and Palatka, Fla. In Canada, the company operates one drywall plant in Corner Brook, Newfoundland, and one joint compound plant in Chambly, Quebec. The North American division had overall 2004 sales of $3.7 billion, which amounted to approximately 22 percent of Lafarge's 2004 global sales of nearly $17 billion.
Lafarge's cement unit is not resting. Nor are global sales. In October, the company's Chilanga Cement subsidiary announced a $100-million new plant in Zambia, in order to serve demand brought on by new copper mines and power stations. The plant will also export to the Democratic Republic of the Congo and Burundi. Chilanga's three existing plants emply 446 workers.
Worldwide, Lafarge employs 77,000 in 75 countries, and maintains top market share in all four of its divisions: cement, aggregates & concrete, roofing and gypsum.
For a roundup of the multiple other projects Lafarge has embarked on worldwide in 2005, including its unique solutions in tsunami territory in Indonesia, check out our July 2005 Project Watch story, "
Lafarge to Invest US$100 million in Aceh, Yanbu Plants.
"
---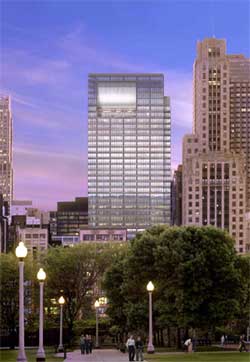 Mittal Steel USA will occupy just over 53,000 sq. ft (4,924 sq. m.) at One South Dearborn, Hines' 40-story, 820,000-sq.-ft. (76,178 sq. m.) office tower due to be completed in December 2005 in downtown Chicago.


photo: Hines
Steel Companies
Alight in Chicago
and .... Hawaii?
by ADAM BRUNS, Site Selection Managing Editor
M
id-October saw the decision by newly formed Mittal Steel USA, a $22-billion company, to locate its headquarters in Chicago's Loop, moving 212 employees from northwest Indiana (where it employs 10,000) and occupying about 53,000 sq. ft. (4,924 sq. m.) in a new Hines building going up on Dearborn St.
Mittal Steel USA was formed from the combination of Mittal Steel's existing US business, Ispat Inland, with the assets of International Steel Group. The company is a major supplier to the North American automotive, trucking, agricultural equipment and railway industries, as well as boasting a solid customer base in the appliance, office furniture, electrical motors, packaging, industrial machinery, and other manufacturing sectors.
Louis L. Schorsch, CEO of Mittal Steel USA, said that northwest Indiana would retain some technical and office jobs and a steel research center, in addition to its prodigious Burns Harbor and East Chicago (Ind.) steel plants. He credited the proximity of O'Hare International and of corporate support services in the city among the deciding factors for the relocation. Mittal Steel Co. N.V. is based in the Netherlands.
The move will consolidate staff now scattered at various sites in Illinois, Indiana and Ohio. Mittal and Hines will see incentives from both the State of Illinois and the City of Chicago totaling $9.5 million. That includes $2 million from a Central Loop tax increment financing (TIF) district.

Mittal's Burns Harbor complex, once a property of Bethlehem Steel, has stood on this Indiana site about 50 miles (80 km.) southeast of Chicago since 1964. The complex can produce up to 4.7 million tons of raw steel a year.


photo: Mittal Steel USA
Mittal Steel announced in November that Kellogg School of Management at Northwestern University would be its North American management education partner. Mittal will provide an initial commitment of $3 million to the school to develop the Kellogg Mittal Scholars Program. Up to 20 qualifying students will receive scholarships, based on their stated interest in emerging economic regions including Africa, Asia, Central and Eastern Europe or South America.
"We have all witnessed the extraordinary growth from China over the past couple of years, but there are many other countries with good growth prospects," said Mr. Lakshmi N. Mittal, chairman and CEO, Mittal Steel Co.
Pegged earlier this year as the third-richest man in the world, Mittal knows something about economic growth. The latest emerging market he's selected is eastern India, where the company this fall has pledged a $9-billion steel plant, power plant and mining investment in Jharkhand.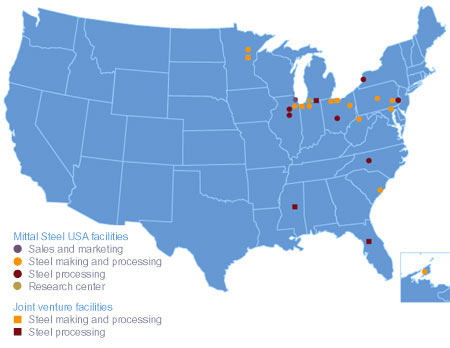 map: Mittal Steel USA
Mitall Steel USA's real estate portfolio comprises the following:
Major steel producing sites in East Chicago and Burns Harbor, Ind.; Cleveland, Ohio; Weirton, W. Va.; Sparrows Point, Md.; Steelton, Pa.; Georgetown, S.C.; and Riverdale, Ill..
Value-added plate markets are served from facilities in Conshohocken and Coatesville, Pa., as well as from operations in Indiana. Other finishing facilities in Hennepin, Ill.; Lackawanna, N.Y.; Newton, N.C.; and Columbus, Ohio.
As part of its partnership with Nippon Steel Corp., steel-finishing plants near New Carlisle, Indiana.
Iron ore mines in Minnesota as well as coal properties in Pennsylvania and a direct-reduced-iron facility in Trinidad, and a coke-making facility in Warren, Ohio.
Aloha Wood
Meanwhile,
Rosette Steel Hawaii
is putting $5 million of its own cash into a new manufacturing plant for home wall panels and trusses in Kakaako, Oahu, Hawaii. The facility will go up near Pier 1 in Honolulu Harbor.
The Hawaii Pacific Steel Framing Alliance Inc. says 72 percent of new-home construction on Oahu in 2003 used light-gauge steel frames. That proportion runs less than 5 percent in the contiguous 48. Chief reasons are resistance to termites and to fire. One of the technique's chief purveyors has been Castle & Cooke, the real estate firm owned by Dole Food Co. owner David Murdock.
Rosette has been planning a facility for the past two years, and has an exclusive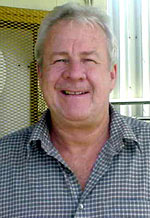 Kevin Andrews, chairman of the board, Rosette Steel Hawaii


photo: Rosette Steel Hawaii
agreement to utilize the
Rosette manufacturing system
, a fully automated, CAD-CAM controlled, integrated steel frame panel fabrication process conceived in Finland.
Rosette is headed by Kevin Andrews, president of Plant Research Corp. and a 30-year veteran of Hawaii business. Besides holding multiple patents on plant tissue culture growth and machine processing functions and sugar related inventions, he "has successfully completed agricultural facility build-out projects for the State of Hawaii and the U.S. Department of Agriculture," says the Rosette Web site. "In 1994 Mr. Andrews developed a laboratory to study fruit flies for the State of California. In Hawaii, he has designed effluent systems and was awarded a contract by the Federal Government to develop a system to process wastewater and remediate industrial and agricultural wastes."
Employing 25 already, Rosette will pay its eight assembly-line workers the standard union rate of $46 per hour, according to Pacific Business News. The company is leasing land and buildings owned by the Hawaii Community Development Authority, directly across from the harbor's Foreign Trade Zone No. 9. The lease's first term expires in March 2007.
---
Flying High with GKN
by Alicia Vonderharr, Site Selection
G
uest, Keen and Nettlefolds plc (GKN) is stepping up to challenges around the world in the aerospace and automotive industries. With over 40,000 employees world-wide and
49 plants in more than 30 countries
, GKN has become a powerhouse in its field since its foundation in 1759 as the Dowlais Iron Company in the village of Dowlais in south Wales.
On Oct. 20, GKN Aerospace broke ground on a US$20-million, 120,000-sq.-ft. (11,000-sq.-m.) expansion to its existing manufacturing facility in Tallassee, Ala. The expansion is expected to be completed by the end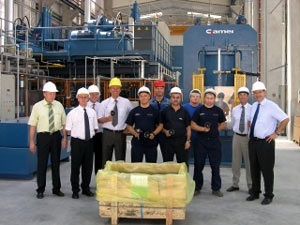 Less than a year after construction started on the new Olescnica forging plant, GKN workers stand with the first tools produced there.


photo: Polish Information and Foreign Investment Agency
of 2006, and an additional 250 workers will be employed at the plant. Aircraft part production should begin in early 2007.
GKN produces fixed-wing and rotor aircraft structures and assemblies made out of composite materials for such aircraft as the F/A-22 Raptor for Lockheed Martin, the European Airbus A330/340 and A380 jetliners and the new GEnx engine for General Electric.
GKN will need the extra room as the company has gained several important contracts in 2005. In April, the company was awarded a contract from Lufthansa Technik to supply assemblies for the CFM56-5A engine, which was followed closely by an announcement in May that there would be a growth of work with Snecma Services on the CFM56-5B engine. Then, in July, GKN was awarded a fifth contract with the United Stated Air Force for the F-100 engine, which equips the F-15 and F-15 aircraft.
If that wasn't enough, in August, Pratt and Whitney awarded a contact to GKN to supply titanium inlet cases for the TF33 engine for the B-52 and KC-135E aircraft, which has a potential value of $100 million.
Driving to the Top
GKN has invested more than $88 million in Poland, including a forging plant built adjacent to its current manufacturing plant in Olesnica, western Poland. The driveline branch of the company formally opened the $17.7 million new plant on Oct. 20, which includes a 462,000-sq.-ft. (4,300-sq.-m.) production hall that will employ 100 people.
The forging plant also includes $11 million in the latest technologies, which will reduce mechanical processing in the production process resulting in the saving of raw materials and energy.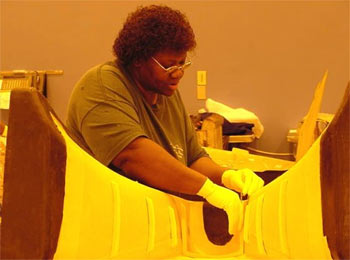 This employee of GKN Aerospace in Alabama will soon be joined by 250 more employees when the expansion to the current manufacturing plant is completed in 2006.


photo: GKN Aerospace Services
The new plant is also equipped with a state-of-the-art 2,000-ton press for hot forging and machines for precision forging, which will enable GKN Driveline to produce a wide range of joints. The number of workers at the forge is expected to increase from 30 to around 50 in 2006. Full speed mass production is planned for January 2006.
Customers of the GKN Driveline Olesnica factory will be happy with the investment as nearly half of the forging plant's production will be used locally by the manufacturing plant at Olesnica for PSA, Toyota and Fiat/Opel programs. The remaining output will be utilized by GKN Driveline elsewhere in Europe, where its client list includes Ford, Honda, Hyundai, Suzuki, Volvo, MG Rover, Renault/Nissan, DaimlerChrysler, BMW and Volkswagen/Audi Group.
Earlier this year, GKN Wheels, the Telford-based team with 200 employees, was the recipient of the top award for customer focus in the 2005 Manufacturing Excellence awards organized by the Institute of Mechanical Engineers and supported by the U.K. Department of Trade and Industry. The Telford, U.K., site has produced wheels for 120 years and was the world's first producer of the pressed steel wheel. Its customer base includes John Deere, Caterpillar, Massey Ferguson, JCB, McCormick, Valtra and CNH.
GKN beat out more than 500 companies who entered this year's awards, and the Institute had the following to say during its announcement of the winner: "GKN Wheels operates lean manufacturing systems with line side delivery to customers and minimum inventory. Its day-to-day reliability is augmented by a 'can do' attitude to problem solving for its customers. After a particularly tricky piece of service, one original equipment manufacturer was led to say that no other supplier would react in the way that GKN Wheels does."
---
Timken to Invest
$27 Million in North Carolina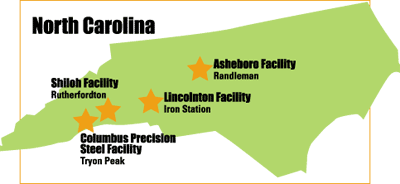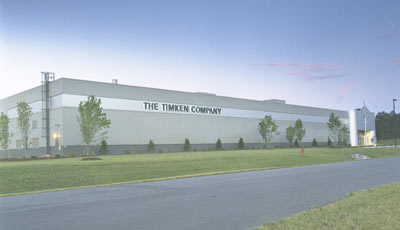 Timken's Asheboro plant, above, as well as its three other North Carolina facilities, show that the state's industrial development strength is not confined to Triangles and Triads.


photo and map: Timken Co.
by ADAM BRUNS,
Site Selection Managing Editor
T
he Tarheel State is literally
on a roll.
Canton, Ohio-based industrial and automotive bearing maker The Timken Co. announced in early November it would add 50 jobs and increase the size of its Randleman, N.C., plant by 35 percent with a $27-million investment. As a result, the facility will supply more tapered roller bearings, principally for industrial applications.
Projected to be complete in mid-2007, the expansion will add to the current payroll of 230 and the current facility footprint of 150,000 sq. ft. (13,935 sq. m.). The company expects to benefit from approximately $1.4 million in state and local incentives.
"We are proud to continue our partnership with the state of North Carolina, Randolph County Economic Development Corporation, Randolph County and the City of Randleman as we open the next chapter in the history of Timken's state-of-the-art bearing manufacturing facility in Randleman," said Michael C. Arnold, president — Industrial Group for Timken, calling the plant "among our most technologically advanced facilities." The plant is also the home of Bearing Express, a premium service for rapid delivery of custom manufactured bearings.
First completed in 1994, the Randleman plant, near Asheboro, saw its first expansion in 1999. Timken also operates plants in Columbus, Lincolnton and Rutherfordton, N.C. The company has operations in 27 countries, employs 26,000 and reported sales of $4.5 billion in 2004.