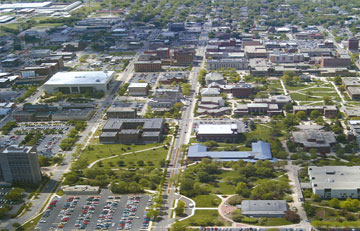 With a population approaching 170,000, the Terre Haute MSA has recently been populated with industry projects ranging from plastics extrusion to digital audio disc production. The latter category saw a 2005 investment from Sony.
A
ustralian building materials company
Boral Ltd.
and French firm
Lafarge
are doing their level best to help with the North American building materials shortages. On the same day in early February, Boral announced a $27.5-million investment in a new clay tile manufacturing plant in Ione, Calif., while its joint venture with Lafarge,
MonierLifetile
, announced an investment of $69 million in new concrete roof tile plants in Las Vegas, Nev., and Lake Wales, Fla.
But those announcements were just the follow-up: In December Boral announced it would invest $55 million in a new clay brick plant in Terre Haute, Ind., increasing its clay brick manufacturing capacity in the U.S. by 7 percent.
As described in
Site Selection
's
January 2005 Central Plains Regional Review
, Boral was already growing its U.S. manufacturing capacity in order to support a business model that as recently as 2004 was focused in large part on the residential marketplace (73 percent). A new $35-million brick plant is going up in Union City, Okla., on the site where Boral closed a plant in the 1990s, in order to serve the southwestern and south-central markets. That plant will have a capacity of 100 million standard brick equivalent units (SBEs).
The new Terre Haute facility will have a 120-SBE capacity, and serve customers throughout Indiana, Illinois, Ohio, Michigan, Minnesota, Wisconsin, Missouri, Iowa, and Kentucky. The plant will ease some of the pressure on some of Boral's plants in the Southeast that have heretofore been supplying those central and northern states. The Terre Haute plant will launch production during the fourth quarter of 2007.
"This region is characterized by high brick intensity and steady growth prospects," said Emery Severin, president of Atlanta-based Boral USA. "Increasing our brick manufacturing capacity with a low cost, state-of-the-art plant in the Midwest will better serve our customers in those markets and will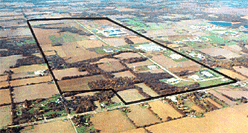 Before Boral's December announcement, among the biggest projects of the year in Terre Haute were expansions announced in October by ThyssenKrupp Presta ($5.5 million, 100 new jobs) and by Aisin Brake & Chassis ($35 million, 125 new jobs) at Vigo County Industrial Park.
eliminate the cost of shipping bricks from our other plants. This plant will also free up capacity in the Southeast to service unfulfilled demand."
Besides the favorable supply/demand ratio in the region, the company has credited good access to resources as well as good road and rail access at the site itself for the Terre Haute selection. Among the plant's unique attributes will be the use of landfill gas for alternative fuel firing.
Any concern about the capital outlay is short-lived when compared to the promise of the U.S. residential marketplace: The company expects returns from the Terre Haute investment to exceed the cost of capital in the first year of production. That's not boastful projecting. For the half-year through December 2005, Boral USA outperformed all the company's divisions in "return on funds employed" at 19.8 percent.
Off Whose Shore?
Situated 47 miles (75 km.) southeast of state capital Sacramento, the new California plant will boost by 50 percent the company's roof tile capacity in the western U.S.
"This new cost-competitive facility in California will be well positioned to serve high growth areas in Northern and Central California," said Severin. "It will also free up capacity to service unfulfilled demand in the other fast growing markets in the Southwestern United States, such as Nevada and Arizona, and will enable us to better serve existing customers in California by reducing lead times that have extended as a result of capacity constraints at our Corona plant."
The Amador County town of Ione, adjacent to the San Joaquin region, saw its manufacturing employment base steadily erode during the 1990s, to a mere 7 percent of the total work force in 1999.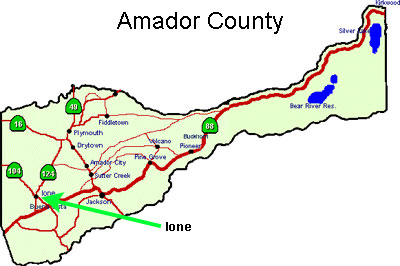 Boral's new plant in Ione will be a pick-me-up for Amador County's manufacturing profile. The county's largest employer is the Jackson Rancheria Casino, Hotel and Conference Center in Jackson, employing 1,700.
The county's largest employer is the Jackson Rancheria Casino, Hotel and Conference Center operated by the Miwuk tribe.
Boral's Ione plant will also serve the busy southwest, supplying not only the higher-end residential marketplace, but also the "design-conscious" commercial side. The company is also involved in a joint venture to build a $12-million clay roof tile factory in Trinidad, and has recently acquired a family of concrete, quarry and masonry businesses in Denver, Colo., for $78 million as part of its rise in the aggregate arena.
"This new plant complements the construction of a new clay tile plant in Trinidad to service the Florida and Eastern US markets, which is in joint venture with the ANSA McAL group," said Boral CEO and managing director Rod Pearse of the Ione project. "The Trinidad plant is progressing well and is expected to be completed in the first quarter of 2006."
While that Caribbean island may define "offshore" for many U.S. citizens, a comment from Pearse put the term into perspective:
"We believe that the long term underlying demand levels in residential housing in the USA will remain robust, supporting our current investment activities in bricks and roof tiles," he said. "Boral's strategy is to grow increasingly offshore and the USA is providing excellent opportunities for us to do this around our leading market positions."
In fact, the opportunities are so excellent that offshore earnings have steadily climbed over the past five years until they now contribute 32 percent of the company's total earnings.
Multinational Coverage
For its part, MonierLifetile, the joint venture between Boral and Lafarge Roofing, was already the leading concrete roof tile maker in the U.S., with 13 active plants and 1,350 employees. Both new plants will be constructed in close proximity to existing facilities in order to complement those facilities' outputs.
In the case of Florida, capacity will rise by 40 percent and be redirected toward central and north Florida markets, allowing south Florida capacity to stay at home. The new plant is also expected to help the company boost market share in the Carolinas and Georgia.
"The new Las Vegas facility will complement MonierLifetile's existing production facility in Henderson, Nev., just outside Las Vegas," said the company announcement. Henderson and Las Vegas are among the fastest-growing communities in the nation. Like its Florida counterpart, the new Las Vegas plant will free up capacity at other plants — in this case in Rialto, Calif., and Phoenix, Ariz. — that have to contend with their own market growth. The regional market is being aided separately by a capacity increase at Boral's solely owned Katy, Texas, concrete roof tile plant.
The French and Australian companies behind these projects are both growing by leaps and bounds in multiple countries as well as multiple states. As we wrote on multiple occasions in 2005, Lafarge is nothing if not multilateral in its growth strategy, investing everywhere from
Africa, the Middle East and Indonesia
to the
U.S.
Boral, meanwhile, in its
Feb. 8 earnings conference
, noted slower growth in its native subcontinent, but promising trends in Asia and the U.S. The company's strategy is called "Perform and Grow," and it's apparently determined to back those dual aims with dual financial and expansion results.
For the half-year ended in December 2005, in fact, Boral saw record U.S. growth in earnings before interest and taxes of 24 percent, to US$65 million (A$88 million). According to data tracked by the company in the 24 states in which it operates, residential permitting was up by 9 percent between the first half of fiscal 2005 and the first half of fiscal 2006. In addition, the value of work commenced on non-residential projects was up by 5 percent. Not surprisingly, given shortages across North America, the company's U.S. sales growth in construction materials was up by 111 percent. Brick sales growth was up by a healthy 11 percent, while clay tiles were actually down by 4 percent — a situation that the company hopes to ameliorate via the new plant investment and the re-apportioned capacity burdens that come with it.
In addition to the aforementioned projects and several significant Australian expansions in plasterboard, concrete and quarry facilities, Boral is investing in a plasterboard plant expansion in China, a new ceiling tile plant in South Korea and a new plasterboard plant in Vietnam.
For more insights into new building materials projects as well as the cost and supply challenges those projects are helping to overcome, be sure to check out the Building Materials Industry Report in the forthcoming March 2006 issue of
Site Selection.