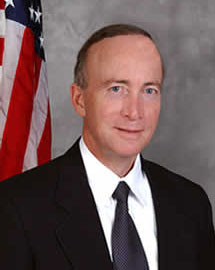 Indiana Gov. Mitch Daniels
W
e're still weeks away from hearing Jim Nabors' baritone intone his love for Indiana before the start of the Indy 500. But the collective economic roar of the state's automotive sector is already reaching a crescendo.
Confirming rumors first reported in December,
Toyota Motor Corp.
announced on March 13 that it would invest around USD$230 million to assemble its Camry model in the Subaru of Indiana Automotive (SIA) complex in Lafayette, Ind. The project will add about 1,000 jobs to an Indiana payroll that is already substantial in the Gibson County town of Princeton, where Toyota just invested $6.2 million last fall in the expansion of its weld and body shop. Toyota purchased an 8.7-percent stake in Subaru's parent company, Fuji Heavy Industries Ltd, in fall 2005.
"We are pleased to further boost localization by moving Camry production in Japan to the United States," said Gary Convis, president of Toyota Motor Manufacturing, Kentucky (TMMK), the primary builder of the Camry. "It's a win-win situation for Toyota and SIA, and for our suppliers whose businesses will grow."
Some of those suppliers already were, notably Aisin, which has multiple expansions under way in Indiana. Meanwhile, the carmaker's home country is heating up again as a market for investment, and Toyota's plant in Tsutsumi is likely to see the exported Camry production replaced by production of the company's popular Prius model.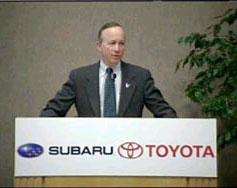 Gov. Daniels at project announcement on March 13. Click to view video.
For now, even as rival Kia announces $1.2 billion worth of North American intentions in Georgia, Toyota and Indiana get to shine first:
"Now we will be the first state with Toyota vehicle production in two different plants," said Gov. Mitch Daniels.
Projected to begin production in spring 2007, the Camry line will roll out 100,000 vehicles a year. SIA builds about 120,000 Subaru B9 Tribecas, Outbacks, Legacys and Bajas per year, and will shift the B9 Tribeca line over with the other Subaru models to make way for the Camry line. The project will help Toyota breach the 2-million-vehicle mark in North American annual production by 2008, with Camrys comprising approximately 25 percent of that total.
"For over 16 years SIA associates have been building high quality Subaru vehicles in Indiana," said Tom Easterday, senior vice president of SIA. "Today's announcement that we will add production of the Toyota Camry at SIA in 2007 reaffirms that SIA has an outstanding work force that is prepared to meet the challenges of a very competitive automotive market."
Those associates will also meet average pay of $23.15 an hour.
Happy New Year, NAFTA Corridor
Gov. Daniels noted at the announcement the state's corporate investment hot streak in early 2006, with projects announced by such companies as Sysco, ConAgra, Schneider, ToolTechnic Systems, Sallie Mae and Louis Dreyfus, which is investing $130 million to build a soy crushig operation and the world's largest biodiesel plant in the town of Claypool. Among the most recent announcements have also been brick plant expansions from Boral and from Wienerberger AG subsidiary General Shale, which is investing $30 million in Mooresville.
Daniels would like to see the streak continue, which is one reason he signed into law on March 23 a bill that makes the state's headquarers relocation tax credit and EDGE tax credit extension available to smaller companies. It also authorizes counties, cities, and towns currently receiving county economic development income taxes to establish local and regional venture capital funds.
"The most important thing we can do is build the best sandbox in America, the very best business environment with the very best climate for new jobs," said Daniels. "Between the Major Moves roads and jobs bill, the telecommunications reform bill, and this bill, the Indiana sandbox has taken a dramatic step forward to becoming even more attractive and receptive to the new investment and the new kind of jobs we will need in this state."
Hot streak continuation is also why Daniels will be following up a 2005 Asian trade mission with a trip to Japan and South Korea in June.
No doubt his visits with Toyota executives there will be filled with both gratitude and entreaty. After all, the ever-busy carmaker always has another project in the works. This year, it's a search for a four-cylinder engine production site, which company officials say could land in any of a dozen states.
Provinces are certainly eligible as well. After all, Ontario will soon have two Toyota production sites too, as the company readies an assembly plant in Woodstock, Ont., which will complement its successful plant in Cambridge. In fact, the engine demand driving the newest site search is directly related to the coming RAV4 expansion in Woodstock.
That Woodstock generation is generating its own spin-off in the meantime, most recently with the announcement that Toyotetsu Canada, Inc. will build a $43-million plant in Simcoe, Norfolk County, Ont., to serve both the Cambridge and Woodstock plants.
The company will construct a 200,000-sq.-ft. (18,580-sq.-m.) plant on a 40-acre (16-hectare) site, employing 250 during start-up. The site was picked over 40 other possible sites in Ontario.
---
Banking and Greenville
Just Go Together
by ADAM BRUNS, Site Selection Managing Editor
adam.bruns bounce@conway.com
The citizens of Greenville, S.C., saw plenty more green on St. Patrick's Day, and it wasn't just on what they were wearing.
South Financial Group, founded 20 years ago in Greenville, chose the holiday to announce it would invest $100 million and create 600 jobs in a new corporate headquarters campus in the city. Those jobs' salaries, averaging around $54,000, will average more than twice the state's per capita income.
"The decision is the culmination of two years of planning to accommodate the explosive growth of Carolina First and its parent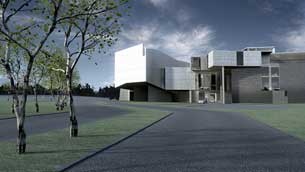 The new headquarters of The South Financial Group will be adjacent to the forthcoming International Center for Automotive Research (pictured above), operated by Clemson University. Mack Whittle, founder and CEO of The South Financial Group, says the two knowledge-based industry clusters are key to improving South Carolinians' quality of life, as well as the state's global competitiveness.
company," said Mack Whittle, CEO, president and founder. The company said Greenville was chosen for the expansion over sites in Florida, which is the bank's fastest growing market. South Financial Group has approximately $14.3 billion in total assets and 172 branch offices in Florida, North Carolina, and South Carolina. It ranks 40th among U. S. commercial banks in total assets. The company will now employ 2,200 in the state, including 1,570 currently employed by its Carolina First subsidiary. It now employs just over 2,600 in all three states combined.
"I said publicly that our first choice was to stay here," Whittle said. "But we are a publicly-traded company. I had to make sure I did the right thing for all stakeholders and provide the most modern and economical workspace for our people."
The $100 million is just the first phase of a project Whittle says is a four-phase plan. Phase One should be complete in 2011. The company said it will create a centric working environment of about 375,000 sq. ft. (34,838 sq. m.) of office space and 1,500 parking spaces. Four buildings plus the town center are planned for the first phase, which will include the infrastructure needed to expand further the campus as required.
"This news, along with the fact that over 112,000 new jobs have been created in our state in the last three years, demonstrates South Carolina's strength as a destination for job-creating business investment," said South Carolina Gov. Mark Sanford.
"Keeping the corporate headquarters of this rapidly growing financial services company in our state is a major step forward in achieving this administration's goals to attract higher paying knowledge-based jobs and raise income levels for the citizens of our state," said South Carolina Secretary of Commerce Joe Taylor.
Those goals appear to be in healthy shape. Not only has state unemployment dropped to a four-year low of 6.2 percent, but Ron Pollina's annual "
Top Ten Pro-Business States for 2006
" report, just released last week by Pollina Corporate Real Estate, Inc., pegs the Palmetto State as first in the nation, followed by Virginia, South Dakota, North Carolina and Wyoming. Among other projects, Michelin's February announcement of a $26-million expansion at its Donaldson plant was the company's third South Carolina expansion announcement in as many months.
The site for the campus is a 68-acre (28-hectare) tract along I-85, adjacent to Clemson University's
International Center for Automotive Research
(ICAR).
"Working literally side by side, ICAR and The South Financial Group will be a significant boost to making our region and state more competitive in the global economy, and a leader in two
This forthcoming headquarters for HSBC Mortgage Services unit Decisoin One in Lancaster County, S.C., is just one of several financial services headquarters projects in recent months in the Palmetto State.
knowledge-based clusters that will improve the quality of life for our people," Whittle said.
"Governor Sanford, his Commerce Department, Greenville City and County Councils, the legislative delegation and business leaders made it clear they want us to stay, and they want South Carolinians to have the jobs," continued Whittle. "Their hard work made my decision a lot easier."
Apparently that's a familiar feeling. A mere four days after South Financial's news, financial data firm Mergent, Inc., announced it would move its corporate headquarters from Charlotte, N.C., to Fort Mill, S.C., investing $13 million and creating 200 jobs with an average salary of more than $50,000.
"The South Carolina team worked with us to meet our needs and make this important business decision possible," said Mergent CEO Jonathan Worrall. "We look forward to being part of the Fort Mill community."
"Mergent's decision to invest in York County confirms our continued development as a location of choice for office projects in the Charlotte region," said York County Council Chairman Steve McNeely.
Mergent has sales offices in key North American cities as well as a strong global presence, with offices in London, Shanghai, Tokyo, Toronto and Sydney. Mergent's databases contain detailed equity, debt and corporate action information on over 15,000 U.S. public companies, 20,000 non-US public companies and all US municipal bonds.
The two projects follow on
last year's announcement
by HSBC that its mortgage services unit also would move its headquarters from Charlotte to Lancaster County, next door to York County.