Dell certainly must like what it's found in Ottawa. The PC powerhouse is already back for a heaping second helping – and it's barely had time to finish off its first.
Dell announced on Nov. 8
th
that it's adding 1,200 customer- service jobs in Ottawa. That marks the second time now in just six months that the Round Rock, Texas- based company has announced expansions in the Canadian capital that involve more than 1,000 brand- new jobs.
Dell's latest Ottawa growth wave will be housed inside a new 148,222- sq.- ft. (13,770- sq.- m.) facility. The three- story building will sit adjacent to the call center that the company opened earlier this year. Construction will begin by December. Well known for its
rapid real estate style
, Dell plans to complete the building by September of 2007.
Dell founder and Chairman Michael Dell timed his visit to Ottawa's Algonquin College to coincide with the expansion announcement.
"There will be lots of opportunities," Dell told a crowd of more than 200 students, faculty members and administrators gathered at an open forum at the school's Advanced Technology Centre. "We plan to fill that facility up."

Only Opened in May, First Ottawa
Center Has Tripled Job Projections
Dell certainly hasn't dallied thus far in filling up its local customer- service operations.
The company announced in August of 2005 that it was establishing its first Ottawa call center. At the time, Dell officials projected that the operation would create about 500 new jobs over the next few years.
That figure, though, soon took a quantum leap. The company started getting a good look at its Ottawa employees in action in February of this year, when the center began

"Our Ottawa team members are listening to customers and delivering what customers really want and value,'' Dell Senior Vice President Joe Marengi (pictured) said in explaining the company's rapid- fire call center expansion.
work while still staffing up.
By the time the facility formally opened in May with 500 workers, Dell's plans had gotten a whole lot bigger. The company announced at the building dedication that it had decided to add 1,000 additional positions at the Ottawa operation.
By May, Dell had also decided that the first Ottawa center could handle considerably more than originally envisioned. The operation has extended services to government agencies and French- speaking customers, and it's added a 150- member sales team.
"Our Ottawa team members are listening to customers and delivering what customers really want and value,'' Dell Senior Vice President Joe Marengi explained as the center officially opened. "Our expansion in Ottawa is a result of their hard work … providing customers with the best possible experience whenever they contact Dell."
The work force in the 156,000- sq.- ft. (14,492- sq.- m.) call center has now grown to 1,200 employees.

Ottawa's 'Depth of Talent'
Ottawa, though, isn't the only place in
Canada
where Dell has been bulking up its customer service.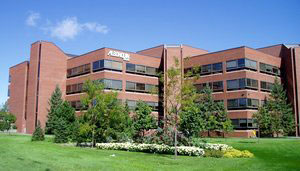 With more than 14,000 students, Algonquin College (pictured is one of the school's dorms) is only one of a host of colleges and universities in Ottawa. Other educational institutions with local campuses include Carleton University, the University of Ottawa, Université de Québec à Hull, Herzing Career College, and Willis College of Business and Technology.
"The remarkable growth of this customer contact center is made possible by the depth of talent we found in the Ottawa work force," CEO Michael Dell (left, sitting beside Algonquin College President Robert Gillett) told a student forum.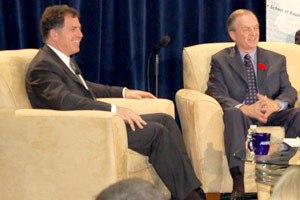 In 2004, the company announced a new 500- worker call center in
Edmonton
. In addition, Dell has call centers stationed in Sudbury and Toronto.
But the sheer speed of the company's Ottawa growth is striking. The city's work- force quality has struck a resounding and welcome chord inside Dell's headquarters.
"The remarkable growth of this customer contact center is made possible by the depth of talent we found in the Ottawa work force," Michael Dell told the Algonquin College forum. "Our continued success depends on our ability to provide exceptional support to all our customers … The men and women of the Ottawa center meet that challenge every day."
Dell during his Algonquin appearance also discussed developing a closer bond with the college. One idea he floated was creating course work that would complement the company's own in- house training programs. That, he said, would strengthen Algonquin graduates' chances for local positions that Dell creates in the future.
Ottawa provides an uncommonly well- educated labor pool for Dell's job openings. Forty- five percent of the city's work force holds a university degree, a college diploma or an educational certification. Dell's Ottawa call center jobs requirements have included CompTIA A+ certification or Microsoft Certified Systems Engineer certification, plus two years of work experience.
"This is a real vote of confidence in Ontario's high- tech sector, in the city of Ottawa and in the skills and education of our people," Ontario Premier Dalton McGuinty said as Dell announced its second Ottawa call center.
Dell didn't discuss the added tech support workers' pay. The company thus far has only released salary information for the first 500 Ottawa call center jobs. Announced in August of 2005, those figures listed starting annual salaries of about $US22,000 for service technicians and about $35,000 for managerial personnel.

A Customer- Service Slump
Dell's rapid Canadian expansion comes as the company is trying to fix its much publicized problems in customer service – an area once roundly regarded as a core corporate strength. In the past, in fact, many business analysts have credited Dell with practically writing the corporate playbook for quality customer support.
Talk like that has been sparse, though, over the last few years. Dell's customer satisfaction ratings, while still high, have dropped noticeably during that span, while Better Business Bureau complaints have risen.
An alarming development for any company, it's one that's magnified at Dell.
"This is a real vote of confidence in the skills and education of our people," said Ontario Premier Dalton McGuinty (pictured announcing a new Kellogg manufacturing plant earlier this year in Belleville).
CIO Randy Mott (right) calls Dell's current call center location strategy "all shoring."
With its direct online sales system eliminating the middle man, the company receives not only all of customers' praise, but all of their blame as well.
And there's been no shortage of blame. Many customer complaints have focused on long waits and multiple transfers during calls. Some Dell buyers reported transfers to operators in four different countries during the course of a single call. Most damning of all: customer laments that operators couldn't fix their problems.
Dell addressed one significant trouble spot in 2003, rerouting the help lines for its OptiPlex and Latitude PCs away from its Indian call center in Bangalore. After numerous complaints about operators' inability to deliver solutions, Dell started sending those calls instead to U.S.- based centers.
Dell CIO Randy Mott describes the company's current call center location strategy as "all shoring" – positioning operations wherever it finds the right skills to meet specific customer needs. The company has also instituted operator training programs to develop the higher skills needed to solve multiple problems without call transfers.
Even so, Dell's business model, with its emphasis on constant growth, presents certain inherent customer- service problems. For one thing, rising demand means that the company has to keep finding more and more capable customer- service workers. At the same time, the growth push keeps swelling the number of technological neophytes in Dell's customer base; and they need more and more help.

A Steamed Blogger Strikes
Dell's customer- service efforts have reduced complaints. But by no means have the gripes disappeared.
Last year, for example, the company was stung by some high- profile censure from well- known blogger Jeff Jarvis. A veteran journalist, Jarvis used his personal blog,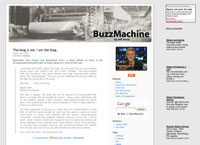 BuzzMachine, journalism professor Jeff Jarvis's personal blog, gave Dell's customer- service problems some unwanted but high- profile publicity.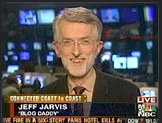 BuzzMachine vs. Dell became such a big story that blogger Jeff Jarvis made numerous media appearances, including the pictured interview with MSNBC.
BuzzMachine, to
painstakingly detail his problems
with the $1,600 Dell PC he'd bought. Ultimately, he posted an
open letter
to Michael Dell in August of 2005.
"The bottom line is that a low- price coupon may have gotten me to buy a Dell," Jarvis wrote on BuzzMachine. "But your product was a lemon, and your customer service was appalling."
Jarvis's Web- site usage skyrocketed, surely dismaying Dell's Round Rock brain trust. Daily visitors quickly spiked to more than 10,000 after the letter went online – double BuzzMachine's normal traffic. Five days after his letter, Jarvis received a mailed refund from Dell.
But the BuzzNet dustup didn't end there. This was a story with legs. Jarvis's series of posts, labeled "Dell Hell," had a catchy news peg built in: Lone Blogger vs. $57.4- Billion- a- Year Corporate Giant. Several newspapers covered the little brouhaha; their reports were picked up by wire services and circulated worldwide. The media- savvy Jarvis, a New York University graduate school of journalism professor, made numerous radio and TV appearances recounting his experience. Even now, BuzzMachine is still receiving reader posts from disgruntled Dell customers.
As for Dell, known for fiercely attacking problems, it's further ratcheted up its customer- service improvement efforts. The company has budgeted $150 million for that initiative during this fiscal year.
One step that Dell is taking is installing large call- tracking monitors in all of its 30 worldwide customer- service centers. Those monitors (also visible in the Round Rock headquarters) will provide a computerized display all waiting calls, highlighting the longest- lasting ones. (The idea mirrors the intense performance focus in Dell's plants, where monitors update the progress of all customer orders every three seconds.)
The company has also revamped some customer- service policies. One new wrinkle is a time limit on how long operators can talk to a large corporate client before the problem is referred to a more skilled worker. In addition, Dell is giving its operators more freedom to decide when to range outside the rulebook and creatively problem- solve. The operator cross- training continues as well.
But strengthening the skills of the company's existing operators and improving their work flow can't provide the entire remedy, Dell realizes. The company knows that to keep its growth juggernaut going, it has to have a larger customer- service staff – and the new employees who're added need to be able to get up to speed fast.
In reaching for that goal, Dell clearly seems to consider Ottawa fertile expansion ground.
---
IWCO Buys Soon- Closed NC Plant,
Saving 440 Jobs, Adding 100 More

Cox Target Media did right by its former employees by working hard to market its Elm City, N.C., property and work force to potential buyers.
After losing thousands of textile and tobacco jobs, Wilson County is struggling with an unemployment rate of about 7 percent. (Pictured: the courthouse in Wilson, the city that's county seat.)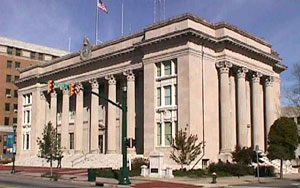 The clock was getting uncomfortably close to the final tick for the
Cox Target Media
plant in Elm City, N.C. The facility was locked on a collision course with its own end game, scheduled for a 2007 shutdown that would leave its 440 employees out of work.
Now, though, the Elm City plant has gained a new lease on life. And a new owner.
IWCO Direct
has decided to buy Cox's entire operation. And not only will the Minnesota- born company maintain the plant's 440 existing jobs; it will create almost 100 new positions as well.
The project's Oct. 30
th
announcement arrived as a huge early Christmas gift for Elm City, a small town of some 1,200 residents that lies 59 miles (94 km.) east of Raleigh. The area has suffered from high unemployment after losing thousands of textile and tobacco jobs in a series of shutdowns and offshore relocations. Wilson County's unemployment rate has been running at almost 7 percent, 2.5 percent higher than the state average.
For IWCO, a fast- growing direct mail company, the Cox plant was a solid strategic fit.
"IWCO Direct is pleased to offer enhanced value to our customers through expanded capacity and the attractive geographic location this acquisition brings," IWCO Director President Jim Andersen explained in announcing the buy.

Carolina Buy Boosts IWCO's
Strategy for Greater Geographic Growth
Cox's Elm City plant dovetails neatly with IWCO's business.
The Carolina facility currently assembles the ubiquitous Valpak coupon parcels,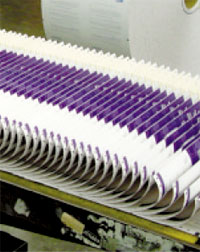 Cox's Elm City operation, which produces Valpak parcels for mailing, fits well with IWCO's direct- mail operations (pictured).
which are mailed monthly to 45 million households in the U.S., Canada and Puerto Rico. The Valpak work will continue until the sale to IWCO is completed in 2007, Cox officials said.
The Carolina acquisition bolsters IWCO's expansion strategy as well.
In mid- 2004, the Chanhassen, Minn.- based company decided to enlarge its operations in its headquarters city in the Minneapolis- St. Paul metro. In announcing that project, Andersen further noted that IWCO was "evaluating expansion opportunities in other geographic locations."
Jim Leone, VP of value creation, business and product development, was the lead man on the project for IWCO Direct. He tells
Site Selection
that IWCO's initial contact with the Cox property came about 20 months ago, as a result of knowledgeable and connected people on IWCO's board and Cox's smaller initial marketing campaign at that time.
"We had been looking for southeast capacity as part of our strategic direction," says Leone. "We contacted them, and we started down a path where we started looking at the facility."
A rest stop on that path came in July 2005 when IWCO acquired New York- based Fala Direct Marketing.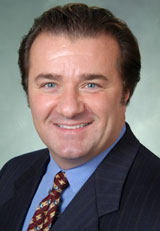 Jim Leone of IWCO Direct
But contact with the Cox property was maintained, says Leone, and "we then picked the pieces back up in the beginning of 2006.
"During that time frame, we had built some extensive and complex plans," he says. After all, Cox had a move- out date. Those plans changed somewhat during the hiatus, but the foundation idea stayed the same.
Leone says IWCO's growth plans from the beginning have been to establish presences in the northeast, southeast and western U.S. The primary focus is acquisition, but he says the North Carolina process – which he calls a "modified greenfield" project – has allowed the company to at least consider the possibility of a greenfield- type project for that still- pending location in the West.
In addition to expanding IWCO's capacity, the Carolina acquisition will help optimize the company's postal expenditures and reduce its project cycle times, Andersen said. The Elm City buy will appreciably increase IWCO's work force as well. The company currently has about 1,650 employees.
Cox announced in 2004 that it would shutter the Elm City plant in 2007. The Carolina closing was tied to the company's decision to build a new direct- mail facility near its headquarters in Largo, Fla. Cox Target Media
chose that site
in the Tampa- St. Petersburg area for expansion after considering the Atlanta metro, home to parent firm
Cox Enterprises
.

Cox Worked Hard to Find Buyer
The seller company was also a major player in making this deal happen. Cox Enterprises went the extra mile in an effort to aid its Elm City employees and the coastal Carolina area in which they lived.
ValPak and community leaders celebrate the company's $185- million investment in St. Petersburg.
Two to tango: In IWCO, Cox Target Media found a buyer who'll fulfill Cox's goal in disposing of the facility: saving the local- area jobs.
When the closing was first announced, the company offered all Elm City plant employees the opportunity to apply for jobs at the new operation that would be built Florida. Those who were hired would receive relocation assistance as well.
But Cox did more than that. The company promised that it would launch an aggressive two- year marketing push (including ads in
Site Selection
) to find a buyer for the Elm City property who would keep the area's jobs alive. That initiative took almost all of the two allotted years before the selling effort succeeded.
"Valpak's mission has been to minimize the impact on employees," Cox Target Media President and CEO Bill Disbrow said as the IWCO sale was announced. "Throughout this process, we've searched for a solution like this that would best serve our employees and the Elm City community."

IWCO Investing $18.9 Million
Officials with the selling and buying firms described the ownership switchover as a "phase- in transition." That process, they said, will begin in April of 2007, with finalization projected by October. Further details of the changeover process weren't disclosed.
Andersen said that IWCO plans to add 98 new jobs at the plant over the next two years. In addition, the company plans over a three- year span to invest at least $18.9 million for new equipment in the Elm City operation. The actual expansion outlay will likely total considerably more than that, Andersen added.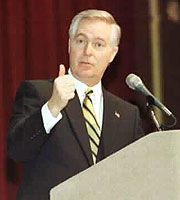 Gov. Mike Easley
Employee pay levels and benefits for all IWCO jobs at the Carolina plant will be comparable to those that Cox has provided, officials said.
The project is getting $750,000 in state and local assistance. Half of that amount is coming from a grant from the One North Carolina Fund. Wilson County is matching the state's grant.
Gov. Mike Easley described IWCO's arrival in Elm City as "excellent news for the hard- working people of Wilson County."
IWCO was named to last year's "Growth 50," a listing of the fastest- growing private firms in the Twin Cities compiled by the
Minneapolis/St. Paul Business Journal
. The company's ranking was based on its recording a 66.5- percent revenue growth rate from 2002 to 2004. During that span, the company's revenues leapfrogged from $91.7 million to $152.7 million.
Last year, the company recorded revenues of $199 million. With its two recent acquisitions, IWCO is expecting that number to rise to about $260 million this year.
IWCO describes its business as "total package supply- chain solutions." The company's range of direct- mail services includes materials and envelope printing, mailing, fulfillment, and data services.
As Andersen said of the Elm City plant, "This facility and its skilled work force supports IWCO Direct's unique integrated business model."
---
ACCO Brands Adding 350 Employees In Multi- Building Mississippi Expansion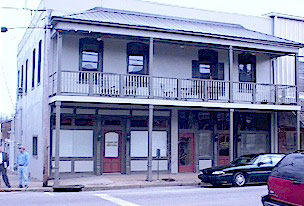 The downtown area of Booneville (pictured), a city with about 8,700 residents, was added to the National Register of Historic Places in 1998.
ACCO Brands
, the major office- products player that makes Swingline staplers, is making a major swing into northern Mississippi, sweeping 350 jobs into the small town of Booneville.
ACCO already had a substantial presence in Booneville, which lies about 115 miles (184 km.) southeast of Memphis. The Lincolnshire, Ill.- based company currently has 500 manufacturing employees working in more than 180,000 sq. ft. (16,722 sq. m.) of space.
That sizable operation, though, is getting a much bigger footprint in the process of assuming a much more prominent corporate role. ACCO is constructing three new facilities on the Mississippi site that will collectively add 570,000 sq. ft. (52,953 sq. m.) of new space. In addition, the company says that it will make major renovations to some of its existing Booneville space to enhance productivity.
ACCO expects that its total capital expenditure for the expansion will tally $55 million. The company broke ground on the project in Booneville on Oct. 28.
"ACCO Brands has demonstrated continued confidence in the Mississippi business climate with the announcement last August that it will expand the facility in Prentiss County," said Gov.
Haley Barbour
, who personally worked with the company in enlarging its Mississippi operation. "This expansion is an example of how our Momentum Mississippi initiative is working to help Mississippi companies to expand employment opportunities."
Barbour in 2004 created Momentum Mississippi, a long- term strategy for state job creation. The public- private partnership is directed by a task force that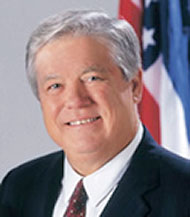 Project site- selection factor: Gov. Haley Barbour.
includes more than 100 business, education, development and community leaders drawn from all state area. Barbour appointed
Mississippi Power Company
President and CEO Anthony Topazi as the task- force chair.

Costs and Customer Proximity
Played Big Roles in Location Choice
The
Mississippi
expansion comes as ACCO is in the midst of a strong growth roll. In 2005, it acquired
General Binding Corp.
(GBC), a Northbrook, Ill.- based company that makes products that bind, laminate, and display information. ACCO, which was spun off by
Fortune Brands
two years ago, has now completed the process of merging with GBC. (GBC is now an ACCO unit.)
The merger, a stock- for- stock transaction, made ACCO a significantly larger enterprise. The company's 2005 sales of $1.9 billion represented a 26.5- percent annual increase. Now totaling some 8,000 workers, ACCO's employment roster has grown even more dramatically. Last year, due in significant part to the GBC acquisition, the company's work force increased by 78 percent, adding almost 4,500 new jobs.
But the decision to expand in Mississippi was driven by something old – namely, time- tested site- selection verities that boost the bottom line.
"This is a significant expansion of a strategically important manufacturing and distribution facility," Dennis L. Chandler, president and chief operating officer of ACCO's Office Products Group, said at the Aug. 2 project announcement held at the company's Booneville operation. "We'll benefit from a lower- cost operation, reduced shipping costs and greater proximity to our customers."
The north Mississippi expansion will also position ACCO to more effectively supply the U.S. Southeast, where it has a sizable customer base.
"We will create a state- of- the- art distribution center and a much needed presence for distribution in the southeast region of the country," Chandler said.
Company officials also cited the persistent personal involvement of Gov. Barbour as a significant factor in the site- selection decision.

The expanded Mississippi operation will become ACCO's principal North American manufacturing site for Quartet presentation boards (one of which is pictured above), a product that GBC brought into the merger.

Location Will Enlarge Role
When the expansion is completed in 2008, the Booneville operation will take on a higher profile in the company's operations, Chandler explained.
In addition to serving as the home of a significant distribution operation, Booneville will become ACCO's principal North American manufacturing site for Quartet presentation boards. The Quartet line is one of the products that GBC brought into the merger. The Mississippi operation will also manufacture vinyl binders. Finally, ACCO plans to position some of its customer- service employees in the new space added in Mississippi.
The Booneville expansion will include demolishing several obsolete buildings, ACCO says. When the project is completed, the company will have a total of 748,000 sq. ft. (69,489 sq. m.) of space at the site.
ACCO has tapped Chicago- based
A. Epstein and Sons International
to serve as the project architect, full- service engineer and construction manager.
In conjunction with the decision to expand in Mississippi, the company is closing two plants. Located in Addison, Ill., and Mexico City, those facilities are part of the GBC real estate portfolio acquired in the merger. Some of the two plants' manufacturing jobs will be repositioned in Booneville, company officials said. (ACCO hasn't specified the number of jobs that will be repositioned.)

Significant 'Synergy' Savings from Merger
ACCO is projecting more revenue growth on the horizon,
ACCO is expecting that its "synergies" from its merger with General Binding Corp. will produce $60 million in savings during the company's 2009 business year.
with a significant portion stemming from the GBC acquisition.
In its Nov. 2 third- quarter filing, the company repeated its expectations that it will take a $40- million restructuring charge this year to cover the costs of realigning operations with the merger.
On the other hand, ACCO said that it expects to save $20 million this year due to merger- related "synergies" – most of them enhancements to the corporate supply chain. By 2008, it expects that annual synergy savings will rise to $40 million, further increasing to $60 million in 2009.
The company reported third- quarter sales of $499.2 million, a 17.7- percent increase from the $424 million during last year's third quarter. Other ACCO brands include Day- Timer, GBC, Kensington, Rexel and Wilson Jones.