"Never leave a job half- finished."
Your parents, my parents —
everybody's
parents — told us that a million or two times.
But get a look at this, mom and dad: a half- done US$325- million pharmaceutical plant.
That's about how far
Eli Lilly and Company
had gotten in building its new insulin plant in
Virginia's
Prince William County. Then on Jan. 11th, the pharmaceutical giant announced that it was immediately discontinuing construction — and it won't be starting back up again.
That's right. Lilly has fully pulled the plug on the project
that it first announced in 2002
. What's been built thus far will be demolished. And when the 120- acre (48- hectare) site in Innovation@Prince William Technology Business Park is cleared, the company says it will sell it.
Ostensibly a puzzling move, the decision boiled down to corporate focus and capacity, Lilly explained. The company decided that it had all the production it needed when it came to insulin. For bio- tech, though, it didn't have enough.
"Lilly is making several changes to its global manufacturing operations to ensure the company has the right capacity in the right places," Lilly President of Manufacturing Operations Scott Canute said in a statement released from
the company's headquarters in Indianapolis
. "This requires investing in new growth areas and reducing resources in others."
In announcing the Virginia cancellation, Canute pointed out that two of Lilly's sites in
Indiana
and
Ireland
will significantly expand the operations' biotech capabilities.
Company Considered
Alternative Uses for Site
For Prince William County, though, Lilly's decision means 120 fewer jobs. Located just outside the city of Manassas, those workers were part of the insulin manufacturing operation's projected 350 total employees. Workers' annual earnings would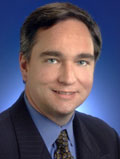 Lilly President of Manufacturing Operations Scott Canute
average $55,000, Lilly said when announcing the expansion in 2002.
"The decision to cease construction of the Prince William County site is very difficult because of the impact on employees," said Canute. "In addition, we have received tremendous cooperation and support from community and state officials."
All of the Prince William site's 120 employees who decide to stay with Lilly will be given "opportunities for jobs at other company sites," the company said in a statement. Employees who chose not to stay will be given a severance package. The company didn't disclose any specifics about the severance offers.
Lilly considered modifying the in- place Virginia construction to adapt it to another configuration that the company could use. But the work was done to such a special- purpose design that such an alteration wasn't possible, company officials said. Selling the site in "as- is" condition was another option that was shelved.
Completed construction included the facility's foundation and its steel beams. All of that will now be leveled, Lilly said. The 120 workers who'd already been hired were housed on Lilly's site in a group of trailers.
The company estimated that it will take a restructuring charge of "approximately $155 [million] to $185 million," split between fourth- quarter 2006 and first- quarter 2007. That will result in a fourth- quarter 2006 per- share earnings charge of five cents.
Project Scope Shrank in '05
In retrospect, the first signs of possible problems surfaced in June of 2005.
At the time, the project was running two years behind schedule. Lilly hadn't yet broken ground on the Virginia plant announced three years earlier. The delay stemmed from a redesign necessitated by rising costs for steel, cement and lumber, company officials explained to the Prince William County Board of Supervisors 17 months ago. The facility would be built by 2009, the Lilly executives said.
But the plant's size and employment, they added, would be halved to 300,000 sq. ft. (27,000 sq. m.) and 350 workers. And the initially announced capital outlay of $425 million — which then- governor Mark Warner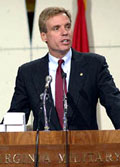 Mark Warner, then Virginia's governor, lauded Lilly's $425-million project announcement in 2002 as one of "the top 10 largest economic development investments in the state's history."
had called among "the top 10 largest economic development investments in the state's history" — would be reduced as well to $325 million.
Some observers, however, suspected that slumping sales also had something to do with the project's shrinkage and its long delay.
"It's really not a surprise," Friedman, Billings, Ramsey Group health- care analyst David Moskowitz told
The Washington Post
in the summer of 2005. "The company's insulin business is waning, losing significant market share to competitors."
Diabetes- related products currently account for about 20 percent of Lilly's revenues. The company, however, acknowledged in last month's Virginia shutdown announcement that the demand scenario had shifted.
Lilly, Canute said, expects continued growth in global demand for its insulin products and insulin delivery devices — but not as much growth as it was projecting when the Prince William project was announced. "The company is now able to meet expected growth in insulin demand with existing sites and new insulin capacity being built in Sesto, Italy," Lilly noted in its statement.
Some of the company's additional insulin demand will also likely be handled instead by
the company's operations in Puerto Rico
, where a $1- billion expansion was completed in August of 2006.
Canute added that higher productivity at Lilly's existing insulin plants was another factor in the Virginia cancellation.
Lilly, however, will add new capacity to produce

The Humalog insulin pen (pictured) that Lilly was going to make at the Virginia plant will now be made in Indiana.
the pen- sized insulin pens that were going to be made at the Virginia plant. The company, said Canute, will add a new assembly line at its Indianapolis operation, and the Humalog insulin pen will be one of the first products it will make. The added line will make other products as well, he noted.
Lilly Was Active Force
In Local Area's Affairs
"As a businessman, I certainly understand the need for a company to respond strategically to challenges in the marketplace. That's just common sense," said Prince William County- Greater Manassas Chamber of Commerce Chairman Joe Martin, sales director at Manassas- based Focuspoint. "As a community leader, I'm naturally very disappointed about the loss of jobs the plant would have brought into the community, both directly through its associates and indirectly through . . . services to the company."
Prince William landed the Lilly project over almost 300 other sites that were considered. The production facility would've been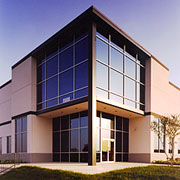 Part of the 1,500-acre (600-hectare) Innovation Park
Photo: R.W. Murray Co.
the company's first outside its home state of Indiana.
Community leaders envisioned the finished insulin plant as the centerpiece of a biotech cluster. Lilly inside the 1,500- acre (600- hectare) Innovation Park would've joined other tenants including the nonprofit
American Type Culture Collection
, which collects microorganisms as a resource center for scientists; the
Federal Bureau of Investigation
, which consolidated its north Virginia offices in the development;
Logis- Tech
, a defense industry contractor; and NCS Technologies, a PC products manufacturer and supplier.
Now, though, that vision won't reach fruition. Local recruiters, though, are determined to land another big project at the site where Lilly's insulin plant would've stood. Despite the project outcome, area officials lauded the company for being an energetic participant in civic life. They noted Lilly's sponsorship of the American Diabetes Association's annual America's Walk for Diabetes in October, as well as its support of the Prince William Symphony Orchestra, the Manassas Dance Company, and a number of other arts and nonprofit community service organizations.
"Personally, I'm disappointed to be losing such a good friend of the chamber," Martin said.
Big Growth in Indiana, Ireland
The Virginia cancellation comes as Lilly is accelerating its push into biotech.
The company said that it will average launching one biotechnology product a year starting in 2010. In Lilly's current drug pipeline, biotechnology- based products make up more than 30 percent of the volume.
That pipeline will spill over into action in Indianapolis and Kinsale, Ireland,
| | |
| --- | --- |
| | |
| Lilly is getting bigger in Indianapolis, home of the company's headquarters (pictured). | An aerial view of Lilly's manufacturing operation in Kinsale, Ireland. |
where the company plans major biotech growth.
The Kinsale operation will be expanded to manufacture the active ingredients for unspecified biotech products, Lilly said. That project will be linked to the growth in the company's Indianapolis manufacturing operations. That new operation in Indiana's capital city will convert the active biotech ingredients produced in Kinsale into final dosage form.
Lilly said that the Ireland and Indiana expansions will involve "significant investments," but provided no specifics. The company said that the two projects are part of the firm's earlier announcement of a $1.5- billion initiative to build up its biotech capabilities.
On the other hand, one of the company's Indiana operations will be getting smaller. Lilly said that it is offering "a voluntary exit program" to as many as 250 employees at its Lafayette, Ind., manufacturing operation.
About 1,000 workers are currently on the Lafayette plant's staff. The reduction initiative stems from excess manufacturing capacity for the small molecule active ingredients that the Indiana plant makes, the company said. If fewer than 250 workers don't chose to leave, Lilly said that it won't cut any jobs at the Lafayette operation.
Finally, Lilly is combining adding biotech muscle and cutting back staff in its purchase of
ICOS
. Lilly on Jan. 29th
completed its $2.3- billion acquisition
of the Seattle- area company that developed Cialis. With the transaction's finalization, "significant numbers" of ICOS' 700 jobs will be eliminated, said Lilly Chairman and Chief Executive Sidney Taurel.
---
Alabama-Bound: MAE's $470-Million
FedEx Agreement Means 200 New Jobs

MAE already has 1,200 employees at its complex at Copley Field, where it has almost 900,000 sq. ft. (81,000 sq. m.) of space.
With
FedEx
and
Boeing
supplying significant power,
ST Mobile Aerospace Engineering
(MAE) is taking off with 200 new jobs at its aircraft maintenance and repair hub in Mobile, Ala.
The dominant driver in the expansion deal is MAE's new $470- million contract with FedEx. The agreement specifies that MAE will convert 87 Boeing 757 passenger jets to air freighters. That work is a central element in FedEx's $2.6- billion upgrade of its aging fleet, which the express mail powerhouse announced in September of 2006. (The initiative's total cost includes both purchasing and modifying the 757s.)
MAE's proven track record was a central rationale in the choice of contractors, FedEx Express Vice President of Engineering Mark Blair explained at the Jan. 18th announcement of the agreement at the Mobile- based firm's hub at the Brookley Field Industrial Complex.
"MAE has proven they have the capability and the flexibility to meet our demanding markets' changing needs," Blair said after joining MAE and Boeing officials in signing the contract. "We value very highly MAE's dependability and look forward to broadening our partnership in the years to come."
The logistics giant has been partnering with MAE since the company opened in
Alabama
in 1991. In addition to maintenance and repair, MAE's previous contract work for FedEx has included the conversion of 21 Boeing 727s into freighters. The two firms' long relationship is reflected in the FedEx engineering staff that's already based at MAE. That team will remain in place throughout the conversion contract, Blair said.
FedEx has an even longer contractual history with MAE parent
ST Aerospace
(STA), which was founded in 1975.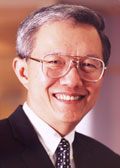 ST Aerospace President Tay Kok Khiang
In November of last year, the Singapore- based company celebrated the re- delivery of its 2,500th plane to FedEx.
"FedEx is a major customer and is supported by ST Aerospace's facilities in the U.S. and Singapore," ST Aerospace President Tay Kok Khiang noted at the contract signing. "We are honored that FedEx has selected us."
The 757 modification contract, he added, "is a validation of our efforts to be a world- class provider of passenger- to- freighter conversions."
Converted Aircraft Will
Up Payloads, Cut Costs
MAE's work on Alabama's Gulf Coast will be performed in accordance with a Supplemental Type Certificate (STC) developed by ST Aerospace. (STP is the Federal Aviation Administration's term for its approval of the airworthiness of any major aircraft modification.) The STP is based on data licensed from Boeing. Boeing provided its first passenger- to- freighter conversion services to FedEx in 1999 in the modification of MD- 11s.
MAE's passenger- to- freighter conversions on the 757s will include installing side cargo doors, strengthening the main deck floors, and installing rigid cargo barriers and cargo loading systems, Blair explained.
Boeing launched the 757 series, which included a freighter model, in 1984, discontinuing the series in 2005.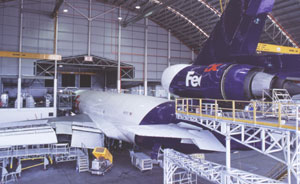 MAE employees work on a FedEx jet inside one of the Mobile-based company's nine hangars.
The 757s that MAE will modify, however, will still mark a major modernization for FedEx. The converted aircraft will replace the Boeing 727, for many years the logistics giant's operational mainstay. FedEx in 1978 began using 727s as its first fleet of dedicated cargo haulers. Boeing introduced the 727 in 1963, stopping production in 1984.
Despite the fleet upgrade's hefty price tag, the newer and larger planes will provide a major bottom- line payoff, FedEx believes. The 757- 200 can carry payloads 20 percent larger than the 727's, company officials say. The only 15- pallet freighter currently on the market, the 757- 200 has maximum revenue payload capacity of 87,700 pounds (39,465 kilograms).
FedEx says that its new fleet of modified aircraft will also lower the company's per- pound operating costs by about 25 percent. The 757- 200's additional pluses include less noise and lower greenhouse gas emissions.
FedEx's MAE contract reflects the air cargo industry's sharp swing away from the short- term cost- efficiencies of utilizing smaller planes. That trend was underscored in
the market projection that Boeing released in the fall of 2006
. The aircraft manufacturer estimated that during the next two decades the world's air freighter fleet will almost double, increasing from 1,789 to 3,563 planes.
Strikingly, Boeing is projecting that almost 75 percent of those new freighter entries will be modified planes. That snowballing conversion trend has already thinned out the number of planes available for conversion.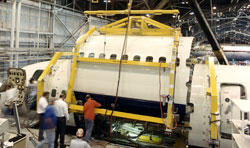 Boeing launched its 757 conversion program in 1999 (above), providing the first modified aircraft to DHL (below).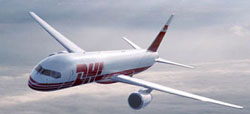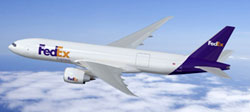 FedEx has ordered 15 new Boeing 777 freighters (pictured), but deliveries of the new planes won't start until 2009.
Conversions Begin in May
Blair, however, says that FedEx has signed contracts and letters of intent for almost 90 Boeing 757s. Perhaps reflecting the market's tightness for conversion feedstock, he declined to specify any of the sellers.
Big new freighters, on the other hand, are readily available. FedEx, in fact, late last year ordered 15 new Boeing 777 freighters. (The Memphis- based company switched to the 777s after canceling its order for 10
Airbus
A380s because of the 380 program's repeated delays.)
Getting new freighters, however, consumes valuable time. Deliveries of FedEx's new 777s, for example, won't begin until 2009. The wait isn't at all appealing, given the air cargo industry's strong growth now. Boeing is projecting that global air cargo volume will expand at an average of 6.1 percent per year over the next two decades.
Accordingly, FedEx is going to get its 757 conversions going quickly. The first plane will be delivered to MAE in May, with initial re- delivery scheduled by December, Blair said.
MAE will run three conversion lines "if not more," said Tay. The Alabama contractor will average about one completed conversion per month, he added.
MAE said that it will begin hiring immediately. The new jobs will pay between $14 and $18 an hour, depending on experience. With the announcement of the FedEx conversion contract firmly scheduled for Jan. 18th, the company had already organized a job fair at Brookley Field, which was held three days after the pact's signing.
In addition to creating new jobs, the new FedEx pact provides stability for MAE's existing workers in the highly cyclical world of aviation maintenance contracting. With 1,200 employees now at Brookley Field, the company is
Mobile County's
biggest private- sector employer.
MAE's Mobile complex includes 671,000 sq. ft. (6,039 sq. m.) of space in nine hangars. MAE also has another 150,000 sq. ft. (13,500 sq. m.) in support shops, as well as a 60,000- sq.- ft. (5,400- sq. - m.) dedicated wash- and- strip rack. (One of MAE's neighbors at the Brookley site is a FedEx air cargo terminal.)
The FedEx contract won't trigger any additional capital expenditures at MAE's large Mobile complex, Tay said. But investments could follow later, he added, since the new agreement "gives us confidence that the demand is going to be here."
| | |
| --- | --- |
| | |
| Seen in an aerial view, Brookley Field Industrial Complex encompasses more than 4.5 million sq. ft. (405,000 sq. m.) of industrial space. | With its new U.S. Navy contract, Austal USA's Mobile operation (pictured) is adding 190 new jobs. |
Brookley Field's Rebound
The FedEx deal is the latest aviation project that's recently landed at Brookley Field.
Airbus, for example, is nearing completion of its 150- employee North American engineering center at the former U.S. Air Force base. And in 2005,
Northrop Grumman
and
EADS North America
picked the Brookley complex
for a $600- million, 1,000- worker aircraft assembly facility. That project, however, depends on the EADS- Grumman team beating out Boeing for a U.S. Air Force contract to build aerial refueling tankers. The military pact could be worth as much as $200 billion.
The aviation activity is a rejuvenation of sorts. Before its 1969 closing, Brookley Air Force Base was a huge economic engine for the area. The 1,700- acre (680- hectare) site employed 1,700 workers in its heyday, shortly after the end of World War II.
The local economy got some more good economic news late last year, when
Austal USA
said that it was adding 190 jobs after landing a $208- million contract to build a prototype of a U.S. Navy littoral combat ship (LCS). The Navy agreement came a little less than two years after Austal landed
another Navy LCS assignment
that prompted the announcement of 600 new jobs.
---
Trimmed- Down Gillette Moving Boston HQ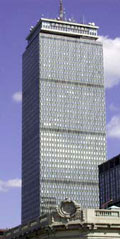 Gillette has had its headquarters in the Prudential Tower since 1967.
Procter & Gamble
, which has rapidly shaved down
Gillette
's size, announced on Jan. 11th that it will relocate the lord of the razor blades' headquarters from the Boston landmark that's housed it for four decades. In the process, P&G is investing as much as $50 million in the Gillette campus where the 600- employee operation will be repositioned in 2009.
Rumors of a possible relocation had been circulating for almost two years. Cincinnati- based P&G announced in late January of 2005 that it was acquiring the world's No. 1 manufacturer of shaving supplies in a $57- billion stock swap. In late 2005, the world's largest U.S. consumer products company hired an architectural firm to look at ways of reconfiguring Gillette's South Boston Manufacturing Center. Some 13 months later, P&G picked that 33- acre (13- hectare) campus for the Gillette headquarters relocation.
That means a very short move. The headquarters will relocate only two miles (3.2 km.) away from its current downtown site.
That change of address, though, is more substantial than the short distance suggests. The relocation will be part of a major shuffle of P&G's management and business structure, and it will cut the company's cost structure as well.
For Boston, though, the move is not altogether cheery news. It will mean that the downtown area will lose another of the city's most famous corporate names. On the other hand, it means that Gillette will remain a major player in the area where it was born.
The company was founded in
Massachusetts'
capital city in 1901 by traveling salesman King Gillette and Massachusetts Institute of Technology- educated machinist William Nickerson. In 1967, Gillette became one of the first tenants in the new 52- story Prudential Tower in Boston's tony Back Bay area. The company's lease, which runs through 2009, covers almost 500,000 sq. ft. (45,000 sq. m.) on 19 floors.
Gillette's presence inside the Pru, though, has been steadily trimmed back since P&G's acquisition. At its peak, Gillette had 1,100 employees housed in the tower. Today it has 600.

Massachusetts Secretary of State William Galvin
Much- Criticized Merger
Spurred Investigation, Study
That cutback at the Pru stirred up many Bostonians' worst fears. A host of city and state leaders had disapproved of P&G's acquisition of Gillette, saying it would cost Boston jobs and dilute Bean Town's business stature.
Massachusetts Secretary of State William Galvin even mounted an investigation of the merger soon after it was announced. In June of 2005, he followed up by releasing a study that questioned the acquisition's equitability.
"Investors, especially Gillette shareholders, should read this," said Galvin, then considered a potential 2006 Democratic gubernatorial candidate (he chose not to run, instead successfully campaigning for reelection as secretary of state). "It offers a cautionary second look at the share price offered in connection with the merger. Shareholders need to consider whether the share price offered is fair to them from a financial point of view."
At the request of Galvin's office, Rajesh Aggarwal, a University of Virginia commerce professor, conducted a study of the merger.
Aggarwal concluded that the calculations of the merger's value "seem to understate the value, benefiting Procter & Gamble shareholders at the expense of Gillette shareholders." Internal Gillette documents valued the merger's cost- saving synergies at between $18.8 billion to $28.55 billion, said Aggarwal, now a professor at the University of Minnesota. P&G publicly valued the synergies at $14 billion to $16 billion.
That study apparently didn't register with Gillette and P&G shareholders. On July 12th of 2005, 96.5 percent of the votes cast were in favor of the merger. (That vote equaled 70.3 percent of the two companies' total shares.)
At the same time, Massachusetts economic development leaders were organizing
a series of meetings with P&G leaders
in order to promote to them the state's massive intellectual capital and R&D potential. The outgrowth of those meetings was the state's Massachusetts Business Connect program, designed to foster R&D partnerships between companies and universities.

Mayor Thomas Menino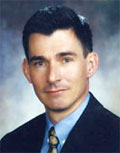 P&G's Charles "Chip" Bergh
P&G: Decision 'Underscores
Strong Commitment to Massachusetts'
Many Boston leaders seemed relieved to learn that Gillette's jobs were staying in the Boston metro. One of those officials was Mayor Thomas Menino, who was highly critical of P&G's acquisition.
"I want to congratulate Procter & Gamble on being a responsible employer," Menino said in a statement released shortly after the relocation decision. "They are not only investing in a building but also in the quality of life for their employees. They are a terrific partner."
(The city got more good news on Jan. 22nd, when
AstraZeneca
announced that it's going to
invest $100 million and add 100 employees
at its Boston- metro R&D facility.)
The 600 relocated headquarters jobs will join the 1,900 Gillette employees now at the South Boston campus. Gillette's Boston- metro presence also includes a 400- employee office and warehouse facility in Andover, as well as a 150- worker packaging plant in Devens.
"This major new investment underscores P&G's continued strong commitment to our premier shaving facility and to our robust presence here in Massachusetts," said P&G executive Charles "Chip" Bergh, who on July 1st will take over Gillette's operations as part of a new unit that P&G is calling "global grooming."
That new division is part of a managerial reorganization that P&G announced in conjunction with the headquarters relocation. On July 1st Gillette and its Braun line of electric shavers will become part of P&G's Beauty and Health subsidiary. At the same time, Gillette's Duracell battery business will become part of P&G Household Care. While it will continue as a brand, Gillette at that point will cease to be a separate unit within P&G. That action, however, won't affect where the three brands are headquartered. Gillette will remain based in the Boston area, while Braun stays in Kronberg, Germany, and Duracell in Bethel, Conn.
The reorganization will prompt some downsizing. Gillette's global business unit will be dissolved, which will result in about 50 job cuts worldwide, P&G officials said. Those reductions will occur in both Gillette's and P&G's operations, they added.
$200- Million Upgrade Already
Underway at South Boston Site
Gillette has been at the South Boston site since 1905.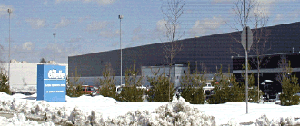 Gillette has 150 employees at its packaging plant in Devens.
Photo: American Alarm
The campus consists of 24 interconnected buildings with 1.6 million sq. ft. (144,000 sq. m.) of space.
P&G says that it will invest $35 to $50 million in upgrading the operation. The upgrade will include expanding and refurbishing office space, the lobby, meeting areas, training rooms, the cafeteria and the employee fitness center.
The Boston campus is currently home to business support, engineering, manufacturing, marketing and R&D for Gillette's blade and razor business. P&G in 2005 announced a three- year $200- million upgrade of the operation's R&D capabilities.
P&G's Gillette buy is one of several recent acquisitions of prominent firms that were headquartered in Boston. North Carolina- based
Bank of America
, for example, bought FleetBoston Financial in 2004. That same year, Toronto- headquartered
Manulife Financial
acquired John Hancock Financial Services.
Pru Space Hits Sublease Market
Gillette's headquarters location won't be fully completed until 2009, P&G officials said. But the parent firm is already shedding much of its pricey space at the Pru. Direct lease space in the Back Bay area goes for between $50 and $60 a square foot.
P&G put 375,000 sq. ft. (33,750 sq. m.) of its Prudential space up for sublease soon after Gillette's relocation announcement.
Eduventures
, a local company that provides research and analysis and conducts conferences, has signed a sublease for about 50,000 sq. ft. (4,500 sq. m.). Back Bay continues to be a tight market, and officials with the commercial real estate firm of
Richards Barry Joyce & Partners
aren't anticipating problems in filling the Gillette space.
P&G is still in the process of the 5,000 to 6,000 job cuts that it said would result from acquiring Gillette. That's about 4 percent of the two companies' combined 140,000 employees. Most of the reductions will come from consolidating support functions and eliminating overlapping managerial units, P&G said.
P&G has fared well since its Gillette buy. For its most recent fiscal year (which ended June 30th of last year), the company reported net earnings of $68.22 billion. That marked a 20- percent increase in the first full business year after the Gillette acquisition.

Gillette's prominence in Boston is underscored by having its name on the stadium where the NFL's Patriots play football.
Photo: New England Patriots

Boston's Back Bay financial district
Photo: Suffolk County