Hyundai Motor Company
's second big brake shoe has hit the floor in
Alabama
: The South Korean firm is investing US$270 million and creating 522 new jobs at the same 1,700-acre (680-hectare) site in the Montgomery metro where it launched its maiden U.S. manufacturing voyage 22 months ago.
The world's sixth-largest automaker announced on March 12th that it will construct a second engine plant on that roomy property in Hope Hull. The new engine production facility will span 349,440 sq. ft. (31,450 sq. m.). The expansion will also include building a 533,000-sq.-ft. (47,970-sq.-m.) consolidation center and adding a container yard at the Alabama site, Hyundai Motor Vice Chairman Vice Chairman Dong Jin Kim explained at the project announcement inside the Alabama capitol.
While much smaller than the company's 2002 announcement of its
$1-billion Montgomery plant
, the $270-million Hope Hull project is highly significant in its own right. An automaker's decision to expand — or not to — at a recently opened operation carries inordinate weight, industry analysts agree. It reveals an experience-based corporate assessment of the wisdom of the initial decision to select that plant site. Hyundai, for example, opened a production facility in Bromont, Quebec, in 1989, only to close it in 1993 after North American sales soured.
"We are enjoying the greatest success here," Kim said in Montgomery. "After less than two full years in operation, our partnership with Alabama, Montgomery, Montgomery County and the Montgomery Area Chamber of Commerce continues to bear fruit in the form of hundreds of new jobs and millions of dollars of additional capital investment."
The automaker's phase-one growth in Hope Hull has substantially exceeded the $1-billion-investment, 2,000-job scope that Hyundai initially projected. Prior to last week's expansion announcement, the company had already hired 3,152 workers while investing $1.4 billion at
Hyundai Motor Manufacturing Alabama
(HMMA).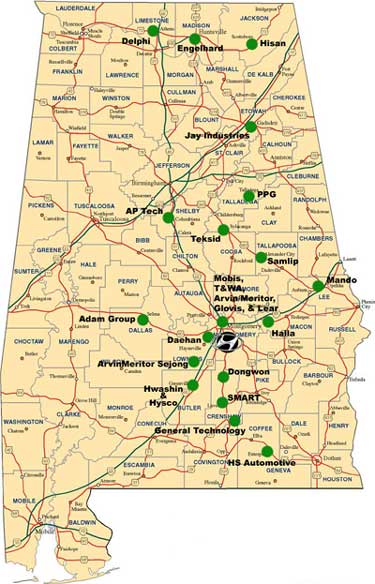 Hyundai's Montgomery-metro plant has attracted a large number of supplier firms, many of them Korean companies.

Map: Hyundai Motor Company
The company's 522 jobs will pay average annual salaries of $40,000, Hyundai officials said.
Hyundai Has Strong Tie-Ins
With Kia's New Plant in Georgia
"This engine plant expansion announced by Hyundai today is another tremendous boost for Alabama's growing automotive industry," said Gov. Bob Riley. "The hundreds of new jobs, both at the plant and at the Tier 1 suppliers, is great news."
A sizable supplier cluster has already come to Alabama to serve the Hyundai plant that assembles the Sonata sedan and the Santa Fe sport-utility vehicle. Collectively, those firms have invested $650 million and created 6,000 jobs, according to the Montgomery Area Chamber of Commerce.
But the supplier impact of Hyundai's Hope Hull expansion could extend across state lines to another plant: the $1.2-billion
Kia Motors Corp.
production facility now being built in West Point, Ga.
Georgia in March of last year
beat out the Yellowhammer State for the Kia assembly plant
, which will employ 2,900 workers. But the two states have continued their tug of war for the facility's suppliers. That competition is fueled by the plant's location in West Point, only two miles (3.2 km.) from the Alabama boundary (and some 80 miles/128 km. northeast of Montgomery).
Alabama has clearly enjoyed advantages in attracting Kia suppliers. Its overarching edge is the fact that Hyundai owns Kia, which it acquired in the Asian financial crisis in 1998 as the Korean auto industry went through a shakeout.
Another major plus for Alabama is the large core of established suppliers, most of them Korean firms, that Hyundai brought with it. By leveraging that Alabama-based supplier network, both the parent and sister firm can boost operational efficiencies, while also reducing risks by employing familiar firms. Minimizing risk exposure is particularly important for Kia, which is establishing its first North American plant in West Point.
In fact, a number of the companies that set up Alabama facilities to supply Hyundai have simply enlarged operations to supply Kia as well. One example is
HS Automotive
, which makes rubber products for automotive and industrial uses. In September of last year, that company announced a $23-million, 500-job expansion of its operation in Enterprise, Ala., to enable it to supply the Kia plant.
The fact that Kia's Georgia plant is designed to be a virtual mirror image of Hyundai's Hope Hill facility is another element encouraging the use of existing suppliers.
Hyundai's
single-minded push for scripted precision
is also personified by Ahn Byung Mo. The parent firm's leadership in Korea picked Ahn, a former Kia Motors America president and CEO in the 1990s, to spearhead the selection of both Hyundai's and Kia's initial U.S. sites.
Kia Engines Made in Hope Hull
Hyundai's expansion gives Alabama yet another strong draw for Kia suppliers. The new engine plant will make 2.4-liter, four-cylinder Theta engines — which will be used not only in some of the Alabama-made Hyundais, but also in the Georgia-made Kias. Hyundai's existing engine plant in Hope Hull makes the 3.3-liter, six-cylinder Lambda engine.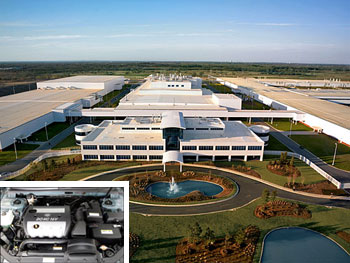 Hyundai Motor Manufacturing Alabama (pictured above) will manufacture the Theta engines (inset) that will be used in both Georgia-made Kias and Alabama-made Hyundais.
Hyundai's decision to locate Theta engine production as well in Hope Hull "sends a strong signal" to Kia suppliers to take Alabama into account, state Development Office director Neal Wade said at the capitol.
A lot of those suppliers have already moved past simply considering Alabama. Gov. Riley said that the 522-job Hyundai expansion is the sixth Kia-related project that the state has landed. Those ventures will create about 1,600 jobs, Riley noted.
Georgia, by comparison, hasn't yet announced any Kia supplier projects. The automaker committed to helping the Peach State land at least five supplier firms in its agreement to locate the plant in West Point. Kia is continuing work with the state to bring in suppliers.
Georgia was one of the states that Hyundai considered for the Theta engine plant, Kim said. He declined to name any other contenders.
HMMA President and CEO Joo Soo Ahn disclosed Hyundai's projections of how much additional supplier activity the new engine plant may generate in the Montgomery metro.
"While the exact number of suppliers has not been determined," Ahn said at the project announcement, "initial estimates are that it could require as many as four or five new Tier 1 suppliers, who would invest another $125 million and hire another 400 employees in the River Region."
Montgomery officials said that they'll begin discussions in the next several months with existing Hyundai suppliers about supplying the new Alabama engine plant as well.
Hyundai began work immediately on the Hope Hull expansion. Kim said that the company is aiming to have the engine plant online by September of 2008. Kia plans for its Georgia plant to start production in 2009.
Subsidies $20.5 Million This Time Around
Hyundai's Alabama expansion will receive more than $20 million in expansion incentives. The automaker in 2002 received a $252.8-million package in committing to move a plant to the state.
As much as $17 million of Hyundai's expansion subsidies will come in state incentives, Alabama Development Office officials said. Up to $15 million of that total will go for preparation of the new engine plant's site, plus construction costs, and machinery and equipment. Another $2 million in state subsidies will go for new employee training. Hyundai's Hope Hull operation includes a $7-million, 70,000-sq.-ft. (6,300-sq.-m.) training center.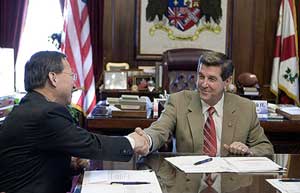 Gov. Riley and Hyundai's Dong Jin Kim shake after signing an agreement that includes as much as $17.5 million in state incentives.

Photo: Robin Cooper, Governor's Staff
Local governments are providing an additional $3.5 million in subsidies for project costs that will include site preparation and construction.
Hyundai is considering further expansion of its Hope Hull plant, Kim noted. "It depends on the success of our sales in the United States market," he said.
The company has set a goal of becoming the world's fifth-largest automaker by 2010. The U.S. is Hyundai's second-largest market, trailing only its home turf in Korea. Hampered by an inventory shortage triggered by a South Korean strike, the company recorded 2006 American sales of 455,520 vehicles, an increase of only 0.4 percent from 2005. Hyundai for 2007 has set an aggressive U.S. target of more than 500,000 sales.
The Korean firm's announcement of its Alabama expansion comes as
ThyssenKrupp is nearing final site selection for its new $2.7-billion steel mill
. The German giant has narrowed the site search for that massive project to two locations: an Alabama tract in north Mobile County and a Louisiana property in St. James Parish.
ThyssenKrupp's plant will be the first steel mill in the U.S. South that makes high-grade flat carbon steel, the key component in auto manufacturing. Hyundai in Hope Hull is one of four auto production operations in Alabama. The other three are
Honda in Lincoln
,
Mercedes-Benz in Vance
and
Toyota in Huntsville
.
---
Pactiv Picks Upstate NY for Hefty Expansion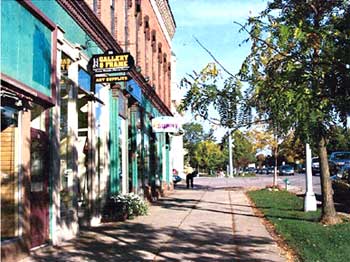 Pactiv already employs more than 1,100 in Canandaigua (pictured), a city with about 11,300 residents.
Pactiv Corporation
, already one of the largest employers in New York's Ontario County, is getting bigger still in that area. The specialty packaging company that makes the Hefty brand product line is going to add at least 220 new jobs in a $73-million expansion of its plant in Canandaigua in
upstate New York
.
Pactiv, which had $2.92 billion in 2006 sales, already has 890 employees at its Canandaigua facility. Countywide, 1,150 people work for the company, a leading producer of name-brand consumer products and packaging for the food service and food packaging industries. That makes Pactiv Ontario County's second-largest employer.
"I am extremely pleased that a major regional employer such as Pactiv chose to expand in upstate New York, especially when it had out-of-state options," Empire State Development Corporation Upstate Chair Daniel Gundersen said in announcing the project on March 6th.
Headquartered in Lake Forest, Ill., Pactiv has about 11,000 employees in 39 plants in North America. The Ontario County manufacturing operation is one of its biggest.
Company officials credited the persistence of New York Gov. Eliot Spitzer and state and county economic officials with persuading them to expand in western New York.
"We are grateful to Gov. Spitzer and his economic development team in Rochester, along with Ontario County and Rochester Gas & Electric officials, for their tireless efforts to develop a package of incentives that made it possible for Pactiv to undertake this expansion project in Canandaigua," said Bob D'Ottavio, the manager of Pactiv's Canandaigua plant, who's worked in the facility for 26 years. "Our past performance, with quality products at competitive prices, is a tribute to the outstanding efforts of the employees who work here."
Most of the new jobs will be for machine operators, D'Ottavio explained. Some other positions will be available for engineers, maintenance technicians and managerial staff. Phased in over a three-year period, the expansion will include both new construction and renovation of some of the plant's existing warehouse space, D'Ottavio said.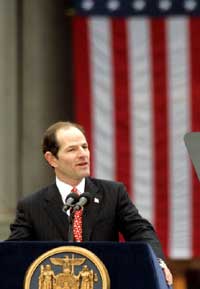 New York Gov. Eliot Spitzer
Pushing for an Upstate Comeback
Spitzer early this year created the Renew New York Agenda, an effort designed to generate economic revitalization in the state's upstate area.
"Upstate New York used to be an economic leader . . . that powered the nation's emergence as an industrial giant," the governor said in announcing the regional initiative on Jan. 2nd. "But today, the once roaring factories are silent, and plywood on storefronts is an all-too common sight."
Spitzer acknowledged "a decades-long decline in the region, an exodus of jobs and people that has left scores of communities on the verge of bankruptcy. The vision and goal of this effort is to tackle the underlying structural problems, make strategic investments and develop new engines of economic growth."
Spitzer outlined a series of measures that are part of his Renew New York Agenda. Those actions include boosting the upstate area's economic development and infrastructure; increasing aid for distressed municipalities; lowering the region's construction costs on public projects
by increasing thresholds for the Wicks Law
; providing property tax relief for upstate residents; and supplying additional funding for area education.
The governor also pledged to include a "State of the Upstate" report as part of his annual message to the New York Legislature.
Pactiv's upstate expansion reinforces the ideas behind the push to promote regional growth, Gundersen contended.
"The company's decision to undertake its expansion in Canandaigua is a vote of confidence in Gov. Spitzer's Renew New York Agenda," he said.
Gundersen's position as upstate chair was created as part of Spitzer's Renew New York program. Immediately prior to taking the New York post, Gundersen was executive deputy secretary of Pennsylvania's Department of Community and Economic Development.
Pactiv's Subsidies Top $2.4 Million
Pactiv is an inordinately potent economic presence in Canandaigua, a city with about 11,300 residents. The company was spun off by Tenneco in late 1999.
Pactiv's broad array of specialty packaging ranges from trash bags, to egg cartons to foam cups.
Pactiv is eligible to apply for more than $2.4 million in expansion subsidies, according to Empire State Development officials. The incentives available to the company include:
an $850,000 capital grant from Empire State Development;
a $750,000 loan and grant package from the New York State Office for Small Cities;
as much as $420,000 in grants from Rochester Gas and Electric; and
a $400,000 grant from the New York State Energy Research and Development Authority.
Pactiv will also qualify for sales tax abatements from the Ontario County Industrial Development Agency, as well as training assistance from the county and the U.S. Department of Labor's
Workforce Innovation in Regional Economic Development (WIRED) program
.
The dollar amounts that Pactiv would receive in tax abatements and training aid haven't yet been determined.
---
Smiths Aerospace Elevates with Another
North Carolina Expansion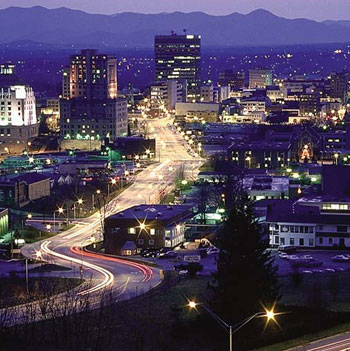 Smiths Aerospace's expansion will bring the company's total employment in Asheville (pictured) to more than 500.

Photo: Western North Carolina Film Commission
Smiths Aerospace
is definitely taking flight with its recent growth in
North Carolina
. For the second time in less than two years, the manufacturer of aircraft electronics, mechanical systems and engine components is enlarging its operations in the Tar Heel State's western region. Smiths this time around is adding at least 200 new jobs in a $16-million expansion of its 312-employee operation in Asheville.
"Our company has grown significantly over the past five years," Dale Collins, Smiths Aerospace Components' general manager in Asheville and West Jefferson, said at the March 12th project announcement. "We are pleased to grow our business in North Carolina for the second time in 18 months."
Collins cited "a skilled and competitive work force with excellent community college training programs" as a major factor in Smiths' decision to expand in the Asheville area. "We feel that the community collaborations to assist with work-force development will continue to support the needs of our industry."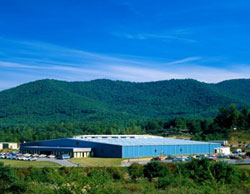 Smiths Aerospace's existing plant in Asheville
The company, he added, also wanted to take advantage of the operational efficiencies that were available in expanding near another one of the firm's current operations. Smiths in October of 2005 initiated another North Carolina expansion in the city of West Jefferson, about 125 miles (200 km.) northeast of Asheville. The company now employs 75 workers there in a 128,000-sq.-ft. (11,520-sq.-m.) plant.
Smiths is projecting that it will have 305 workers at the West Jefferson operation by 2010. With the Asheville project, the company has now announced more than 500 new North Carolina jobs since late 2005.
Vacant Structure Will Facilitate Fast Startup
Smiths is expanding in Asheville by acquiring an existing facility. The 90,000-sq.-ft. (8,100-sq.-m.) building that the company is buying is located in Asheville's Sweeten Creek Industrial Park, the same development in which Smiths current operation is located.
"This new facility will be adjacent to our existing site in Asheville and provides for the consistent flow of processes and best practices between the two operations," Collins noted.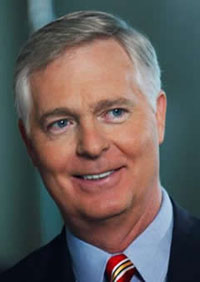 Gov. Mike Easley
Acquiring and retrofitting an existing building will accommodate Smiths' need to get the additional space online rapidly. The driver in the Asheville expansion is an increase in the volume of customer contracts, said Collins. The acquired building should be able to begin sending out new shipments by June of this year, the company is estimating.
The Asheville operation manufactures components for gas-diesel turbine engines. The engines are used to provide power not only for aircraft, but also for land-based pipeline networks.
The new positions at the plant, which will be added over a five-year period, will pay $32,240 on average, Collins said. That's about 14 percent higher than Buncombe County's average annual salary of $28,028.
Smiths is getting $1.8 million in expansion incentives. Buncombe County is providing $1.4 million of those subsidies. County officials say that their incentive offer is a five-year deal, and will consist mostly of property tax abatements. The state is also providing a $400,000 grant from One North Carolina Fund.
"Smiths' decision to expand in Buncombe County enhances our position as a world leader in the aerospace industry," Gov. Mike Easley said in a statement. "When world-renowned companies such as Smiths Aerospace locate and grow here, it reinforces North Carolina's reputation as First in Flight, which was established by the Wright brothers more than a century ago."
Smiths Sale to GE
The Carolina expansion announcement comes in the wake of
Smiths Group
's pending sale of Smiths Aerospace. The parent firm signed a contract on Jan. 15th to sell its aerospace division to
General Electric
for $4.8 billion.
London-based Smiths Group has three other divisions in the detection, medical and specialty engineering sectors. With 11,500 employees, the company's aerospace unit recorded $2.4 billion in sales in 2006.
Smiths Aerospace officials said that the impact of the regulatory review of the company's pending sale won't affect the North Carolina expansions. Planning for the latest project in Asheville was already underway before the sale to GE, Collins reported.
Another unrelated deal, however, does depend on the regulatory approval of GE's purchase of Smiths Aerospace. In signing the agreement for the aerospace divisions, Smiths Group and GE also signed a letter of intent to create a detection joint venture between Smiths Detection division and GE Security's Homeland Protection unit.
The joint venture, known as Smiths GE Detection, would be 64 percent owned by Smiths Group. GE would own the other 36 percent. That creation of that new company, however, is contingent upon the completion of GE's acquisition of Smiths Aerospace.