S
haken roughly earlier this year by a stretch of teeth- rattling potholes,
Chrysler
has sharply accelerated into expansion mode.
The profit- challenged automaker's high- profile bumps during 2007 have included an announced restructuring, followed by the
DaimlerChrysler
unit's unceremonious dumping in a fire- sale deal. But though Chrysler is downsizing, it's simultaneously accelerating its growth, powered by a new product line. In a span of only two months, in fact, the "pre- owned" automaker has unveiled five North American expansions that collectively involve at least US$2.45 billion in investment and almost 1,800 new jobs.
Tipton, Ind., is the site of Chrysler's latest growth sortie – a new $530- million, 804,000- sq.- ft. (72,360- sq.- m.) transmission plant that was announced on June 19
th
. A joint venture with Germany's
GETRAG Corporate Group
, the
Indiana
facility about 40 miles (64 km.) north of Indianapolis will house some 1,300 employees.
That expansion comes hot on the heels of a quartet of big corporate commitments:
• two new plants in
Michigan
, a $730- million engine- manufacturing facility in Trenton and a $700- million axle- making operation in Marysville;
• a new $570- million engine plant in Saltillo,
Mexico
; and
• a $450- million retooling of an existing engine production facility in Kenosha, Wis.
Here's a more detailed look at Chrysler's growth binge and how it could figure in the refocused automaker's uncertain future. Clearly, though, one persistent question shadows the company's current expansion juggernaut: Will it be enough to avert more major cutbacks?

CEO: 'Rules of Global
Marketplace Have Changed'
Chrysler's $3- billion "Powertrain Offensive" is providing the juice that's fueling the company's bang- bang expansions. Announced on Feb. 14
th
as part of the company's
Recovery and Transformation Plan
, the powertrain initiative is focused on making more fuel- efficient engines, axles and transmissions.
Like most U.S. automakers, Chrysler has been criticized by industry analysts for moving too slowly to make more cars that satisfy consumers' concerns about soaring gas costs.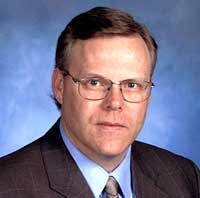 Instead, the company clung to its focus on two long- time meal tickets: light trucks and the North American market.
"Those two factors were advantages for Chrysler Group once upon a time, but the rules of the global marketplace have changed," CEO Tom LaSorda acknowledged in announcing the powertrain plan. "High fuel prices and other dramatic shifts in the market have driven a shift in consumer preferences to smaller, more fuel- efficient vehicles."
That's the strategy driving the Indiana plant. The Tipton operation will produce 700,000 dual- clutch transmissions (DCTs) a year.
"DCTs," explained GETRAG Transmissions Vice President of Manufacturing Ulrich Kohler at the Hoosier State expansion's June 19
th
announcement, "replace the energy- sapping torque converters of conventional automatic transmissions with two wet or lubricated clutches: one that engages first, third and fifth gear, and the other that engages second, fourth and sixth. As a result, the transmission can deliver a 5- to- 10 percent improvement in fuel economy."
Chrysler's joint venture with GETRAG will make it the first automaker to manufacture DCTs on U.S. soil. While
Audi
and
Volkswagen
now sell DCT- installed cars in America, those transmissions aren't made in the U.S.

GETRAG's Indiana Role
Reflects Growing Alliance Network
It's GETRAG, though, that will be calling the supervisory shots inside the Indiana plant. That operational setup was part of the automaker's February joint- venture agreement with the German firm, which already makes some of Chrysler's transmissions.
The GETRAG pact illustrates another part of the Chrysler's revamped mindset: a wide- ranging network of global partnerships. Those alliances, said LaSorda, will lower the company's capital investments while also establishing manufacturing footholds in fast- growing developing markets.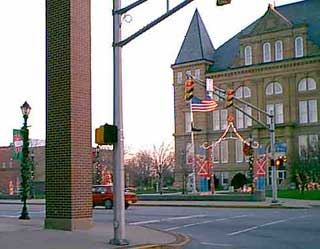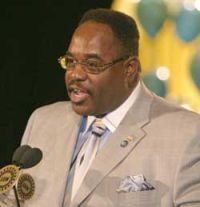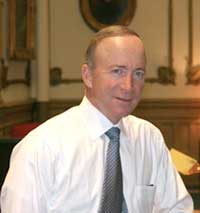 The company's other alliances, for example, include a partnership with
China Motor Co.
to make minivans for the Taiwanese market. Another pact with neophyte Chinese automaker
Chery Automobile Co.
will create a mainland Sino plant making Chrysler and Dodge mini- cars for European and North American sales.
On the Indiana project, Chrysler and GETRAG will share costs in developing and manufacturing DCTs. Officials from the two companies, however, haven't disclosed each firm's estimated outlay for the plant.
Chrysler, though, will be hiring all of the facility's 1,050 line workers at the 145- acre (58- hectare) Tipton site. Both companies will fill the 120 managerial positions.
Like all of Chrysler's recent powertrain investments, the Indiana site is located in an area in which the automaker already has a strong presence. Two hundred and thirty workers at an existing 4,200- employee Chrysler transmission plant 20 miles (32 km.) north in Kokomo, Ind., will be dedicated to making parts for the new DCT facility.
United Auto Workers' (UAW) officials hailed the Hoosier State announcement, which will put some of the union's idled Indiana members back to work.
"This is an important day for the future of the UAW and Chrysler, and in particular for the continued competitiveness of our team here in Indiana," said UAW Vice President General Holiefield, director of the union's DaimlerChrysler Department. "This investment is a significant step toward realizing our vision to grow this business and transform Chrysler into a stronger company that will be competitive for the long run."
Initially, UAW leaders strongly opposed Chrysler's sale to U.S.- based private- equity firm
Cerberus
, which has also acquired
Air Canada
,
Formica Corp.
, and car- rental firms
National
and
Alamo
, plus a 51- percent interest in
GMAC
. At least for now, though, union officials are backing the buy.

Indiana's Automotive Roll
For Indiana Gov. Mitch Daniels, though, the Chrysler- GETRAG project was unequivocally good news. The Tipton expansion materialized only two days after he announced his re- election bid.
The Chrysler deal continues Indiana's automotive hot streak.
Honda
in June of last year announced that it was building a
$550- million, 2000- employee plant in Greensburg
. And
Toyota
has just completed a
$230- million investment adding 1,000 workers at an existing Subaru plant in Lafayette, Ind.
Partnering with Subaru parent
Fuji Heavy Industries
, Toyota is building 100,000 Camrys a year in Lafayette.
"These are the kind of jobs we want – high- paying, highly skilled," Daniels said shortly after attending Chrysler's announcement. "Advanced manufacturing jobs are the kind that have the highest multiplier [of] any jobs I know of.
"We must run hard to catch up with the rest of the economy to reach a broader array of opportunities. We must become a more diverse economy," Daniels added at a June 19
th
luncheon of government and business leaders in Lafayette. "But it doesn't make sense to walk away from meat- and- potatoes manufacturing."

Riding the Phoenix
Chrysler's "meat- and- potatoes" investments in the three engine plants in Kenosha, Wis.; Saltillo, Mexico; and Trenton, Mich.; exhibit another key element in the powertrain reconfiguration: the Phoenix V- 6. All three facilities will manufacture the new aluminum- block engine,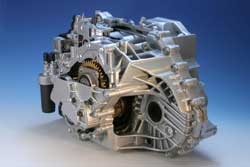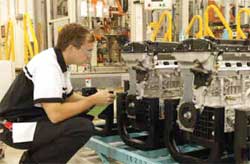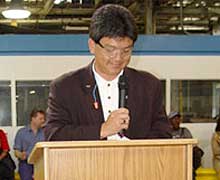 utilizing technology developed at the
Global Engine Manufacturing Alliance
, a Chrysler/
Hyundai
/
Mitsubishi
joint venture in Dundee, Mich.
The Phoenix, like the DCT, is designed to prick up fuel- conscious consumers' ears. The line's biggest power efficiencies will come from the two- mode hybrid engines, Chrysler officials say. Developed in a partnership with
BMW
and
General Motors
, those Phoenix models will include computers that select from literally thousands of fuel- usage configurations combining a gasoline engine and one to two electric motors. The hybrid's gasoline engine will be capable of shutting down some of its cylinders to boost fuel efficiency. Phoenix hybrids can pump up overall mileage by 25 percent, improving city- driving efficiency by nearly 40 percent, the company says.
The new engine "supports a long- term commitment to new vehicle components that support consumer demand for refined, economical- to- operate vehicles for many years to come," Chrysler Vice President of Powertrain Manufacturing Richard Chow- Wah said in Kenosha at the June 12
th
Phoenix retooling announcement.
The Phoenix, however, won't solely focus on fuel- efficiency. High- output V- 6s with 250 to 300 horsepower will also be offered.
Chrysler will get its own high- output economies of scale from the Phoenix. The new engine will provide one common V- 6 platform, replacing the company's four separate six- cylinder architectures.
Phoenix engines, along with the new DCTs and axles, will debut in Chrysler's 2010 models. Chrysler plans to introduce 20 all- new vehicles over the next three years.
And there will be a
lot
of the Phoenix engines in those autos. The Kenosha and Trenton plants will each produce 400,000 Phoenix units a year, with the Mexican operation turning out 444,000.
DaimlerChrysler officials a year ago indicated that the Michigan and
Wisconsin
sites would likely land Phoenix plants, but provided no details. At the same time, though, the company intimated that a Phoenix facility would also probably go to an existing operation in Toledo, Ohio.

Going to Mexico, Not Ohio
The Buckeye State site, however, wasn't selected. Union leaders had been projecting a $700- million Phoenix retooling for the 1.2- million- sq.- ft. (108,000- sq.- m.) Toledo facility, which currently makes steering columns and torque converters. The Toledo plant's employee roster, however, would've been substantially shortened by a shift to Phoenix production. The conversion would've reduced the 1,430 existing workers to about 600, the UAW was projecting.
The Toledo plant would've closed in 2012 if employees hadn't ratified a new contract in June of 2006, UAW officials say. That contract pays new hires less than existing workers; shifts the schedule to four 10- hour days; and reduces job classifications to allow workers to perform multiple tasks.
UAW chapters in all of the areas that Chrysler chose for its powertrain expansions signed similar contracts.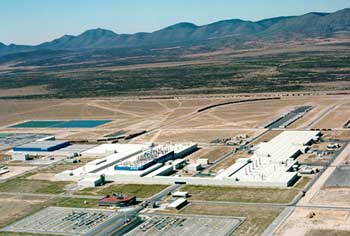 The Toledo plant still has a future with Chrysler, the company says, but no details have surfaced.
Chrysler has also been mum on explaining why the Mexican site in Saltillo was selected over Toledo for Phoenix production. Chrysler executives instead emphasized the company's 60- year Mexican history at the project's June 1st announcement. The 485- employee Saltillo facility will be built near an existing 212,850- sq.- ft. (191,565- sq.- m.) Dodge Ram truck assembly plant that employs about 2,150 workers.
"The automotive products that we produce in Saltillo are internationally recognized for their high quality due to several factors, the most important being our work force," Chrysler Group Mexico Manufacturing Vice President Roberto Gutiérrez said at ceremonies held in Mexico's official presidential residence. "We are very proud of the union and support of our workers, many of whom were born and raised in this area."
The Phoenix project in Wisconsin will retool an existing 1.9- million- sq.- ft. (171,000- sq.- m.) engine plant in Kenosha, 35 miles (56 km.) south of Milwaukee. The new facility will begin production in January 2011.
"Chrysler Group has had a 20- year- long presence in Kenosha – and even longer factoring in American Motors' storied past," Kenosha Plant Manager Kevin Sell said at the retooling announcement on June 14
th
. Chrysler acquired American Motors in 1987.
The Kenosha Phoenix plant will have about 700 workers, less than the current engine facility's 850 employees. The retention of those jobs, however, is significant. Chrysler's restructuring calls for cutting 13,000 jobs –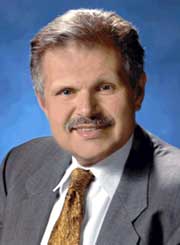 about a sixth of the company's existing work force – by 2009 through early retirements and buyouts.

Pair of New Michigan Plants
Will Shrink Existing Employment
Simultaneously announced on April 18
th
, the Michigan plants in Trenton and Marysville were the first parts of Chrysler's powertrain initiative to surface. The automaker has since rapidly moved into project implementation. Ground for the $700- million Marysville axle plant was broken on May 21
st
, with groundbreaking for the Trenton engine facility following two days later.
Southeast Michigan's gain of the two new Chrysler plants, however, comes as the area is feeling considerable economic pain. Chrysler's restructuring will eliminate about 5,300 jobs in the state's southeast region over the next three years.
Both of the company's new plants in Michigan, in fact, involve work- force reductions. While the projects will retain about 1,400 jobs, there will be a collective net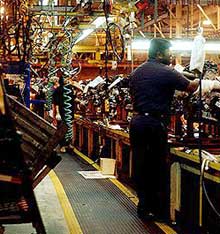 loss of more than 1,800 positions at two affected plants.
The $730- million Phoenix plant in Trenton, Mich., will replace the existing engine- making operation at that Detroit- metro site, which employs approximately 1,600 workers. The new 822,000- sq.- ft. (73,980- sq.- m.) engine facility will have about 485 workers, the same number as its sister operation in Saltillo.
The 750,000- sq.- ft. (67,500- sq.- m.) Marysville plant making Chrysler's new axle line will replace the existing 1,600- employee axle plant in Detroit, about 57 miles (91 km.) southwest. The new operation will have about 900 workers. Chrysler's revamped axles will improve fuel efficiencies by reducing friction and heat in transmitting power to a vehicle's wheels, Executive Vice President of Manufacturing Frank Ewasyshyn explained at the Marysville groundbreaking.
The automaker announced two other Michigan investments on April 18
th
along with the pair of powertrain plants: a $300- million expansion of the Sterling Heights assembly plant's paint shop, and a $50- million retooling of the truck assembly and stamping plants in Warren. Those investments will increase the three operations' flexibility in adapting to produce Chrysler's new lineup, the company says.

Labor Issues Looming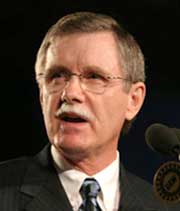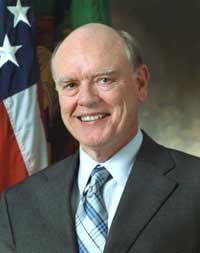 Meanwhile, Chrysler has a lot of internal adaptation on tap. Despite its expansion eruption, the company's getting dramatically smaller, having already announced 9,000 of the restructuring's 13,000 layoffs.
Moreover, a critical juncture in Chrysler's future looms: the start of this summer's negotiations on a new UAW contract.
The union last year approved benefit cuts for
Ford
and
General Motors
, but rejected similar concessions for DaimlerChrysler. That decision was apparently based on the deep pockets of Mercedes- making parent Daimler, which bought Chrysler in 1999. Daimler, though, is fading from the picture, with Chrysler's sale to Cerberus expected to close during 2007's third quarter.
Consequently, the UAW will, for the first time, negotiate with a private- equity company. Labor- relations analysts expect Chrysler to push hard for huge concessions, including further job cuts. The stand- alone company holds a powerful negotiating card: the possibility of bankruptcy, which would legally allow it to cancel all labor contracts.
While Chrysler will emerge debt- free from the Daimler sale, it's projecting a $2.17- billion 2007 loss this year. In addition, Cerberus is acquiring $18 billion in health- care liabilities. Something, it seems, has got to give.
The union may've fully grasped the grim realities gripping U.S. automakers: Owing to current and retired workers benefits, Detroit- based automakers are reportedly paying $25 more per hour than foreign competitors. After blasting Cerberus in the spring as a "strip- and- flip operation," UAW President Ron Gettelfinger sounds far more cooperative.
"You're dealt a hand, and you have to play the cards you're dealt," Gettelfinger said in a press conference after the Cerberus bid's May 14
th
announcement. "The status quo was no longer an option."
As for Cerberus, it isn't sounding like an owner eager to unload Chrysler.
"We believe in [CEO] LaSorda's plans, and we want to support those plans going forward," Cerberus Chairman John Snow, a former U.S. Treasury Secretary, asserted on May 14
th
.
LaSorda sounded similarly determined that day to press on, firmly dismissing any notion of selling off any of Chrysler's parts.
"These brands will not be broken up under any circumstances," he said. "The product plan is set."
More than set, it's moving forward. Fast.