"O
ne of the things about electricity is, you can't store it," Gulf Power Co. President and CEO Susan Story said during a panel discussion at last fall's National Summit on American Competitiveness.
"Wind and solar are great, but you have to have backup," Story explained at the summit, hosted by the U.S. Dept. of Commerce in Washington, D.C. "The holy grail will be the capability to store large amounts of electricity. That would change the whole tenor of what we're talking about."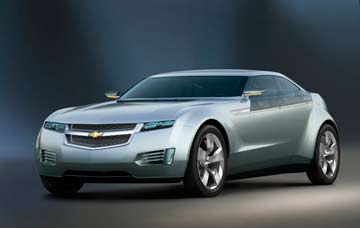 For the battery industry, the quest to store more power for longer spans of time has sparked a significant number of new manufacturing plants and expansions in recent years. Battery-makers have gotten a particularly robust jolt of expansion juice from the strong interest in a wider range of electric-powered devices, especially vehicles.
The surge in the industry's growth, particularly in the U.S. and Canada, is illustrated by
Conway Data's New Plant Database
. Since January 2006, New Plant has tallied 33 announcements of major new battery plants and expansions, with North America accounting for 23 of those projects (see accompanying chart).
The scale of the industry's growth ranges from the tiny batteries made for medical devices to a US$34.8-million Montreal-area expansion that was announced in February of 2007 by
Phostech Lithium
. An affiliate of German firm
Süd-Chemie AG
, Phostech Lithium is devising a new form of lithium-iron phosphate (LiFePO4) for use in the manufacture of cathodes. The company's batteries are used electric and hybrid cars, power tools, electric bicycles, and scooters.
Phostech Lithium's Montreal expansion announcement early last year came on the heels of another major investment that the company made in
Canada
. In 2006, Phostech Lithium launched a $6-million expansion in St. Bruno, Que., that tripled the company's overall production capacity.
The dangers and dilemmas of batteries and the sites that make them have risen in profile along with the products themselves: reports of lithium-ion laptop batteries catching fire or blowing up; AT&T's replacement of 17,000 batteries that were part of its new Internet-based TV service; cadmium poisoning at Chinese battery plants.
In parallel, the battery industry is confronting two major issues — creating batteries that keep a stronger, longer charge and making them small enough to be practical. In concert with addressing those challenges, battery-makers are working to capitalize on the green wave while simultaneously demonstrating green manufacturing principles.

Central Power
The largest recorded capital investment in the battery sector since 2006 is
Cobasys'
the $137-million, 150-employee expansion in Springboro,
Ohio
.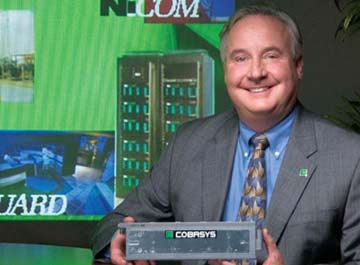 The clear driver for that Buckeye State decision was the continuing strong demand for Cobasys' products — battery systems that power hybrid electric vehicles (HEVs), and systems that supply stationary back-up power.
"We are currently putting resources in place to both support and fuel our rapid growth," Jim Greiwe, Cobasys vice president of manufacturing and manager of the Springboro plant, explained at the expansion's announcement in August of 2006.
HEVs are a major catalyst in Cobasys' growth. The company has contracts to supply battery system solutions for seven different HEV production programs, plus one HEV development program.
A joint venture between
Chevron
subsidiary Chevron Technology Ventures and
Energy Conversion Devices
(parent of similarly expanding solar panel maker
United Solar Ovonic
), Cobasys has also been growing rapidly in its headquarters city of Orion, Mich. In April 2007, Cobasys announced an 18,860-sq.-ft. (1,752-sq.-m.) expansion at its Orion R&D complex. That
Michigan
project marks the company's third enlargement of the research operation since it moved into the Orion facility in January of 2005.
Cobasys' R&D growth is being driven by the company's increase in product development activity in lithium-based and nickel metal hydride (NiMH) batteries. Cobasys is the only North American manufacturer supplying NiMH battery systems for HEV applications.
Part of Cobasys' growth is also linked to Watertown, Mass.-based
A123Systems
, another major player in developing and manufacturing advanced batteries. Like Cobasys, A123 is deeply involved in the automotive space, generating investments from such heavyweights as
Procter & Gamble
and
General Electric
.
A123 and Cobasys in January of 2007 entered into a partnership to develop, manufacture, sell and service lithium-ion energy storage systems for HEV applications. Cobasys will act as the tier-one supplier in the design and development of battery system products.
"This partnership will provide the market with game-changing performance to further accelerate the adoption of hybrid electric vehicles." A123Systems President and CEO David Vieau asserted.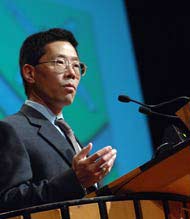 A123's R&D remains in
Massachusetts
, whence it sprang from research that company co-founder Yet-Ming Chiang spearheaded at MIT. In fact, MIT faculty member Chiang is credited with making LiFePO4 conductive enough in 2002 for the material to be cost-effectively used in battery cathodes. Many analysts feel that the new HEV power standard will revolve around rechargeable batteries using lithium-iron phosphate, which is non-toxic and less expensive than conventional cobalt cathodes.
A123 turned to a Chinese company to manufacture its first LiFePO4 products. In 2006, A123 entered into a contract manufacturing agreement with
China BAK Battery
. China BAK in early 2007 announced it would construct a new facility making LiFePO4 battery cells in the Tianjin Beichen Hi-Tech Industrial Park in northeast China.

A Midwest Cluster
A battery industry cluster of sorts has developed around the
Missouri
-
Kansas
state line.
Traditional lead-acid battery-maker
NorthStar Battery Co.
, acquired by Nordic equity fund Altor Fund II in July of 2007, has made multiple investments in Springfield, Mo., since it built its initial plant there in 2001. On March 18
th
, the company announced its biggest expansion by far: a $73-million project that will add 400 new employees — increasing the Springfield work force by more than 126 percent.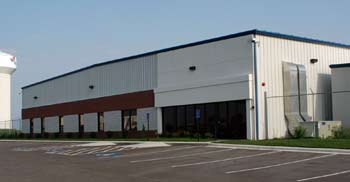 That project marks the third time since 2003 that NorthStar has decided to expand at its Missouri base. The company considered offshore locations, including China, where it already has a manufacturing operation. Ultimately, though, quality control concerns prompted NorthStar to instead choose Springfield, company officials said. The company's proven work force in Missouri and the proximity of large-scale lead suppliers also figured substantially in the decision.
A little farther west,
EaglePicher Technologies
over the last two years has invested $10 million in a new R&D center at the company's home base in Joplin, Mo. And in late 2006 the division of Michigan-based EaglePicher announced another $6-million, 120-job expansion in nearby Pittsburg, Kan. EP Technologies President Steven E. Westfall hails from southeast Kansas, and he is a graduate of Pittsburg State University.
Joplin, however, is where more than 70 percent of EP Technologies' facility portfolio of 465,000 sq. ft (43,200 sq. m.) is located, with other smaller facilities situated in Arizona, Canada, Kansas and Oklahoma. The R&D center in Joplin employs 15 and expects to double that work force by the end of 2008. The operation's scope encompasses engineering designs, battery electro-chemistries and affiliated technologies, such as energetic devices for land, sea, air and space applications. The company says that the Joplin R&D center will also "evaluate emerging technologies such as ultra-capacitators and fuel cell applications and explore the incorporation of nanotechnology and nano-materials into new and existing products."
EP Technologies cited the Missouri Legislature's extension of the Quality Jobs Program as a major driver in the decision to locate the new R&D center within the company's Joplin campus.
"EaglePicher has a long history of development expertise within our specific business units," Westfall said at the research center's opening in November of 2007. "Establishing this dedicated R&D facility allows us to leverage our strong engineering talent at one central location, bringing increased innovation and efficiency to our customers."

All in the Family
In 2004,
EaglePicher Inc.
, EP Technologies' parent, acquired a controlling interest in Seoul, South Korea-based Kokam Engineering Co., Ltd., a maker of rechargeable lithium-ion batteries. Then, in October of 2007,
Kokam America Inc.
decided to plant its world headquarters in a former Serta mattress production facility in the Kansas City-area community of Lee's Summit, Mo., about 140 miles (224 kilometers) north of EaglePicher's Joplin-Pittsburg nexus.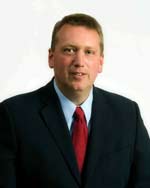 The complex will create 100 new executive and manufacturing jobs, encompassing R&D, manufacturing and distribution. From that base Kokam will provide what the company terms a "new-generation superior lithium-polymer battery" to commercial customers and to the U.S. Army, Navy and Air Force. The company also manufactures processing equipment for the lithium-polymer battery industry and the LCD polarized film industry, as well as battery products for use in medical devices.
Kokam officials credited the $3 million in funds included in the 2008 Dept. of Defense spending bill as instrumental in the Lee's Summit expansion. U.S. Senator from Missouri Kit Bond, a senior member of the Senate Appropriations Committee, was a key player in obtaining the funding.
Bond also secured $2 million from the 2008 Transportation, Housing and Urban Development spending bill for use by the Missouri Transportation Institute. Housed at the University of Missouri-Rolla, the state institute will work in partnership with Kokam and Kansas City in the implementation of a battery-powered transit vehicle fleet.

Next Stage: Fuel Cells
Marrying advanced manufacturing with governments' renewable energy portfolio needs could be a harbinger of power storage's future.
Part of that future is unfolding in the city of Torrington in
Connecticut
— a state known for its heritage in the power storage industry.
In January of 2008, Danbury-based
FuelCell Energy Inc.
announced a $10-million expansion of its Torrington plant, aided by a $4-million loan from the state. The project will incorporate purchasing capital equipment, expanding FuelCell Energy's work force and extending the company's facility lease through 2015.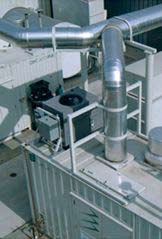 Over the next three years, FuelCell Energy is adding 100 jobs to the company's current payroll of 467. The January 2008 expansion announcement came soon after FuelCell Energy had completed the addition of 100 jobs at the Torrington plant.
Connecticut, like many other states, has a renewable energy goal. Gov. Jodi Rell wants clean or renewable resources to account for 20 percent of all the energy used and sold in the Constitution State by 2020.
"Companies like FuelCell Energy can help us achieve this goal," Rell said when the company announced its expansion early this year.
The state in December of last year granted preliminary approval for three FuelCell Energy-sponsored projects to develop power plants using renewable energy sources. Connecticut by July of 2008 is aiming to have 100 megawatts of electricity — enough to power 75,000 to 100,000 homes — generated by ratepayer-subsidized plants that run on renewable energy.
"This project is right for Connecticut, right for our economy and right for our energy needs," Rell said of FuelCell Energy's January expansion announcement. "We will be adding 100 jobs to our economy, bolstering a Connecticut company that is making strides to decrease our dependence on foreign fossil fuels, and enhancing our position in an important industry."
Site Selection Executive Editor of Interactive Publishing Jack Lyne contributed to this report.