T
he only thing as ubiquitous as mosque minarets in Turkey is the blazing red flag of this 85-year-old secular republic. But for many Americans, in or out of the corporate world, the crescent and star in that flag evoke more fear than admiration. The Western eye must train itself to see those minarets as missiles of worship, and learn to view this country of 70 million's critical geography and startling growth as opportunities that transcend perceived risks.
At this writing, terrorists have attacked the U.S. Embassy in Istanbul, leaving six people dead, including three Turkish policemen. The party of Prime Minister Recep Tayyip Erdogan is being considered for closure because of what critics have charged is unconstitutional pushing of Islamist precepts, which go against the republic's secular constitution. The government, in turn, in mid-July charged 86 people with conspiring with a terrorist organization (Ergenekon) to stage a coup.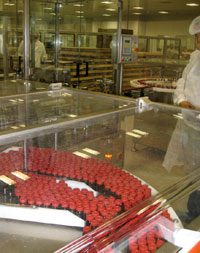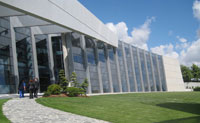 How, then, does a nation on the verge of EU membership, with its centuries as the cultural and geographical linchpin between Europe and Asia, assuage the risk concerns of corporate America, even as its economy surges like never before?
"We do not believe that the recent terrorist incident will discourage most foreign companies, even U.S. companies, from investing in Turkey," says Darin Buelow, principal, Strategy & Operations/ Global Expansion Optimization for
Deloitte Consulting LLP
. "Naturally, the frequency of such incidents is important. The Ergenekon case appears to reinforce the importance of the rule of law and democracy in Turkey – even ex-military commanders can be questioned and arrested."
Indeed, a number of business people encountered at random during this reporter's visit to the country in early June went out of their way to emphasize that Turkey was founded as a secular republic … and, they assured, it will remain so.
Buelow says the last five years have seen foreign investors steer their money toward more physical assets, rather than just stocks and financial investments. He also says the country is one of the largest logistics and manpower providers for Iraq over the past three years.
Even so, it's in the midst of deep structural reforms that are unfolding even as it advances toward EU membership. In Joel Kurtzman and Glenn Yago's Opacity Index, which seeks to measure small-scale, high-frequency business risk, Turkey was ranked No. 30 out of 48 nations in April 2008, receiving low marks in the corruption category but high marks in accounting standards as it moved up from No. 32 overall. Kurtzman's succinct assessment in an April presentation: "High opportunity, very corrupt."
"Many MNCs that are globally active accept some level of risk [social, currency, political, etc.] in order to access markets, talent, and low cost resources," says Buelow. "Turkey is generally viewed as one of the more stable destinations for investment in the region, and its pursuit of EU membership will only enhance its prestige as a business destination."

One Jammin' Place
With FDI of US$22 billion in 2007, Turkey continues to be a lucrative destination for headquarters, logistics, back-office, manufacturing and other corporate projects from the likes of Microsoft, Cisco Systems, Hyundai, Toyota and BNP Paribas. In June, the country welcomed the announcement that
GE Healthcare
would combine its eastern and African growth markets operations into a single "international diagnostic imaging" operation to be stationed in Istanbul. The headquarters will coordinate activities in 80 countries. The news came one week after a similar announcement from
Coca-Cola
.
Istanbul is a city of 12 million, though some might say it's more like 17 million – especially at rush hour. Once home to Troy and Nicosia, Turkey was the host of world capitals long before Byzantium came along. Istanbul alone has seen more than 20 sieges in its long and bejeweled history.
According to the latest archaeological findings, the Bosphorous was once at the bottom of a lake. Experts theorize that glacial melting created the Marmara and Black Seas, and that this event may be the great flood discussed in the Bible and in Sumerian mythology.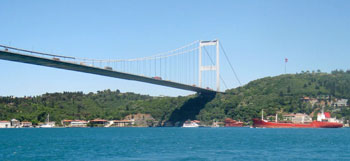 Visitors are captivated by the azure allure of the Bosphorous Strait that runs through the city, separating Europe and Asia. The channel is traversed by up to 50,000 ships a year, lined up to wait their turn. Lining that channel are homes worth millions of dollars, slowly taking the place of the traditional
yalis
, or waterside manors, which stood sentry for so many decades during the Ottomans' reign.
As such, the strait itself is a symbol of Istanbul as the mother of all melting pots, stirring together cultural, religious and ethnic traditions that have stewed – and in some cases boiled over – for millennia. Other symbols of such overlap abound: the mother goddess tradition near Ephesus that spans multiple religions and thousands of years; the famous Hagia Sofia in Istanbul, which not only has seen use as both a cathedral and a mosque, but was the first architectural example of a round form being placed on top of a square form; and even the aggressively friendly mayhem of the Grand Bazaar, where from the peaceful steps of a neighboring mosque you can watch world cultures come together in a labyrinth under the age-old banner of separating you from your cash.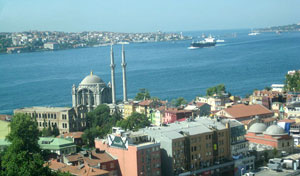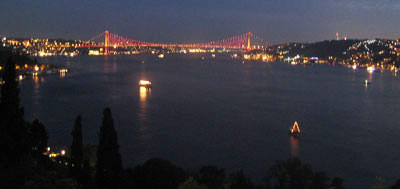 The city today is awaiting its turn as the European Capital of Culture in 2010. According to a recently released report from the Istanbul Chamber of Trade, the metro area accounts for 16 percent of the nation's employment and 42 percent of Turkey's tax revenues.
Construction cranes are everywhere in the city and its outskirts, six of them alone at a logistics park called 212 Istanbul now under construction. Indeed, in addition to its ripe domestic market potential, Turkey's geographic advantages for reaching markets east and west are its ultimate calling card.

EU or Bust
Setting the stage for further investment is a structural reform agenda that includes improvements in taxes, social security and independent regulation. The country is due to unveil in July a new commercial code, seeing its first update since 1958, which will allow for easier incorporation, among other improvements.
"The new commercial code is more significant than anything that has happened in the Turkish legal market in the last 50 years," said Sarkan Ictem, partner, ELIG Legal, at the
Invest in Turkey
Business and Investment Summit held in Istanbul in early June. "It will affect every aspect of corporate life. One very important aspect is the chance of the code bringing conditional capital increases. Right now, Turkish law, being civil law, does not allow treasury stocks to be issued by the companies, which means there is a strong legal hinder on convertible debt instruments. The new code does contemplate this new aspect, and allows capital increases."
One factor helping increase capital is the fact that the corporate income tax has been reduced to 20 percent from 33 percent, and plans call for rules to make it easier for companies to own their own real estate. In certain targeted investment areas, if a company wants to build, land will come free of charge, and so will half the energy bill. And a new R&D law will allow companies to amortize twice what they're investing in R&D.
"You will see the details very soon," said Zafer Caglayan, minister of trade and industry of the Republic of Turkey. "This has to do with the social security premium of R&D personnel you recruit. For every R&D person, Treasury will pay half the employer's share of [social security] premiums. And expenditures in R&D will be exempt from certain premiums. Students in the R&D field will be provided with funds as well."
But logistics remains the linchpin, said Alpaslan Korkmaz, president of the Investment Support and Promotion Agency of Turkey, calling to mind a recent and personal example.
"Last week I met with the president of one of the largest logistics companies in the world," he said in an early June meeting in Istanbul with a contingent of international journalists. "He had meetings in the Gulf Countries and in Israel, but he could not fly direct. He had to go through Turkey; I said, 'Look – there is no better place than this country.'"
The country's centuries of history with Middle Asia, Russia and Europe mean it comes by its cross-cultural heritage honestly and deeply. Korkmaz, in fact, has personal experience in the field, teaching a course in cross-cultural negotiation at a local university.
"Turks, in a way, have this in their genes," he said.
The nation's position at the head of the EU accession line – France notwithstanding – holds great promise, said Korkmaz, as corporate investors crave the predictability that accompanies such a process. A recent report in
The Economist
on EU enlargement concludes with Gunter Verheugen, EU Commissioner of Enterprise and Industry, saying, "The EU needs Turkey more than Turkey needs us." Asked to comment, Korkmaz said, "The two need each other very strongly. Look at the figures, just in FDI – out of the cumulative stock of Turkey's $55 billion, 80 percent is coming from the EU."
"The accession process itself is very important as well," said Dr. Inci Ataç Rösch, director of economic and financial affairs, Secretariat General for EU Affairs, Republic of Turkey Prime Ministry, at the business conference. "It brings a lot of dynamism and motivation to Turkey. Bearing al the difficulties in mind, the process, by increasing dynamism, is providing the appropriate atmosphere for new investment in Turkey – this phenomenon can be observed everywhere, not only in the big business centers."
"The economy has already integrated," said Korkmaz. "Politics is going to follow in any case. It will take its own path. But Turkey is already an engine of growth for the EU, and a sound and qualified source of labor."
U.S.-based FDI, meanwhile, saw a 100-percent increase between 2006 and 2007, he said. The country's average annual growth rate of 7 percent over the past six years is slated to cool off to 5 percent over the next two years, and FDI estimates for 2008 recently have been revised downward because of political instability. But the case for Turkey remains strong in large part because its population is young, productive and growing. In the past four years, said Korkmaz, Turkey has created the second highest number of jobs among the EU-27 nations.
"Every year we add 1 million new citizens, and this will last over the next 12 years," he said.
Korkmaz also cites a deep structural change that has seen half of the 2.4 million non-farm jobs absorbed by people coming from agriculture to the industrial and services sectors. While the sight of small family farmers hoeing their own fields is still common, agriculture has decreased from 46 percent of the economy to 31 percent. Even the famous textiles of Turkey are giving way.
"In 2007, for the first time, the most exported item was not a garment," said Korkmaz. "It was automotive products. We are the 17th-largest automotive producer in the world. By the end of 2007, we had produced 1,000,100 cars. We are attracting a lot of automotive investors, focusing on central Asia and the Middle East as well as Europe."
Canadian automotive power
Magna International
is one of those investors, looking to develop a large site in Izmit, an industrial part of the Marmara region, with an investment that some estimate approaches half a billion dollars. Hasan Ali San, head project director for the Investment Support and Promotion Agency of Turkey, was the lead project contact for the Magna project. He said his organization was first contacted in March 2007, after Magna already had done its research and selected the area. "They'd done their job very well," he said. Not all incentives were applicable because Marmara is not a priority region for the country's incentive programs. "More important was the strategic location," said Ali San, "and the huge potential of the automotive sector. It's a very good distribution opportunity, for neighboring Eastern and Western countries."
One of the non-cash incentives Ali San alludes to is a well developed school system, including customizable areas within the vocational schools for particular automotive manufacturers. He mentions such programs operated for Ford, Toyota and Honda in Turkey, with their own labs and specialized focus areas: "It could be a model for Magna," he said. "Every graduate can be in manufacturing. It's something not seen in Europe."
Interest is coming from such companies as Tata in India, and from Chinese car companies. But it also keeps flowing from that most steadfast of incremental investors, Ford Motor Co.

In a Corner of the Sea
Zafer Caglayan, the nation's minister of trade and industry, has 27 years as an industrialist himself to look back on when he assesses how far the republic has come economically. Or he can just look at the automotive sector.
"Turkey has arrived at a very critical point now," he told his audience in June. "There has been a lot of economic progress in this country. I'd like to take you back to six years ago. Total exports were $36 billion. Automotive alone in 2007 exported $22 billion [worth], and in the next three years aims to achieve exports of $40 billion."
Already in the first half of 2008, automotive exports had reached $13.6 billion, beating out the industry's total export value for all of 2005.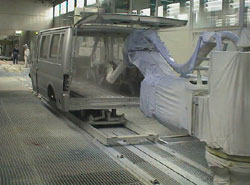 The automotive sector's strength is most evident in the province of Kocaeli.
One of the first indications you've left Istanbul and entered the industrial and manufacturing capital of Izmit is that so many of the mosque domes dotting the hillsides surrounding the Marmara Sea are made of metal. Another is the prodigious amount of buildings either newly constructed or under construction.
It's not still owing to the damage caused by the prodigious earthquake of 1999, centered in Izmit, the effects of which killed an estimated 17,000 people and decimated its industrial infrastructure. That reconstruction and recovery effort was largely over within one year after the quake. Instead, it's a sign of a marked upswing in corporate project activity and the housing need that comes with it.
The area's recovery speed is an indication of the Turkish spirit and pride you will find on display at
Ford Otosan
's unique manufacturing complex near Izmit. The car company's assembly plant saw minimal damage from that quake, as it was still under construction and already had its steel support in the ground.
In an April 2008 announcement that Turkish conglomerate Koç Holding was selling its shares in two of its companies to partner Allianz in order to fund growth, the CEO of Koç Holding, Dr. Bülent Bulgurlu, described the company's successes in various sectors, including automotive:
"Currently, our automotive companies, Ford Otosan and Tofaş, have the highest exports figures in the Turkish automotive industry and manufacture almost half of the overall production in Turkey," he said.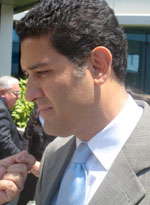 "With a $514-million investment, Tofaş will increase exports to 283,000, almost doubling last year's. As for Ford, with a $115-million investment, they will improve work processes and production facilities, increase capacity, and evaluate future product programs."
That new investment came in the form of a new engineering center in Gebze that supports the work accomplished at the 17.2-million-sq.-ft. (1.6-million-sq.-m.) assembly plant at Ford Otosan in Izmit. The Ford Otosan company is 41-percent owned by Koç and 41-percent owned by Ford. The company's many arms in Kocaeli employ 8,000 blue-collar and 1,400 white-collar workers, and saw 2007 net sales of $6.2 billion.
In a session with reporters in early June, Haydar Yenigün, plant manager for Ford Otosan, talked about the operation's continuing momentum since its launch in 2001 and the reasons behind it.
"Starting in 2002, we're investing between $100 million and $140 million every year in capacity increases, new products and renovations," said Yenigün.
According to the Ford Production System audit, the plant was the best plant in the Ford global network over the past five years. Backed by an 11-company supplier park on site, it churns out 320,000 units a year, many of them the Transit Connect model of van.
"We recently announced we would export it to North America – it's the first time that a Turkish automotive company will export to North America," said Yenigün. "Prototypes are being made right now, with the launch next year."

The Port of Ford
A unique attribute of the plant layout offers tremendous help with the exporting process: The plant has its own pier, located at the end of a jetty in this finger of the Marmara Sea.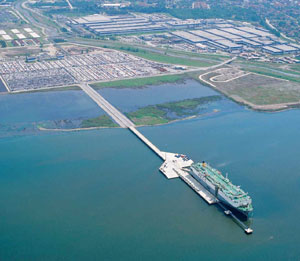 From that pier, 220,000 Transits and Transit Connects traveled the world in 2007. The company even uses the pier to import passenger cars.
Yenigün speaks of the nation's automotive industry goals with a fervor nearly equivalent to his team's enthusiasm for its own company.
"The first level we want to achieve is 350 vehicles per 1,000 people," he said of the domestic market. "We're now at 150. The vision is to be in the top 10 worldwide in total production [Turkey is 16th as of 2006], and in the EU, for total production and R&D, to be in the top five."
The pier, said Yenigün, is a crucial part of the plant's competitive advantage, because of its export/import synergy and its large-scale export capacity (1,200 a day) and because its proximity eliminates the intermediary step of hauling vehicles from a plant to a ship. But the advantages also come from an experienced and skilled work force and a growing focus on R&D and engineering, which the company will fund with up to $60 million in 2008.
Yenigün is quick to seize, however, upon the blue-collar work force's loyalty and special skill sets. Within the blue-collar segment of the company's payroll, 68 percent come from a technical high school, 15 percent from vocational college, 1 percent from a university, 7 percent from high school and 9 percent from primary or secondary school.
"Most of that 9 percent are from our Istanbul facility because they're very skilled and talented, good body workers or paint spray people," he said. "You can't find any similar people from the school graduates. Their talent or skill is something you find from the real world. We'd like to keep this 9 percent as a unique work force in the blue-collar environment."
That commitment is immediately evident during a tour of the tool and die and body shops. The latter, in an 861,141-sq.-ft. (80,000-sq.-m.) space, employs 2,100 hourly workers, 55 salaried workers and 257 robots. Robotics are only used in specific areas, and the number of human welders seems like a throwback. But the quality achievements of the plant mean nothing's being thrown back but more orders – the plant is No. 1 in Europe in die changing speed,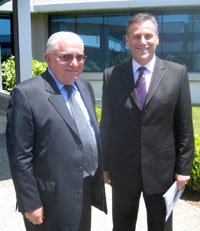 and this year the company is working at above 100-percent capacity utilization.
"If compared to west Europeans, out cost structure is approximately 10 percent lower than Ford's European plants," said Yenigün, even if, for example, his body shop employs 2,100 (with 45-percent automation) and a similarly scaled plant in Germany employs 328.
"Even with this, if I hit all the targets I put in front of me, we are the leanest and most effective, utilizing capacity over 100 percent, with no accidents and good cooperation from union. That is the most important answer."
Citing recent news of a 100-percent automated plant being planned by Tata in India, Yenigün said yes, there are advantages to using people.
"We can compete with the European and Japanese companies in terms of cost using less automation," he said. "It's important because it is dependent on the human being."
There are bottom-line factors too.
"Automation is good for quality and efficiency, but it's also expensive," he said. "One robot costs 100,000 euros [US$158,000]. One employee in this country is $13,000 a year."
The company recruits primarily from technical schools, looking as much for the right attitude as the right background, and limits the work week to 45 hours maximum. "We're not offering more money than others, but almost a lifetime guarantee," said Yenigün.
Taylan Avci, assistant general manager for new projects at Ford Otosan, insists that work force enthusiasm and flexibility is the key, backed by the loyalty for which Turkish workers are well known.
"We don't ask for overtime," he said. "They're willing to change jobs – 'I'm proud. It's my duty to be No. 1 in quality.' This factor is sometimes underestimated. We're thirsty for success. The tech school graduates want to solve problems in front of their supervisors."
Asked if Ford is sending teams to the Otosan plant to learn, Avci said, "Yes. Our ex-plant manager is now the site manager in Cologne, Germany." Another line was stopped in Ghent, Belgium, and transferred to Kocaeli.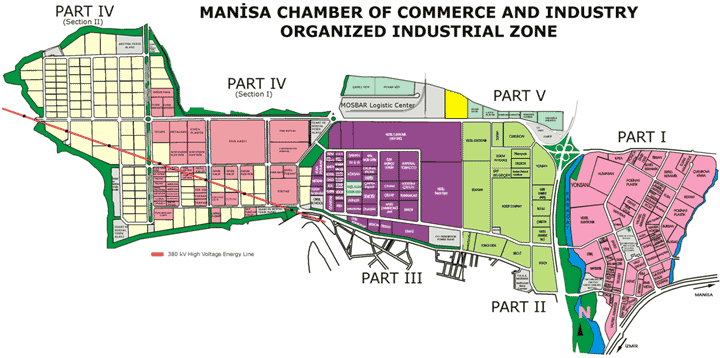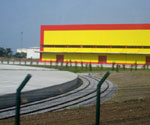 Got Zones?
A network of
Organized Industrial Zones
undergirds Turkish economic development. Fifty-four provinces are considered priority development regions by the Turkish government, which, hence, offer more incentives for project development. The regions of Istanbul, Kocaeli (home to the Ford Otosan plant), Ankara, Izmir, Bursa, Adana and Antalya are considered developed regions. Turkey also is home to
21 free zones
, with their special customs exemptions and other incentives, led by the Aegean Free Zone near the port city of Izmir, the "Pearl of the Aegean."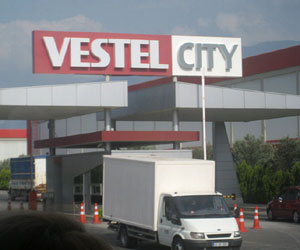 Fokker Elmo
, the Netherlands-based aerospace company, was planning to invest in a new manufacturing facility in India. But after a year of negotiations, they chose to invest $12 million and create 500 jobs at ESBAŞ, in the Aegean Free Zone in Izmir, Turkey's third-largest city. The zone expects to add 2,900 new jobs this year, in part by focusing on growth by companies already established there. When full in 2012, the zone will be home to 30,000 jobs and annual trade volume of $5 billion. Average blue-collar monthly pay is $600, while white-collar jobs average $1,200 a month.
The new Ford Otosan engineering center is in Gebze, halfway to Istanbul and home to the highest industrial productivity per capita in all of Turkey. It's also home to the Gebze Organized Industrial Zone, established in 1986 as the first zone without support from government subsidy. Now it encompasses 993 acres (402 hectares) and approximately 13,000 workers employed by such companies as BASF, Siemens, Uginox, Autoliv and LG. Another 247 acres (100 hectares) have been identified for expansion.
Among the growing firms on board at Gebze is
Alarko Carrier
, part of United Technologies Corp. (UTC), which manufactures HVAC equipment, and which recently celebrated the 10th anniversary of the partnership – a tie-up that came after three years of negotiations. Among other feathers in its cap, the 780-employee facility, built in 2000, is the only Carrier source for the EMEA market for a strong-performing model of roof-top air conditioner, launched in 2006.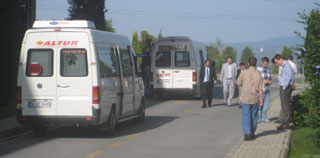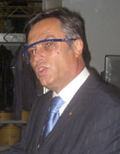 Önder Şahin, executive vice president of Alarko Carrier, leads the company, whose operations include a separate radiator factory. Exports have grown from $2 million in 1997 to $37 million in 2007, going out to 35 countries, including $2 million worth to China. But Şahin is just as proud of the company's reputation in Turkey, including its SA 8000 social responsibility certification. Alarko Carrier was one of only 11 companies in Turkey with the certificate two years ago. Today, it is one of only four remaining certificate holders.
During a tour of the facility, Şahin said that of the 390 blue collar workers, 130 are engineers, and 74 percent have higher education degrees. While all those workers are part of the Turk Metal Sendikas union, Sahin said there have not been many problems with that union, which maintains an office on the shop floor. "But they can be strong if they show their teeth," he said.
One of the reasons union problems are few is the company's reputation for punctual payment, said Şahin. Elsewhere in the country, workers often encounter difficulty getting their paychecks when there is a financial crisis. "Even in a crisis, we pay on time," said Şahin. "When times are difficult, this creates great confidence."
A sign of the Alarko work force's loyalty came when only three of 380 workers decided to leave the company when it moved its operation 38 miles (60 km.) to Gebze OIZ from its former location in Istanbul, a city reachable in 1 hour normally, but two hours at rush hour. Şahin admits it's hard to find trained employees, though the technical high school has been helpful in supplying the welders and electricians who make up 70 percent of the plant's payroll.
The labor cost of $9 per hour is low compared to the west, said Şahin, "but high compared to India and China. Therefore we're not competing with low labor costs, but with productivity." He said the facility's performance in that area is due in large part to UTC's Achieving Competitive Excellence (ACE) program.
Among the benefits accorded Alarko Carrier's workers is $1.4 million per year of free transportation between home and the workplace. Each worker receives three weeks of annual vacation, with two more days bolted on after five years of service.
The 242,196-sq.-ft. (22,500-sq.-m.) plant is organized with a group approach: pumps and motors, fan coils, air conditioners, and heating units. Warehouse space is directly adjacent to the production lines. All is designed for ultimate transparency – an open plant, a transparent manufacturing and production method. Şahin said the company's Gebze operation backs up Carrier's United Kingdom operation, which is reachable in one week by truck. Equidistant is the city of Moscow.
Şahin said UTC, upon acquiring its interest in Alarko, initially did not want to stay and grow at the Gebze site, "but we convinced them of the value of the organized industrial zone, with its shared services and infrastructure."
Şahin called the Gebze zone the most industrial part of Turkey, modern and still developing. "The future of Turkey is industrial zones like this," he said, "Next to highways and harbors."
Carrier's EMEA President David Appel, speaking at a ceremony honoring the partnership's anniversary in early June, could have been speaking for a host of companies when he commented on the appeal of Turkey:
"Carrier has always believed in the strategic importance of a country like Turkey," he said. "We believed this 10 years ago, and we still believe this today. We believe this because of this country's expanding local markets. We believe this because of this country's geographic location for exports. And we believe this because of this country's large and competent work force."
---
Choice Words From the Invest in Turkey
Business and Investment Summit, June 2008, Istanbul
"We need a reform in taxation structure in the telecom sector. We appreciate being in this market. The government was very brave in making changes in corporate and income taxes. We expect the same to happen in the very short term in the telecom sector."
– Paul Doany, CEO, Turk Telecom
"The problem in Turkey is the informal economy. This is what Turkey has to work on to fulfill the requirements of the [EU membership] criteria. During all of our talks with the EU Commission, the unemployment rate [hovering around 10 percent officially] is underlined."
– Dr. Inci Ataç Rösch, director of economic and financial affairs, secretariat General for EU Affairs,
Republic of Turkey Prime Ministry
"Multinationals are using Turkey even for their legal practice, which is something we haven't witnessed before. They give us a mandate to have lawyers control their investments in other areas, such as Azerbaijan. That big multinationals want to control things from Turkey tells us we do have enough resources."
–Sarkan Ictem, partner, ELIG Legal
"Since 2003, as of April 2007, we have exceeded the 250,000 housing units goal set for the end of 2007. We provide only 10 percent of the 2.5 million housing units needed urgently. We have started 147,000 housing units under construction, not just in cities, but in 419 towns, at 1,013 construction sites."
– Fatih Kara, vice president, strategic planning and business development, Housing Development Administration of Turkey
---
---
PLEASE VISIT OUR SPONSOR • CLICK ABOVE

Site Selection Online | SiteNet | Search |
©2008 Conway Data, Inc. All rights reserved. Data is from many sources and is not warranted to be accurate or current.