F
ast track is the preferred route in real estate construction, a methodical process that by nature tends to move slowly.
Time – whether in permitting, scheduling or build-out – means money. Getting new space on-line quickly positions everyone, from landlords to builders to end-users, to capitalize on core business goals.
Consider, then, a project now underway in Boston, where one company is elevating construction speed to blur-like velocities that beggar conventional notions. A team in Boston's Financial District is fitting out 10,000 sq. ft. (900 sq. m.) of office space in
15 days
– a striking compression of time in what's normally a 12-week cycle. What's more, they're building top-shelf space, which will conform to Leadership in Energy and Environmental Design's (LEED) gold standard.
"This project demonstrates how we can build fast and build green without sacrificing quality and without costing more," Joe Albanese, president and CEO of
Commodore Builders
, the project's construction manager, said as building began on Monday, Sept. 8th. "This effort breaks the mold by defying some of the conventional attitudes common in construction."

'A Delicate Dance'
But trying to break that mold at such startling speed is especially ambitious. How, then, is the "15 Days" project faring thus far in the unforgiving glare of reality?
"At the start of Day 11, we are precisely on schedule," Commodore Builders' General Superintendent Steve Georgopoulos tells the SiteNet Dispatch from Boston.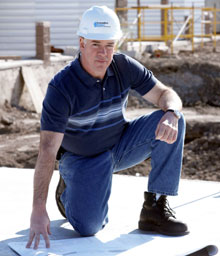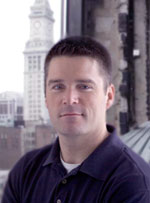 "We've hit every milestone on each day so far, and we're even ahead on some trades. We're dead on schedule for completion this Friday (Sept. 26th)."
That's a whole lot of work to finish so fast, with as many as 40 people laboring together inside a relatively small space and virtually no overtime. But that rapid-fire pace traces back to Commodore's painstakingly detailed slow-down – which began long before a construction crew ever set foot in the space at 10 Post Office Square.
"We spent roughly five months designing, planning and scheduling prior to the start of construction," says Dave Conner, Commodore's project manager on the 15 Days initiative. "That's longer than our typical preconstruction involvement on a conventional commercial interior project, where we might be engaged towards the end of the design period."
Commodore used that long advance horizon to map out a byzantine latticework of project specifics. The planning team, for example, broke up the Boston space into six areas.
"By allowing the critical trades to have complete access to each area," explains Conner, "we're able to ensure that those trades achieve maximum productivity; they aren't competing with other trades for the space. We further broke down the areas into three zones: raised floor and below; floor to ceiling; and ceiling and above.
"In our daily phasing plan, we identified all the tasks that need to be completed in
each
area and zone on
each
day," he continues. "That eliminates any gray area as far as what needs to be completed each day. It's a delicate dance, to say the least."
Commodore has a key partner in that dance:
Leggat McCall Properties
, which is relocating its offices to the new space. In fact, Leggat McCall President Eric Sheffels was the catalyst for the breakneck timetable. Determined to demonstrate that not all projects had to come in behind schedule or over budget, Scheffels told his staff that he planned to finish the company's new offices in four weeks. Everyone laughed. So Leggat McCall's president shaved the time frame to
three
weeks.
"This project is the real estate equivalent of a concept car," Sheffels said as the 15 Days project kicked off. "We're putting our money where our mouth is."

Planning Ahead for Scheduling Hitches
The money that went into intricate planning has kept the project's subcontractors out of each other's way.
"Tracking the zones lets all the trades see not only where they have to be that day, but where their material and tools
can't
be the next day," Georgopoulos notes.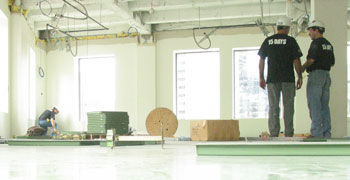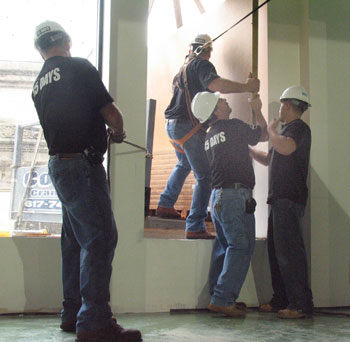 "That helps the subcontractors plan their manpower and deliveries to the site more efficiently and keeps any one trade from hindering the progress of the others."
Still, even the best-laid timetables are often derailed by reality. For Commodore, maintaining schedule has meant planning some subcontractors' work for off hours. Floor finishes, for example, were installed on a second shift, since the installer needed virtually unobstructed access to the entire space. Similarly, crane picks for materials that wouldn't fit in the building's freight elevator have been done on weekends, in order to comply with city restrictions.
But such scheduling bumps haven't meant sacrificing schedule. Each had already been integrated into the advanced preparation.
The systems that the construction team has used have added more speed.
"The most obvious examples," Conner explains, "are the modular electrical and communication cabling under the raised floor, as well as the under-floor HVAC system. The modular cabling installation is extremely fast because the components are plug-and-play, [with] far less conduit to be installed and wires to be pulled – typically a time-consuming aspect. Likewise, the under-floor air distribution greatly reduces the amount of sheet metal ductwork compared to a conventional project."
Those systems illustrate a project concept that Conner calls "smart floors, dumb walls. . . . Having virtually no wiring in the walls expedites the on-site inspection process. Because everything under the floor is accessible at any time, we don't need to wait for inspections in order to close up many of the drywall partitions."
The "dumb walls" have also allowed the smart use of time-saving modular partitions. Those modular components can be installed more quickly than conventional drywall dividers, and they enhance the space's flexibility for future reconfigurations.
The modular walls also dovetail with the project's environmental friendliness. Those partitions, like almost all of the materials installed in the space, can be reused.
Similarly, the LEED-standard square footage will use energy judiciously. Features like daylight sensing, remote frequency lighting controls, LED lighting, wireless switching, and under-floor air and power will cut normal energy consumption by as much as 60 percent, Commodore officials are anticipating.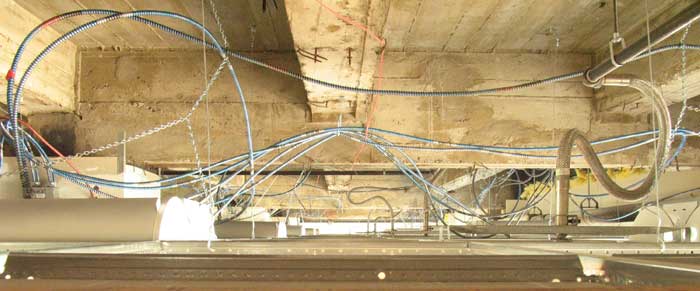 '15 One-Day Schedules'
Materials procurement and storage has been another major plank in Commodore's fast-track system.
"We set out to have all the materials for the project in-hand or stored locally before beginning the project," Conner says. "That was to eliminate any risk of project delays due to manufacturing or shipping issues beyond our control. Ultimately, we didn't end up having every material in-hand prior to starting. We knew, though, that the vast majority of the materials were stored locally at the start of construction."
That system once again reflects the 15 Days project's touchstone: planning, planning and more planning.
"We can greatly increase output and efficiency in the field if we, as the construction manager, put a little more time and effort into producing a thorough and detailed construction schedule," Conner notes. "This helps us set clear expectations with the subcontractors who are performing the majority of the work. We have to remain very careful not to fall into the trap of not providing enough detail in the schedule, not setting clear expectations and milestones. We need to do everything we possibly can to ensure that our subcontractors will be successful."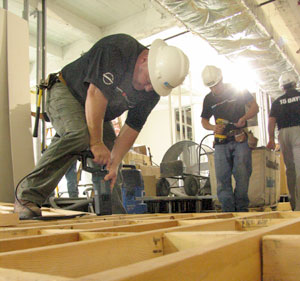 Armed with so much detail, subcontractors are independently taking the initiative to push the schedule forward.
"All the trades have been following the daily phasing plan exactly, or improving on it when possible," Georgopoulos notes. "In some cases, tradesmen are actually letting other trades get into their areas to get a jump on their work before they're officially scheduled to start.
"This is a one-day schedule for 15 days," he continues. "We have to meet the schedule every day. Missing a milestone is simply not an option. There have been a few times when the work looked like it wasn't going to get done by the end of the eight-hour shift. But the subcontractors stayed a little bit later or called and got more help. Everyone has done a great job making it happen."

Can the System Translate?
Commodore officials are anticipating that the 15 Days project will cost Leggat 10 percent less than a traditional build-out.
"Construction costs will be reduced due to the decreased schedule time and associated lower cost of general conditions," explains Andy Fraser, a Commodore vice president and project executive. "Typically, there would be some increased preconstruction costs associated with a prolonged planning phase. Those, though, should be more than offset by the lowered construction costs."
That, though, raises the question of the total time actually spent on the 15 Days venture. Granted, the construction work has been remarkably fast. At the same time, though, many days were spent on front-end planning.
"The overall project duration, including construction, will be about 25 weeks, which is a bit longer than we normally see," Conner allows. "But that's the point: With a little more time spent planning and procuring materials, installation time in the field can be greatly reduced. 
And with some practice, I see no reason why it can't be reduced to the point where the lowered construction costs routinely result in savings that exceed the cost of the added preconstruction efforts."
All in all, the 15 Days project seems pretty remarkable. And now it's poised to finish up, on schedule, at 3:30 on Friday afternoon. (You can check out the finishing stretch at the
15 Days Web site
.)
But is this simply a one-of-a-kind venture? Or, on the other hand, could the Boston experience be translated to other construction projects?
"I think there are lessons learned and innovations incorporated into this project that are applicable to projects across all scopes and sizes," Conner asserts. "The biggest lesson is that proper planning and material procurement is critical to the success of any project.
"The construction industry tends to be slow to change," Conner concedes. "The design-bid-build mentality does not lend itself to this type of expedited construction. So it would require a bit of a paradigm shift on behalf of owners and developers."
But 15 Days does demonstrate that the paradigm
can
shift, producing high-quality work that's completed very quickly.
"As construction managers," Conner concludes, "we need to be open-minded and think progressively about how we plan and sequence projects – rather than go about them the same way we always have. Creativity, collaboration, and out-of-the-box thinking will go a long way towards expediting construction projects."
Postscript: At 3:30 p.m. on Friday, Sept. 26th, the 15 Days construction crew knocked off for the week – and for the entire job. They'd hit their ambitious target, and a city-issued Certificate of Use and Occupancy was hanging on the front door.
Enjoy this original content? Bookmark it to share with your friends!
---
©2008 Conway Data, Inc. All rights reserved. Data is from many sources and is not warranted to be accurate or current.