CalPERS Taps CBRE to Manage $500 Million Fund
Focused on Real Estate/Technology Merger
By JACK LYNE • Site Selection Executive Editor of Interactive Publishing
TThe snowballing convergence of real estate and technology is what's driving the hookup of two giants: CB Richard Ellis (CBRE at www.cbrichardellis.com) and the California Public Employees' Retirement System (CalPERS at www.calpers.ca.gov), the largest U.S. public pension fund, with assets of US$177 billion.
The two groups recently disclosed in Sacramento that CB Richard Ellis Investors has been tapped to manage $500 million of CalPERS' Alternative Investment Management/Real Estate (AIM/RE) Joint Technology fund. CBRE Investors will place the funds in both real estate-related technology ventures and real estate projects.
"CalPERS and CBRE Investors have a unique opportunity to facilitate the nascent global adoption of technology in real estate, which is expected to improve the industry's profitability, productivity and service offerings," said Richard Magnuson, executive managing director of CB Richard Ellis Investors. "The fund will target investments in the companies and real properties which are leaders of this convergence in North America and Europe."

Officials Outline Aggressive Goals
Despite the current dot.bomb shakeout, the AIM/RE initiative will be an aggressive player, early signs indicate.
CalPERS and CBRE officials offered a prospective look at their future in a release distributed at last week's announcement. According to the release, the two envision leveraging CalPERS' $9.3 billion real estate portfolio and its network of contacts within the venture capital industry "to generate a variety of investment opportunities for the new fund."
Some of those anticipated "investment opportunities" are decidedly large scale. Three of them were spelled out in last week's release, including:
"Forming strategic alliances with and investing in emerging companies at the intersection of real estate and technology, such as telecommunications firms, online commercial property listing services and energy management entities";

"Assembling real estate portfolios in technology markets such as Silicon Valley, Boston's Route 128 and Raleigh/Durham's Research Triangle that are likely to benefit from high-growth industries"; and

"Providing real estate solutions to high-growth tenants as their strategic real estate partner and potential equity investor."

CBRE 'Well Suited for Job,'
CalPERS Official Asserts
Those are ambitious goals, but CalPERS officials expressed confidence in CBRE Investors, which won the assignment over a number of unnamed competitors.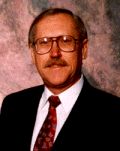 "CB Richard Ellis Investors has demonstrated experience investing in private equity, technology and real estate," said William Crist, president of CalPERS Board of Administration. "They have a global network of relationships with technology tenants and an understanding of technology real estate requirements that suits them well for this job."
CalPERS' desire to invest in both U.S. and European ventures dovetails well with El Segundo, Calif.-based CBRE. CBRE Services, for example, was one of the first commercial real estate players to aggressively globalize operations. CBRE now manages more than $10 billion in assets for institutional clients in the USA, Europe and Asia.
---
CBRE's "global network of relationships with technology tenants and an understanding of
technology real estate requirements" helped seal the deal, said CalPERS Board of Administration
President William Crist (above).
---

CalPERS Already Major Real Estate Player
With much of the once-bitten financial market grown wary, the AIM/RE venture may prove a welcome source of capital for real estate-related technology ventures.
But the initiative certainly isn't CalPERS' maiden voyage. The system has made a number of significant investments focused on the melding of real estate and technology.
In 1999, for example, the system invested in PropertyFirst.com (www.propertyfirst.com). CalPERS has also become a player in providing high-end telecom options for tenants by investing in Broadband Communications and AlliedRiser Corp. through National Office Partners, the system's joint real estate venture with Hines Investments (www.hines.com).
In addition, CalPERS' alternative investment portfolio includes a $500 million direct investment in Enron, the leading energy services provider to property owners.

CalPERS Unloads Hazardous Assets of $525 Million
The AIM/RE program is part of CalPERS Alternative Investment Management (AIM) arm, which specializes in private-equity investments. CalPERS ranks as one of one of the world's largest private-equity investors, with more than $14 billion invested in private-equity assets.
But on the same day that the CBRE deal was announced, CalPERS ditched another asset that it decided was too high risk:
After months of debate, the system voted to sell its primary tobacco holdings totaling more than $525 million.