Fortune's 'Best Cities for Business':
NYC, Buenos Aires, Hong Kong and
London Top Regional Rankings
By JACK LYNE • Site Selection Executive Editor of Interactive Publishing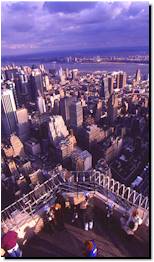 Apropos of this busy, shortened holiday week, here's a time-conscious quick-scan look at the top five cities just selected as "best for business" by Fortune (www.fortune.com) and Arthur Andersen (www.arthurandersen.com). Both sites have separate stories profiling the results of the annual statistical analyses.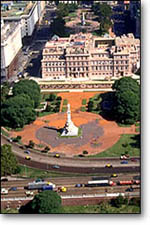 ---
RIGHT: "Thanks to the Giuliani administration's corporation-friendly tax breaks," writes Fortune, "existing businesses have stayed in New York City and flourished, and new ones have crowded in -- Webvan and H&M, to name two in the past year." (Pictured: The view of Gotham from atop the Empire State Building.)

LEFT: Culturally rich Buenos Aires topped Fortune's rankings for Latin America, as well as ranking as the No. 1 Latin city for both labor productivity and per-capita Internet connections.
---
The regional winners: Buenos Aires, Hong Kong, London and New York. Here's a look at the top five in the four ranked regions.
Fortune's 'Top 5
U.S. Cities for Business'
1. New York
2. San Francisco
3. Chicago
4. Washington, D.C., area
5. San Jose, Calif.
Fortune's 'Top 5
European Cities for Business'
1. London
2. Frankfurt
3. Helsinki
4. Amsterdam
5. Dublin
Fortune's 'Top 5
Asian Cities for Business'
1. Hong Kong
2. Sydney
3. Singapore
4. Auckland
5. Tokyo
Fortune's 'Top 5
Latin American Cities for Business'
1. Buenos Aires
2. San Juan
3. Mexico City
4. Sao Paolo
5. Santiago

Source for all charts: Statistical analyses by Fortune magazine and Arthur Andersen.


LOOKING FOR MORE? BROWSE THE "SNAPSHOT FROM THE FIELD" ARCHIVE
---
©2000 Conway Data, Inc. All rights reserved. Data is from many sources and is not warranted to be accurate or current.