Oh Canada: Election Results
Cool Prospects for Quebec Separatists
By JACK LYNE • Site Selection Executive Editor of Interactive Publishing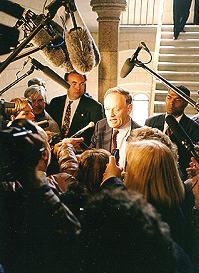 It was two maple leafs up for Prime Minister Jean Chretien, two maple leafs down for Quebec's separatist movement. That was a major part of the results from Canada's Nov. 28 elections, and it goes a long way toward clarifying, at least momentarily, many North American business location strategies.
Canada's electoral outcome, in fact, will likely have more direct business-location impact than the painfully interminable U.S. presidential election ("Groundhog Day" redux). Most significantly from a location standpoint, the victory by Chretien's Liberal Party amounts to a bracing body check to Bloc Quebecois. At least for the moment, the prospect of Quebec's secession seems, marooned in the penalty box.
"This is the first time since 1980 that the Liberal Party has obtained the majority of votes in Quebec, and this is important," Chretien noted after the results were tallied. The resurgent Liberal party moved into a political tie with Bloc Quebecois, which is pushing for the province of 7.4 million residents to separate from Canada. Both the Liberals and Bloc Quebecois now hold 37 of Quebec's 75 seats. (The Progressive Conservatives hold the remaining seat.) In contrast to 1997's election results, that represents an 11-seat gain for the Liberals and an 11-seat loss for the Bloc.
---
ABOVE RIGHT: Canada's prime minister since 1993, Chretien will become the longest-serving leader of a major Western country after U.S. President Clinton bows out in December.
---
Overall, the Liberals added 11 parliamentary seats in 2000's election, bringing their total to 172 seats, well above the 151 needed for a majority.

"Tonight the people of Canada renewed their confidence in our program, our government and our leadership," the 66-year-old Chretien told election-night supporters. Seeming to squelch early-retirement rumors, he shouted, "I guarantee the next five years will be very exciting for Canada."


Chretien Ran Head-On Against Bloc

The win was a major milestone for Chretien (www.pm.gc.ca), a native Quebecer who preached national unity throughout the campaign.

Boldly betting his political hand, Chretien called a snap election only three and a half years into his government's second five-year mandate. He cashed in on that gamble by becoming Canada's first prime minister since World War II to win a third consecutive majority government.

Part of Chretien's game plan was squarely confronting Bloc Quebecois, a formidable force since it drove a 1995 referendum within a hair's breadth of victory. Of '95's 4.7 million ballots, the separatists won 49.4 percent, losing by a mere 53,000 votes -- and in a referendum few initially thought would be remotely close.

A Quebec separate from the rest of Canada would've thrown a major wrench into myriad business location issues. Perhaps most significantly, secession would've mean rewriting the North American Free Trade Agreement. That would create major location concern for a host of companies, given the fact that Quebec accounts for roughly a fourth of Canada's GDP.


Chretien: 'Bloc Wants to Take Us to Dentist'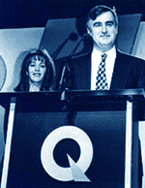 Despite Bloc Quebecois' strong 1995 showing, Chretien took dead aim at the party created in a 1990 breakaway from the Progressive Conservatives. Chretien depicted Bloc Quebecois as a faction linked to the past. The prime minister, in fact, even compared the prospect of another Quebec referendum to a sitting in a dentist's chair.
"The Bloc wants to continue to take us to the dentist," Chretien said to a late October rally in Quebec City. "We've talked for about 40 years about this desire to break the country apart. . . . I think the population is exhausted."
The Bloc's advertisements didn't mention the separatist issue. Chretien, however, was quick to jump on Bloc leader Gilles Duceppe's comment in October that he expected a new referendum "in the next four years."
Separatist Quebec Premier Lucien Bouchard (www.premier.gouv.qc.ca), however, stayed clear of the issue. Bouchard, who rose to power in 1995's separatist surge, didn't mention a referendum timeframe during the election.
---
ABOVE LEFT: Quebec Premier Lucien Bouchard, who rose to power in 1995's separatist surge,
didn't mention a referendum timeframe during the election.
---

Separatist Issue Still Intact
2000's election results may have seriously blunted Quebec's secessionist momentum. The movement, however, is far from dead. Forty percent of Quebec's 5 million voters backed Bloc Quebecois, an increase from the 37 percent of 1997's vote.
"I am satisfied about this campaign, disappointed about the number of elected members, but determined to continue this fight to defend Quebec's interests in the House of Commons and to advance the sovereignist cause," Duceppe told a news conference after the vote tally. Quebec's role in the Canadian federation, he added, "is far from settled. We will keep on defining what sovereignty means in the context of globalization."
That redefinition, then, could still have a major facility-location impact.
And that impact would be geographically broad. Quebec, which is roughly the size of Alaska, intersects with a large number of provinces and U.S. states, including Maine, New Hampshire, New York and Vermont, plus Ontario, New Brunswick and Newfoundland. Those broad borders could be a significant concern in light of the province's exporting clout. Quebec is the world's No. 1 exporter of aluminum and asbestos, No. 2 for newsprint, and a major exporter of telecommunications, automobiles, aircraft, lumber, wood pulp and copper.
Even with the prospect of secession, however, Quebec (www.invest-quebec.com) has landed a large number of major corporate expansions. Drawn in part by incentives that particularly reward R&D operations, the host of companies that have set up major Quebec facilities includes the likes of Ericsson Research, Excel Communications, Harris Farinon, Motorola, Nortel and Nortek. (For more, see November 1999's cover story, "Oui, Quebec: Canadian R&D Center Signals Motorola's Comeback Strategy").

All Votes Hand Counted in Four Hours
In stark contrast to the protracted U.S. donnybrook, Canada's election results were tallied with precision. All 13 million votes were tallied within four hours of the closing of the last poll. All were paper ballots, and all were hand-counted.
The vote count, however, did have one glitch. A disgruntled Nova Scotia voter tossed a ballot box in a lagoon. No word as to whether the man was extradited to Florida.