Proposals Could Have Big Real Estate Impact
Report: Urban Sprawl Driving Transportation
Costs to Gobble 18% of Household Budgets
By JACK LYNE • Site Selection Executive Editor of Interactive Publishing

America's ironclad love affair with the automobile comes at a high cost, according to a newly released report. In several U.S. metros, in fact, transportation costs are eating up more than 20 percent of household budgets.
So says "Driven to Spend," a report compiled by two advocacy groups, the Surface Transportation Policy Project (www.transact.org) and the Center for Neighborhood Technology (www.cnt.org).
The report quantified household spending for transportation in 28 U.S. major metro areas, using government data from 1997 and 1998. An average of 18 percent of the household budgets in those metros was spent on transportation. That was "more than is spent on health care, education or food," the study said. In some metros, transportation costs outstripped housing costs.
The 18 percent average marks an 8 percent increase between 1990 and 1998, according to the report.
---
The high cost of getting there: Choosing a home located near work can
save homebuyers between $100 and $500 per month, reported "Driven to Spend."
---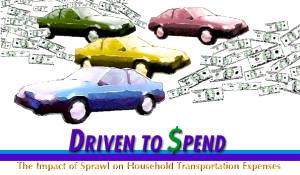 Report Aims to Quantify
High Costs of Urban Sprawl
The culprit, the report contends, is urban sprawl.
"Transportation has gotten expensive for many American families. Because of sprawl, driving has changed from a convenient choice into an expensive necessity," said Roy Kienitz, executive director of the Surface Transportation Policy Project, an advocacy group promoting "diversified transportation."
The metro-specific quantification of "Driven to Spend'" may stir up considerable attention. The study, for example, ranked Houston the highest-cost metro, with an average of 22.1 percent of every household dollar spent on transportation. That, according to the study, translated into US$8,840 spent a year for transportation for the average Houston-area household, $2,528 more than the national average. Atlanta, with a transportation outlay of 21.7 percent, was the only other metro with an average above 20 percent. (See accompanying chart of the study's 10 most expensive metros.)

Broad Recommendations Could
Have Major Real Estate Impact
Such bottom-line specificity could conceivably carry considerable weight with advocacy groups and government officials. And that adds heft to the report's broad-ranging series of recommendations. If implemented, some of those proposals could have substantial impact within the real estate industry.
"Driven to Spend's" recommendations include:
"Smart" development boosted by building and zoning codes: "Developers should build according to the principles of smart growth, and include a variety of affordable housing options so everyone can benefit," the study asserted. "Cities should revise their building and zoning codes to make this easier."
Greater business/government participation: "Businesses and government should encourage programs that help reduce the high fixed costs of driving, such as pay-as-you-go auto insurance and car-sharing programs," the report recommended.
Altered home-lending practices: "Banks should offer location-efficient mortgages and other programs that take into account the savings made possible by living in a transportation-efficient location," the study averred.
Less highway investment: "Governments should invest in public transit, bicycle facilities and walkable neighborhoods as strategies that can help families save money, and should stop investing in sprawl-inducing highway expansions that are shown to cost families more money," the report urged.

New Highways Spurring Higher Costs?
However ambitious, those are only proposals, it bears repeating. Still, the study's thoroughgoing approach could give its findings some long-lasting policymaking clout.
Other findings from "Driven to Spend" include:
The poorest families "spend the most on transportation - sometimes more than one-third of their income goes to transportation." Said Scott Bernstein, president of the Center for Neighborhood Technology, an organization devoted to "inventing new tools for creating livable communities," "We found that counting on cars to get around hurts family finances by using up money that could go toward buying a home."
"Three-quarters of all automobile expenses stem from the fixed cost of simply owning a car, regardless of how much it is driven. . . . The high cost of gasoline or car insurance . . . had little effect on overall transportation expenses."
The expensive metros in the study "also provide little transportation choice, as measured by the ratio of transit service to roads."
Government investments in road building "may be contributing to an increase in transportation expenses. . . . Both expenses and road building grew faster in the top-ranked areas - Houston, Atlanta and Dallas."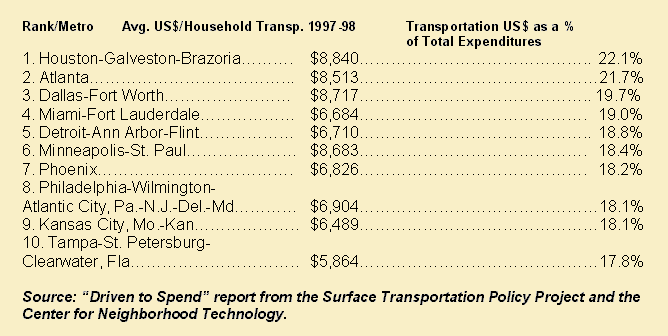 LOOKING FOR MORE? BROWSE THE "SNAPSHOT FROM THE FIELD" ARCHIVE
---
©2000 Conway Data, Inc. All rights reserved. Data is from many sources and is not warranted to be accurate or current.