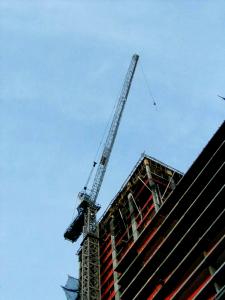 Memo to Developers: Desist
ULI Forecast:
Not Industry's Best of Times, But Not Worst Either
By JACK LYNE • Site Selection Executive Editor of Interactive Publishing

WASHINGTON, D.C. -- When the U.S. economy sneezes, the nation's real estate sector sometimes catches pneumonia. But that's not what most industry players can expect, according to the Urban Land Institute's (www.uli.org) "Mid-Year Real Estate Forecast."
The forecast's bottom line: It's not the best of times for real estate, but neither is it the worst.
The study did project a U.S. economic slowdown for "two to three quarters" of 0 percent to 1.5 percent growth. That sluggish spate, the report added, will be followed by "a gradual increase, resulting in an overall economic growth rate of about 2 percent for the period spanning mid-2001 through mid-2002."


Despite the slowdown, the real estate investment market will generally fare well, according to ULI's prognostications:
"First, real estate will remain healthier and more stable than most other industries over the next two years," says the report. "The second factor is that real estate looks like a defensive investment in a bear stock market and should not suffer from a capital crunch as it did during the most recent economic downturn."
---
---



'Talking Ourselves into a Recession'?

The forecast's somewhat unexpectedly upbeat tone was echoed by ULI's accompanying survey of real estate professionals. That survey group found, "While most respondents feel the real estate industry in general will be affected by slower growth, 78 percent expect profits to be 'good or better.' "
"We are about to talk ourselves into a recession," commented former ULI Chairman Smedes York, president of York Properties (www.yorkproperties.com) in Raleigh, N.C. "Interest rate cuts and tax cuts should help everyone's mindset."
Here's a look at the forecast's sector outlook:
Developers - "Just Say No": The forecast had a strong cautionary tone for developers:
"Given the relatively tight space markets in most sectors and regions of the country, real estate markets should remain in relative balance, although some increase in vacancy rates is expected," the report noted. "Construction levels have peaked and are expected to decline in nearly every property sector over the coming year, reducing the risk of sharply growing vacancies and imbalances in the near future."
Said York, "My advice to developers is 'Don't do as many projects. Supply needs to slow down.' "
Industrial-Strength Stability: ULI forecast that the industrial property sector "should remain one of the more stable and profitable sectors through mid-2002, offering modest but reasonable rent growth and stable vacancies." At the same time, ULI forecast a drop in industrial construction with "new development becom[ing] more difficult in the face of increasingly stringent underwriting standards." Prospects for industrial rent growth were ranked as "modestly good" through mid-2002, but development opportunities ranked "only fair".


'Slowdown' for Offices, 'Strong Prospects' for Housing

Slow Days in Office Sector: ULI forecast "a considerable slowdown" in the office market through mid-2002, but with "relative balance for another year." A likely slowdown in absorption and a major decline in construction starts will counter low vacancy rates, the report predicted. Office rents "will see much more modest growth and overall returns through mid-2002; in some markets, rents will be flat or will even decline." Suburban properties' prospects for rent increases rated only "fair."
Sweet House Music: The forecast gave its "strongest prospects" to "housing development in general," with the most potential for "higher-priced, single-family homes," followed by "master-planned communities, multifamily rentals, in-fill housing, middle-income detached housing and second/vacation homes." Offering the least development potential, the report said, are "regional malls, mid-priced/economy hotels, power shopping centers, entertainment centers and high-rise suburban office buildings."
Mixed-use urban projects will be a particularly hot ticket due to the work-force influx of "echo boomers" - baby boomers' children. "Meet the echo boomers' needs as they perceive them, and you win big. Meet their needs as you perceive them, and you lose big," said Chris Kurz of Linden Associates in Baltimore, Md. " 'In' are urban, green, warm, experience, substance. 'Out' are suburban, uniform, appearance, one-size-fits-all, cheap, and quantity over quality."
Retail Distress: Retail faces a tough haul, the report noted: "Though it should continue to perform satisfactorily for investors, in the face of slowing sales growth, the retail property sector will experience some distress over the coming year." Slowed construction will help retain balance. "Neighborhood shopping centers will perform best," said the report, but the prospects for significant rent increases and profitable development for regional malls and power centers were rated "modestly poor."


Service Firms See Solid Outlook

Other tidbits from ULI's forecast:
Which Players Will Profit? "Real estate service firms, particularly economic consulting firms, likely will fare well, while private real estate operating companies will experience "modestly good' profits," the reported noted. Their markets' continuing strength will help "residential developers weather the slowdown better than commercial developers."
Best/Worst Markets: Participants in ULI's industry survey voted Washington, D.C., as the "most favored" investment market, along with Boston and New York, citing the three cities' "extremely tight market conditions for some time . . . They will continue to thrive in a strong economy and be protected in a downturn." Los Angeles and San Francisco also ranked among the top five "most favored" markets; but the forecast noted, "Uncertainty over energy availability and energy costs could hamper development possibilities in both areas."
San Francisco, in fact, was the only metro ranked in the top five for both "least favored" and "most favored" markets. "The overall economy's struggling technology sector will affect many markets that depend on technology industries," the outlook noted. "Accordingly, more diversified economies will likely attract greater investor interest in the coming year."
Atlanta ranked highest among "markets to avoid" through mid-2002, along with Dallas, San Francisco, Houston and San Jose. "Areas to avoid have had significant increases in supply and not enough demand to absorb the supply in the pipeline," the forecast noted.
EU Bests U.S. Outlook: The ULI's first look at the European Union market reported, "The European real estate industry will remain relatively strong through mid-2002, with performance exceeding that of the U.S. real estate market on most measures. Real estate profitability will be good to very good, and industry observers generally see the property markets as undersupplied or in balance."
The EU forecast also concluded, "The major themes of the past five years will continue to dominate, including globalization, the disappearance of currency risk premiums, and spin-offs of property assets by non-real estate corporations as they seek to focus on their core businesses."


LOOKING FOR MORE? BROWSE THROUGH MORE "SNAPSHOTS" IN THE ARCHIVE
---
©2001 Conway Data, Inc. All rights reserved. Data is from many sources and is not warranted to be accurate or current.