AMERICANA, Brazil
-- Citing the nation's sharp economic nosedive, Goodyear's (
www.goodyear.com
) Brazilian subsidiary has punctured plans to build a US$180 million plant. The project was scheduled to rise in Glorinha, 539 miles (867 km.) southeast of Sao Paulo in Rio Grande do Sul state, with an annual output of 1.2 million tires. "Considering the current economic situation and the slowdown in the tire market, Goodyear do Brasil (
www.goodyear.com/br
) has reached the conclusion that there is no need to build a new factory," the company said in a statement.
Goodyear added, however, that it was not "discard[ing] the possibility of building the plant in the future, when market conditions improve." The Akron, Ohio-based company already has two Brazilian tire plants, both located in Sao Paulo state.
The pullback marks the Glorinha project's second shelving in two years. The first came in June of 1999, following the planned plant's initial announcement in 1997. 1999's pullback came because Brazilian auto sales had dropped by nearly a third in 20 months, Goodyear officials said.
If a new Goodyear plant in Brazil later materializes, it may be a very different animal. Changing conditions in the tire industry point toward a near-term future with far smaller plants, sited primarily for immediate proximity to automakers' factories.

Brazil's Economic Double Whammy
Goodyear's most recent Brazilian pullback came amid the nation's economic double whammy: a precipitous devaluation of the real, Brazil's currency, combined with a severe energy crisis. This year alone, the real has lost more than one-fifth of its value against the dollar. Analysts attribute the devaluation to investor unease over a possible economic meltdown in neighboring Argentina.
The real's plunge has sapped Brazilian demand for new autos. Automakers including DaimlerChrysler, Fiat, Ford, GM, Renault and Volkswagen have laid off Brazilian workers or cut back production.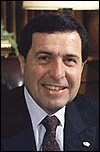 With Brazilian demand blunted, Goodyear's Brazilian pullback made sense. At the same time, though, it underscored the company's struggles. Goodyear reported a 90 percent drop in second-quarter earnings, which it attributed to weaker automaker demand and higher raw materials and energy costs.
"The ongoing slowdown in the auto and commercial truck industries around the globe have led to a significant reduction in orders," said Chairman and Chief Executive Samir Gibara. "Additionally, sluggish economies and significant currency devaluations in Europe, Asia, Turkey and Brazil had a negative impact on both sales and earnings during the quarter."
Goodyear's restructuring program calls for cutting some 7,800 jobs during 2001; 5,800 have already been eliminated in the first half of this year.
Energy Crisis Opens JV Opportunities
Brazil's energy pinch is rooted in a persistent drought that's crippled an energy system heavily dependent on hydroelectric generation. About 93 percent of Brazil's power is hydroelectrically generated.
Brazil has implemented mandatory conservation. Unlike the crisis in California, Brazil's program has designated blackouts as a last resort. Industrial users, however, are required to cut demand by 20 to 25 percent, while commercial and residential customers are required to make 20 per cent cuts. Users that consume less power than the designated targets are rewarded with rebates; those exceeding them, though, are fined.
The Brazilian government has earmarked $12 billion to add 6,523 megawatts of new thermal generation and 7,803 megawatts of new hydro generation. By 2003, the government plan calls for adding 20,000 megawatts of new generation, including cogeneration, imported power and alternative energy.
The plan has drawn interest from a number of firms interested in joint venturing, including AES, CMS Energy, Duke Energy, Enron, ExxonMobil and Unocal.
New Real Estate Strategy for Tiremakers?
Meanwhile, a new era seems to be fast approaching for tire plants. Many major tiremakers have been drawing up secretive plans for building smaller facilities that will feature far higher quality control and much greater use of robotics. The Bridgestone/Firestone recall has added urgency to that effort.
Goodyear's plans center around creating what the company calls "cells" - substantially smaller, much more mechanized plants that are primarily located next to auto plants. One Goodyear plan that recently surfaced called for a new cell with an investment of $70 million - only about a third of the capital outlay currently required for new tire plants. Gibara, in fact, has predicted that Goodyear will locate a small, self-contained facility beside an auto plant in the next three years. Michelin and Pirelli are reportedly working on similar plans.
The market will likely demand the change. GM is considering having a tiremaker install a small manufacturing operation as part of the automaker's planned new plant in Lansing, Mich.
If that changed real estate strategy comes to pass, what the market demands of Goodyear in Brazil could be quite different from the plan it just put on ice.