SAN FRANCISCO
-- A cubicle, you say, with a "snap-in" hammock for those refreshing employee naps?
A cubicle with an aquarium with
real
fish in it? Yes, the very idea is enough to send a pointy-headed, clueless boss up the wall of his or her wildly luxurious office.
And, yes, this cubicle actually exists - at least as a prototype. Scott Adams, creator of the popular and influential
Dilbert
comic strip, has joined forces with design firm IDEO (
www.ideo.com
) to create "Dilbert's Ultimate Cubicle."
"Over the years, Dilbert fans have e-mailed me on all sorts of topics," said Adams. "And after a while, I began to realize that a common theme among the majority of them was the fact that most people are highly frustrated with their cubicles.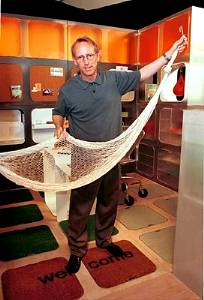 "So," Adams continued, "I started to think, 'What would Dilbert want in a cubicle?' And how could that in turn translate into a solution for every employee?' And I think the result is that we've figured out a possible way to do that."
Have they ever. Granted, the much-maligned cubicle has come a long way from the drab, monolithic panels introduced in the 1950s. (And, even then, it marked a big improvement over what it replaced: rows upon rows of metal desks.) Many of today's modular cubicles even provide personalization and ergonomics.
Adams and IDEO, however, have taken modular furniture to another level.
"I started out with the basic needs - eat, sleep avoid the boss," explained Adams, who initiated the project by contacting IDEO. "And I tried to build in all the things that meet those basic needs."

A 'Boss Monitor,' a 'Murphy Chair'
Mind you, the "basic needs" built into Ultimate Cubicle aren't exactly "employee-of-the-month" stuff. Nonetheless, like the
Dilbert
strip, the project's cracked reflections of workplace realities will, for many, strike a rich chord.
Here, for example, are some other modules for the Ultimate Cubicle:
The boss tracker: The cubicle's desktop includes an icon that, when clicked, allows the user to see the door of the boss's office, clueing the employee if the supervisor may be headed in his or her direction.
A Murphy chair: The cubicle's guest chair folds out from the wall, which solves one problem with co-employees, Adams noted: "They can't borrow it and not ever bring it back." The Murphy chair also provides privacy: Once a guest sits down, the chair activates a preset timer that activates the cubicle's phone. The employee then simply answers the phone, excuses himself to take "a

very

important call," and, presto, the guest vanishes.
Rotating floor panels: Users can choose between resting their feet on Persian carpet, Japanese Tatami mats, shag carpet, freshly cut grass or Astroturf.
An in-floor cooler: Fellow employees can no longer steal your lunch from the break room's 'fridge. You simply store it in the retractable floor unit.
Sun lights: Countering the cubicle dweller's sometimes cave-like existence, the top modules' lights glow or fade over the course of a day, simulating the sun's movement.
And that's only part of what can be added to the Ultimate Cubicle. Other available modules include a punching bag (which can be customized with the boss's face on it); a coat hanger and locker, and a motorized shoe polisher.
How the Cubicle Came to Be
The Ultimate Cubicle, however, isn't on the market. For the moment, its only incarnation is at IDEO's San Francisco headquarters.
Adams, however, doesn't sound firmly opposed to rolling it out as a product. And IDEO CEO Tim Brown said that that some of the Ultimate Cubicle's flexible features might perhaps be translated into an actual product with office furniture heavyweight Steelcase (
www.steelcase.com
), one of IDEO's clients.
IDEO has a reputation for envelope-pushing projects. For example, Fred Dust, the project leader who collaborated most closely with Adams, developed the Stanford Learning Lab and the DePaul Health Center's new patient-care model; and Dust is now working on a mobile unit for dentistry treatment.
Adam's idea, however, presented an entirely unfamiliar envelope. As Dust recalls, "Nobody on our design team had ever worked in a cubicle." So IDEO's team went out and bought a "cube farm" and installed it in the open collaborative space in which it normally works.
The designers then read thousands of pieces of advice e-mailed from
Dilbert
fans, said Dust. In addition, Adams assumed the role of Dilbert. The cartoonist, who described his pre-
Dilbert
corporate tenure as "a 16-year sentence in cubicles," told the designers what his comic-strip creation would want in his modular Mecca.
Two months later the prototype was done.
Dilbert
fans, however, probably needn't worry about Adams going soft now that he's seen the ultimate cushy cubicle. The cartoonist said that his next book (after his current work in progress,
When Did Ignorance Become a Point of View?
) will be followed by one with a plaintive title that could've come straight from
Dilbert
's (largely nonexistent) mouth:
In Your Cubicle No One Can Hear You Scream
.