SALT LAKE CITY
— "If the skyscraper era is not over, it's at least on hold," Stevan Sandberg, president of
Staubach Advisory Services
(
www.staubach.com
), said of the fallout from Sept. 11's terrorist attacks.
Some Staubach clients, for example, now won't locate in any building higher than 50 stories, Sandberg explained. One corporate real estate executive has set a lower ceiling: He won't consider locating his company in any building higher than 30 stories. In addition, many companies' site-selection concerns also extend to locating
very
far from the "shadow" of high-profile high-rises.
"If corporate real estate departments don't make those decisions, employees will make the decisions for them," Sandberg said.
Skyscrapers' diminished appeal was only one of the post-Sept. 11 changes that Sandberg and other industry experts discussed last week in Salt Lake City. Those new real estate realities were the focus of a workshop session - "Post 9/11: The Financial, Practical and Legal Problems and Opportunities" - held during the CoreNet Global Summit.
Higher Tenant Costs Coming
The pre-Sept.-11 United States enjoyed an era of "splendid security," said Jack Brophy, former vice president of real estate for
USG Corp.
(
www.usg.com
). That secure illusion, of course, was irrevocably shattered on 9/11. And with that reckoning came a major realization that continues to have a huge real estate impact: "Terrorism itself has changed," Brophy said. "It is no longer a means to an end; it is the end itself."
That realization has spurred numerous firms to rethink their post-9/11 location strategies, workshop panelists said. And that rethinking is unfolding in a larger real estate industry that faces a far more difficult equation - including higher occupancy costs, more complex and costly construction procedures, higher insurance premiums and tighter financing.
The higher occupancy costs that are looming are apparent in increased building security. Many buildings, for example, now include guards, surveillance cameras, careful checks of employee badges and reduced entry points.
"There is an increase in inconvenience and expense," Sandberg said. Tenants, however, haven't yet felt the occupancy-cost sticker shock that's likely to surface later this year. "There will be some pushback when they do," he added.
New Reality: Total High-Rise Evacuation;
Old Reality: Most Structures Can't Cope
The process of building has also become a more complex and costly endeavor, panelists agreed.
Partial evacuations of high-rise buildings, for example, were for many years standard practice. Only the affected floors, plus a few floors above and below, were to be evacuated, those procedures dictated.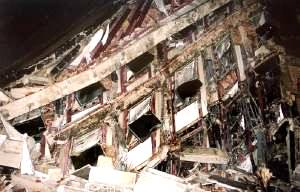 FEMA photo
The post-9/11 reality, however, is quite different. Consider the small fire that broke out on Sept. 18, 2001, in the 52-story Prudential Center in Boston. People in the building's 32nd to 52nd floors were told to evacuate. Ignoring instructions, hundreds of people on other floors evacuated anyway.
But the new need for total high-rise evacuation faces very real structural limits.
"Most high-rises aren't designed for mass evacuation," Sandberg pointed out. The stairwells are too narrow, and there aren't enough of them, he explained. In addition, many high-rise stairwell doors open
into
the fire stairs, impeding passage.
Solving that problem, however, means reducing available work space, creating problems of a different ilk.
"How tall can you build," Sandberg asked, "and still build in sufficient areas for evacuation and still make it a cost-effective project?"
Some high-profile high-rise projects are still continuing, though.
The New York Times
, for example, is building a 50-story, 1.5-million-sq.-ft. (135,000-sq.-m.) tower at the southwest corner of Times Square. "The value of having all their people together in one building superseded all other considerations," Sandberg said.
The new high-rises of the post-9/11 era, however, will include a host of features that will both enhance safety and increase costs, panelists agreed. Explosion-proof facades, internal trusses and greater fire retardance, for example, will become part of the new construction rulebook. But just
who
, workshop panelists asked, will end up paying for such necessary but pricey safeguards?
To Disperse or Not to Disperse?
Dispersal
, a word frequently heard in the post-9/11 strategic rethinking, was also part of the discussion in Salt Lake City.
To disperse or not to disperse boils down to "strictly a cost-benefit analysis," Brophy asserted. Remote locations provide more difficult targets, he explained; but they may also place operations farther away from labor, suppliers and customers.
A far less ambiguous issue in Sept. 11's aftermath is the need for alternative facilities. "Before, companies planned for recovery in situations where they temporarily lost access to information," said Sandberg. "Now, some firms must plan for recovery when the
principal
facility is gone."
Dispersal of a different sort must be a part of the strategy in siting alternative facilities, suggested Sharon Freiman, counsel in the law department at
ExxonMobil
(
www.exxonmobil.com
). She described one company that located its backup facility only two blocks away from its main operational base in Manhattan. Come Sept. 11, both facilities were destroyed, Freiman said.
Last year's anthrax attacks have also created the need for other additional operations. Some companies, for example, have established mail-sorting facilities located near, but separate from, their major operations.
But post-9/11 issues also remain for companies that avoid densely populated central business districts, panelists explained.
Some companies, for example, have begun to keep a very low profile in their suburban and rural campus operations, Sandberg said. Those firms are now opting for no interstate visibility and locations in the rear of business parks, he said. Many are also seeking sites that lie outside airport flight patterns.
New Strategies for
Insurers, Investors and Lenders
More careful analysis of potential co-tenants is another part of the post-9/11 picture, panelists explained. Some firms, for example, are avoiding facilities in which other tenants would include government agencies and very high-profile companies.
For other firms, buildings with underground parking - a prime potential terrorist target - have become a location no-no.
Post-9/11 concerns have also changed the business of insuring real estate. Some insurance firms, said Freiman, are redlining certain types of buildings and businesses, "which puts a chill on commercial lending." Sandberg reported seeing average increases of 75 percent in real estate insurance premiums.
Freiman's advice to tenants in the post-9/11 environment included enhancing their termination rights and expanding the definition of causality and the scope of services needed. "Narrow the things that are out of the landlord's control," she said.
Post-9/11 "value volatility" has also altered the strategies of investors and lenders, said Blake Lacher, the
ABN AMRO Bank
(
www.abnamro.com
) vice president who heads the company's Leasing and Asset Finance Group. Higher financing costs, paired with lower demand and lower capacity, characterize the current investment and lending climate, he said.
Enron's high-profile collapse has added another set of issues vis-à-vis real estate investing and lending, Lacher added. Strategies such as off-balance-sheet financing, and synthetic and bondable leases are now far more closely scrutinized, he said.
The post-9/11 real estate world is markedly changed, the workshop illustrated. Even so, a central goal of the new, security-focused era likely remains unattainable, Brophy said.
"There is no such thing as perfect security," he said. "There is no such thing as unlimited dollars. What we have to look for is
practical
security."