NEW YORK
– "If you build it and they can get here, they will come," contended Sen. Hillary Rodham Clinton (D), speaking at a news conference held inside the hollowed-out 16-acre (6.4-hectare) pit where the World Trade Center's twin towers once stood.
Whether companies will come remains to be seen. But New York seems to have taken a major step forward in luring business back to Ground Zero, announcing last week that US$4.55 billion in federal funding will be used to build a
multimodal transportation hub
centered on the WTC site.
The new transportation center will link area subways, ferries and commuter trains, explained the host of federal, state and local officials gathered for the announcement. The lower Manhattan hub, they said, may even be larger than midtown's Grand Central Station.
Gov. George Pataki (R) called the federal funds "an essential component of our ongoing effort to bring lower Manhattan back stronger and better than before." The new hub, he said, will "not just recreate what was here on the morning of Sept. 11, but will put in place a 21st-century transportation infrastructure for the people who live, work and will come to lower Manhattan."
"We have to make absolutely sure that we do not let the terrorists win," said New York City Mayor Michael Bloomberg (R). "We have to rebuild New York not just for New York's sake, not just for the people who live and work here and commute to here, but for the whole country."
The announcement, however, contained few specifics. That leaves a number of major issues undecided. Chief among them: which proposed projects get funded and when hub construction will be completed - both significant location concerns.
Hanging over the whole hub plan is a larger, highly contentious issue: What will be built at the WTC site?
Relaxed FEMA Rules Providing $2.75B in Funding
The $4.55 billion in federal funding exceeded New York officials' initial expectations.
"The cleanup was done ahead of schedule and under budget," Clinton explained. "We said, 'we want that money for transportation upgrades,' and we got it."
New York is receiving an extra $2.75 billion in surplus cleanup funds, following the Federal Emergency Management Agency's (FEMA at
www.fema.gov
) decision to relax its guidelines. FEMA's Public Assistance Program is designed to provide funding for disaster-related losses and damages - not for improvements.
"This is the first time in the history of the country that FEMA has allowed funds to be used for new purposes as opposed to reconstruction," Pataki said. "We are pleased that they granted our request. It's a tremendous victory for New York and will allow us to move forward."
Now, state and city officials must determine which hub projects receive funding to move forward. Earlier this year, the state and the city drew up a wish list detailing the transportation projects considered critical for rebuilding lower Manhattan. The wish list's total price tag: $7.5 billion.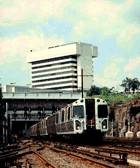 Photo courtesy of Port Authority of New York and New Jersey.
Wish-list projects likely to be part of the final hub plan, officials said, include what's been dubbed a "downtown Grand Central Station" - a $1.5 billion station connecting Port Authority Trans-Hudson (PATH) trains from New Jersey with New York's No. 1 and No. 9 subway lines. That $1.5 billion station would anchor one end of another project likely to be funded: a $500 million underground pedestrian concourse connecting to the World Financial Center and the Broadway/Nassau Street subway station. A $750 million overhaul of the Broadway/Nassau Street station is another major wish-list item likely to make the final cut.
A $250 million study to investigate connecting the Long Island Rail Road with lower Manhattan will also likely be funded, officials said. Among the ideas discussed thus far are building railroad tracks over existing subway tracks or constructing a new tunnel under the East River.
No Turf Wars, Officials Pledge
The funding allocation "will allow us . . . to engage in a much more realistic planning process," Clinton said.
What ultimately gets built, however, will affect the total time necessary to complete the hub. The project will take three to five years to build, Lower Manhattan Development Corp. (LMDC at
www.renewnyc.com
) President Lou Tomson estimated.
Turf wars, though, won't hinder hub construction, officials pledged. "The city and the state will work not as competitors, but as partners to move forward," Pataki said.
Federal officials in turn vowed to let New York decide what's best for New York. "You figure out what's best for you, and we're going to fund that for you," said FEMA Deputy Director Michael Brown.
FEMA, however, will still administer the $4.55 billion in federal funds. Local and state agencies must apply to the agency for specific project funding. Some items that FEMA doesn't okay could instead be bankrolled through separate applications to the Federal Transit Administration, U.S. officials said.
A Hub, Yes, but Serving What?
Still unclear, though, is just what will rise at the WTC site that the new hub serves.
Withering criticism greeted the six site plans that the LMDC floated last month. Created by the design firm of Beyer Blinder Belle, the plans had too much office space and not enough memorial space, critics charged.
On the other hand, leasing requirements mandate replacing all the WTC-area commercial space lost in the 9/11 attacks. Officials have discussed expanding the WTC area's borders to accommodate the needs for both office and memorial space.
The LMDC has now retreated to the drawing board. The agency last week announced that it will select five additional firms to design WTC site plans. The decision will push back finalization of a plan until spring 2003, LMDC officials said.
Yet another issue in the mix is the Bloomberg administration's proposal to take over the WTC site, trading LaGuardia and John F. Kennedy International airports' land to the Port Authority of New York and New Jersey (
www.panynj.com
).
Such a swap, though, would likely take many months to work out. But the exchange, whether it happens or not, won't hinder hub construction, officials promised.
"You've got to bring workers, visitors, residents," Dan Doctoroff, Bloomberg's deputy mayor for economic development, said of the hub plans. "Everybody has got to find it easier to get here and easier to get around. And that in many ways is the precondition to success."