WEYMOUTH, Mass.
– A US$1-billion, 3.5-million-sq.-ft. (325,150-sq.-m.) development just outside downtown
Boston
is edging closer to the starting gate:
Long awaited and long debated,
the redevelopment of the former South Weymouth Naval Air Station
recently took a giant step forward with first-phase approval from Massachusetts Secretary of Environmental Affairs Robert Durand. Durand's approval - which certified that the first-phase redevelopment plan "adequately and properly complies with the Massachusetts Environmental Policy Act" - was a prerequisite for private-sector participation in the 1,442-acre (583.6-hectare) property that comprises the onetime Naval operation.
The Navy in 1997 closed the huge base, which straddles the cites of
Abington, Rockland and Weymouth.
Massachusetts Senate President Thomas Birmingham (D) has called the site 16 miles (25.7 kilometers) southeast of Boston "a tremendous site . . . almost begging for development."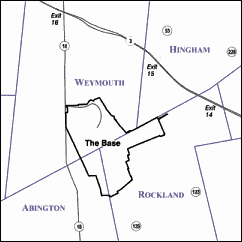 Map: South Shore Tri-Town Development Corp.
With the state's environmental approval, those development pleas will begin getting answers. Massachusetts' OK begins a 10-year process that will involve a total investment of some $1 billion and will create an estimated 7,500 permanent jobs.
Specifically, the state Dept. of Environmental Protection's seal of approval clears the way for the Navy to begin turning over the first parcels of the base, free and clear, to the South Shore Tri-Town Development Corp. (www.ssttdc.com). South Shore Tri-Town Development is a quasi-public authority that the state legislature created in 1998 to oversee the redevelopment.
The first property turnovers will likely occur in late summer or early fall, with development beginning next year. Land near the base's entrance will make up the initial handover, opening up prime development opportunities. That property includes few Navy facilities and has a clean environmental bill of health. Rising on that tract, according to South Shore Tri-Town officials, will be up to 300,000 sq. ft. (27,870 sq. m.) of office and R&D space, plus as many as 300 units of senior housing.
"This can be built on our northwest quadrant, relatively quickly, as there is little or no remediation or wetland impact," explained Kenneth Goff, executive director of South Shore Tri-Town.
Mega-Mall Meets Opposition
Quickly
, however, is not a word readily associated with many military base redevelopments. While closed bases present rich corporate-location and economic-development possibilities, hammering out a redevelopment strategy is seldom a tidy process.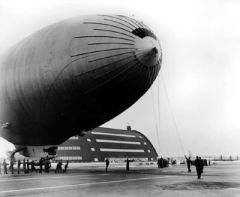 Photo: South Shore Tri-Town Development Corp.
And so it's been for the Weymouth base, which first opened in 1942.
Early on, in fact, it looked like a mega-mall would rise as the redevelopment's first architectural artifact. South Shore Tri-Town Development in the summer of 2000 signed a contract with Arlington, Va.-based Mills Corp. (
www.millscorp.com
) to develop a huge mall and business complex that would've included 1.1 million sq. ft. (102,190 sq. m.) of retail - roughly four times larger than the current Phase I development.
The mall development contract included option-out clauses for both sides through Dec. 15, 2000. The options were needed, it turned out, as the mega-mall met with a less-than-warm welcome.
Environmental agencies, for example, weighed in emphatically. (Abington, Rockland and Weymouth voters in 1998 approved the reuse plan and zoning bylaws, but all projects must be approved by federal and state environmental agencies.) The federal Environmental Protection Agency voiced grave concerns over the mega-mall's impact on the South Shore area's traffic, air quality and water supply. And the EPA urged state environmental authorities to require a comprehensive review of the plan.
Abington, Rockland and Weymouth officials similarly expressed strong reservations about the redevelopment's direction. One of those officials' common complaints: the dominance of retail, not business, in the first planned projects. Better to create more corporate jobs for local residents, many of whom were commuting out of town for work, they said.
Enter 'Staged Development'
With resistance mounting, South Shore Tri-Town Development in December of 2000 exercised its option, pulling the plug on the Mills Corp. mega-mall agreement.
"The board decided that additional time was needed to develop a comprehensive business plan and marketing strategy and to identify funding sources for on- and off-site infrastructure," Goff said. "The board," he added, "came to realize that several factors would take a lot longer than originally planned" including "the complex environmental permitting process" and "staging construction contracts consistent with regional planning processes."
South Shore Tri-Town Development at that point shifted to the "staged development plan" that's now primed to enter its first phase.
The second phase in the "slower, more gradual plan," said Goff, will be "the Route 18 development stage," with the highway outside the base entrance upgraded and expanded from two to four lanes. Scheduled for completion by 2006, the "Stage II" development would add an additional 700,000 sq. ft. (65,030 sq. m.) of office and R&D space and a 190-acre (76.9-hectare) golf course.
"Stage III," the final redevelopment build-out, would kick in after the completion of improvements to Route 3, including a connector road to the base, according to Goff. During the build-out, another 2.5 million sq. ft. (232,250 sq. m.) of office and R&D would be completed between 2010 and 2012.
Official: 'Numerous Developers'
Waiting in Wings, But Reuse Plan is 'Gospel'
"Numerous developers" have stepped up to participate in the billion-dollar base redevelopment, Goff said. But the reuse plan that voters approved in 1998 will rule as "gospel" in the reuse, he explained.
That plan calls for 948 acres (383.7 hectares) to be set aside for open space, parks, golf courses and recreation; 174 acres (70.4 hectares) for office and R&D operations; 240 acres (97.1 hectares) for retail; 35 acres (14.2 hectares) for senior housing; and eight acres (3.2 hectares) for human services. Another 45 acres (18.2 hectares) will be used for Coast Guard housing. The base plan can only be altered by a two-thirds vote of the residents of the three towns that are part of the property.
But other base-site business locations will be opening up soon, even as the redevelopment plan moves through its three stages.
South Shore Tri-Town Development currently subleases 75,000 sq. ft. (6,967.5 sq. m.) to companies inside nine Navy-owned buildings on the base property. The redevelopment agency expects to lease additional Navy-owned facilities on the acreage "in the near future" once the buildings are brought up to code, Goff said.
Editor's Note: For more on military base redevelopment, watch for the feature in the upcoming November 2002 issue of
Site Selection
.