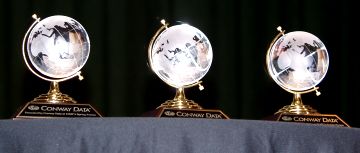 PALM HARBOR, Fla.
– A U.S. president, an economic development pioneer and an executive shaping a big part of the future with water have been inducted into the Development Hall of Fame.
Dwight Eisenhower,
Puerto Rico's
Teodoro Moscoso and
Tampa Bay Water's
Jerry Maxwell
comprise the Hall of Fame's initial inductees, who were honored April 8 at the
Industrial Asset Management Council's
(IAMC at
www.iamc.org
) Spring Professional Forum. Sponsored by
Site Selection
magazine (
www.siteselection.com
) and Conway Data Inc., the Hall of Fame honors singularly noteworthy contributions to developments that markedly improve quality of life.
Eisenhower's Interstate Transformed Nation
President Dwight Eisenhower
(1890-1969) was honored for creating the 44,000-mile (70,400-kilometer) U.S. interstate system, the world's most comprehensive roadway network.
It's virtually impossible, really, for anyone born after the interstate's creation to fathom how shoddy many American highways were. As Eisenhower said in 1952, "The obsolescence of the nation's highways presents an appalling problem of waste, danger and death." State and even federal highways didn't follow basic standards. State weight limits for trucks varied from 7,000 pounds (3,150 kilograms) to 36,000 pounds (16,200 kilograms).
Inspired by Germany's autobahn, Eisenhower championed "the wisdom of broader ribbons across the land." He called for a national roadway system, creating history's largest public works project. That system, he accurately argued, would encourage economic development, increase safety and efficiency, and bolster defense.
But it wasn't an easy sell. The president persisted, though, and the Federal Aid Highway Act of 1956 followed, creating today's interstate.
That $130-billion system has had a vast impact on facility location - a prime focus for IAMC, an association of top-rank executives spanning corporate real estate, economic development and real estate services.
The interstate, in fact, irrevocably altered the business-location landscape. Many once isolated areas suddenly became viable sites; higher-paying positions soon replaced low-wage, dead-end jobs.
The interstate's payoff has been immense. Each $1 spent, most analysts conservatively estimate, has yielded $6 in economic productivity, since 75 percent-plus of U.S. freight deliveries arrive by truck. And the interstate is credited with preventing more than 12 million fatalities.
All due to a network fittingly renamed in 1990 the Dwight D. Eisenhower System of Interstate and Defense Highways.
Stewart Etherington, president of the Eisenhower Foundation, accepted the award.
Moscoso's 'Economic Miracle' Puerto Rico's
Teodoro Moscoso
(1910-1992) spearheaded what
The Economist
called "one century of economic development . . . in a decade."
A pharmacist bored with working in his father's apothecary, Moscoso in 1937 instead began revitalizing housing in his hometown of Ponce. His success was so notable he was named in 1942 to head the fledgling Puerto Rico Industrial Development Company.
Moscoso inventively created the
Fomento
program (aka "Operation Bootstrap"). Openly skeptical at first, analysts eventually labeled
Fomento
"an economic miracle."
Moscoso vigorously promoted Puerto Rico as a business location, creating key tax exemptions. Only nine factories came to the island in 1947, when
Fomento
began. Ultimately, though, the program attracted more than 1,000 plants.
Along the way, Puerto Ricans' quality of life improved dramatically. At
Fomento
's outset, for example, average family income was less than $1,500 a year; today, it's more than $27,000. And Puerto Rico is now home to even higher-paying jobs in fields like pharmaceuticals and electronics, utilizing the skills of one of the world's most highly educated work forces.
Impressed, President John Kennedy in 1961 appointed Moscoso ambassador to Venezuela and, later, coordinator of the U.S. Alliance for Progress. Kennedy called the latter job "probably the most difficult assignment the United States has ever undertaken." But likely no tougher than the odds Moscoso faced with
Fomento
.
Moscoso's grandson, Sergio Moscoso, accepted the award.
Tampa's Trail-Blazing Desalination
Water, water everywhere, and not a drop to drink - or use in local business operations.
With apologies to Samuel Taylor Coleridge, water shortages are increasingly plaguing communities and companies alike. Tampa Bay Water met that problem head-on with a solution with wide-ranging ramifications.
Facing drought, development and drainage, the area has innovatively reduced drawdown. As part of the area's complex, integrated water plan, Tampa Bay Water this year opened a trail-blazing desalination plant.
That $110-million plant, in fact, is the Western Hemisphere's largest desalination operation. It creates 25 million gallons a day of desalinated drinking water - and at the world's lowest prices. One thousand gallons are produced for some $2, less than a third of analysts' estimates five years ago.
Jerry Maxwell
, Tampa Bay Water's executive director, has driven the desalination project, directing a small army of consultants, design engineers, contractors and subcontractors. And he's managed to keep the project running through two bankruptcies on the design-build-operate team.
The resulting desalination design is a model - one that in the future will impact thousands of communities and business locations. Hall of Fame nominations are open year-round at
www.conway.com/halloffame
.