WOODFORD COUNTY, KY.
– Lo and behold, the first equine we see while touring Kentucky's
Gainsborough Farm
(
www.gainsboroughfarm.com
) is none other than Elusive Quality. And he, as onrushing events will rapidly reveal, is a horse that's about to hit the headlines.
Fittingly, the big bay stallion is emerging, lathered, from the padded-walled breeding barn at Gainsborough, a sumptuous, 2,000-acre (800-hectares) spread nestled near
Versailles, Ky.
Elusive Quality prances as he's led back to his stall, having just earned his US$50,000 stud fee for briefly consorting with a mare.
Twenty-eight hours later, one of his sons rockets to full-fledged stardom: Smarty Jones, a three-year-old sired by Elusive Quality, thunders down the stretch on a muddy
Churchill Downs
(
www.churchilldowns.com
) track to bag a two-and-a-half length win in the Kentucky Derby, Thoroughbred racing's Valhalla. It's all of 124 seconds worth of splendidly done work. And the chestnut colt's payoff is an enchantingly fat $5.85 million, the biggest purse in racing history. (Five million dollars of that amount came from the trifecta of also winning the Arkansas Derby and the Rebel Stakes.)
Smarty's Derby party signals a major change for Elusive Quality: Dear old dad's stud fee is getting ready to shoot way up.
Elusive Quality's rising value underscores the fact that horses - and particularly horse breeding - are
very
big business in Kentucky. Some 30 percent of the U.S. Thoroughbreds foaled each year are born in the Bluegrass State.
More than a few win big. Bluegrass-bred colts, for example, have won 97 of the Kentucky Derby's 130 runnings - a cool 75 percent. And Kentucky-bred horses have captured eight of racing's 11 Triple Crowns.
That's big money talking. Loud.
The state's thoroughbred breeding farms, in fact, are a $1.7-billion-a year business, according to a 2001 study by the Kentucky Thoroughbred Association and Kentucky Thoroughbred Owners and Breeders (KTA/KTOB at
www.kta-ktob.com
). And the equine industry as a whole annually contributes more than $3.4 billion to Kentucky's gross domestic product, two-thirds of that total coming from thoroughbred breeding farms, the KTA/KTOB found.
Other States' Breeder Subsidies
Chipping Away at Bluegrass Reign
But hold your horses here.
Kentucky's powerhouse Thoroughbred industry still lacks a very major element, many prominent players insist. What's missing, they say, is the same standard-issue catalyst used to nurture any powerhouse business sector: location incentives. Other states - including California, Florida, Illinois, Louisiana, Maryland and New York - have begun offering handsome breeder subsidies; and they seem to be chipping away at Kentucky's long-running Thoroughbred dominance.
Getting state-wide support for breeders' incentives, though, is like racing on a steep uphill track, says David Switzer, KTA/KTOB executive director.
"Gov. [Ernie] Fletcher and [Commerce Secretary] Jim Host very much understand the importance of this industry, as do the state's business leaders," Switzer explains from his Lexington office. "And that's probably true of 80 percent of state legislators. But most of their constituents don't give a damn. And there's good reason for it.
"They don't realize that this industry's economic impact benefits the masses," Switzer continues. "We're a very heavily taxed industry, with, for example, more than $16 million a year alone in sales taxes on stallion fees. But constituents don't realize that that money from the industry goes into the state general fund, and it's shared with all of the state's 120 counties to build schools, fire stations and other public infrastructure and services. But it's difficult for people to realize that, because they don't statistically see it to comprehend it."
On top of that, the industry suffers from a stereotype that's both negative and inaccurate, he says.
"Most people think that breeding is a rich man's hobby," Switzer explains. "And that's just not the case. Our survey showed that the average Thoroughbred farm is 350 acres (140 hectares), has a net annual income of $50,000 on average gross income of $400,000, has farm-related debt of $1.1 million, and has four or five employees.
Kentucky's Thoroughbred Farms:
By the (Modest) Numbers
The average Kentucky Thoroughbred Farm is unlike the vast 2,000-acre (800-hectare) Gainsborough Farm pictured below, which is owned by Sheik Maktoum bin Rashid al Maktoum, the vice president and prime minister of the United Arab Emirates and the ruler of Dubai.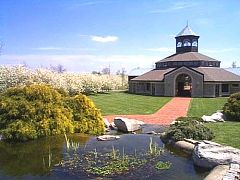 Instead, the state's average breeding farm, according to study by the Kentucky Thoroughbred Association and Kentucky Thoroughbred Owners and Breeders, stacks up with far more modest numbers:
350: the average number of acres (that's 140 hectares).
Four or five: the average number of employees.
$50,000: the average net income.
$400,000: the average gross income.
$1.1 million: the average in farm-related debt.

"So it's the mom-and-pop farms that are the backbone of our industry," he continues. "And they're the ones that are really getting hurt by the lack of breeders' awards."
Breeders Cup Founder: State 'in Clear and
Present Danger of Losing Signature Industry'
Switzer is not alone in seeing significant problems facing Kentucky's Thoroughbred industry. Other major players, for example, include John Gaines, a high-profile Lexington-based breeder.
"The handwriting is on the wall, and the hoof prints are in the turf that indicate Kentucky is in clear and present danger of eroding or even losing its signature industry if we refuse to make the investment needed to remain competitive," Gaines wrote in a recent op-ed piece in
The Lexington Herald-Leader
.
And Gaines is no neophyte in foreseeing the future. He founded, for example, both Lexington-based Breeders Cup Ltd. and the New York-based National Thoroughbred Racing Association, which together annually hold the prestigious eight-race Breeders' Cup Championships (
www.ntra.com
). Gaines' ideas also inspired the creation of the 1,200-acre (480-hectare) Kentucky Horse Park (
www.kyhorsepark.com
) in Lexington.
The signs of erosion in the state's third-largest industry, Gaines contends, are evident in simple numbers. "In 1986, there were 626 [Thoroughbred] stallions," he observed. "Today, there are only 386 stallions."
And that, he contends, means fewer magnets holding the industry together. "The stallions," Gaines wrote, "are the reason the mares are here, the horse sales, the insurance industry, tourism, the veterinarians, the construction companies, the feed dealers, and a host of other allied and support enterprises."
For Kentucky's breeding sector, each stallion that's subtracted is tantamount to a plant closing, Gaines asserts. The average stud, he estimates, generates $8.5 million in annual GDP and has a capitalized value of $150 million or more.
"If we had lost 240 manufacturing plants, we would be considered an economic disaster area," Gaines explained. "But since they were only livestock, nobody noticed. If 25 of our foremost stallions were loaded on horse vans tomorrow and driven to Nome, Alaska, then overnight, that town would become the new epicenter of Thoroughbred breeding in the world."
Three Straight Legislative Sessions
Haven't Foaled Breeders' Incentives
That's a sobering prospect for Kentucky's Thoroughbred industry. Not sobering enough, though, to get breeders' incentives in place. Kentucky's General Assembly considered award programs in its last three sessions, but it passed nothing.
Funding a program is a big part of the problem. As in most states in the economic downturn's aftermath, Kentucky's general coffers aren't flush.
Revenues from expanded gambling have been the ticket in some of the states that have created breeder subsidies, particularly Louisiana and New York. But the specter of expanded gambling is another part of the problem for Kentucky's Thoroughbred sector.
"Kentucky is a Bible-belt state," Switzer explains. "The fact that the funding for the breeders' incentives was attached to a gambling bill makes state legislators very nervous. Legislators are going to listen to their constituents, because the name of the game is getting re-elected."
In addition, Kentucky's Thoroughbred dominance means that a state breeders' award program will be more expensive.
"About three times more Thoroughbreds are foaled each year in Kentucky than in the next-highest state, Florida," Switzer says. "So where it might take a state like New York $4 million to $5 million to fund its program, we're looking at $12 million to $15 million."
Meanwhile, expanded gaming has come to many states bordering Kentucky. And while those states aren't major Thoroughbred rivals, their added gambling options are taking a toll on the Bluegrass racing industry.
At Northern Kentucky's
Turfway Park
(
www.turfway.com
) in Florence, Ky., for example, the amount of money wagered at the track has plummeted by 43 percent since 1996 - the first year in which Indiana allowed gambling boats to float nearby on the Ohio River. The casinos have also had a negative impact on Churchill Downs, which also sits near the Ohio. Track officials blame Caesars Indiana riverboat for cutting daily wagering by 20 percent since 1998.
Smarty Jones' 'Artificial Insemination'
Back in Kentucky, though, lawmakers in 2002 and 2003 nixed the idea of adding slots at Kentucky's tracks. And this year, they didn't pass a different bill that would've established full-scale casinos, including some located away from the state's tracks. (The 2004 proposal would've created at least 12,500 new jobs, analysts estimated.)
The state's five horseracing tracks, some state lawmakers charge, share part of the blame for no laws passing thus far. Those tracks, say the lawmakers, haven't been unified in backing measures to expand gambling while funding breeders' incentives.
Said Sen. David Boswell in March after the 2004 proposal fizzled, "I will not support another racetrack bill as long as I serve in the legislature until the industry comes together and recognizes the fact, if they are going to continue Thoroughbred racing in this state as a tradition, we're going to have to recognize the proliferation of these activities around us in order to survive."
The state's Thoroughbred industry also hasn't been totally unified in years past, Switzer concedes. But that's changed, he maintains. "I think the sense of urgency didn't occur until this past year, when those in the industry started feeling a little bloodletting and seeing some of their clients moving their horses to other states," Switzer explains. "That's gotten them energized to do something."
Breeders' incentives have prompted some Kentucky-based stallions to relocate to other states, Switzer notes. "You can have a stallion here that's not one of the better studs," he says, "and he can go to a place like Louisiana and be one of the top stallions and take advantage of the award program."
In addition, many owners in other states ship their mares to Kentucky to be bred, then ship them home. That scenario produced both Smarty Jones and Funny Cide, the last two Kentucky Derby winners.
"Other states allow you to breed outside the state," says Switzer, "so there's no incentive for those states' breeders to take the very high risk of investing in a stallion. They can just breed them here, return them to be foaled, and they're considered bred in that state. It's damn close to having artificial insemination."
Things don't work that way in Kentucky. The Kentucky Thoroughbred Development Fund (
http://krc.ppr.ky.gov/kar/810/001/032.htm
) only provides benefits to racehorses that are both sired and foaled in the state. And those benefits are limited to
owners
of horses that finish in the top four in designated races in the state.
Help Coming from the Governor?
So what's Kentucky's breeding industry to do?
Get more assertive for one thing, judging from the formation of the Kentucky Equine Education Alliance (KEEA at
www.equinealliance.com
) shortly after the Derby. Made up of a group of major Thoroughbred players, the KEEA is aiming to educate state lawmakers about the industry's major economic role.
In addition, Switzer is hopeful that the breeding industry will get help from the stalled "tax modernization" program championed by Gov. Fletcher, a Republican who took office late last year. And new Commerce chief Host has also made encouraging noises in talking about the industry.
"[The Thoroughbred] industry means more than any other in the state, and the legislature has never been sold on that," Host told the Kentucky Farm Managers' Club in April.
The Fletcher administration, he added, plans to sell lawmakers on that idea through an in-depth economic impact study. Incentives, too, are part of the governor's plan, the Commerce leader said.
"This industry deserves [incentives], and the Fletcher administration will make that happen," Host explained. "Legislators need to realize what would happen if this industry did not exist in Kentucky."
But the clock seems to ticking on the state's most illustrious sector, a fact emphasized in a
Herald-Leader
editorial the day after the Derby lamenting the lack of breeders' awards. "The question isn't whether we're in danger of becoming a breeding backwater," the newspaper noted, "but rather why we haven't become one already."
As for the long-term solution, it certainly wouldn't be surprising if Gaines has already laid it out during his remarks at the announcement of the KEEA (which named him honorary chairman).
"What we need," said Gaines, "is a proactive, aggressive mix of state leadership, economic incentives and tax reform to both maintain Kentucky's horse economy leadership and to attract new horse interest to Kentucky."