MONTREAL
-
Alcoa Inc.'s
(
www.alcoa.com
) planned US$825-million smelter expansion in
Baie-Comeau, Quebec,
has apparently melted down to nothing. The Pittsburgh-based giant in late June pulled out on the project, leaving doubts about the future of the 1,800-worker North Shore operation, the Western Hemisphere's largest aluminum smelter. And that same uncertainty now shadows Alcoa's 550-worker aluminum smelter in
Deschambault, Quebec,
where the company has also cancelled its planned $750-million expansion.
The Baie-Comeau expansion went up in smoke late last month after Alcoa and the current provincial government couldn't come to terms on project subsidies, particularly energy rates. Premier Jean Charest's Liberal administration (
www.premier.gouv.qc.ca
) refused to abide by the memorandum of understanding (MOU) that Bernard Landry's
Parti Quebecois
administration signed with the company in late 2002.
"Despite several months of hard work and good-faith negotiations between the company and the Quebec government, the parties have not been able to generate the conditions that could lead to an agreement," Alcoa Canada Primary Metals President Jean-Pierre Gilardeau said in Montreal in announcing the Baie-Comeau pullout.
Alcoa CEO: 2002 Pact Held
'Exceptional Promise for Future'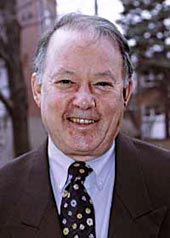 Alcoa signed agreements to expand two of its Quebec smelters with the

Parti Quebecois

administration of Bernard Landry (pictured).
That was a far cry from the close collaboration in December of 2002. Back then, Landry and Alcoa Chairman and CEO Alain Belda gathered at a news conference to jointly announce the billion-dollar expansion in Baie-Comeau, a city of some 26,000 residents about 415 miles (666 kilometers) northeast of Montreal.
Alcoa, explained Landry, had signed an MOU to receive a $128-million interest-free loan and a 10-year provincial tax holiday for the North Slope smelter. In addition, Quebec-owned Hydro-Quebec (
www.hydro.qc.ca
) would provide 175 megawatts of additional power at the preferential rate of about 2.8 U.S. cents per kilowatt hour, plus a 25-year renewal of the McCormick hydroelectric plant's water rights.
In exchange, the U.S. company pledged to invest as least $850 million in the antiquated Baie-Comeau smelter, maintaining at least 1,476 jobs.
Aloca was "very pleased with the new agreement," which held "exceptional promise for the future," said Belda. The deal would expand Baie-Comeau's aluminum production by 25 per cent and "create a strong partnership between Quebec and Alcoa," he added.
That partnership, Landry and Belda agreed, might also include a major expansion of Aloca's smelter in Deschambault, some 297 miles (475 kilometers) southwest of Baie-Comeau.
Expansion in Deschambault
Would've Created 1,500 New Jobs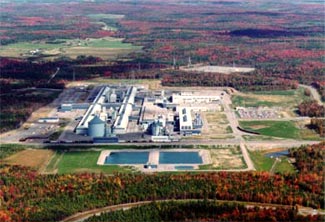 Alcoa also planned a $750-million expansion of its Deschambault smelter (pictured). The project would've added 250 new smelter jobs and at least 1,250 more new Alcoa jobs in Quebec.
Soon, that, too, was a done deal - or so it seemed. Alcoa in March of 2003 announced that it would invest at least $750 million to double the Deschambault smelter's capacity, adding 250 new jobs there.
"The goal of the
Parti Quebecois
government with this MOU is clear: speed up the implementation of a world-class facility for secondary and tertiary aluminum processing and put our hydroelectricity to work for the economic development of Quebec," Landry said in announcing the project.
Quebec signed the MOU to provide Alcoa with a $195-million interest-free loan, a 10-year tax holiday and 500 megawatts of additional power at the 2.8-cents-per-kilowatt-hour rate.
In addition to the smelter's 250 new jobs, Alcoa also pledged to create at least 1,250 more new positions in Quebec, most in aluminum processing. The expansion "will allow the plant to continue beating its own production records and remain one of the world's most highly performing aluminum plants," Belda said.
In March of 2003, Alcoa also began engineering work on the Baie-Comeau expansion. The project would be completed by 2010, the company said.
New Regime Requires Renegotiations
But the expansion scenario began to shift substantially in early 2003. Charest and the Liberals won April's provincial elections, ending
Parti Quebecois'
10-year rule.
| | |
| --- | --- |
| The Baie-Comeau expansion would "create a strong partnership between Quebec and Alcoa," Alain Belda (pictured), chairman and CEO of the Pittsburgh-based company, said last year. | |
The first sign of trouble surfaced in May of 2003. Alcoa began negotiations to finalize the Baie-Comeau MOU's energy and aid terms. As part of those negotiations, the U.S. firm asked for a two-month extension on the original agreement.
But the government refused, insisting instead on renegotiating the terms. Quebec, the Charest government pointed out, was facing energy supply constraints. Hydro-Quebec will complete $7 billion in new hydro construction between 2003 and 2011. This year, though, the utility will be a net energy importer, as it's likely to be for the next few years.
The Charest regime again changed the equation last year on Dec. 4, a few days before the Baie-Comeau MOU's expiration. The government said that it also wanted Alcoa to create 500 secondary manufacturing jobs.
Negotiations still continued. In January, though, Alcoa stopped work on the Baie-Comeau expansion.
"The [Baie-Comeau] modernization and expansion is a core part of our development strategy in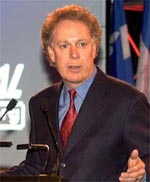 Elected in April of 2003, Premier Jean Charest (pictured) decided to renegotiate the Landry's administration's memorandum of understanding for the Baie-Comeau expansion.
Quebec," Gilardeau said in announcing the suspension. "But we need certainty around energy supply and the financial package before work can restart. Alcoa will not invest large sums into a project without a firm commitment by the government."
The two sides agreed on only one thing: to enter a second round of negotiations, aiming to finalize support terms by the end of 2004's first quarter.
Energy Terms Changed
When that didn't happen, pressure began to build. In April, a group calling themselves the Baie-Comeau Smelter Modernization Coalition got 20,000 signatures on a petition urging the government to finalize a deal with Alcoa.
It was mid-May before the Charest government made a new
offer to Alcoa.
In addition to the requirement of 500 secondary jobs, Quebec reduced the province's interest-free loan to $100 million. More significantly, the government altered its terms for the Baie-Comeau smelter's additional energy needs, offering only 50 years of "low-cost electricity," with annual rate hikes no higher than inflation.
That may have been the deal-breaker. Aluminum manufacturing is an energy glutton. Producing one ton (0.9 metric tons) of aluminum takes some 13.5 megawatt-hours of electric power - enough to run 10,800 U.S. homes for an hour.
Things Fall Apart
The Alcoa-Quebec negotiations somehow dragged on. On June 28, though, the world's leading aluminum producer called the whole thing off.
"We could not reach an agreement on a formula that would have ensured long-term affordable energy for the Baie-Comeau modernization project," Gilardeau said.
"With energy representing more than 30 percent of our operating costs, we simply cannot invest $1 billion (Canadian) in a project with the risk that energy prices will rise considerably over the life of that project," he continued. "Over 40 years, even with only moderate increases, energy would represent a $10-billion cost."

"Alcoa will not invest large sums into a project without a firm commitment by the government," said Alcoa Canada Primary Metals President Jean-Pierre Gilardeau (pictured).
Alcoa, he added, was also canceling the 1,500-job Deschambault
smelter expansion.
The U.S. company said that it would keep the Baie-Comeau operation open "at least until 2010, as long as environmental requirements, energy availability and market conditions will allow." But the Baie-Comeau smelter is using late-1950s technology. And Gilardeau pointedly noted that the cancellation meant "miss[ing] an opportunity to ensure the long-term survival of the smelter at a time when economic conditions are favorable."
Still, Alcoa pledged that it was "determined to maintain a strong presence in industrial Quebec." The company has more than 5,000 provincial employees, and it's invested some $5 billion in its Quebec operations.
At some $75,000 per job, the Landry government's original offer to Alcoa was excessive, some provincial observers maintained. The Charest government's refigured offer would've equaled about $45,000 per job.
Even so, though, the turnaround raised a red flag for some, including
Parti Action Democratique du Quebec
leader Mario Dumont.
"The signature of a Quebec premier or the Quebec government is worth nothing, because if an election is called, then anyone can come and do the opposite," Dumont told CBC Montreal.
Alcoa Expanding Elsewhere
Charest said that he's still willing to renegotiate Alcoa's energy terms, but, he added, "not at any price."
For Alcoa, though, renegotiation may not be in the cards. The company is rapidly expanding in places like
Brazil, Iceland, Jamaica
and
Trinidad
- where low costs include power. (For more on Alcoa's
"The signature of a Quebec premier or the Quebec government is worth nothing, because if an election is called, then anyone can come and do the opposite,"

Parti Action Democratique du Quebec

leader Mario Dumont (pictured) said of provincial leaders' flip-flop on the Alcoa expansion.
$3-billion hydropower plant in Iceland, see the Sept. 16th
Snapshot from the Field
in the SiteNet/IAMC
Dispatch archives).
Alcoa, in fact, sealed a Brazilian deal on June 18th that earlier had seemed headed the same way as the Quebec cancellations.
Alumar,
(
www.alumar.com
) Alcoa's majority-owned joint venture with
BHP Billiton,
suspended its northeastern Brazil expansion plans in January. There, too, power was the primary issue. Alumar couldn't reach an agreement with state-owned utility
Eletronorte.
Unlike in Quebec, though, Alumar and the government came to terms, inking a 20-year supply contract. Soon after, the company announced a $1.16-billion smelting and aluminum-refining expansion
in
Sao Luis, Brazil.
"The new contract," the company said in a statement, "will place Alcoa in a position to consider its future expansion opportunities in Brazil."
---
PLEASE VISIT OUR SPONSOR • CLICK ABOVE
---

©2004 Conway Data, Inc. All rights reserved. Data is from many sources and is not warranted to be accurate or current.