Hong Kong Disneyland
Tops Out Centerpiece Structure
by
JACK LYNE
,
Site Selection
Executive Editor of Interactive Publishing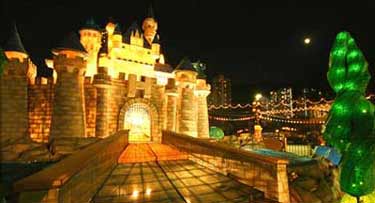 The park's Sleeping Beauty Castle.
Hong Kong Disneyland: By the Numbers
$3.5 billion: Total cost of the project
$1.81 billion:Total cost of building the park.
$1.74 billion: Total cost of buying and developing the site at Penny's Bay on Lantau Island.
310 acres (124 hectares): Total sze of the Hong Kong Disneyland site.
18,000: Projected number of new jobs when Phase I of the park opens.
5,000: Projected number of Disney "cast members" staffing the park when
Phase I opens.
$19 billion: The benefit from the Disney park that the SAR government is projecting for Hong Kong's economy over a
40-year span.
5.6 million: Projected number of visitors in the park's first year
of operations.

HONG KONG — Mao Tse-Tung and Mickey Mouse seem to be getting along very nicely, thank you.
Construction of the US$3.5-billion Hong Kong Disneyland (www.hongkongdisneyland.com) is moving along smoothly, with everything running right on schedule thus far. In about a year, in fact, one of the best-known symbols of capitalist consumerism will open its doors inside a nation that remains a Communist Party stronghold. (And somewhere on China's mainland a persistent whirring noise is sounding out from the grave of Mao, a fanatically dedicated Marxist.)
A joint venture between the government of the Hong Kong Special Administrative Region (SAR at www.info.gov.hk) and the Walt Disney Company (www.disney.go.com), Hong Kong Disneyland reached a major milestone on Sept. 24th: Workers topped off Sleeping Beauty Castle, the park's centerpiece, placing the uppermost turret on the structure's highest tower. "Behind me rises our castle, the most memorable icon of our park," Hong Kong Disneyland Group Managing Director Don Robinson said at the topping-off ceremony. "The castle emblem symbolizes the immersive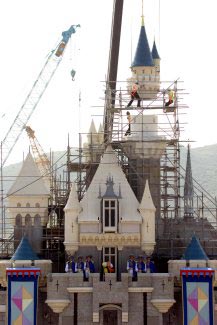 world that guests enter inside every Disneyland around the world. Now, Hong Kong has its own Sleeping Beauty Castle.
"We also are extremely excited to partner with the people and government of Hong Kong to build this Disney family destination," continued Robinson, flanked on stage by company officials and costumed Disney characters including Mickey and Minnie Mouse, Donald Duck, Goofy, and Chip and Dale. "Together we will help drive job creation, tourism and economic growth, while creating a magical journey for Hong Kong."
SAR Predicting $19-Billion
Boost for Hong Kong Economy
Job creation, tourism and economic growth were exactly what the SAR government had in mind in December of 1999, when it entered into the joint venture, known as
Hong Kong International Theme Parks.
At that point, Asia's sharp downturn had sent Hong Kong's economy spinning into its 15th straight month of recession. Tourism had similarly headed south. But the Disney-SAR partnership was sealed only after more than a year of drawn-out discussions.
"The negotiation at times has been difficult because both parties want a good deal," SAR Chief Executive Tung Chee-hwa explained after the pact was finally hammered out.
But Hong Kong, some project critics continue to argue, didn't really get a good deal. The SAR is bankrolling almost all project costs, including the estimated $1.81 billion it will take to build the park. Hong Kong also agreed to pony up $1.74 billion more to buy and develop the site at Penny's Bay on Lantau Island.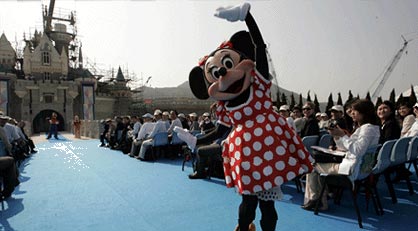 In addition, the SAR loaned Disney $718 million. (The U.S. company is obligated to pay back the loan, plus interest, over a 25-year period.) After agreeing to that huge financial commitment, Hong Kong's government got a 57- percent ownership share in the joint venture. Disney, on the other hand, invested $314 million in Hong Kong International Theme Parks. But the Burbank, Calif.-based firm brought another big bargaining chip to the table: its extremely successful, globally recognized brand. Along with its comparatively modest investment, Disney's name was enough for the entertainment colossus to secure a 43-percent ownership stake. Nonetheless, Hong Kong will realize a huge long-term payoff, SAR officials insist.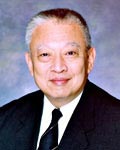 Disney and other companies, they say, will create an estimated 18,000 new jobs by the time the park opens. And total job creation will grow to 36,000 when Hong Kong Disneyland reaches full build-out. Critics, though, point out that most of those jobs are low-skill, low-pay positions. Even so, the SAR estimates that the project over a 40-year span will give Hong Kong's economy an overall boost of $19 billion (in 2004 dollars). Most of that payoff will come from Hong Kong companies' profits, plus income from the wave of newly created jobs. (In addition, the SAR government will get back about $513 million of Phase I land costs through subordinated shares in the joint venture.)
"We think it is a pretty good return, representing eight times the original investment that has been made," Tung said.
Disney: Help Wanted
Five thousand temporary jobs are already in place, building the park. Disney, too, has started hiring. The company is now interviewing for 750 jobs. Five hundred of those positions are for the first "cast members" — Disney-speak for park employees. By the time Hong Kong Disneyland opens, it will have 5,000 cast members.
The Hong Kong park's opening date, though, is still up in the air. With the topping off of Sleeping Beauty Castle, the park is now 60 percent finished. Disney officials are saying only that Phase I of the project is on schedule to open sometime between late 2005 and early 2006.
The company is reportedly consulting with local geomancers on the opening date. Dating back at least as far
as the 14th century, geomancy is highly regarded in China, as is
feng shui.
Geomancers identify and balance "earth radiations," the subtle energies believed to affect health and well-being.
Those geomancers just may decide that the optimal opening date is in October. That happens to be when the company is wrapping up its 50th- anniversary celebration of the original Disneyland's opening in Anaheim, Calif. What's more, the company is billing Hong Kong Disneyland as "the beginning of the next 50 years" of Disney theme park history.
5.6 Million Visitors Projected
In Park's First Year of Operations
The big question after they build it, of course, is how many will come. The SAR's economic-benefit model is based on the park's drawing 5.6 million visitors in its first year of operations, with that number rising to 10 million annually after about 15 years.
And that may be a very reachable goal. As Walt Disney Parks and Resorts President Jay Rasulo noted at the topping-out ceremony, "Hong Kong Disneyland will serve as an important gateway for bringing the magic of Disney to families across Asia." Disney's new park, in fact, is specifically aimed at a single huge market: Asia, the world's most populous region. A major step in that marketing strategy is planning the cuisine that the park will offer. With much of Asian culture centering around meals, the menu that Disney selects will surely be broad.
Park performances will take the same multicultural approach. Shows will be done in three languages: Cantonese, the Chinese dialect most popular in Hong Kong; Mandarin, the most widely used dialect on the mainland; and English (which is widely spoken in Hong Kong).
Disney is projecting that one-third of park visitors will come from mainland China, with another one-third from Hong Kong. The remaining one-third of visitors will come largely from other Asian nations.
The park's Asia-centric focus was further underscored by July's selection of singer and actor Jacky Cheung as Hong Kong Disneyland's official spokesperson. Cheung is almost a total unknown in the West. But Robinson described him as "a household name in Hong Kong and across Asia." The U.S.
company doesn't think its new park will experience any negative impact on attendance from Tokyo Disneyland's proximity. About 95 percent of current visitors at the Tokyo park are Japanese, Disney officials report.
Park Has U.S. Focus,
as Well as Communist Youth League Partnership
Some of Disney's broad cultural focus will narrow, however, in the park's ambiance. The main thoroughfare, for example, will be known as "Main Street, U.S.A."
That choice of names is based on the marketing snafus that plagued Disneyland Paris' opening. A number of European themes were incorporated into the park's first design. But Disneyland Paris initially drew disappointingly small crowds (as well as barbs from French journalists, who called it "a cultural Chernobyl"). Disney then realized that European audiences were looking for "an American experience," as one official put it. After embracing a more Americanized theme, Disneyland Paris started drawing big European crowds Disneyland Hong Kong will also attract big wedding crowds. More than 300 couples have already signed up for in-park nuptials.
(One registrant, however, isn't actually a couple — not yet, at least. She's a young woman who almost desperately wants to be the bride in Hong Kong Disneyland's first marriage ceremony. But when she made her registration, she said she didn't have a boyfriend, Disney officials report.)
Disney also seems to have broadened its own cultural perspective in dealing with China's all-powerful central government. The company got a hard lesson in that department in 1996, when it seemed on the verge of announcing a mainland park site, most likely in Shanghai. Then, though, the U.S. firm released
Kundun
, a film by acclaimed director Martin Scorsese that sympathetically depicted China's Tibetan Buddhist
monks. After
Kundun
, the central government suspended site negotiations with Disney.
This time around, the company is carefully hewing to the party line. So much so, in fact, that Disney has entered into a partnership with the Communist Youth League (CYL). With some 70 million members, the CYL offers the park a major entrée into China's youth market. Disney is working with the organization to present activities that include storytelling, drawing and interactive games. Those sessions are often centered around Disney characters.
Rasulo calls the CYL partnership "part of an overall brand-building process."