Priciest Pipeline Ever
by

JACK LYNE,

Site Selection
Executive Editor of Interactive Publishing
MOSCOW — Japan has beaten out China in the billion-dollar battle to determine the route for the first major pipeline that will tap into Russia's vast oil reserves in East Siberia. The dimensions of the resulting project — the Taishet-Nakhodka Pipeline — will clearly be huge. Covering 2,581 miles (4,130 kilometers), the pipeline's estimated cost now ranges between US$15 billion
and $18 billion.
If that projection turns out to be even remotely near reality, the Taishet-Nakhodka will rank, hands-down, as history's most expensive oil pipeline. By comparison, the 800-mile (1,280-kilometer) Trans-Alaska Pipeline completed in 1977 cost "only" $9 billion.
Russian Prime Minister Mikhail Fradkov signed a resolution on New Year's Eve that endorsed the Taishet-Nakhodka route. The signing ends — or at least appears to end — years of aggressive competition between China and Japan to gain access to Siberia's oil reserves. The two energy-hungry nations are both seeking more stable oil sources to lessen dependence on the Middle East.
Sino officials had pushed for a different path that would've run from the Siberian city of Angarsk to Daqing in northwest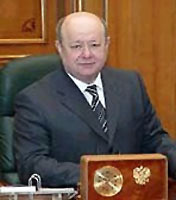 Russian Prime Minister Mikhail Fradkov (pictured) apparently ended the long-running competition between Japan and China by signing resolution on New Year's Eve that endorsed the Taishet-Nakhodka route.
China. That route, in fact, at one point seemed destined to be the winner for the Siberian pipeline. In late May of 2003, Russian President Vladimir Putin and Chinese President Hu Jintao signed a declaration that apparently cleared the way to create the Angarsk-to-Daqing project.
Kremlin Changes Mind, but Gives
China Major Energy Consolation Prize
The Kremlin, however, later changed its mind. Its reasoning, though, remains murky. Russian officials have only vaguely cited ecological and technological concerns about the proposed Angarsk-to-Daqing pipeline.
But political and economic considerations, as well as a major shakeup in Russia's oil industry, likely played significant roles in the project's shift in direction. And Japan added a major factor that may've swayed the decision its way. The Japanese were willing to pay for most of the Taishet-Nakhodka Pipeline.
But the Land of the Rising Sun seems only sure of being the pipeline winner for now. Russia's earlier flip-flop suggests that the project's final path isn't yet a sure-fire certainty. The acid test will come sometime in the next two to three years. At that point, pipeline construction will reach the point of no return. It must then either continue east toward the Russian Pacific Coast or turn south toward China.
In the meantime, the Chinese didn't leave the contest empty-handed. Russia is offering
China National Petroleum Corporation
(CNPC at
) a stake of up to 20 percent in a newly created state-owned entity that will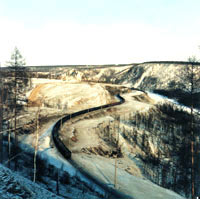 The early stages of the pipeline will be built near Baikal-Amur Railway routes, facilitating rail transport while the project is partially complete. Photo: Siberian Branch of Russian Academy of Sciences
control
Yuganskneftegaz.
A former private entity, Yuganskneftegaz holds about 17 percent of Soviet oil reserves.
State Monopoly Will
Build, Operate Pipeline Project
The Taishet-Nakhodka Pipeline will be built and run by
Transneft
(
www.transneft.ru
), Russia's state pipeline monopoly company. The government created the corporation in 1993 as the legal descendant to the Soviet Oil Ministry's Central Production Department for Oil Transport and Supply. The Russian Property Ministry holds 100 percent of Transneft's voting stock.
The Japan-backed path begins in the Siberian city of Taishent, the site of the Baikal-Amur Railway's (BAR) largest station. The pipeline's initial stages will run near BAR routes, facilitating rail transport while the project is partially complete.
The pipeline's end point will be the port of Pervoznaya near the city of Nakhodka. Part of Russia's Pacific Primorsk region, Pervoznaya sits on the coast of the Sea of Japan.
The work between those points promises to be arduous for the estimated 30,000 workers who'll be involved in building the pipeline.. The chosen route will involve building 48 pipeline sections that cut across rivers. And some of those rivers, including the Chuma, the Ilim, the Lena and the Upper Angara, are quite large. Another 115 sections will cross highways and rail lines.
East Siberia's permafrost — soil or rock that's continually been below freezing temperatures for two or more years — also ups the pipeline's degree of construction difficulty, as well as its costs. Crews will have to burrow beneath layers of permafrost to locate the oil and then extract it. In addition, laying the pipeline through permafrost will necessitate building deeply buried concrete foundations that will keep the tubing safely steady.
Soviet Minister: Longer Route, Larger
Output Have Pushed Up Project's Costs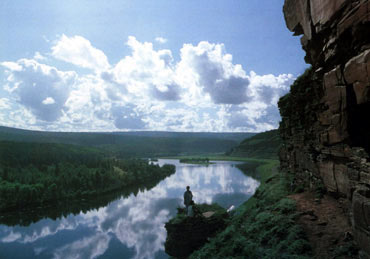 Pipeline construction will entail building 48 pipeline sections that cut across rivers that will include the Lena (pictured). Photo: International Federation of Rock Art Organizations/Siberian Association of Prehistoric Art Researchers
The pipeline's current $15-billion-to-$18-billion cost estimate easily doubles Russia's $6.5-billion projection in mid-2001 . The lower estimate, however, was for a pipeline supplying Japan that would've run only from Taishet to the city of Skovorodino; from there, the oil would've been shipped by rail to the port of Pervoznaya. That plan began rapidly losing favor with the Kremlin last year after Transneft's feasibility study identified significant obstacles.
"Because of the negative ecological and technological [implications], . . . the route of the pipeline was changed," Russian Minister of Industry and Energy Viktor Khristenko said in explaining the new and longer pathway's far higher price tag. "The route will pass more eastward than it was planned earlier," he added.
The new route will also necessitate a major cost addition at the pipeline's end point. Russia will have to build a new port at Pervoznaya on the Pacific Coast that will be able to handle large oil tankers.
The project's costs have also escalated because of a substantial increase in the pipeline's annual pumping capacity. The line will now pump 80 million tons (72 million metric tons) of oil a year.
"The output capacity has nearly doubled against the earlier calculated 30 million to 50 million tons [27 million to 45 million metric tons]," Khristenko noted.
Pipeline analysts say that pipeline costs could rise higher still if there's a major rise in steel prices.
Japan's Offer Gives Russia
Control of Completed Pipeline
Comparatively speaking, at least, the Angarsk-to-Daqing route that China supported may've looked like a basement bargain. The estimated cost of that 1,404-mile (2,247-kilometer) pipeline was $2.5 billion.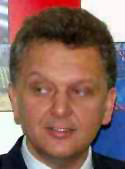 The longer and much more expensive Taishet-to-Nakhodka route was selected to replace a previously considered plan "because of the [earlier path's] negative ecological and technological [implications]," said Russian Minister of Industry and Energy Viktor Khristenko (pictured).
Tokyo, however, brought far deeper pockets to the bargaining table. Japan offered to bankroll most of Taishet-to-Nakhodka Pipeline's construction, as well as the project's oil exploration. And Japan's offer also left Russia with total control of the completed project.
The government-owned Japan Bank for International Cooperation (JBIC at
www.jbic.go.jp/english
) was the key player in facilitating that offer. The bank will finance as much as 80 percent of the pipeline's total costs through low-interest loans. That support will likely at least triple the JBIC's biggest loan to date — the $4 billion it provided Thailand during the 1997-98 Asian economic meltdown.
The Taishet-Nakhodka Pipeline will also set a national size standard for Japan. It will rank as the largest-ever offshore project that Japan's government has financed.
What's more, Japan is bearing most of the risks. The Russian government has said that it won't guarantee the JBIC's loans. Japan's government plans to repay the loans with oil-sale proceeds. But it could get stuck with a very steep bill if East Siberia's untapped oil reserves turn out to be far less than anticipated. The loan pay-back strategy could also run afoul if pipeline oil sales don't flourish.
By comparison, China risked far less in its campaign for the Angarsk-to-Daqing pipeline.
Sino officials, for example, offered to pay for only part of the pipeline. In addition, the Chinese government would've owned the pipeline portions built on Sino soil. Finally, the Angarsk-to-Daqing proposal provided that China would use all of the pipeline's oil.
Russia, on the other hand, is able to retain control of the oil by accepting the Japanese proposal. Japan obviously will be one of the pipeline's largest customers. But Russia will be free to sell the oil to other nations as well. The multiple revenue sources cushion Russia from the potentially negative consequences of depending on a single customer's economic health.
Siberia's Oil Reserves Estimated
To Be at Least 20 Billion Barrels
At full capacity, the Taishet-Nakhodka Pipeline will pump some 1.6 million barrels of oil a day through tubing measuring 48 inches (1,220 millimeters) in diameter.
The pipeline project will begin its drilling in the Tomsk region and the Khanty-Mansi autonomous district, Soviet officials explained. Officials in all areas included in drilling plans and the pipeline route have approved the project, they said.
Oil industry analysts estimate that East Siberia's untapped oil fields alone hold reserves of at least 20 billion barrels. As a nation, Russia has proven oil reserves that are estimated somewhere between 50 billion and 100 billion barrels. That total puts the Soviets at a distant No. 2 behind Saudi Arabia, which has estimated reserves of 262 billion barrels.
Oil from the Taishet-Nakhodka Pipeline will actually start arriving at the Pervoznaya port terminal well before the project is finished. With the pipeline's first stages completed, Russian officials say that they'll begin rail-shipping extracted oil to the country's Pacific coast. To facilitate those shipments, BAR says that it will build second and even third tracks parallel to its existing lines.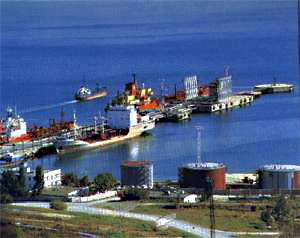 The pipeline's will end near the city of Nakhodka (pictured) at the port of Pervoznaya on the coast of the Sea of Japan.
Yukos, China's Primary
Oil Source, Is Going Under
Russia has promised as well to accelerate its rail shipments of oil to China. The nation has pledged by 2006 to increase those annual exports to 15 million tons (13.5 metric tons). That's five times the three million tons (2.7 metric tons) of oil that Russia sent by rail to China in 2003.
But like the once-favored Angarsk-to-Daqing pipeline route, it remains to be seen whether the increased Russian shipping does, in fact, materialize.
Yukos
(
www.yukos.com
) Russia's second-largest oil group, was the only company that directly supplied the Chinese market by rail. Russia, however, seized Yukos' assets late last year for $20 billion in back taxes. Yukos' founder, Mikhail Khodorkovsky, was jailed in October of 2004. Long a vocal political opponent of Russian President Vladimir Putin, Khodorkovsky is now awaiting trial on charges of fraud and tax evasion.
As for Yukos, the company is rapidly being dismantled. The government in late December auctioned off Yuganskneftegaz — the same entity in which CNPC has been offered a 20-percent stake.
Baikal Finance Group
spent $9.4 billion in buying Yuganskneftegaz, which accounted for about two-thirds of Yukos' revenues. Soon after, Russia's state-owned
Rosneft
(
www.rosneft.ru/english
) bought 100 percent of Baikal Finance.
With Yukos effectively out of the picture, other Russian oil companies are warily eyeing the prospect of stepping in to rail-ship oil to China. Most are reportedly conceding in private that they're reluctant to take on the task, which they view as a low-profit, high-cost function. For each ton of oil that Yukos shipped to China, for example, the company was reportedly paying as much in $160 in export duties and transport tariffs.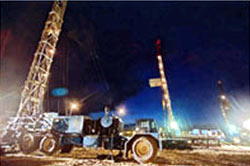 Russia has ambitious plans to capitalize on proven oil reserves that are estimated at between 50 billion and 100 billion barrels, second to only Saudi Arabia.
Other Pipelines in Russia's Plans
While still a going concern, Yukos also served another high-profile function: The company was the primary champion of the Chinese option for the pipeline from Siberia.
Now, the Kremlin's choice of the Taishet-to-Nakhodka path will first pump Siberia's oil toward Japan instead. The Kremlin, however, still says that a pipeline to China is a possibility.
In the meantime, Transneft, the Industry and Energy Ministry, and the Ministry of Economic Development and Trade are collaborating to develop a construction schedule for the Taishet-Nakhodka Pipeline. The groups are charged with delivering a final schedule by May 1st.
The Taishet-Nakhodka Pipeline is one of the key projects in Russia's overall plan to more fully capitalize on its oil resources. The nation envisions developing number of other pipelines as well. The Industry and Energy Ministry says that Russia's designs includes pumping oil to ports in Albania, Croatia and Greece, as well as northward to a Barents Sea port that would serve North America,
Loads of money, of course, will have to materialize to make Russia's oil dreams a reality. Russian officials estimated that developing only East Siberia's reserves will require about $55 billion in investment over the next quarter of a century.
But while those costs are high, the rewards may be too. Russia expects profits from its oil industry to top $800 billion between 2003 and 2020.
Right now, the high cost of oil is greasing the skids to bring high investments into Russia's energy industry. Future oil prices, however, could determine whether the country gets the additional capital that it says that it needs to capitalize on the resources lying beneath its soil
"Russia has oil," said Khristenko, "and despite some . . . problems, we shall not curtail our oil production."
Editor's note: For more on Russian corporate real estate and infrastructure activity, look for the Russia Spotlight in the May 2005 issue of Site Selection.