Shintech Picks Louisiana
for $1-Billion PVC Complex
by

JACK LYNE,

Site Selection Executive Editor of Interactive Publishing
ADDIS, La. —Shintech has decided that Louisiana is the site of choice for an integrated polyvinyl chloride (PVC) complex that will involve an investment of US$1 billion.
The project will rank as the largest U.S. investment ever by a Japanese chemical manufacturer. Houston-based Shintech is the wholly owned U.S. subsidiary of Tokyo-based Shin-Etsu Chemical Company (www.shinetsu.co.jp) the world's largest manufacturer of PVC.
Shintech announced on Jan. 25th that it has chosen a 1,725-acre (690-hectare) site just south of the city of Plaquemine (pop. 7,100). The company had narrowed its site search to three cities: Addis, La.; Freeport, Texas; and Plaquemine. Shintech has existing plants in Addis and Freeport.
"In the end, the Iberville Parish site proved to be the best location for the type of facility that we want to construct, with adequate rail, highway and deepwater access," Shintech Vice President Ervin Schroeder explained at the project announcement, held at the company's Addis production facility.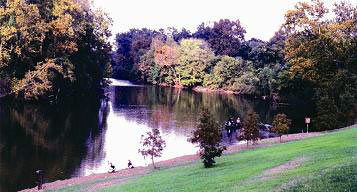 Shintech's existing PVC plant site in Addis (pictured top) was one of the contenders for the company's new complex. The chosen location near Plaquemine sits about five miles (eight kilometers) southeast of Addis. Pictured on the bottom is Bayou Plaquemine in Iberville Parish. The waterway was used by French settlers and traders and is mentioned in Henry Wadsworth Longfellow's epic poem "Evangeline."

Plug Pulled on '96 Project

The Plaquemine plant will create about 150 full-time jobs, said Schroeder. They'll be well-paying positions, he noted, with salaries ranging between $55,000 and $60,000 a year. The facility will also employ some 50 more workers on a contract basis. In addition, building the Plaquemine plant will create about 2,000 construction jobs, state officials said.

Many state and local officials who backed the project were on hand for the company's announcement.

"Today, I am proud to announce that Shintech chooses Iberville Parish and Louisiana," said Louisiana Gov. Kathleen Babineaux Blanco (D).

Mitchell Ourso, president of Iberville Parish, greeted the plant's arrival with unabashed enthusiasm. "It's a great day for Iberville Parish," he said.

The support marked quite a turnaround from Shintech's far less harmonious experience a decade ago. In 1996, the company announced plans to build a $700-million PVC production operation in Convent, La., some 36 miles (58 kilometers) southeast of Plaquemine. Three years later, Shintech abandoned the project.

In the interim, protestors marched in opposition. In addition, the proposed Convent project became the catalyst for the first major court challenge mounted using the Environmental Justice Act (EJA) implemented in 1994. That law makes illegal any "disproportionate distribution of environmental hazards" in low-income communities. About 40 percent of Convent residents had incomes at or below the federal poverty line.

The project, though, never reached a courtroom test. Shintech pulled the plug in 1999 soon after the Tulane University Law Clinic filed an EJA challenge. Instead, the company decided to build a smaller PVC plant in Addis, 25 miles (40

kilometers) north of Convent.

Dow Chemical Company.

Shintech's long-term contract with Dow to provide those feedstocks will continue after the Plaquemine plant reaches full production, company officials said.