Lockheed Team Ousts Sikorsky
for $6.1B Marine One Contract
by

JACK LYNE,

Site Selection Executive Editor of Interactive Publishing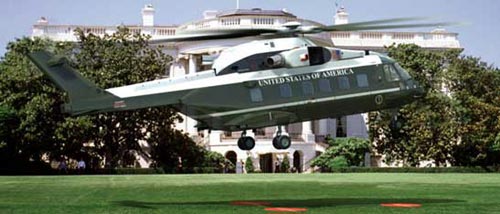 The Lockheed-led team will build 23 new Marine Ones
like the one pictured in this artist's rendering.
WASHINGTON, D.C.
— For the first time in half a century, a U.S. presidential helicopter will be built by a company that's
not
Sikorsky Aircraft
.
Ending a drawn-out struggle to land the US$6.1-billion contract for the
Marine One
fleet, a team led by
Lockheed Martin
has won out over an alliance led by Stratford, Conn.-based Sikorsky. The Lockheed alliance won the bid with a helicopter model dubbed the U.S. 101.
Announced on Jan. 28th, the U.S. Navy's decision will end incumbent Sikorsky's long-running Marine One manufacturing streak. That era dates all the way back to 1957. Since then, Sikorsky has continually been the prime contractor in making the helicopters that carried the president.
That, though, will change in 2009. That's when the new Marine One model built by Bethesda, Md.-based Lockheed's team will take to the skies.
The Navy's award caps a three-year contractual tug of war. That competition was punctuated with charges and countercharges over which Marine One model was more "American."
The Sikorsky group, for example, heavily criticized the sizable participation of British-Italian helicopter company
Agusta-Westland
on the Lockheed team. Agusta-Westland designed much of the winning U.S. 101 model, a variation of its own EH-101. Owned by
Finmeccanica
, Italy's second-largest industrial group, Agusta-Westland will manufacture about a fifth of the new Marine One's components.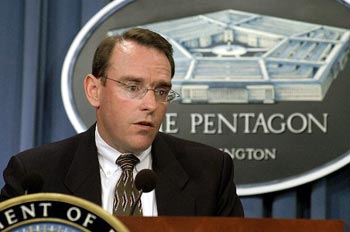 "We picked based on the best value for the mission," the Navy's John Young (pictured) said in announcing the choice at the Pentagon. Foreign participation, he added, was "really not a factor in the source selection.".
But the Sikorsky consortium's VH-92 Marine One model, the Lockheed-led group countered, has its own foreign roots. The VH-92 is an adaptation of the S-92, a model on which Sikorsky partnered with five companies headquartered outside the U.S.: Taiwan's
Aerospace Industrial Development Corporation,
Brazil's
Embraer,
Spain's
Gamesa,
People's Republic of China-based
Jingdezhen Helicopter Group
and
Japan's Mitsubishi Heavy Industries.
Navy Official: 'No Political Influences" in Award
Those issues dominated the public-relations run-up to the decision. But they had no bearing on the Marine One award, Navy Assistant Secretary for Research and Development John Young insisted while announcing the choice.
"We picked based on the best value for the mission," Young explained in a Pentagon briefing. The Lockheed aircraft, he stated, "provides essential improvement in the range, speed, communications capability and survivability necessary to efficiently and securely transport the president."
Young specifically dismissed the notion of whether foreign participation had any influence — or should've. "That's really not a factor in the source selection," he said. Both bids, he noted, satisfied "Buy American" requirements.
Young further asserted that the Bush administration had exerted no pressure vis-à-vis the Marine One contract. Some observers speculated that the president was quietly backing Agusta-Westland to reward Britain and Italy, two of the strongest U.S. supporters in the Iraqi War. Both British Prime Minister Tony Blair and Italian Prime Minister Silvio Berlusconi discussed the Marine One contract during separate White House visits with President George W. Bush.
Young, however, pointedly noted, "There are no political influences on this. No one at the White House contacted me."
1,000 New U.S. Jobs
Landing in New York, Texas
Regardless, the Navy award will generate a sizable number of U.S. jobs.
Lockheed, the project's prime contractor and systems integrator, says that it will build a new $30-million, 176,000-sq.-ft. (15,840-sq.-m.) integration center and additional hangars at its existing site in
Owego, N.Y.
That operation will hire as many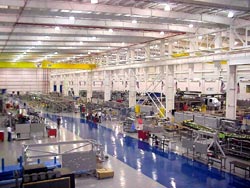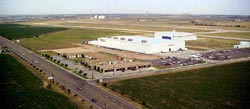 With the Marine One contract award, Bell Helicopter Textron will add more than 300 new jobs at its existing production operations (pictured) in Amarillo, Texas.
as 750 new workers, officials with Lockheed's Systems Integration group said.
More new jobs will materialize in
Amarillo, Texas
— the headquarters city of
Bell Helicopter Textron
. To assemble the new presidential helicopter fleet, Bell will add about 305 employees at its existing production plant in Amarillo, company officials said.
The allure of government contracts has also spurred three related relocations, which will collectively consolidate some 325 jobs in
Reston, Va.,
in the
Washington, D.C.
metro.
In late November, two companies announced that they are co-locating their headquarters in Reston —
Agusta-Westland Inc.,
Agusta-Westland's U.S. subsidiary, and
AgustaWestlandBell,
a joint venture between Agusta-Westland and Bell. Agusta-Westland Inc.'s jobs are relocating from Philadelphia and Arlington, Va. AgustaWestlandBell's positions are moving from Ft. Worth, Texas.
"By expanding our presence near our key government decision-makers, AgustaWestland will be better able to meet the needs of our customers," said AgustaWestland Inc. President Stephen C. Moss.
On Feb. 4th, another corporate cousin seconded that reasoning. Bell/Agusta Aerospace Corp., AgustaWestlandBell's marketing joint venture, announced that it, too, will consolidate at the same Reston site. The marketing operation is repositioning some 25 jobs from Ft. Worth's Alliance Airport.
The BA609 civil tilt-rotor aircraft is one product that Bell/Augusta is sure to pitch from its new digs. But AB139 manufacturing, AgustaWestlandBell officials noted, will still be done in Amarillo, starting later this year.
Agusta-Westland has not yet announced how many jobs it will add in England and Italy.
80 Percent of New Marine
One Will Be Made in the USA
Back on Capitol Hill, the Marine One fallout was predictable. Congressional delegations from the affected states uniformly backed the helicopter model that boosted constituencies.
U.S. Sen. Hillary Clinton (D), for example, called the Navy's selection of the Lockheed team "a great day for Owego, the Southern Tier and all of New York [that] will provide the president of the United States with a state-of-the-art-helicopter [and] an Oval Office in the sky."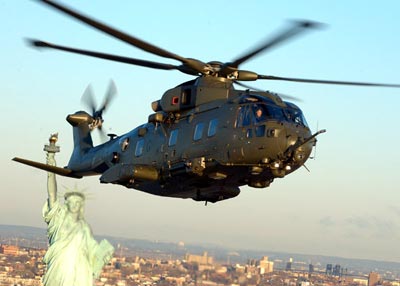 The winning Marine One model is a variation of Agusta-Westland's EH-101, pictured during its U.S. tour last year to
drum up support.
That reaction contrasted sharply with that of the congressional delegation from Connecticut, home base of Sikorsky, part of
United Technologies Corp.
.
"Made in America should mean something," U.S. Rep. Rosa DeLauro (D) charged. "The Defense Department has some explaining to do."
Sen. Chris Dodd, (D), called Lockheed's contract award "an affront to the American worker," while Sen. Joseph Lieberman (D) labeled the decision "outrageously wrong."
But Defense Department regulations were what steered the Navy's decision, Young stressed.
"Both teams were required with their proposal to submit a certification that they were compliant with the applicable 'Buy America' provisions," he explained during press questioning. "Both teams have done that, and beyond that it's not a factor."
The Buy American Act requires that Defense Department purchases must have at least 65 percent domestic content.
Eighty percent of the U.S. 101's components will be made in the U.S., Lockheed officials said. The rest will be made in England and Italy. U.S. firms, they added, will get around 90 percent of the Marine One's contract value. The Lockheed-led alliance includes more than 200 American subcontractors in 41 states.
Lockheed-Led Bid Lower
And Promised Quicker Delivery
Speed was one of the biggest issues in the Marine One decision, Young said.
"The need to improve the capability and security level provided to the president is urgent and demands that we move expeditiously," he said. "In the current world situation, the president finds himself in a helicopter that already [doesn't] have the payload he would like to have. It's a matter of assessing, frankly, against those stringent requirements and the schedule that the White House has asked us to meet."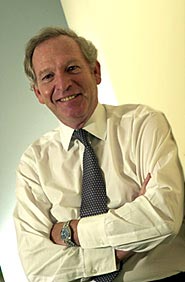 Landing the new Marine One contract was "win or drop dead as far as we are concerned," George David (pictured), chief executive of Sikorsky parent United Technologies said
late last year.
Lockheed's EH-101 adaptation, he added, could get into service more quickly.
"The Lockheed team probably started with a helicopter that needed less," Young commented. "They more closely met the requirements we had laid out, and that allowed them to table less work that had to be completed to get to the finish line and deliver a product."
The Navy didn't provide any specifics on the teams' bids. But Lockheed's offer was the lesser of the two, Young indicated.
"Lockheed started . . . closer to the requirements," he said. "They had less work to do, so that obviously let them bid a cost that was potentially lower."
The Navy's decision drew praise from
Citizens Against Government Waste
(CAGW). "Today, taxpayers avoided what could have been another helicopter sinkhole had Sikorsky won the contract," asserted Tom Schatz, president of the CAGW, a nonpartisan advocacy group focused on eliminating government waste, fraud, abuse and mismanagement.
The "who's-more-American?" contest, he said, clouded the bigger issue.
"Sikorsky draped its contract bid with American flags, insinuating that Lockheed presented a less 'American' choice," Schatz averred. Picking the Lockheed team, he dded, "showed common sense by choosing a contractor that is expected to stay on budget and on schedule. With a record $427-billion budget deficit predicted for fiscal 2005, taxpayers deserve to have costs stay on the ground."
New Chopper Can Carry More Security
Size also mattered for the Marine One. The bigger Lockheed model will facilitate adding more state-of-the-art security equipment, Navy officials said.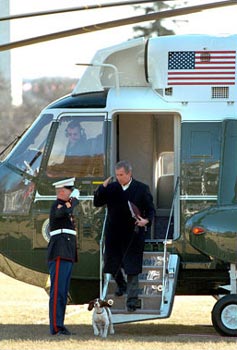 The current Sikorsky-made fleet lacks the size to accommodate the needed security equipment, Navy officials said. (Pictured: U.S. President George W. Bush and Mexican President Vicente Fox board a Marine One outside the White House.)
So many security features have been added to the current Sikorsky-made fleet that it's limited the planes' carrying capacity. Sikorsky's CH-3D Marine One was built to carry as many as 16 people. Now, though, only 10 people are allowed onboard. The U.S. 101's larger payload, said the Navy's Thomas Laux, the Marine One program's executive officer, "buys flexibility that allows the currently developed technology to be installed on the aircraft." With the existing Sikorsky model, "we cannot do [that] because we are so severely weight-limited," he added.
The Marine One bid became a passion at Sikorsky. United Technologies Chief Executive George David called the Marine One decision "win or drop dead as far as we are concerned" in a December 2004 speech to stock analysts.
"Sikorsky and our All-American supplier team are disappointed with this outcome," Sikorsky Aircraft President Stephen Finger said after the Marine One award. "We're honored to have flown U.S. presidents for nearly half a century and believe we put forward an exceptionally strong proposal to continue this tradition."
Will Marine One Award Affect
Choice on New Air Force Helicopter?
It remains to be seen whether the Marine One decision has any impact on the award to manufacture the U.S. Air Force's Personnel Recovery Vehicle (PRV). The military says that it will order as many as 150 PRV search-and-rescue helicopters. That contract's estimated value is between $6 billion and $9 billion.
The Lockheed team will build a total of 23 Marine One helicopters. That many aircraft are needed, the Defense Department said, because several are usually aloft when the president is flying.
Further contributing to the fleet's size, officials added, is the fact that Marine Ones are transported in cargo planes to be ready when the president arrives at a foreign or domestic destination.
---
---
©2005 Conway Data, Inc. All rights reserved. Data is from many sources and is not warranted to be accurate or current.