Intelligent Communities List
Has Decided Asian Presence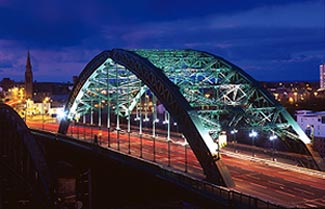 Sunderland, U.K., has relied on the knowledge-based economy to bring the former shipbuilding center out of economic doldrums and dramatically reduce unemployment.
by

JOHN W. McCURRY,

Site Selection Senior Editor
Asia took three spots on the 2005 Top Seven Intelligent Communities list recently announced by the Intelligent Community Forum (ICF). Singapore; Tianjin, China; and Mitaka, Japan; joined Issy-les-Moulineaux, France; Pirai, Brazil; Sunderland, U.K.; and Toronto on the list, which recognizes achievement in deploying broadband, building a knowledge-based work force and bridging the digital divide.
Issy-les-Moulineaux, a Paris suburb, made a decision to outsource its information technology infrastructure in 1997. ICF says that move was the first step toward transformation into a "digital city" as it helped speed up the pace of technology innovation. The city attracted multiple carriers to provide high-speed Internet service. Today, more than 50 percent of residents are on broadband, twice the French national average. The city has attracted considerable investment from IT firms, who account for nearly 60 percent of the companies in the city.
Mitaka, Japan, a suburb of Tokyo, has a long history of prizing technology and research and development. The city is a leader in broadband deployment in a country that ranks third in the world in that category, after South Korea and Canada. Mitaka is home to research and data centers for Dentsu, IBM Japan, SECOM and numerous Japanese government agencies. It is also the global hub for production of "anime" cartoons, producing an estimated 75 percent of the anime seen around the world.
Pirai, Brazil, a small town near Rio de Janeiro, is a broadband leader in a country where fewer than 6 percent of the population are Internet users. In February 2004, the city switched on a wireless broadband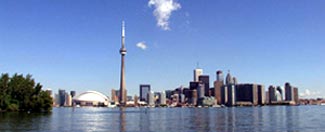 Toronto is the lone North American city to make the ICF Intelligent Communities Top 7. It has one of the continent's largest information and communications technology
work forces.
network providing connectivity to every public facility. ICF cites Pirai for the broad objectives and collaborative process that made technology deployment possible.
Singapore has made the ICF list several times and was the Intelligent Community of the Year in 1999. The city-state made broadband available to 98 percent of homes by 2002. ICF put Singapore on this year's list for its continued progress and its new vision for creating a digital age trading hub for the Asia-Pacific region. About 600 wireless hotspots have been deployed across the island, providing one wireless hub per square kilometer. An alliance between the Infocomm Development Authority of Singapore's government and Microsoft has made Singapore schools a test bed for digital textbooks.
Sunderland makes the ICF list for the fourth consecutive year. A former shipbuilding and mining city, Sunderland rebounded from 30 percent unemployment in the 1980s. An early embracer of the knowledge-based economy, Sunderland committed itself to ensuring that all residents benefited. Recent developments include implementation of programs to adopt technology-based approaches to delivering government services. Sunderland's efforts have reduced its unemployment rate to 4 percent.
The industrial and port city of Tianjin, China, has deployed 19,000 km. (11,800 miles) of optical fiber, providing the backbone for a broadband wireless network that blankets the city. There are 2 million Internet users in Tianjin and 200,000 broadband subscriptions. The city's IT focus has been rewarded in terms of economic development. Annual sales revenue of Tianjin's information industries was US$14.1 billion in 2003.
Toronto government has collaborated with the private sector to build a number of industry clusters focusing on wireless networks, e-learning, e-health and digital media, as well as software for the region's traditional core industries such as banking, insurance and manufacturing. Toronto introduced its eCity program in 2002 to improve both the internal workings of government and delivery of services. Some initiatives focused on making the city council more efficient through better access to information and more transparent through better communication with residents.
ICF (
www.intelligentcommunity.org
) is a special project of the New York-based World Teleport Association that focuses on the uses of broadband and information technology for economic development.
---
---
©2005 Conway Data, Inc. All rights reserved. Data is from many sources and is not warranted to be accurate or current.