Malaysia On the Rise
by

ADAM BRUNS,

Site Selection Managing Editor
In his 1987 book "Weapons of the Weak," Yale anthropology and political science Prof. James C. Scott chronicled the "slowdown" techniques used by Malaysian villagers in Sedaka, Kedah, in the 1970s in order to avoid the inevitable dominance of new technology in the workplace.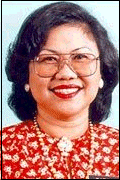 Minister Rafidah Aziz
In the tech-happy corporate environment of Malaysia in 2005, such a scenario sounds far-fetched, to say the least. In 2004, there were 65 new corporate projects or expansions in Kedah, just south of Thailand, ranking the state fourth in the nation with nearly US$1.4 billion in investment.
Actually, "ridiculous and embarrassing" is the way the Honorable Rafidah Aziz, minister of international trade and industry for Malaysia since 1987, refers to some recently deposed regulations that stifled business activity. That's the way the frank, un-bureaucratic minister works. And it not only charms audiences like the 230 she spoke to in Atlanta in February, it also helps bring a continuing stream of high-caliber corporate investment to her country.
Take the December 2004 announcement by Infineon of a $1-billion investment in a chip fab complex at the Kulim Hi-Tech Park in Kuala Lumpur. Or the $21-million expansion from 550 to 800 of the R&D work force at Motorola's two-way radio design center in Penang, the largest of its kind in the world. That facility was first established in 1974.
Penang is also the location of a forthcoming radio frequency identification R&D complex from Smartag Solutions, with a price tag of some $131 million. It also is seeing expanded investment from Canadian industrial automation firm ATS.
Penang's infrastructure is following suit, adding a new container area at its port that will boost annual capacity to some 1.4 million twenty-foot equivalent units.
Other ports are getting in on the action too, with growth occurring at Johor and both car-handling and pipe-handling facilities being developed at Kuantan.
At full capacity, the Infineon fab will employ approximately 1,700 people.
"This new fab is an important step to continue our success in semiconductors for automotive and industrial applications," said Dr. Wolfgang Ziebart, president and CEO of Infineon Technologies. "Our continuous investment in Asia also reduces our market risk concerning fluctuations of the U.S. dollar-to-euro exchange rate."
Exchange rates are favorable for U.S. dollars to Malaysian ringgit too. With the ringgit pegged at 3.8 to US$1, it's "cheap for Americans," says the Minister, "cheaper than Dubai."
The new Infineon facility complements a 30-year-old plant in Malacca, as well as other production sites for non-memory products in Munich-Perlach, Regensburg, Villach, and Dresden, and Altis Semiconductors, a joint venture with IBM in Essonnes, France. It also underscores the investment leadership of German companies in the country, with significant headquarters and operations from the likes of Volkswagen, BMW, Siemens, Hapag Lloyd, DHL and Schenker.
In the six years since Minister Rafidah last visited Atlanta in 1999, her country has seen a 16.1-percent increase in foreign direct investment, with a cumulative total of 5,179 projects adding up to some US$37.1 billion in investment. In 2004, Malaysian-U.S. trade was up 16 percent, and Malaysia's gross FDI was up 24.6 percent in 2004, totaling some $6.5 billion.
Primary to markets in China, India and the Middle East, Malaysia has also been helped by its own talent, graduating some 285,000 college students annually. It's also been helped by an increasingly stable political and trade environment, girded by international trade agreements and a domestic picture characterized by steady GDP growth (7.6 percent in the third quarter of 2004) and a national savings rate of 36.5 percent. The country was recently designated as the single most competitive nation among countries with a per capita income of $10,000 or below. As for the nation's "Vision 2020" plan, Malaysia is on track after the 1997 economic crisis, and is looking at 7-percent annual growth.
Such figures were given credence in Atlanta by Mike Gadbaw, General Electric vice president and senior counsel for International Law and Policy. GE has seen several different divisions launch in Malaysia since being part of a business delegation in 1975, most recently in 2002, when GE Plastics Malaysia was established, operating within the parent company's Advanced Materials division. That business now has operations in Kuala Lumpur, Selangor, Penang and Negeri Sembilan. As of 2004, GE employed 1,141 people in Malaysia. Gadbaw said the Malaysian advantage turned on the three-legged stool of markets, sourcing and intellect, and pointed especially to GE Malaysia Appliance Components, established in 1982, which continues to thrive on low production costs while further diversifying its product line and exporting to China. Upgrades are also in the works for the plastics operation.
GE currently serves as chair of the U.S.-Malaysia Business Council, which saw the largest U.S. delegation ever visit Malaysia in December 2004. Among the topics of discussion were recent policy reforms during the first year of H.E. Abdullah Badawai's administration to strengthen the competitiveness of Malaysia's business environment, as well as a commitment by U.S. business to offer support in the areas of business- and science-related education and capacity building in ICT and biotechnology. As Gadbaw noted then, "Our presence here shows the interest of American business to be active partners in supporting the implementation of the kinds of necessary strategies it will take to drive Malaysia's firms and human resources to the next level to strengthen Malaysia's relative competitiveness as a leading trade and investment center in Asia, move up the global ICT value chain, and nurture new growth engines in the medical, life sciences and biotechnology related industries."
Turning Point
According to the FDI Confidence Index 2004 compiled by A.T.Kearney, Malaysia's FDI outlook in the eyes of global investors in 2004 has improved significantly, gaining eight places from 23rd position in 2003 to 15th position in 2004, out of 60 countries.
"The manufacturing sector is the prime mover of our economy," said Minister Rafidah. Indeed, it comprises more than 30 percent of the national GDP, and in 2004 made up more than half of the country's gross FDI total. She also noted that the nation is aided by being "in the mainstream of the shipping channels of the world." Certainly such ports as Tanjong Pelepas have seen exponential growth in shipments, containers and facility capacity.
In July 2005, the "gateway to China" market position will be further accented by the removal of Chinese duties from more than 500 products. The hub mentality extends to manufacturing, business and professional services, with Malaysia as an ideal staging ground for selling to the Chinese marketplace as well as drawing from it. Minister Rafidah points out that Malaysia is exporting education to China, and that the Chinese middle class makes up approximately 20 percent of the country's population. In addition, China goes through Malaysia to reach the Middle East.
Aerospace One
of Many Hot Sectors
Airports too are central to the country's industrial development. Witness the February decision to put a $26-million terminal for low-cost airlines at the Kuala Lumpur International Airport (KLIA). Or the conversion of the older airport in Subang to an aviation service hub.
"We want to make it an aerospace center," said Min. Rafidah.
That's already happening, your excellency.
In January alone, aircraft maintenance, repair and overhaul giant AAR Corp. announced it would make Malaysia its Asia-Pacific hub by 2007, beginning with an immediate $15-million investment in a landing gear facility at Subang. Meanwhile, one of those new Kedah investments will be the transfer of Boeing's aileron manufacturing operations from Australia to the company's Asian Composite Manufacturing complex in Bukit Kayu Hitam. (According to published reports, the company is also actively seeking buyers for its forthcoming 787 aircraft in Malaysia.)
The global rise in liquefied natural gas activity is not missing Malaysia either. Together with two other suppliers, the Malaysian Liquefied Natural Gas complex in Bintulu just secured a 20-year contract with South Korea. Minister Rafidah says the country is looking for more markets for LNG.
In addition, resources-based investments continue to occur. Most recent was a February announcement from Australian firm Grange Resources Ltd. of a $342-million iron ore pellet plant, projected to be up and running by 2008 and supplying all of Southeast Asia. The project will be constructed on 148 acres (60 hectares) at the Teluk Kalung Industrial Estate, and will have priority access to the Kemaman Port's west wharf.
Another steel plant is being constructed in Banting, Selangor, at a cost of $79 million, by Lion Diversified Holdings.
Food for Thought
Minister Rafidah says the areas now being targeted by the country for corporate investment include electronics, automotive, biotech, medical technology and information and communication technology. Those kinds of advanced industries correspond to the advanced level of operations the country is trying to draw.
"Labor-intensive? Don't come. Low-end manufacturing? Don't come," says Minister Rafidah. But her country still sees agriculture as one of the three pillars of its "Vision 2020" (the others being manufacturing and services). That befits a nation known as the palm oil capital of the world. Deep-sea fishing and other marine opportunities abound, as does a growing cluster of processing opportunities around the halal market, or food processed according to Muslim tradition. The country is fast turning into a hub for such products, and recently signed an agreement with Australia for the sourcing of halal raw materials. In fact, says Minister Rafidah, Malaysia chairs the Organization of Islamic Conferences, whose 57 nations comprised 7 percent of global trade in 2004, and it will do so until 2007.
As for the work force, Minister Rafidah admits there has been some slight wage inflation, but says the output from that slightly higher-priced Malaysian engineer is more than enough to compensate. Meanwhile, she says, in addition to the imminent return of some 4,000 students studying in the U.S., a new program is now in place to bring home top talent.
Also helping is the fact that 65 percent of the population is 34 and under. What's more, new laws now allow small and medium enterprises (15-20-person companies) to hire more foreign workers. Those dovetail nicely with the country's new efforts to document the flood of illegal immigrants (primarily Indonesian workers) in the country. An amnesty program allowing them to declare themselves and receive proper credentials ended March 1, 2005.
Indonesia is more than a source of workers, though. It's also a destination for Malaysian investment. According to comments made by Indonesian Trade Minister Mari Elka Pangestu at a Jakarta seminar in March, Malaysian entities have invested more than $461 million in Indonesia already this year. Such reciprocity is at the heart of calls by Minister Rafidah and others to reinvigorate a "Growth Triangle" economic development concept involving Indonesia, Malaysia and Thailand.
Meanwhile, the growth in Malaysia alone is gathering international notice from more than corporations. In late March, Standard and Chartered economist Joseph Tan said the country was due for a credit outlook upgrade, possibly to A+, because of its commitment to controlling its budget deficit as well as its economic outlook. The current Standard & Poor's rating is A-.
---
---
©2005 Conway Data, Inc. All rights reserved. Data is from many sources and is not warranted to be accurate or current.