This One Wonít Get Away
by

ADAM BRUNS,

Site Selection Managing Editor
T
he $3 billion in state funds supporting the California Institute of Regenerative Medicine had at least a dozen communities in the Golden State battling for a project whose location may not matter all that much. But donít tell that to San Francisco, which emerged as the winner in early May, just beating out San Diego, Sacramento and nearby Emeryville.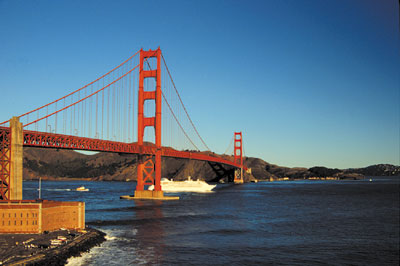 While the HQ of the California Institute of Regenerative Medicine will not exactly redefine the San Francisco skyline like its famous bridge, its US$3 billion in funding has already achieved national landmark status as the golden gateway to stem cell research funds.


San Fransico Convention & Visitors Bureau Photo
The site selection excitement generated by the search stands in contrast to the usual Golden State worries about businesses driven by high costs and strangling regulations to operate in other states. But this program, approved by California voters last November as Proposition 71, didnít have that option.
Approved by a vote of 16 to 11 by the Independent Citizensí Oversight Committee (ICOC) of the California Institute for Regenerative Medicine (CIRM), the move means a mere 50 jobs, but signals the start of something much bigger. CIRMís site at 250 King St. is near the cityís highly visible SBC Park, home to the San Francisco Giants and renowned for its bevy of home run-chasing kayakers in "McCovey Cove." But the ballparkís tab of $357 million pales beside the $3 billion to be distributed by the Institute, which will now be the HQ for money-chasing research, in annual chunks of $300 million over 10 years.
"This has been a remarkable process and we thank all of the cities and their citizens that generously offered their facilities and resources," said Robert Klein, chair of the Subcommittee and the ICOC. "With the selection of CIRMís permanent headquarters, the Institute can move forward with carrying out the will of the California voters by funding invaluable stem cell research that will benefit all of the state and the world."
The will will have to find a way to come up with the money first, as the programís financing scheme has been put on hold by litigation questioning the agencyís constitutionality and its right to oversee such large funds. While the $200 million needed to get rolling is therefore delayed, work has already started on the $1-million office renovation. City officials have said their total package comes to around $17 million. That includes such niceties as $500,000 worth of furniture, 43,000 sq. ft. (3,995 sq.m.) of lab space at San Francisco General Hospital and sustantial convention hotel room discounts.
In addition, CIRM has already put out its first request for application, in order to award the first round of some $45 million in funding to training programs. The training grant program will provide awards to up to 18 institutions and training for up to 200 CIRM Scholars at any given time.
In This Public Process, ĎOptimalityí Was Key
What was different about this site selection was its meticulously public nature, with full transcripts and minutes available to all at CIRMís Web site:
www.cirm.ca.gov
. A glimpse of the machinations and debate involved reveals, in part, why so many in the corporate real estate and economic development fields would prefer to keep site selection a confidential matter.
The 108 pages of transcript from an April 26 meeting of the site search committee of the
Independent Citizensí Oversight Committee
showcase a debate over process and procedure that befits a project of this import, heated by the twin exigencies of time and accountability.
Much of the discussion centered on how to count critical mass of skilled individuals. Joe Panetta, with BIOCOM in San Diego, made a plea emphasizing the importance of close proximity of biomedical and biotech research communities. In San Diegoís case, the proferred site in La Jolla was near the lionís share of the regional bio footprint.
After the first round, analysis of point awards was done and some adjustments were made. As explained by Walter Barnes, on loan to CIRM from the state controllerís office, San Diego got the biggest boost, with 11 additional points, followed by Emeryville with six. And 10 of San Diegoís 11 new points came because of one particular criteria: Number of qualified professionals residing within 45 minutes of the proposed building. San Diego successfully showed that its 38,934 biomedical research employees were close enough — but despite pleas from economic developers to add weight to the final round of site visits, the extra points didnít take them close enough to matter in the end.
Emeryvilleís main point of contention was its offer of free rent for ten years, which went beyond the CIRMís limitation of four years. Local officials Jeff Sears of Wareham Development and Pat OíKeefe of the City of Emeryville were "perplexed" that their proactivity, based on actual experience with the state, did not get points. Chairman Klein admitted that the officials may know more about dealing with the state on real estate matters than either the subcommittee or CIRM staff, but that CIRM couldnít go beyond a four-year firm commitment without specific new legislative authorization. The situation was intensified by the fact that CIRM was already getting free rent in the temporary offices it had been occupying at Emeryville Station.
Tom Zeidner from the City of Sacramento pointed out that cost of living and cost of housing "appears to be absent in this process thus far," and worried that such factors might affect CIRMís mission. Those concerns were echoed by Denny Conrad, an executive with a Northern California healthcare company, who wondered why pro forma budgets and total cost of doing business were not more prominent in the process.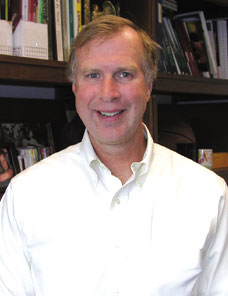 Michael Clarke, MD, professor of internal medicine at the University of Michigan Medical School in Ann Arbor
"It seems silly to me that weíre weighting ... how the bathrooms are in a building compared to what the cost of doing busiens is going to be," he told the subcommittee. "The cost of living in Sacramento will effectively allow us to have between a 30- and 100-percent return on our value over the next three or four years."
Klein pointed out that the expert advising the subcommittee, Spencer Stuart, had advised that it was the depth of professional biomedical job market, and not the cost of living, that was the dominant characteristic when professionals considered relocating for a job.
A two-phase scoring system involved the awarding of a possible 200 points in its first phase, followed by a 90-point system for the finalists. As reported by the Associated Press, "On May 2, following three days of site visits, the final score stood at San Francisco in the lead with 222.75 points, followed by Sacramento with 200.5 points and San Diego with 199.8 points.
Based on a scored evaluation of the citiesí written proposals and site meetings, the Subcommittee recommended San Francisco as the finalist, and Sacramento as the runner-up for CIRMís permanent headquarters. Because San Diegoís combined score was within one point of Sacramentoís total, each of the three cities was asked to make a ten minute presentation before the ICOC in Fresno prior to its final vote.
Most promising to the runners-up is CIRMís plan to foster Centers of Excellence, whose investment amounts could approach $100 million.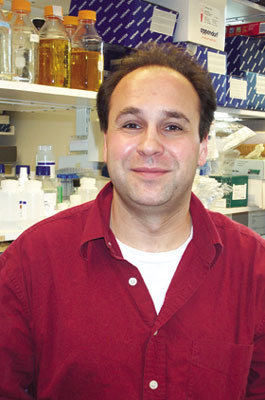 Stefan Heller, PhD, associate professor of otolaryngology at Harvard Medical School
Not Too Hot to Handle
To say that stem cell research is a lively topic may be the understatement of the year. At this writing, the U.S. Congress, including prominent Republicans, has proceeded to vote for federal support of such research despite a promise by President George W. Bush to veto such measures. At the state level, similar debate temporarily clouded initiatives in Massachusetts and in New Jersey. The Garden State appears to be headed for approval of $230 million in bonds for stem cell research (although, again, financing is a question mark) and in New York City, three medical schools stand to reap $50 million for stem cell research from The Starr Foundation, which may help that area retain certain key individuals in the field.
Meanwhile, California has proceeded apace, and already appears to be drawing the brainpower because of it.
Earlier this month, Stefan Heller, PhD, associate professor of otolaryngology at Harvard Medical School, and Michael Clarke, MD, professor of internal medicine at the University of Michigan Medical School in Ann Arbor, announced that they are joining the Stanford Institute for Cancer/Stem Cell Biology and Medicine. And the stateís leadership in regenerative medicine was prominent, if not foremost, in their minds.
"I think with the new California Institute for Regenerative Medicine it's a tremendous opportunity for stem cell research," Clarke said in a Stanford news release. "It will give me more chances to apply for funding and conduct certain experiments," said Heller.
The Bay Area is already a talent magnet, driven as much by the private sector as its institutional brilliance. Witness the recent investments by Genentch, or the April announcement from Bayer Healthcare AG that it would move its bioproducts division from North Carolinaís Research Triangle Park to Berkeley and invest $50 million in a new 33,000-sq.-ft. (3,066-sq.-m.) facility there.
But for CIRM, there is still the financing obstacle.
"I am currently working with the staff of the State Treasurer, the Attorney General, the State Director of Finance and State Controller to look at alternative structures for bridge financing by charitable donors or other funding methods and to come to a consensus decision on the best way to ensure funding for the Institute while access to the critical research funding approved by California voters is temporarily blocked by groundless lawsuits," said Robert Klein, chair of the ICOC, on May 9. "We look forward to further discussions on methods to obtain bridge financing at the next committee meeting to be held in approximately 30 days."
---
---
©2005 Conway Data, Inc. All rights reserved. Data is from many sources and is not warranted to be accurate or current.