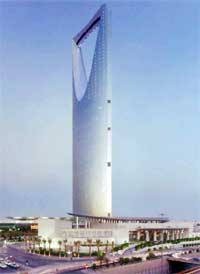 The $275-million Kingdom Center, built for Kingdom Holding Co., is but one of many landmark projects that El Seif Group's Engineering Contracting Co. has pursued in recent years in sectors ranging from mixed use to defense to industrial, health care and education.
Getting In Kingdom
As many wring their hands over rising energy costs caused by oil prices, some are making it back by investing in Saudi Arabian industrial expansion.
by

ADAM BRUNS,

Site Selection Managing Editor
I
n Saudi Arabia, "SEC" signals opportunity instead of alarm.
That's because it stands for the
Supreme Economic Council
, whose principal charge is to oversee a vast privatization agenda, inaugurated in 2002, that spells equally vast opportunities for investors that go well beyond the oil and gas sector.
Following on the already successfully completed privatization of port services,
electricity and telecom, the next wave of privatizations in the Kingdom will come through railways, the postal service, desalination, oil services and airlines. It's all part of a "sequential" process that the SEC has followed r igorously: "We are not looking for quick fixes," said H.E. Abdulrahman Al-Tuwaijri, secretary general of the Supreme Economic Council, in an April 2005 speech.
The investment options that such privatization spawns were the principal impetus behind a five-city U.S. trade mission by Saudi government and business leaders in May. Sponsored by the Committee for the Development of International Trade of the Council of Saudi Chambers of Commerce and Industry (CIT), the Saudi entourage dropped in to chat with interested investors in New York, Atlanta, Chicago, Houston and San Francisco.
As one attendee at the Atlanta stop expressed it, "When you talk about business in the Kingdom, you talk in billions, not millions."
That's $624 billion, to be exact, spread primarily among the gas and petrochemicals, water and electricity, mining and railroads, and telecom and IT sectors. All to help spur even greater development of Saudi Arabia's $250-billion GDP.
Not that there isn't already plenty of U.S. investment in the country. As explained by Holly Vineyard, deputy assistant secretary for Africa, the Middle East and South Asia for the U.S. Dept. of Commerce's International Trade Administration, some 250 U.S. firms have invested $4 billion there. U.S. exports to the country were up by 14 percent, or $5.2 billion, in 2004, and by 20 percent over the year before during the first quarter of 2005.
Her U.S. government colleague John Brodman, deputy assistant secretary for International Energy Policy with the U.S. Dept. of Energy's Office of Policy and International Affairs, pointed to the Saudi government's privatization measures, as well as its newly liberalized
foreign-direct-investment (FDI) laws
, passed in 2000, as strong motivators. So was the concurrent formation of the Saudi Arabian General Investment Authority, or SAGIA[www.sagia.gov.sa/)]. And in the background looms WTO accession, which officials hope to see to fruition by the end of 2005.
In more recent months, the FDI improvements have been supplemented by a new capital market law, new copyright law and a new income tax law that fixes the rate at 20 percent. "In the coming months, we are expecting to introduce a new labor law, and a new company law," said Al-Tuwaijri.
As always, oil leads the way for all involved: Petroleum still represents 42 percent of the country's exports. The country's production currently stands a 9.5 million barrels per day. The goal is 12.5 million barrels per day by 2009, and 15 million barrels per day a few years after that. "That requires significant investment, and creates architecture, engineering and construction opportunities," Brodman said.
Brodman said the under-investment in major facilities up and down the petroleum stream had contributed to the oil market's "perfect storm" situation, especially in the refining sector. Yet at the same time, general world economic growth continues. "It will take several years to bring the market into better balance," he said, helped both by the Saudis and by better energy efficiency on the part of end users. Advanced energy technologies, gas-to-liquid and liquefied natural gas (LNG) are other areas of growth, Brodman said.
To give an idea of the scale: The planned materials investments by Saudi Aramco, the national oil company, are $20 billion through 2010. Its services expenditure during the same time period is expected to exceed $23 billion, with $2 billion in support services alone. Part of the company's investment plan, now in the discussion stage, is an integrated refinery expansion with a price tag of $5 billion. But that's just a smidgen of a total oil-sector project list that amounts to $130 billion.
More Than Oil
But the country wants to increase its non-oil exports by 35 percent by 2020, through development of such sectors as gas, metals, food processing and building materials.
Petrochemical company
SABIC
, which operates 18 complexes in the kingdom, is constructing a polyethylene plant at Petrokemya, and offering partnership opportunities on some 150 downstream projects. Total SABIC projects come to $8 billion. SABIC's opportunities are located in 26 different industrial cities in Saudi Arabia. The country's Industrial Development Fund (
SIDF
) will even help them along, contributing anywhere from 2.5 percent to 5.5 percent of consultancy fees for business case research and assessment, in addition to a range of loan options. The company is concentrating on plastics, as the country has gone from fewer than 100 converters in-kingdom in the 1980s to more than 500 in 2002.
Active industrial development entities in the country include the Royal Commission of Jubail & Yanbu. Leaders expect much of the investment to cluster around those cities, as well as Riyadh. And the Eastern Province port city of Dammam figures to get its share as well, especially when the new
Saudi Landbridge
is completed. Fittingly, in May, Damman hosted a forum on Saudi mega-projects.
The Landbridge project, connecting the Red Sea to the Persian Gulf, has a price tag of $2 billion to $3 billion, and is being led by industrial service conglomerate El Seif. Besides construction investment, significant follow-up investment is expected in rail equipment. The stakes could get exponentially bigger, as June brought news that the transport ministers of the six-nation Gulf Cooperation Council had asked Saudi Arabia to prepare a technical study on the establishment of a GCC railway network connecting all six countries. That price tag could approach $6 billion.
Which explains why representatives from both Bombardier and GE Transportation were there to greet the Saudis in Atlanta.
Next Generation, New Level
Omar Bahlaiwa, Secretary General of the Saudi Committee for Development of International Trade at the Council of Chambers of Commerce and Industry, said in a June 14 interview with The Saudi-US Relations Information Service that
strong connections had indeed occurred during the U.S. trade mission. But he also spoke of the work-force infrastructure needs of the country, beginning with what is called "Saudization," or the replacing of non-Saudis with Saudis. The most recent figures pegged the country's unemployment rate at 9.66 percent, while some 7 million non-Saudis live and work in kingdom.
"You are starting to see Saudis taking jobs that used to be filled primarily by foreign labor," he said. "There is also a challenge for companies from the government to employ Saudis by setting and enforcing goals for Saudization, to increase their representation by five percent each year."
As anyone familiar with the U.S.-Mexico situation can attest, such a program is likely to stanch the flow of capital that foreign workers send home. How much is that in kingdom? Bahlaiwa estimates that hard currency repatriation amounts to "about $20 billion a year."
Helping Saudization is
GOTEVOT
, the government's vocational training organization, including equipment, facilities and curriculum upgrades, and the debut of some 40 new colleges for women. In fact, female graduates have outnumbered men for the past decade, and part of a nine-point plan to create more jobs for women includes setting aside land for industrial projects employing women.
But U.S. policies are under scrutiny too. As related to the Atlanta gathering by former U.S. ambassador to Saudi Arabia and former U.S. Senator from Georgia Wyche Fowler, the policy that has discouraged U.S. business from going to Saudi Arabia "is under serious review at this time. The doors are open, and it's time for business as usual."
Likewise, the U.S. visa policy that has severely limited access to U.S. schools for Saudi students is also under scrutiny, with many wanting to make sure to bring back those students who may have left the U.S. mid-studies since 2001. The strength of the Saudi-U.S. relationship, said Fowler, lies in part in the number of students who have obtained advanced degrees, then started their own commercial enterprises in the U.S. or in kingdom. "That's what we've got to capture and retain," he said.
Retain This
As this story went to press, the billions just kept coming.
A June 20 story from the Khaleej Times reported that a mega-project at the Al Shobily Port in the city of Al Khobar, near a causeway to Bahrain, was ready to welcome investments that it projected would amount to $16 billion, from commercial to housing to leisure. The target market? The growing Saudi population, which is expected to nearly double from 15.7 million in 2000 to 29.7 million by 2020.
What the government's Ministry of Economics and Planning hopes to see is those people employed in a range of industries that is wide enough to meet a 2020 goal of more than 69 percent of GDP coming from the non-oil private sector — up from 51.2 percent in 1999.
That's a big leap. And much of it indeed will be financed with oil revenues, as OPEC approaches 50 percent of world oil production.
But the continuous leaps toward privatization — boosted by the forthcoming watershed event of WTO admission — may be the fuel that drives the Saudi economy to become as fully globalized and diversified as its trading partners.
---

PLEASE VISIT OUR SPONSOR • CLICK ABOVE
---
©2005 Conway Data, Inc. All rights reserved. Data is from many sources and is not warranted to be accurate or current.