Welsh Caliber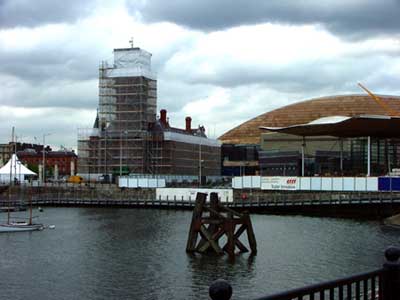 Waterfront redevelopment in Cardiff is just part of an overall construction boom in the Welsh capital. In the background looms the roofline of the new US$189-million Wales Millennium Centre, which along with the city's Millennium Stadium, has boosted the city's cultural and sporting profile.
In Wales, sites are put to new purposes, but people's sense of purpose is same as it ever was.
by

ADAM BRUNS,

Site Selection Managing Editor
A
U.S. visitor to Cardiff, Wales — or perhaps anywhere in the country of 3 million people — in many cases sees a European mirror of Pennsylvania. The parallel is thorough, and runs like a vein of coal through centuries of history and generations of families.
According to the Pennsylvania Historical and Museum Commission, it was the Welsh Quakers who started it. By 1700, Welsh immigrants accounted for approximately one third of the colony's estimated population of 20,000. Later generations of Welsh leaders and businessmen came to the state, led by political names like Thomas and David Lloyd, and business names like David Thomas, who came to America and built the first successful hot-blast furnace in the nation at Catasauqua, Pennsylvania, in 1840.
"As a leader of American ironmasters, he became known as the father of the iron industry," wrote historian Matthew Magda in his 1986 paper "Welsh in Pennsylvania," adding that by the late 1980s the Commonwealth had more people of Welsh ancestry (more than 200,000) than any other state.
The steel-making heritage of both territories has been followed now by similar waves of redevelopment and regeneration. In Pittsburgh as well as Cardiff, slag heaps quite literally are being remade into places of work, recreation or both.
Sometimes the parallel grows downright eerie. Just as Pennsylvania's Lehigh Valley has developed a cluster of expertise and industry in the area of opto-electronics, so too has Wales chosen this sub-sector as one of its
nine target industrial sectors
. In fact, earlier this year, the Technium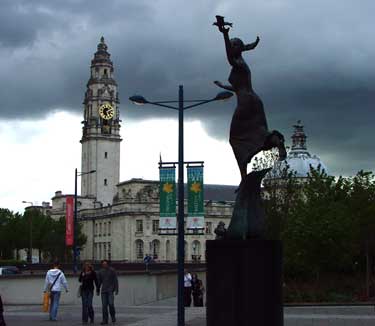 A bustling environment in Cardiff is due in part to the synergy wrought by a strong university presence as well as the city's role as the Welsh capital.
OpTIC at the St Asaph Business Park in Denbighshire opened. A £15.7-million (US$28.4-million) complex already honored for its sustainability features, the project is part of a nine-facility network of business incubators called Technium, designed to house and cultivate knowledge-intensive enterprises — not a far stretch from the efforts of
Ben Franklin Technology Partners
in the Keystone State.
You might even say the rugged Wales-Pa. connection extends through the sporting world. Is any NFL team loved more by its fans than the Pittsburgh Steelers? In Wales, it's rugby that rules — during one week in Cardiff in May, the FA Cup soccer final in the city's massive new stadium between storied rivals Manchester United and Arsenal was nearly matched in interest by a rugby match two days later between the Argentinian national team and the U.K.'s venerated Lions.
Here the analogy appears to end. Because in Wales, the heroes on the field don't wear that silly armor. But then again, the ties remain: At least two of the guests at the FA Cup were WDA corporate clients from the Philadelphia area.
Renewed and Renewable
Armor might have felt in order when the Welsh economy first began looking beyond King Coal for sustenance. But that was a long while ago now: In Wales, economic diversification itself is almost an aging concept, having begun after World War II. But the process has seen renewed vigor since devolution occurred in 1999, assigning more governing authority to elected assemblies in both Wales and Scotland. Though not wholly attributable to that development, the fact remains that, since 1999, unemployment has fallen from 7.7 percent to 4.5 percent.
Today the country once known for its coal has regions like South Wales that are net importers of electricity, but new plans and projects aim to generate more kilowatts and jobs.
One is in Newport, where Carron Energy will build a gas-fired power plant next to the coal-fired plant it already operates. The coal operation just underwent a $180-million refurbishment, but its ouput and investment will be substantially outgunned by the $722-million gas-fired plant, which will more than double its output at 800 megawatts. The new plant will employ less than half of the 90 employees required at the coal plant, but also consume about half the space.
Newport is also seeing new investment from Ireland, in the form of a £135-million (US$243-million) investment by Quinn Group's radiator division, which is expanding a closed LG Philips industrial site to nearly 1 million sq. ft. (92,900 sq. m.) for the manufacture of home radiators. The acquired site beat out competing sites throughout Europe.
"Many of the jobs created at the plant will be related to headquarter operations and research and development activities, and are therefore of high quality and value in terms of contributing to the continued development of Wales as a knowledge economy," said Andrew Davies, Minister for Economic Development and Transport, earlier this month. "Not only will the Quinn plant be the largest domestic radiator plant in the world, but the site will also host the company's European HQ operation for the division. This investment will be a major boost to the economy of South-East Wales, creating a high number of quality manufacturing jobs and benefiting local companies in the supply chain, not least the steel industry in South Wales."
Other recent projects tracked by the Conway Data New Plant Database include WF Manufacturing's timber-frame housing plant in Risca, Ensinger's US$10-millon plastics plant expansion in Parc Erin, Seda International Packaging Group's $54-million plant at Hawtin Park, near Blackwood, Caerphilly, in South Wales, Therma-Tru Doors in Pontyprydd, Italian concern Sofidel's 800,000-sq.-ft. (74,320-sq.-m.) new tissue plant in Baglan Energy Park and a $3-million investment in a motorcycle plant in Cardiff from China's Guangzhou Panyu Haojian Motorcycle Industry Co. Ltd.
Services Reign
On the drive from Cardiff to Bridgend, one industrial smokestack still belches in one valley. But arrayed on the green hills behind its town stand 10 power-generating windmills.
The Welsh economy is banking on new power sources too, but with a different sort of sustainability in mind. In Cardiff, the financial services, contact center and shared services sectors have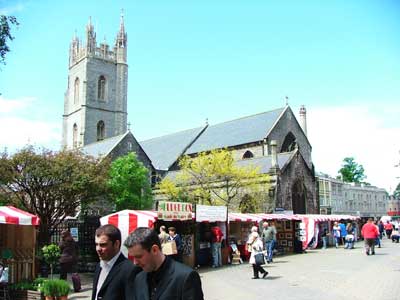 An open-air market in Cardiff prepares to welcome the fans of Arsenal and Manchester United the day before the FA Cup Final. As London's Wembley Stadium has undergone refurbishment over the past few years, Cardiff's Millennium Stadium has hosted a number of major events in its place, stealing some sporting thunder from the U.K.'s capital city.
spawned projects like the $7-million, 350-job call center for ING, that little company that just acquired a 128-property commercial portfolio of U.K. properties for US$2.2 billion, the largest commercial property transaction in U.K. history. Black Horse, a relatively new financial lending entity from Lloyds TSB, set up an operation in Cardiff in 2001. And the BT Data Center in Cardiff was just selected earlier this summer to be the host facility for Microsoft's Office Live Meeting 2005 services for Europe, Middle East and Africa (EMEA).
At Zurich Financial Services' $3-million Cardiff contact center, smack in the middle of an entire area of Cardiff given over to redevelopment, employment has grown from 200 to 550 in the first year of operation. Such growth in the 600-seat center has been the mutually beneficial result of a strong recruiting/low attrition environment and one of the most employee-friendly call center environments to be found in the U.K.
Part of that recruiting environment is the nearby campus of Cardiff University, where student housing can hardly go up fast enough.
"The raw material is now the people," says Greg Green, project manager, business services, for the Welsh Development Agency.
Overall, in just the contact center and shared service center industries alone, 158 companies employ around 27,000 people, and between 2002 and 2004, contact centers alone grew by 13 percent in Wales, while their attrition rate was less than half that of the U.K. as a whole. As for
shared services
, Newport recently played host to the European Shared Services Week event, where a truly global contingent of corporations shared practices and ideas in a manner strikingly parallel to their corporate real estate brethren.
One of the places acting out that global picture was at the end of the ride to Bridgend, where service jobs are coming to replace manufacturing jobs like those at Sony, which is closing down some operations there in favor of Slovakia. (Just as the roads and payrolls of the United Kingdom fill with more and more Eastern Europeans and their firms, so too do the manufacturing jobs fill more and more of Eastern Europe.)
But that's not on the minds of the people at LogicaCMG in Bridgend. The business process outsourcing firm processes the equivalent of some $100 billion in salaries annually for its clients, in addition to its human resources and other finance roles. It set up shop in the town of 35,000 in October 2004,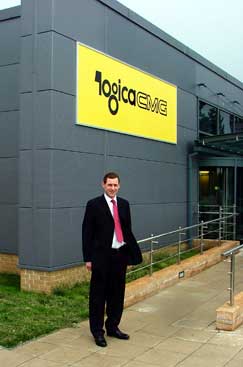 Matthew Knight, U.K. controller for LogicaCMG, likes what he sees from the company's several facilities and functions in Bridgend.
with 250 people filling 66,000 sq. ft. (6,131 sq. m.). The company is not traditionally a property owner, but this is one of three facilities it has chosen to purchase. Matthew Knight, U.K. controller for the company, says the payback period for the investment will be 18 months.
Part of the reason is that some of the legacy accounting functions the new center inherited from LogicaCMG's central London offices are split between Bridgend and Bangalore, India, in a unique outsourcing arrangement that Knight says hardly requires any changes to process. What does change is operational cost, at a handy 40-percent savings.
That's in keeping with a trend, says Alistair Davies, director of regional development services for Deloitte. Companies and staff themselves need a more affordable lifestyle, and Wales affords them that privilege. While operational savings in the service center sector can reach at least 30 percent, the cost of living averages out to be 17-percent less expensive than in the London metro, 150 miles (241 km.) away. Such trends tend to counter what Davies identifies as salary inflation in southeast England. Such developments have allowed communities like Cardiff and Glasgow in Northern Ireland to rise fast in the estimation of service center prospects.
Other work at the Bridgend center involves scanning every piece of paper for a property alliance client in the U.K., as well as for other government clients. The call center portion of the center, formerly part of power and gas concern Haida, serves 121 clients (among them Lloyds TSB, Barclays and ExxonMobil) and has almost quadrupled its work force in the past four years since being acquired by LogicaCMG. The most recent new contract in May had spurred the hiring of 46 new agents and tech support. The "remedy" rate for customer problem-solving on-site (without having to move the call up the ladder off-site) is an impressive 70 percent. The company also operates a separate 23,000-sq.-ft. (2,137-sq.-m.) data center in Bridgend.
Of the 23 LogicaCMG locations in the U.K., perhaps Bridgend is best positioned for the future. Even as the company has big plans for India, there is planning permission in place already to double the footprint in this Welsh town. The operation's leaders have seen evidence that people coming from manufacturing have no problem switching to an IT environment, and they've encountered no recruiting challenges thus far.
Cars, Planes and Trains
Lest one suspect that traditional manufacturing has gone completely by the Welsh wayside, a handful of transport industry projects protest to the contrary.
In the selfsame area of Bridgend described above, Irvin-GQ, a parachute manufacturer, has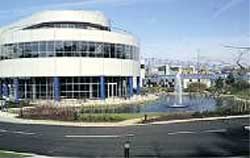 Among the buildings in the International Rectifier portfolio managed by Gregory Takagi is this wafer fab in Newport, Wales, U.K.
opened a 200-worker factory in Llangeinor that should employ as many as 450 when fully operational. The company also operates a 50-worker plant in Bridgend that makes decoys for the Royal Navy.
Elsewhere in the town, Ford Motor Co. has invested US$425 million in a new production line that will enable the plant to churn out some 1 million engines by the end of the decade. The new line was part of a transformation of the company's British Land Rover production processes, announced in September 2004.
"This is an example of the Premier Automotive Group sharing expertise across different parts of the organization, without compromising any of its brands," said Joe Greenwell, chairman and CEO of Jaguar and Land Rover, that month. "The new production line features the first moving assembly line section to be installed in any European Ford engine plant, allowing workers to move with the engine resulting in increased efficiency."
A Wales-wide work-force training program focused on automotive industry supply chain skills has just been introduced as well.
Next is the Airbus plant in Broughton, north Wales, where nearly 8,000 work, and which is best known for producing the wings for the giant A380 superjumbo jet. Down south, in Nantgarw, GE Wales employs 760, many of whom are spending a good deal of time devoted to a new contract to service the A380's engines. Meanwhile, a booming backlog of orders for several Airbus models holds nothing but promise for the Broughton complex.
Finally, back on the ground in Cardiff, a new rail freight park is being developed on 35 acres (14 hectares), with a projected 435,000 sq. ft. (40,412 sq. m.) of warehousing to be constructed alongside the existing Cardiff International Rail Freight terminal. The WDA anticipates employers using the park will hire 200 people, and the new complex should help ease some of the traffic congestion on the M4 highway between Cardiff and London.
However, such development is not likely to slow the westward migration of firms and families toward a capital city with such capital prospects.
---
---
©2005 Conway Data, Inc. All rights reserved. Data is from many sources and is not warranted to be accurate or current.