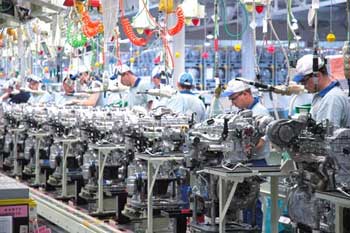 The 2.2-liter diesel engines being produced at Toyota's Jelcz - Laskowice plant are being installed in Toyota's Avensis and Corolla Verso.
Drawing Crowds
Incentives drawing automotive
companies to southern Poland.
P
oland had a very good year in 2004. Very, very good. According to Ernst & Young's
European Investment Monitor
2005 Report, Poland now makes up 5.1 percent of the foreign direct investment across Europe and is the fourth most important Eastern European location for investment after Germany (with 5.7 percent).
The cause for this massive influx of foreign investment in Poland is simple: The nation is home to low labor costs, a favorable transport infrastructure, a large number of suppliers, qualified labor and investment incentives. The
list of major foreign investors
compiled by the Polish Information and Foreign Investment Agency totals over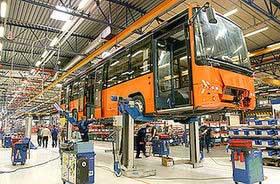 Volvo's Wroclaw plant produced 500 buses in 2004, and with the EU's funding, company officials anticipate an increase in production.
1,100, but one manufacturing sector out of the many Poland hosts stands out because of the sheer number of established and new investors: Automotive.
Dreaming Big with a Little Help
Poland is a land of opportunity for automotive investors, and, if needed, a land of assistance, as well. Poland has set up 17 Special Economic Zones (SEZs), designated areas in which manufacturing or distribution activities can be run on preferential terms, which were created to encourage regional development. These privileges include corporate income tax exemption, admissible state aid, and two forms of regional aid - aid to support new investment projects and aid for creating new jobs.
Companies building outside of an SEZ aren't completely out of luck when it comes to aid. Structural funds provided by the EU are available to all companies that qualify. These funds were created to support the restructuring and modernization of the EU Member States, and there are four structural funds: European Social Fund, European Regional Development Fund, The European Agricultural and Guarantee Fund and Financial Instrument for Fisheries Guidance. There is also the Cohesion Fund, which is not a structural fund but is an instrument of the EU structural policy.
Volvo Poland knows this governmental support well. On Oct. 17, 2005, an agreement was signed by Volvo Poland and the Polish government stating that Volvo Poland will receive the EU's funds to further develop production capacity at the Volvo Buses plant in Wroclaw, which celebrated its tenth anniversary in April of this year.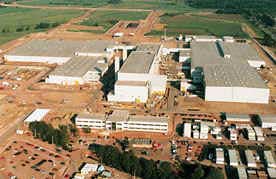 GM's Opel Gliwice plant is one of the oldest and most productive automotive plants in Poland.
Photo: Opel AG
The plant, which employs 1,250 people, produces city, intercity and tourist buses for the European market.
"We are deeply convinced that our decision on further development of Volvo Buses production capacity in Wroclaw will have a positive, long-term economic effect for the company and the region. It will also have a positive impact on the level of unemployment," said Tom J"rning, President of Volvo Poland, at the signing.
This investment means an increase in production during the upcoming years and a substantial increase in employment. "The agreement signed today with Polish Government is yet another prove that Volvo's activity in Poland, as well as our investments, are positively viewed by the Polish authorities," J"rning continued.
With the help of General Motors (whose Opel plant in Gliwice employs 2,650 individuals and is the top in all surveys of quality, productivity and safety), Fiat Auto Poland (which produces over 355,000 cars each year in its Tychy plant), and Volkswagen (whose light commercial vehicles plant in Poznan employs 2,500 people), Poland has become a major automotive manufacturing contender after having its most successful year in attracting automotive investment since 2000. But attracting big name automotive manufacturers isn't Poland's only goal.
Pieces and Parts
Cars need parts, and there is no need to look far for automotive manufacturers. Automotive component plants are popping up all over southern Poland, especially in the Dolnoslaskie province. This area brings in automotive manufacturers for several reasons, including a large number of suppliers and very low labor cost, but, most importantly, because of the qualified labor force. Dolnoslaskie alone has 26 universities, including the Wroclaw Technical University, which is considered one of the best technical universities in Poland. This level of education consistently produces a skilled engineering staff.
Education is important all over Poland.
Warsaw University
is currently ranked first in the Top Coder international IT ranking, outperforming the Massachusetts Institute of Technology, Stanford University and California Institute of Technology on both the individual and university levels.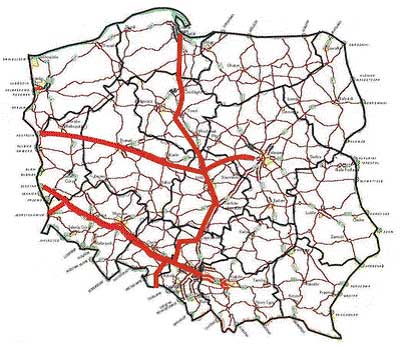 With the massive amount of investment being made in their country, Polish officials are planning to add four more main arteries to the existing road system.
In 2004, Poland's 116 state academies, 17 universities, 18 technical academies and 263 private schools of tertiary education graduated 400,000 students, 2,000 of which graduated with biotechnology degrees. With this in mind, it is no surprise to hear that Poland has now established itself as one of the top five locations for automotive component investment. Poland has welcomed 24 new automotive component plants over the last three years, fourth in total after Czech (54), France (42), and Slovakia (26).
In early 2005, Bridgestone Corporation announced plans to build a plant to produce rubber tracks for earthmoving equipment in the city of Zar˘w, near Wroclaw. The 25-acre (10-hetacre) plant is scheduled to begin operation as Bridgestone Diversified Products Poland in July 2006 and will employ about 50 people to start, though that number will rise to 300. The investment, which will amount to over US$14.3 million.
Toyota Motor Industries Poland (TMIP), owned by Toyota Motor Engineering and Manufacturing Europe (TMEM), is hot on the heels of its automotive parts competition. After opening in March 2005, the new 452,000-sq.-ft. (42,000-sq.-m.) diesel engine plant is now producing new, 2.2-liter diesel engines. The $239-million plant is located in Jelcz-Laskowice, 15 miles (25 km.) southeast of Wroclaw. The plant currently employs 670 people, but that number is expected to grow to 900 in 2006. This plant is joining the other seven engine plants located in Poland. "Toyota's relations with Poland continue to strengthen, thanks to the start of production of our cutting-edge diesel engine at TMIP," said Shinichi Sasaki, president and CEO of TMEM, at the first day of production on March 23.
Toyota has also invested more than $309 million in engine and gearbox production for all Toyota and Peugeot-Citroen cars manufactured in Kolin, Czech Republic. The plant, located in the Walbryzch Special Economic Zone, also located in Dolnoslaskie, will increase employment from 1,100 to 1,800 by the end of this year. Sasaki also added, "Our other plant in Poland began engine production and increased its transmission capacity in January - a clear indication of our belief that Poland is a valuable economic and business partner."
The new Jelcz-Laskowice plant and the investment at the Walbryzch plant have made Poland Toyota's main center for European engine and gearbox production.
Balancing Act
Despite Poland's reputation for being a congenial business partner, there has been concern about the overabundance of manufacturing companies investing and building in Poland. In the forthcoming November issue of Site Selection, Marc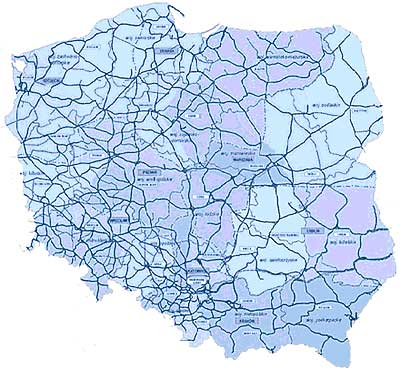 Poland's dense railway system is the country's direct connection to the rest of Europe.
Lhermitte, a partner in Ernst & Young's International Location Advisory team, states it is simply a matter of balance. He says that Poland will have to make sure that education, infrastructure, housing and banking can meet the needs of the high job creation of manufacturing. He adds, "They need to be very efficient and selective in their use of capital and finance."
In mid-2004, Poland's road system consisted of 300 miles (483.5 km.) of highways and 134 miles (216 km.) of express roads. In response to the massive investments being made and built in their country, Polish leaders already have plans to add four more main arteries to their existing road system with the help of structural funds. The eastern border crossings have also been enlarged in recent years and updated with the installation of state-of-the-art communications and detection devices.
Poland relies a great deal on its 12,840-mile (20,665-km.) railway network as it is the densest system in the world with direct, broad-gauge connections with Russia and other eastern states. Air transport is another option for transportation of goods as well as for business travelers - an individual can fly to most of Europe in two to three hours.
With the help of EU funding, high educational standards and the persistent updating of its transportation infrastructure, Poland is well on its way to being one of the most popular and successful locations for investment in the world.
---
---
©2005 Conway Data, Inc. All rights reserved. Data is from many sources and is not warranted to be accurate or current.