Traditional project development methods have not always been successful when it comes to liquefied natural gas terminals in North America. So some companies are applying innovation to their pitches as well as their projects.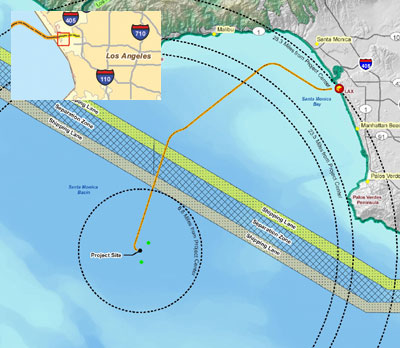 Woodside Energy Ltd. proposes an underwater pipeline in the Santa Monica Basin, serviced at sea by a specially equipped ship. Inset shows proposed pipeline landfall site, leading to a Southern California Gas facility in Los Angeles.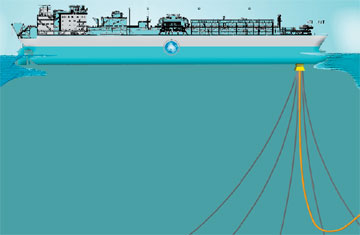 ConocoPhillips, for one, has turned the tables on the usual economic development picture by offering the state of Alabama an "economic guarantee," should it be allowed by state and federal regulators to go ahead with its Compass Port LNG terminal project, planned for federal waters some 12 miles (19.3 km.) south of Dauphin Island. Not only would Alabama be promised the option to purchase as much as 20 percent of the terminal's capacity at average spot rates, but at least half of the $200-million construction cost would be steered toward Alabama-based companies. Tank construction for the project — like so many others in the works — would be executed by firms in Texas.
Off the coast of southern California, where past terminals have met fierce resistance, Australia-based Woodside Energy Ltd., through Woodside Natural Gas, is planning a project it calls
OceanWay
, which not only would perform the transfer of LNG at sea, but would not even require a traditional terminal to do so. Instead, it would employ a sub-surface buoy that would be lifted into place by the tanker and used to pump the LNG through a new pipeline that would come ashore in industrial land adjacent to other infrastructure: LAX runways and a nearby sewage treatment plant. The criteria used in the selection process included a location remote from populated areas, minimum on-shore disruption and safe oceanographic conditions. A capital investment amount has not been released.
Jane Cutler was appointed President of Woodside Natural Gas and Director of North America for Woodside Energy in August 2005.  She tells Site Selection that southern California made sense as an entry point for LNG from Australia because of its relative distance from that continent's northwest coast (where Woodside is finding gas in the Pluto and Browse fields) as much as the importance of natural gas to the Southwest U.S. energy sector.
"Having decided our interest was Southern California, it was then a question of trying to deliver as best we can to the customers," she says. "That meant looking at South of Monterey Bay and north of Camp Pendleton. Then to site our facility we needed an offshore location where we can install

Visual impact of Woodside tanker from the shore.
the buoy, a shore crossing location where we can bring the pipeline to shore, on a reasonable route into the distribution system."
The chosen site is more than 20 miles (32.2 km.) from shore, reducing the visual impact of the tankers to a blip. "We also wanted a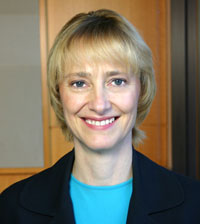 Jane Cutler, president of Woodside Natural Gas.
location outside marine protected areas, outside areas designed for use by the U.S. Navy and Marines, outside shipping lanes and in places where to the best of our knowledge there was a reasonable sea floor in terms of stability."
The company found 18 possible locations for a potential shore crossing, which will involve a horizontal directional drill to minimize environmental impact on the shoreline. Cutler says the company was quite surprised to find such a choice in the region, all near existing pipeline infrastructure and similar forms of land use.
To proceed, Woodside needs a deepwater port license form the U.S. Coast Guard, a permit from the California State Lands Commission, "and a whole variety of other permits and licenses," says Cutler. She says the only buoy-based model for this project is one in the Gulf of Mexico called Gulf Gateway Energy Bridge, operated by Excelerate Energy, the Texas-based firm backed by George Kaiser that is attempting to steer to fruition a new LNG terminal near Gloucester, Mass.
Gulf Gateway was constructed at a cost of $70 million, about 20 percent of the cost for most LNG terminal projects. Commissioned in April 2005, it was one of the few Outer Continental Shelf facilities to supply natural gas into the U.S. infrastructure during Hurricane Katrina without interruption. It weathered Rita too, and a simple statement from the company spoke volumes about its method: "The wind driven seas in the vicinity of the eye of the storm were estimated to reach 70 feet; however, little empirical data exists recording the actual conditions along the path of the storm because the Ocean Data Acquisition System buoys along the path were destroyed."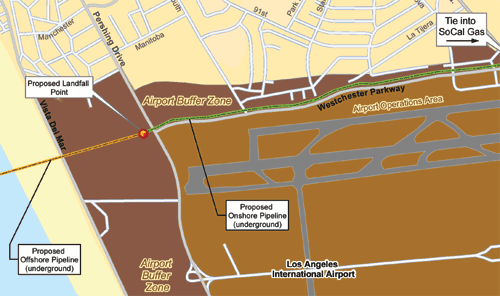 A wealth of infrasturcture is already in place where the proposed pipeline comes to shore.
As for weathering public scrutiny, Woodside's Cutler says the company has paid close attention to the rocky reception LNG projects are receiving in Massachusetts and elsewhere as it formulated its southern California plan.
"When we looked at what people were saying around the coasts of the U.S., we saw the same themes, and what we've tried to do is address many of those concerns and questions in the fundamental concept we're proposing," she says. "We have talked to a whole range of people in California, including the environmental community. There are really two schools of thought. One is that additional supplies of natural gas are required for California, and their interest is whether LNG is the best, then how to bring it to California. The second view questions whether this is a need, and whether California would be better off going to a renewable base future.
"California's leadership at the state and at the federal level is very keen to have a diversified source of supply of natural gas," Cutler says. "There is shared concern about California's energy future, and a welcoming of an option that can be considered for solving the problem."
---
©2006 Conway Data, Inc. All rights reserved. Data is from many sources and is not warranted to be accurate or current.