With Alabama and Louisiana beckoning with billions in subsidies, the German giant is nearing final site selection for its mammoth 2,700-worker steel plant.
The American South's turbo- charged rise to automotive prominence is powering up yet another humongous project — and this one's even bigger than a vehicle- assembly plant.
ThyssenKrupp
is barreling southbound with a US$2.9- billion steel plant that will employ 2,700 workers in a seven- million- sq.- ft. (630,000- sq.- m.) operation on a tract spanning more than 3,000 acres (1,200 hectares).
The search for that massive venture's site has now narrowed to a pair of southern states:
Alabama
and
Louisiana
. Initially, Arkansas was also a finalist. ThyssenKrupp, however, dropped The Natural State from its short list on Feb. 7th. Its explanation of Arkansas' elimination cited many of the same key considerations that will ultimately drive the final decision to either Alabama or Louisiana.
"Immutable factors . . . were decisive," ThyssenKrupp said of the Arkansas site, "including geological characteristics that would impact plant design and construction costs, energy costs, and logistical considerations."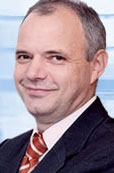 ThyssenKrupp Steel Executive Board Vice Chairman Peter Urban
"Arkansas made an excellent proposal,"
ThyssenKrupp Steel
Executive Board Vice Chairman Peter Urban noted from the company's headquarters in Duisburg, Germany. "However, based on the criteria we developed after much study, we are moving forward with Alabama and Louisiana at this time."
ThyssenKrupp's sprawling southern operation will be its first steelmaking plant on U.S soil. (The company initially tried to buy an existing North American firm, but was thwarted by a bizarre turn of events, as the accompanying sidebar explains.) The giant German conglomerate ranks as the world's fifth- largest steel maker in total sales.
The joint venture of ThyssenKrupp Steel and
ThyssenKrupp Stainless
will represent a first as well for the steel industry. Despite the South's status as an automotive epicenter, not a single plant south of the Ohio River makes high- grade flat carbon steel — the key component in auto manufacturing. The southern states, however, now consume almost half of the carbon steel sheets used by the entire auto- making sector in the U.S. and Mexico.
ThyssenKrupp says it will make a final decision on its U.S. site in three to six months. Plant construction will be completed by 2010, the company projects.
First, though, ThyssenKrupp has to carefully weigh a host of location factors.
Sizing Up the Subsidies
Few specifics have surfaced in the two finalists' bids. Alabama and Louisiana each signed confidentiality agreements with ThyssenKrupp.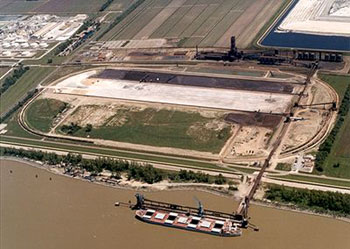 The contending site in Louisiana would be near this Illinois Central Rail marine terminal in Convent.
Photo: Soros Associates
The locations of the two finalists, however, are virtual certainties, given the site requirements for a tract of at least 3,000 acres (1,200 hectares) with waterway access. The Alabama site that fits that bill is in north Mobile County on the Mobile River, about 25 miles (40 km.) from the city of Mobile. The Louisiana property is in St. James Parish near the city of Convent, some 58 miles (93 km.) west of New Orleans.
Which of those sites ThyssenKrupp selects will boil down to an amalgam of factors, with total costs the most potent.
"The two locations both appear to be equal to me, although each one has its own advantages," Ed McCallum, a senior principal at McCallum Sweeney Consulting, tells the SiteNet Dispatch.
Incentives are one area in which the two sites seem about equal — at least in total dollars. Both Alabama and Louisiana are reportedly offering total incentive packages worth $1 billion.
"Incentives always play an important role in any company's decision, particularly with high- impact, capital- intensive projects like this one," says McCallum, whose firm is not involved in the ThyssenKrupp project. "The steel market is highly competitive, and the total delivered cost is affected not only by the cost of doing business, but by subsidies as well. A lot will depend on the timing of the capture for these incentives, and on what effect they have on the investment's net present value."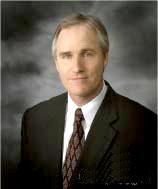 Ed McCallum of McCallum Sweeney Consulting
The two subsidy bids do include some differences.
In terms cash of incentives, for example, Louisiana made the first move — and it was one that immediately put the money on the negotiating table. The Bayou State's Legislature met last year in a December special session and approved a $300- million package for ThyssenKrupp's site preparation. Those funds would also be used to build a new port for the steel plant, state officials said.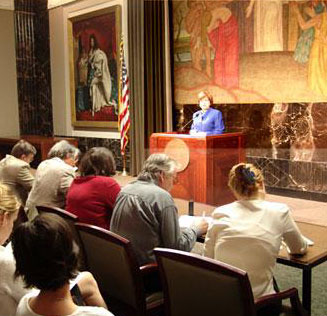 Gov. Kathleen Blanco (at podium) gathered Louisiana lawmakers in a special session last year to approve $300 million for site improvements for ThyssenKrupp.
Gov. Bob Riley didn't gather Alabama lawmakers in a special session until Feb. 26th. Within four days, though, the governor got what he wanted: a constitutional amendment to increase the borrowing limit from Alabama's Capital Improvement Trust Fund to $750 million from $350 million. The governor explained that the additional funds will be used to attract as many as a dozen projects to the state — one of them ThyssenKrupp's.
"We will do all we can to convince its leaders to make Alabama the home for this state- of- the- art facility," Riley said of the German firm's plant.
The capital approved in special session, however, is far from being a certainty. Alabama voters must now also approve the constitutional amendment in a June referendum.
GO Zones and Investment Tax Credits
Both states can offer ThyssenKrupp
Gulf Opportunity Zone benefits.
Louisiana, however, seems positioned to provide more of them.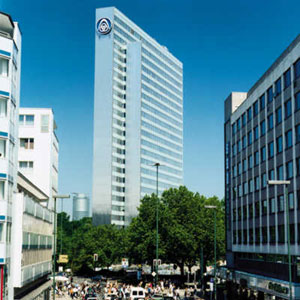 With its headquarters (pictured) in Düsseldorf, parent firm ThyssenKrupp AG is a $61- billion- a- year business that involves more than steel. The company, which has 188,000 employees in more than 70 countries, also has business units centered on elevators, services and technology.
Authorized by the U.S. Congress in 2005, GO Zones allow states hit by Hurricanes Katrina and Rita to offer private firms the authority to issue tax- free bonds at government interest rates. The bonds are exempt from state and federal income taxes, as well as the federal Alternative Minimum Tax. That allows participating companies to repay debt at interest rates far below conventional charges.
Of the $925 million in GO Zone bonding authority that it was allotted by federal lawmakers, Alabama has only about $25 million left, according to Gov. Riley's office. The other $900 million, however, is currently earmarked for a Mobile County venture codenamed "Project Compass" — which, all signs indicate, is the ThyssenKrupp plant.
Louisiana, however, is in a position to offer far more in GO Zone bonding. That state has almost $6.9 billion left in its GO allotment, according to the Louisiana Bond Commission.
Alabama, though, has one strong subsidy that Louisiana doesn't.
The Yellowhammer State can offer an annual capital investment tax credit, renewable for 20 years. That could reduce ThyssenKrupp's state corporate income taxes by as much as 5 percent of its initial capital investment. Over 20 years, that credit could conceivably pay back all of the company's $2.9- billion investment.
On this project, however, the Alabama subsidy may not prove to be a major advantage, says McCallum.
"Without a doubt, overall costs of doing business will drive this decision," he notes. "And the capital investment tax credit is a powerful inducement. But I doubt that income taxes will be paid in either location, which will mitigate that incentive."
Sites' Shakeout Will Include Look
At 'Blended Cost of Transportation'
But the hefty logistical costs for ThyssenKrupp's operation will be an unavoidable location consideration. Every year, for example, about five million tons (4.5 million metric tons) of product will be moving out of the steel- making plant. That weighty volume was almost surely a major factor in the decision to limit finalists to sites with river access.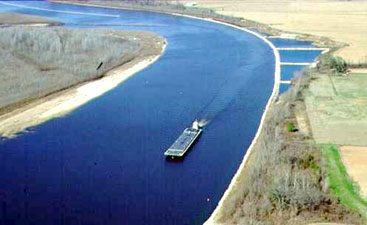 The cheaper costs of waterborne transportation could play a role in the site- selection decision. Photo: U.S. Army Corp of Engineers
The Louisiana tract seems to have an edge in terms of water transport. Deep- draft cargo ships could travel up the Mississippi River and unload directly at the Bayou State site.
"We think Alabama is a tough competitor," Louisiana Gov. Kathleen Blanco said after ThyssenKrupp announced its finalists. "But we have the Mississippi River, and we think that's a tremendous asset."
McCallum thinks the Louisiana site's river linkage could notably figure in ThyssenKrupp's bottom- line assessments.
"The Louisiana site's deep- draft advantage is a significant factor," he explains. "The cost of waterborne transportation is much lower than truck traffic, and it eliminates one step in the inbound transportation equation. It won't have much impact on the total delivered cost to outbound customers located inland, who are solely dependent on truck transport anyway. But it does widen the boundary of the company's market region for other customers, since the total delivered cost of steel to those clients is lower."
The larger logistical issue in ThyssenKrupp's site decision is the collective outlay required for every mode of moving materials.
"The cost of transportation will be borne by either the producer or the customer. But it will not go away," McCallum notes. "A lot depends on the blended cost of transportation — taking into account the facility's inbound logistics cost, offset by either penalties or savings associated with outbound transportation costs to clients."
There's another long- distance transportation cost to consider: the American project's tie- in with the
new $2- billion Brazilian steel plant
that ThyssenKrupp is building. The company's U.S. plant will import crude steel slabs made by the plant in Rio de Janeiro state. The 3,000- worker Brazilian operation is scheduled to go online in the port city of Sepetiba in 2009, making 5.5 million tons (five million metric tons) of steel slabs a year. About 3.3 million tons (three million metric tons) of that output will be transported to the American plant, with the rest going to ThyssenKrupp's German steel- making operations.
"The supply of high- quality, low- cost slabs from Brazil will enable us to utilize growth opportunities in our core European market and in the NAFTA region," Executive Board Chairman Ekkehard Schulz explained at last year's late September groundbreaking for the Sepetiba plant.
ThyssenKrupp's $2- billion Brazilian plant (pictured left in a company rendering) in the city of Sepetiba (pictured right) has a tie- in with the U.S. operation.
Proximity to Auto Plants —
And a Lot of Other Industries
Another factor that could impact ThyssenKrupp's decision is the two sites' distance from existing auto production facilities — along with the just- in- time supply systems to which they're happily wed.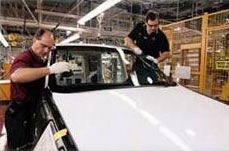 The Mercedes- Benz plant in Vance started the surge of car manufacturing facilities that have fallen on Alabama.
Alabama has the advantage there in numbers. The state currently has four auto- industry plants:
Honda in Lincoln
,
Hyundai in Hope Hull
,
Mercedes- Benz in Vance
and
Toyota in Huntsville
. Louisiana's auto- making industry, along with its supporting network, is far smaller, limited to a
General Motors plant in Shreveport
.
Meanwhile, Toyota in February announced a $1.3- billion plant near Tupelo, Miss. And, as documented in the March 2007 issue of
Site Selection
, Bellevue, Wash.- based truck manufacturer PACCAR in January announced a pending $400- million manufacturing, assembly and technology center that will be somewhere in the Southeast — the final location was still a mystery as of this week.
"There is no doubt that the automotive industry in Alabama is an important consideration," McCallum said. "But there are other industries using steel that could make an impact on this decision."
Other industries are definitely part of ThyssenKrupp's thinking for the southern plant's stainless output. In addition to the high- grade flat carbon steel, the U.S. operation will include a stainless steel melt shop that can turn out one million tons (900,000 metric tons) a year. The company says that some of that stainless will be sent directly to customers, particularly the aerospace and construction businesses. The rest of the southern operation's stainless will go to ThyssenKrupp's plant in Mexinox, Mexico, for processing into finished products including appliances, surgical equipment and vehicle parts.
Oil exploration is another industry that could play a site- selection role. In early September, several major oil fields were discovered 175 miles (315 km.) off the U.S. coast, 30,000 feet (9,100 meters) below the Gulf of Mexico's surface. A wave of ultra- deep- water offshore drilling is in the offing, with many oil companies anticipating that the new fields may be bigger than Alaska's Prudhoe Bay. But there's a shortage of rigs capable of drilling in deep water.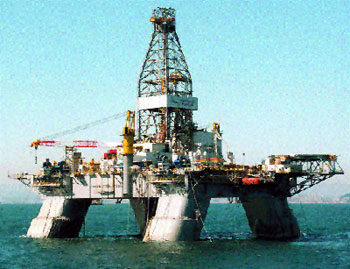 The coming boom in building deep- water drilling rigs could affect ThyssenKrupp's location choice. Photo: U.S. Coast Guard
"Hundreds of rigs will be built and repaired in the coming years," McCallum explains. "In some respects, Alabama is closer to those oil fields.
"But the facilities to build and service these rigs are not yet in place," he continues. "So that means the customer for steel for this industry would be in one of two places: either Brownsville, Texas, or Pascagoula, Miss. Without knowing ThyssenKrupp's long- term strategy, it's difficult to say in that respect which one [of ThyssenKrupp's finalist sites] has the advantage at this point."
Another unknown is the size of the geographic market that ThyssenKrupp is considering for its southern plant. Some industry analysts feel the facility could access a market much larger than the Southeast without incurring substantial expenses. The operation's carbon steel, for example, could be taken by barge to Houston and then distributed by train or truck to other major markets like San Antonio.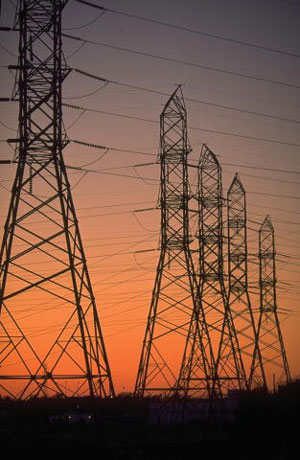 What role for power costs?
It's All in the Execution
A host of additional factors could also significantly influence ThyssenKrupp's U.S. site decision.
Alabama, for example, has by far the larger existing steel industry. Louisiana, on the other hand, has no state property tax. The Yellowhammer State, though, could also get a boost from power costs — at least if historical figures are any sort of accurate indicator. The
U.S. Energy Information Administration
(EIA) ranked Alabama's 2006 electric bills for industrial customers as the 35th highest of the 50 states, 19 percent below the national average. By comparison, EIA ranked Louisiana 16th highest in industrial electrical bills in 2006, 15 percent higher than the U.S. average.
The myriad factors involved in ThyssenKrupp's decision underscore the complexity of very large location projects. But there's also something else more intangible at play. And that lies in the difference between promises and delivery.
"For our firm, we take into account what we call 'excellence in execution,' " McCallum notes. "That's essentially the probability that certain permits, infrastructure, training, etc. will be delivered on time and within the required specifications.
"If delays occur, all of those have tangible costs. Or there are substantial benefits if they're delivered in a timely fashion. That's a factor that can't be ignored," McCallum concludes. "And it probably isn't being ignored by ThyssenKrupp."
---
©2006 Conway Data, Inc. All rights reserved. Data is from many sources and is not warranted to be accurate or current.