Though some observers still doubt that the swirling Spire will ever be completed, the developer plans to pull the trigger soon, launching the construction of one of the world's tallest structures.
A
major heavyweight challenger has heaved onto the horizon to vie for the title of the Western Hemisphere's tallest building: Measuring 150 stories tall and wearing the visually striking design, it's the Chicago Spire.
That exceptionally elongated project took a long stride closer to reality during the Chicago Planning Commission's April 19th meeting.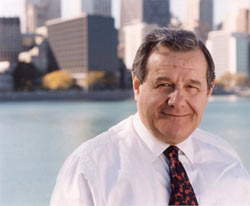 "This building belongs to Chicago," outgoing Alderman Burton Natarus told the city's planning commission.
"This building belongs to
Chicago
and should be in Chicago," city Alderman Burton Natarus told the commission. "We have to help the developer complete this project. Otherwise, the whole world will say Chicago doesn't have it."
Chicago
has long "had it" when it comes to being fertile turf for towering structures. The skyscraper was born in the Second City, and six of the 10 tallest U.S. buildings are there — including three of the top four.
The city's planning commission moved to extend that high-rise history, unanimously approving the Spire design and site plan submitted by Ireland's
Shelbourne Development
. The city's zoning committee followed suit on April 26th. The Spire faces its last approval hurdle at the May 9th meeting of the City Council, which is expected to rubber-stamp the earlier decisions.
Even a tower mecca like Chicago, though, has never seen a design quite like this. Tapering gradually as it slowly twirls through a full 360-degree turn, the Spire sharply peaks at a rarefied 2,000 feet (606.7 m.) — almost 40 percent higher than Chicago's Sears Tower, currently the tallest U.S. building at 1,451 feet (440.1 m.). Fronted by a 3.2-acre (1.3-hectare) park thick with trees, the structure will span 2.4 million sq. ft. (216,000 sq. m.) housing 1,200 high-end condominiums.
And, as if it needed any more visual oomph, the project is nestled on Lake Michigan's shore at the center of the city's skyline. It's a picture-postcard image waiting to happen.
But
will
it happen? That's the inevitable question with any planned tower this tall. After all, many big-building dreams never moved from blueprint to full-blown reality.
Shelbourne, however, isn't equivocating. The Spire, it says, is already loading into the starting gate, revved up and ready to go.
"Construction will start in May, following City Council approval," Spire spokesman Thomas Murphy tells
The SiteNet Dispatch
from his Chicago office. "We're already getting bids for the contract on the caissons that will be part of the Spire's support structure."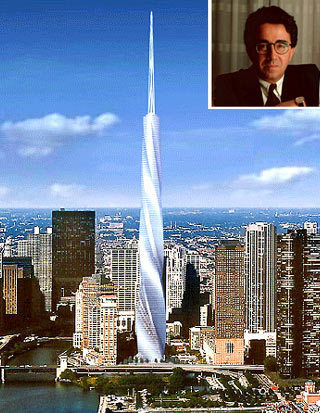 An earlier look: Announced in July of 2005, this design was called Fordham Spire, also created by the renowned architect Santiago Calatrava (inset).
Construction is scheduled to be completed in 40 months, says Murphy, general counsel for Shelbourne Development Executive Chairman Garrett Kelleher.
Charting an Unconventional Course
But getting the project this close to liftoff hasn't been easy. The structure's zigzag history, in fact, reads a bit like the mercurial career of singer Prince: It's the Building Formerly Known as Fordham Spire . . . which was the Building Formerly Known as 400 North Lake Shore Drive. In less than two years, the project has gone through two different developers and four designs — all by renowned architect Santiago Calatrava.
Even now, with a construction start scheduled only weeks away, some observers doubt that the newest design will ever be completed.
Many of those qualms center on the project's huge capital outlay. While Shelbourne hasn't estimated the Spire's total price tag, most projections peg the costs at at least US$2 billion, with some as high as $2.4 billion.
Despite that prodigious price tag, Shelbourne is starting construction without advance sales. Add to that the fact that Kelleher only cited a single financing source,
Anglo Irish Bank Corporation
, in presentations to city officials. That's a much stronger economic scenario than the one
Fordham Company
faced. The venture's original developer, Fordham was unable to find financing, abandoning the project in 2005 and selling the site to Shelbourne for $64 million.
Dublin-headquartered Anglo Irish is Ireland's third-largest bank, listing total assets of $106.8 billion. Some banking industry analysts, however, question whether the Irish institution is big enough to finance a project this massive.
But skeptics are missing a significant point, Murphy contends. The project's funding pool could be dredged considerably deeper, he says.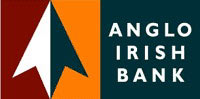 Anglo Irish Bank: Pretty big, but big enough?
"Anglo Irish will
lead
the financing of the Spire," Murphy explains from the Second City. And
lead
, he adds, is the key word.
"Shelbourne isn't precluding the possibility that Anglo Irish might involve other institutions in financing the building. Regardless of whether other institutions are involved, though, Anglo Irish will be the leader of the Spire's financing."
But the publicity-shunning Kelleher, who owns 100 per cent of the project's equity, plans to maintain that go-it-alone course. "There will be no other equity partners," Murphy states.
A Big-Name Project Team
Shelbourne is certainly not a household name in the U.S. building business. But it's no industry neophyte either.
Shelbourne reportedly now has more than $2 billion in projects in the pipeline in Ireland, where it's completed more than 1.5 million sq. ft. (135,000 sq. m.) of construction. Kelleher's company also has interests in Belgian and French properties that include apartments, single-unit housing, and commercial and office space. The Dublin-based firm's biggest pre-Spire splash came in early 2004, when it submitted the $484-million winning bid for the landmark Lloyd's of London building. (The deal was later cancelled after a structural survey discovered alkali silica reaction, which causes expansion and cracking in concrete.)
Still, Shelbourne has never worked on a venture approaching the Spire's vast scale. What it has done, however, is assemble a project team that brings extensive big-project experience to the table.
The Spire's structural engineer of record, The Thornton-Tomasetti Group, has a track record that includes the 1,483-foot- (450-m.) tall Petronas Towers (right) and the 1,671-foot-tall (506.9 m.) Taipei 101 (left), currently the world's tallest building.
For example,
The Thornton-Tomasetti Group
, the Spire's structural engineer of record, has worked on two of the world's tallest buildings —
the Petronas Twin Towers
in Kuala Lumpur, Malaysia, and Taipei 101 in Taiwan.
STS Consultants
, the project's geotechnical engineer, also worked on Taipei 101, as well as on Chicago's Sears Tower (now the Western Hemisphere's tallest building) and the John Hancock Center. The project portfolio of
Perkins+Will
, the Spire's architect of record, includes the 1,136-foot (344.6-m.) Aon Center, Chicago's second-tallest building, and
Boeing's 561-foot (170.2-m.) international headquarters
in Chi-town. (To see the entire project team, see accompanying "The 'Spire-ing' Squad.")
Shelbourne also built significant commitment into the Spire team. The Irish developer required each chosen company to assign either its founder or a principal to lead the firm's work.
"Experience and expertise were strong motivators in choosing the team," Murphy explains. "But so was each consultant's willingness to have principals working in Chicago over the duration of the project.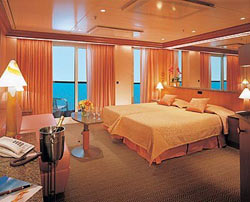 Floating in the lap of luxury: Savills, the UK-based property advisor that's leading the Spire's sales effort, is also marketing the Four Seasons Ocean Residence (pictured), a luxurious private ship that completes a circle of the world every three years.
"We want to have the solutions in the room," he continues, "to not have to reach back to [team members] corporate headquarters for answers. That creates a design and execution dialogue that produces an effective schedule with disciplined parameters."
Once the Spire's support caissons are in place, says Murphy, Shelbourne will start building the Lake Shore Drive exit and entry ramps, which the developer is totally funding. After that come the project's two biggest pieces.
"Construction on the Spire's superstructure can start independently." explains Murphy. "Most likely, though, it will be done simultaneously with the parking structure."
Will They Come?
Even with a firm schedule set, though, questions linger about the project's prospects.
"I just hope that it comes to pass, that it doesn't hit any pitfalls along the way," Alderman Bernard Stone commented at the April 26th Zoning Committee meeting.
And there's a related uncertainty as well: Even if Shelbourne successfully builds it, will buyers come?
The developer hasn't yet announced condo prices. Odds are they'll be very high, given the extra expenses that the project requires. For example, there's the capital- and time-eating slurry-wall construction necessary to create the Spire's seven-story underground parking garage. That process will involve digging beneath Lake Michigan's water level while sealing off all moisture from the construction area. Local market analysts are projecting that such pricey procedures will drive condo prices to $1,500 a sq. ft., if not higher.
UK-based property advisor
Savills
is leading the Spire's sales effort. The company's high-end experience includes marketing the Four Seasons Ocean Residence, a luxurious private ship, and London's One Hyde Park, where a new apartment sold for $196.7 million in late March.
"Sales will commence in the third quarter of this year," Murphy explains, "and they'll be robust, based on inquiries and interest."
Kelleher was similarly bullish about the sales outlook during a rare public appearance before the Chicago Planning Commission. "The number of inquiries exceeds the number of units," the developer told the group. "I have no doubt this project will sell out."
Shelbourne's sales effort will stretch far beyond the U.S., with Beijing; Dubai, UAE; Madrid, Spain; St. Petersburg, Russia; and Singapore among the targeted global markets. Sales volume, however, won't affect the project's schedule, Murphy explains. "There is no sales threshold required for construction completion," he declares.
Calatrava: 'A Holistic Development'
One strong sales draw is the building's distinctive architecture.
"The Spire's design is an integrated whole, twisting elegantly to its tip-like top," wrote
Chicago Tribune
architecture critic Blair Kamin. "At best, this will be a new Eiffel Tower, a scale-shattering yet superb skyline statement."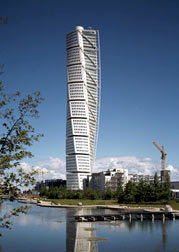 Sweden's 627-foot- (190-meter-) tall "Turning Torso" building, also designed by Santiago Calatrava
Calatrava has compared the Spire's form to a series of natural phenomena, including a snail shell and a tree trunk. The Spanish-born architect has also likened the structure to a smoke plume spiraling up from the Native American campfires that burned centuries ago at the mouth of the Chicago River. The building's shape is reminiscent of the Zurich-based architect's design for the 627-foot- (190-meter-) high "Turning Torso" in Malmo, Sweden, Scandinavia's tallest building.
The Spire's adjacent park should also aid Shelbourne's marketing. With it, the developer's product becomes more than a snazzy building on a 2.2-acre (0.9-hectare) site; instead, it's a 5.4-acre (2.2-hectare) urban park. Kelleher cemented that green space's place in the project in March, adding the park to the site plan and pledging $9 million for its development. Chicago and its park system have each pledged another $3 million to develop the long-delayed DuSable Park (which honors Jean-Baptiste DuSable, the Haitian native who built Chicago's first permanent settlement).
"I have always seen the Chicago Spire as part of a holistic development of the surrounding property and neighborhood," Calatrava commented after the Planning Commission gave its approval. "What excites me most is the opportunity to not only design an innovative and soaring tower, but to transform a naturally beautiful site into a truly special destination."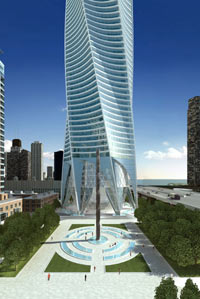 The Chicago Spire's atrium stands more than five stories tall.
Some uncertainty remains, however, about who'll actually develop the park, Shelbourne or the city. Murphy only avers that "the park will be complete when the building is complete."
Calatrava's park design includes pedestrian links with the Spire running under Lake Shore Drive. The architect's plan also features one of his signature cable-supported bridges, which connects to a lakefront bike path and opens to let boats pass below.
Trump's Critical Bump Has Little Impact
The Spire's structural soundness is another factor that may attract prospective buyers. The building's unorthodox design may well make it safer than most towers in the Windy City's blustery gusts.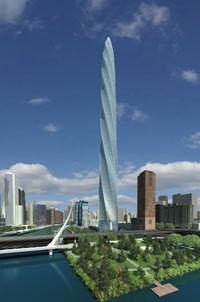 This artist's rendering depicts what the 3.2-acre (1.3-hectare) DuSable Park will look like in concert with the Spire.
Unlike a conventional high-rise's rectangular shape, the building's curved structure will diminish the force of Chicago's fierce blasts. In addition, the Spire's bottom-end stability is anchored in seven W-shaped columns that surround a glass-encased atrium 56 feet (17 m.) high.
Safety measures like that are marketing imperatives, given the indelible psychic connection between tall structures and terrorism. The Spire will stretch higher than Toronto's 1,815-foot- (550.6-m.-) tall CN Tower and New York's 1,776-foot- (538.7-m.-) high
Freedom Tower
, now being built at the former World Trade Center site. In fact, if the Spire finishes on schedule, it will rank as the world's second-tallest building; it would trail only the Burj Dubai, which is now being built in Dubai and is expected to stand more than 2,670 feet (810 m.) tall.
Shelbourne emphasized Spire safety with December's announcement that it will prohibit public access to the underground garage. Such a restriction wasn't in place at the World Trade Center in 1993, when a bomb-loaded vehicle blew up underneath the structure. Six people were killed and more than 1,000 were injured.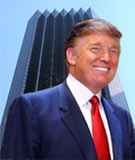 "There won't be any institution stupid enough to finance [the Spire]," contended the never-reticent Trump.
Donald Trump, though, thinks the Spire isn't safe enough. Late last year, the voluble developer told the
Tribune
that the building would be a prime terrorist target. The project, he contended, was "financial suicide . . . a pipe dream. There won't be any institution stupid enough to finance it."
Trump's remarks, however, had only a modest public-opinion impact. That muted reaction was perhaps due to the New York-based developer's own Chicago construction agenda: Five blocks to the west of the Spire site, the "Apprentice" star is building Trump International Hotel and Tower, a 92-story hotel and condo tower that would be 1,360 feet (412.5 m.) tall.
And what's Shelbourne's reaction to Trump's criticisms? The Irish firm is maintaining its straight-ahead course with the Spire, refusing to be drawn into a war of words.
"We have no comment on other developers' projects or on their comments on our project," says Murphy.
A whole lot of people, though, are going to be commenting if Shelbourne successfully completes the Spire.
As Cesar Pelli, another precedent-breaking architect, once observed, "Very tall buildings enter into a realm that many cultures consider sacred. In my native Spanish,
sky and heaven
are the same word."
---
©2006 Conway Data, Inc. All rights reserved. Data is from many sources and is not warranted to be accurate or current.