"I
n times of insane workloads – even more than the usually insane workload – how do you staff major strategic projects when you don't have the horsepower to pull the wagon?"
Good question. And it's exactly the kind of quandary that today's corporate real estate (CRE) operations are wrestling with. Predictably, that topic was one of the central issues chewed over at the Peer-to-Peer workshop at the
Industrial Asset Management Council
's (IAMC) Apr. 20-24 Professional Forum in Scottsdale, Ariz.
"We pretty much
freak out
," one of IAMC's CRE members exaggeratedly joked, drawing empathetic chuckles from other attendees sitting around one of the breakout tables at the Apr. 21st workshop.
His staff was already pared down to essentials, explained the man, who leads the real estate team for a U.S. subsidiary of a large petrochemical firm that ranks in the Fortune 100. "So we go outside" to secure the service-provider support needed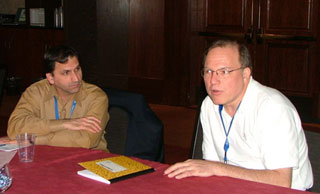 for spiked-up workloads, he said.
That's a sharp contrast to how things are handled at another Fortune 100 firm represented at the table. Going outside for additional support is a rare occurrence at his company, said one IAMC member, who heads the CRE team for a business that makes one of the world's most universally recognized consumer products.
"We're about as close as you can get to
not
outsourcing," explained the man, whose company frequently expands around the globe. "We have a very large staff for strategic projects."
That kind of fully-fleshed-out staffing, however, is very uncommon in today's essentials-only environment. For most of today's CRE arms, outsourcing is an ongoing reality. And it becomes a survival-skill necessity when amped-up workloads simply outstrip in-house staff's capacities.
The sheer frequency of outsourcing, in fact, is drying up one key talent pool, several participants agreed.
"One of the big problems that I see is that there's so much outsourcing that service providers are having trouble getting people who are capable of understanding projects at a strategic level," said one CRE member. "There's increasing competition among the service providers for that kind of person. And there's no feeder system for them because companies have pared down [their internal real estate staffs]. Service providers need to strengthen their strategic utility."
"Service providers need to strengthen their strategic utility."
Another corporate-side member concurred: "I see a lot of variation in the talent level among service providers."
Economic developers at the session echoed the ubiquity of service providers in handling certain site-selection functions. "The major companies have all outsourced their research on area labor forces," reported one.

The Slippery Stuff of Strategy
The Peer-to-Peer (P2P) session in Scottsdale turned up other insider insights as well – which wasn't particularly surprising.
The P2P workshops have consistently ranked among IAMC's most popular, owing to the process and the parties that are assembled.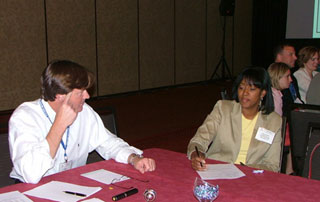 By bringing top CRE executives together with economic developers and service providers, the face-to-face gatherings invariably focus on the nitty-gritty of day-to-day operations. Significantly, the sessions are guided by questions posed by corporate-side members – the CRE industry's key players, as well as IAMC's
raison d'être
.
That core constituency, for example, posed this enduring dilemma for discussion at the Scottsdale P2P:
"How can CRE organizations better align with business strategies and be more proactive instead of reactive?"
"I've gotten my
head
cut off
every time
," one CRE exec said of his efforts to make his real estate shop proactive.
"Our business units resist that," he continued. "There are 25 to 30 units, and we [in real estate] are not invited in [to strategic discussions].
"Really, the company makes billions of dollars doing it the way we do it now, so it's hard for people to see any need to do things differently," he noted. "Real estate is simply not the driver of our company."
Echoed another CRE manager, "That's the big gripe that I hear from everybody in my position."
"Really, the company makes billions of dollars doing it the way we do it now, so it's hard for people to see any need to do things differently."
One key in securing strategic entrée may lie in corporate
positioning
. One CRE exec explained how a change in real estate's place in the chain of command translated to considerably more strategic clout.
"Real estate at my company is very different now," he said. "We now report to the head of the supply chain," said. "That change has given us much stronger strategic involvement."

The Ins and Outs of Incentives
The group's discussions also turned to incentives – a topic that wasn't initially on the agenda. But with the built-in spontaneity of the P2P workshops, the subject bubbled up into the conversation.
"What role are incentives playing at your companies?" one economic developer asked the CRE managers at the table.
"Incentives are playing a bigger role in my company's location decisions," a corporate-side member responded.
He recounted how his firm had "gone back and forth"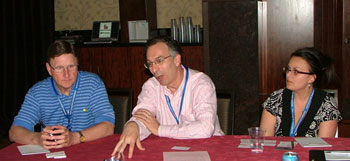 between two Midwest locations to get the most advantageous subsidies.
"But weren't the two areas equal in terms of the business case?" asked a woman who heads a local-area economic development team. "That's what we've always thought in economic development."
"Yes," the CRE manager conceded. "You're right about that. They were equal. We only use incentives as a tie-breaker between sites that are of equal worth."
But incentives are not the decisive site-selection factor at another large company, another CRE executive explained.
"For us, the business case makes the difference in the sites that are chosen," he said. "From our perspective, the groups that can make the [site-selection] process more friendly are the ones that are most likely to be chosen. Cutting the red tape is the best thing that an area can do to stand out with my company."
Contrary to much media coverage, incentives are not the pervasive, knee-jerk phenomenon that they're sometimes made out to be, the Scottsdale discussion suggested.
"We're seeing a wide variation in terms of the incentives that are being offered in different areas," said one CRE manager. Incentives for manufacturing and distribution projects, he explained, are now rare in some areas in the U.S. Northwest, Southeast and Pacific Coast.
"It's hard to get incentives in those places unless it's high-tech," he continued. "There's not much for manufacturing."
"Cutting the red tape is the best thing that an area can do to stand out with my company."
The man illustrated that point by discussing a sizable manufacturing plant that his company recently located in the Southwest.
"It's a major facility with lots of jobs," he noted. "We were offered no incentives at all."

Integrating M&As
The talk in Scottsdale also turned to
mergers and acquisitions
(M&As), the overarching theme of the Arizona Professional Forum – "
The Portfolio Manager's Toolbox: The Art and Science of Mergers & Acquisitions
."
With M&As now occurring with great frequency, one economic developer posed a question to the CRE managers
"We 'went in and crushed them' with some of our acquisitions. But what we found was that that stifled growth."
seated at his table: "How are you handling the integration of acquired organizations?"
"We just go in and
crush them
," one real estate executive said. The man was obviously joking, but there was a seriousness behind the observation – the kind created by the hard lessons of experience.
His company, the man explained, had years earlier acquired another firm, paying more than a billion dollars in the process. The acquired firm, though, later floundered, eventually closing almost two dozen of its plants.
"We didn't scope them out when we acquired them, and we didn't do the integration," he recalled. "We just let them do what they wanted to do. Now we integrate acquisitions thoroughly.
"It sounds cold, I know – to 'go in and crush them,' " he continued.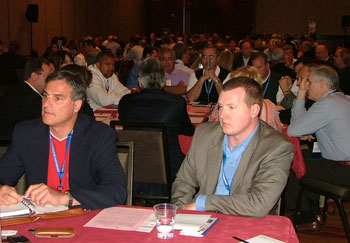 "But it's just what you want to do. In our industry, you're dealing with plants that can
explode
."
But one size doesn't fit all for managing M&As.
"We did what you're describing with some of our acquisitions – 'going in and crushing them,' " said another CRE member. "But what we found was that that stifled growth [in the acquired firms]. So we've changed our approach, giving the acquisitions more leeway now in their operations."

Global Real Estate 'Silos'
The management of international real estate was another thread of discussion that unspooled at the Scottsdale session.
Globalism, obviously, is a watchword in today's business operations. "It's a small world after all," as the Disney song puts it.
When it comes to global real estate, though, things don't always fit together so neatly, the discussion revealed.
"At our company we've decided to be pretty much hands-off with our international real estate," a CRE manager for a U.S.-based company explained. "My staff is not too active in international stuff. It's hard to get traction within the company to get more involved.
"The individual countries are pretty much autonomous" in their real estate dealings, he continued.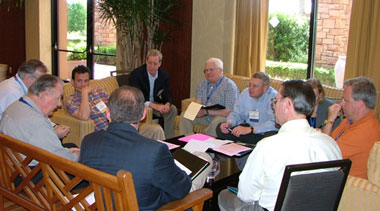 "Our company is still very 'silo-ed' in that respect."
For another CRE exec, the power equation hinges on different geography. His firm, he explained, is headquartered in Europe, while he is based with U.S. operations.
"My European colleagues are a little more equal than I am," he said. "But we're headed in a more holistic direction. We have different personalities now who are involved. Real estate at our company is now almost seamless around the globe."
Economic developers and service providers later gathered in their own separate session to discuss their specific concerns. One question that came to the fore was how areas could best focus their economic development efforts.
"From my experience, what has to happen is that the business community needs to stand up and say, 'We have a vision for a better community.' "
"You can't be something to everybody," said one economic developer from the Southwest. "If you do that, you end up being nothing to anybody.
"We're spending most of our time now on work-force development," he continued. "We decided that that's what makes the most difference, not only to the companies that are here, but to the companies that are considering our area."
The private sector, the group agreed, plays a critical role in the strength of an area's development effort.
"From my experience," said one economic developer, "what has to happen is that the business community needs to stand up and say, 'We have a vision for a better community.' "
"That's what happened in our area several decades ago," another economic developer from the Southeast recounted. "The business community and the private sector joined together and created the vision that has ultimately revitalized our community's economy."