A SITE SELECTION ONLINE EXCLUSIVE
---
Tacoma: Wired for Growth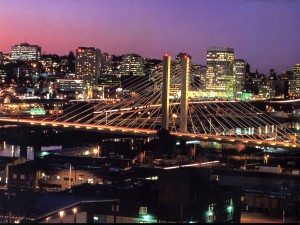 Seattle's once-forgotten neighbor beats business to the punch

By RON STARNER • Editor of Site Selection Magazine
TACOMA, Wash. -- Who would have ever thought that government would create a more business-friendly climate than business itself could?
In Tacoma, that's exactly what happened. Rather than wait around for the telecommunications companies serving the area to install a high-speed fiber optic network throughout the community, the municipally owned power company took the initiative to wire an entire city of 187,000 people.
The result? Seattle's once-forgotten neighbor to the south is now competing in the Digital Age for the best and brightest companies in the business, and more than a few of them are leaving high-priced, traffic-gridlocked Seattle for the greener pastures of South Puget Sound. For a blue-collar city once known for its smelting factories and odor-rich paper mills, it's nothing less than a miraculous turnaround.
"We could live anywhere we want, but we chose to come here to Tacoma," said Mitch Davis, founder and chairman of OnFree.com and InFree.com, one of the nation's largest providers of free Internet access. "We originally started in Seattle, but it's both hard and expensive to get high-speed Internet access there. It's also hard to find people and space in the Seattle area because of the high costs, and plus Seattle is now one of the worst traffic cities in the United States, along with Los Angeles and Oakland."
More than 100 high-tech companies like OnFree have chosen to set up shop in Tacoma -- where office rental rates and housing costs are less than half that of Seattle's -- since the installation of the Click! Network, the brainchild of the City of Tacoma and its utility company, Tacoma Power.
Since construction began in 1998, the city has completed 775 miles of a hybrid fiber coaxial, two-way telecommunications network at a total investment of US$100 million. And while this high-speed broadband access is a nice amenity for city residents, it is rapidly becoming a must for companies seeking a competitive edge in the New Economy.
"The number one reason why we chose Tacoma was bandwidth," said John Gorst, chairman and CEO of iNSYNQ, an Internet utility company that provides Web hosting of applications for small businesses around the country. "Plus, we're saving about 33 percent on the cost of doing business, just by being here in Tacoma. Two years ago, Tacoma wasn't even on the map. Now, companies from Redmond, Seattle and Silicon Valley are considering Tacoma."
That's no exaggeration. Eric Cederstrand, vice president for Colliers International in Tacoma, said he has quit working in King County altogether to focus on his commercial real estate development and brokerage business in Tacoma.
"The Tacoma Technology Consortium, which started in July of 1999, has 300 companies today," said Cederstrand. "And 90 percent of our job market here is made up of 25-to-35-year-old high-tech workers seeking an urban experience. About 1.1 million sq. ft. (102,190 sq. m.) of new office space is being built right now in Tacoma."
One of those new office space users is Tony Woodruff, senior network administrator for StreamAudio.com, the nation's largest provider of radio station Web-casting. More than 450 radio stations now partner with StreamAudio to broadcast their content over the Internet.
"We chose Tacoma primarily because of the availability of bandwidth and the availability of people," said Woodruff. "We are the Click! Network's largest customer."
In fact, south of Microsoft in Redmond, StreamAudio uses more bandwidth than any other firm in Washington. In August, the company provided more than 1 million individual streams to listeners all over the US.
Interestingly, all of this high-tech growth started because the city's power company recognized a need seven years ago to diversify and enter the highly competitive world of telecommunications. That's when Tacoma Power hired consulting firm Stanford Research Inc. to recommend ways the company could take advantage of the coming wave of utility deregulation.
"Their conclusion was that it made sense for us to build our own telecom infrastructure," said Diane Lachel, government and community relations manager for the Click! Network and Tacoma Power. "Construction began in early 1998, and today we have more than 16,000 cable television customers, or 26 percent of the local market. We actually exceeded our business plan goal of 25 percent."
The system of 126 neighborhood nodes connects homes and businesses to the Internet and offers a variety of high-capacity data transport products that range in bandwidth from a DS1 through an OC48. The system includes a Synchronous Optical Network (SONET) ring architecture that increases reliability, security, redundancy and functionality.
"We designed the Click! Network to offer five main applications," said Lachel. "First, there is the utility's own use of the network. Secondly, we can provide cable TV service offering 80 channels and digital music. Thirdly, we have the broadband services for area businesses. Fourthly, we offer high-speed Internet access over cable modem. And finally, we have created an institutional communications network for local schools, libraries and public safety services."
Today, the modified open-platform network carries five ISPs (Internet service providers), plus the City of Tacoma's own WorldGate ISP over TV.
"Our three main goals in launching this network two years ago were to get closer to our customers, streamline our organization and provide connectivity of all of our assets, and we have achieved all three with the Click! Network," said Lachel.
More importantly, the City of Tacoma has put itself on the map of the Digital World. In the words of Tacoma City Council Member Mike Crowley, "Obviously, we caused quite a stir."
LOOKING FOR MORE? BROWSE THE "SPECIAL REPORTS" ARCHIVE
---
PLEASE VISIT OUR SPONSOR • CLICK ABOVE
©2000 Conway Data, Inc. All rights reserved. Data is from many sources and is not warranted to be accurate or current.