Using space donated by NPR, a hard-pressed food bank in the nation's capital is feeding more of the many Americans who don't have enough to eat.
A
dvertising slogans, it seems, are now as immortal as jolly old Saint Nick. There's always this holiday perennial, for example, the one that only hard-core hermits can escape:
Give the gift that keeps giving.
Un-huh. That come-hither catchphrase, of course, often doesn't amount to squat in actuality. Marketing alone can't create magic.
But yes, Virginia, there
is
a Christmas gift that keeps giving. It's giving right now, in fact, inside the
Capital Area Food Bank
(CAFB) in Washington, D.C.
And the gift? It's space. Yep, plain old square footage, donated by
National Public Radio
(NPR).
The CAFB sorely needed space this year, needed it in the most elemental human way. Without more room, the organization was fated to fall short in a job that's all
about
giving. The CAFB is in the business of feeding needy people, collecting and distributing 20 million pounds (nine million kilograms) of food a year to 700 Washington-metro nonprofit agencies and soup kitchens.
And these days, the CAFB is seeing a lot more hungry mouths. The number of Americans who don't have enough to eat is rising sharply with the economy's downward spiral (see accompanying "
Hunger in America
").
"Calls to our Hunger Lifeline, an emergency food-referral line, have increased about 248 percent over a six-month period versus last year," CAFB Chief Operating Officer Brian Smith tells the SiteNet Dispatch. "Our partner agencies are telling us that they're seeing a lot of new faces, people they haven't seen before. Many of them have lost their jobs and/or their homes.
"And food lines are much longer now," Smith continues. "Our agencies tell us that people are lining up earlier to be sure to get a spot near the front."

Breaking Up the CAFB's Space Squeeze

But as the ranks of the needy were rising, the CAFB was struggling with a space shortage. The crunch was particularly acute inside the organization's 48,000-sq.-ft. (4,320-sq.-m.) central distribution center on Taylor Street in northeast Washington. Opened in 1991, that warehouse no longer had enough floor space to store all the food that's needed.
"We had been looking everywhere for space," Smith says. "We had investigated space at some of the groceries in the area as well as leasing space."
But nothing panned out, due in part to the CAFB's flagging finances. The food bank depends on donations; and in today's economy, that's a much more shallow well. Total donations are down almost 20 percent, CAFB officials report; and corporate and foundation donations, which account for about 85 percent of total contributions, are down by 30 percent.
In short, the food bank's situation was pretty dismal.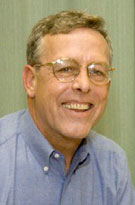 So it was particularly welcome news, then, when NPR in November donated part of the first floor of its future headquarters at 1111 North Capitol Street. The CAFB can use that square footage in Washington's NoMa (North of Massachusetts Avenue) neighborhood, rent-free, for as long as a year.
As a result, more needy people are getting nourishment.
"It's great that NPR is doing this," Smith says from Washington. "The space that they've donated has enabled the Taylor Street warehouse to free up space for more food, and it's improved the efficiencies of our system. We can now better manage and organize our inventory."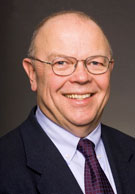 Even though it's facing
its own financial crunch
, NPR still felt that it was important to give back to its home area.
"It's a pleasure to open up our doors to the Capital Area Food Bank and play a role in supporting a community that NPR has been a part of since our organization was founded in 1970," NPR interim CEO Dennis Haarsager said as the organization turned the North Capitol space over to CAFB on Nov. 17th. "In these tough economic times, it's vitally important for individuals, businesses, and organizations to do what they can at any level to support their local communities."

The Deals behind the Donation
NPR's gift strikes a grace note during the heat of this holiday season. It reminds us of what Abraham Lincoln in his 1861 inaugural address called "the better angels of our nature."
But there's another story behind NPR's generous gesture. Like most real estate deals, this one had its share of complications – all resolved through a combination of hard work, connections, and sharp attention to detail.
The genesis of NPR's donation goes back to March of 2008, when the broadcasting giant bought the North Capitol Street building to redevelop as its future headquarters. As fate would have it, NPR's representative in buying that 146,000-sq.-ft. (13,140-sq.-m.) facility was the Washington office of
Studley Inc.
As further events unfolded, that brokerage would assume a central role in shepherding the gift of NPR's NoMa space.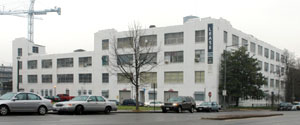 "NPR's new headquarters at 1111 North Capitol is a former telephone warehouse with seven loading docks," Adam Schindler, a Studley analyst who works on the NPR account, explains in an e-mail interview. "We realized the space could be perfect to meet CAFB's temporary needs. Our staff made the introduction between the [CAFB] and NPR's real estate team."
Studley's staffers had come honestly by their knowledge of the CAFB's needs. For many years, the brokerage's Washington employees have volunteered at the food bank, as well as supporting other local charities like the Juvenile Diabetes Research Foundation, the Lombardi Cancer Center, the National Prostate Cancer Coalition and Toys for Tots. Helping the CAFB "was first nature," says Schindler.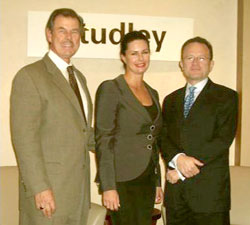 Studley's NPR team, in fact, first learned of the food bank's real estate pinch while they were volunteering in July at the Taylor Street warehouse. During that visit, CAFB CEO Lynn Brantley mentioned the need for temporary space. Studley staffers promptly made the mental connection with NPR's NoMa property.
"We immediately approached our client with the potential opportunity," Schindler recalls. "NPR's real estate team was very quick to help the food bank, clearly recognizing that the space donation was a win-win for all parties. Senior management buy-in was achieved very early during the process."

HQ Redevelopment Deal
Set Stage for Space Donation
NPR, however, still had some business to finalize before it could pull the trigger on the donation. The organization first wanted to firm up its headquarters situation.
In early October, that issue was put to bed. NPR on Oct. 2nd entered
an agreement to sell its current headquarters at 635 Massachusetts Avenue to Boston Properties, which will lease the property to NPR
. Concurrently with the sale/leaseback, NPR contracted with Boston Properties to redevelop the facility at 1111 North Capitol Street.
The NoMa site will now be converted into a 360,000-sq.-ft. (32,400-sq.-m.) complex, with occupancy scheduled for 2012. But part of the old building will survive as well – a fitting outcome for a structure that the
Smithsonian Institution
most recently used for a storage facility. NPR plans to maintain 78,000 sq. ft. (7,020 sq. m.) of the original historic structure, integrating the facility's façade with a new 10-story tower.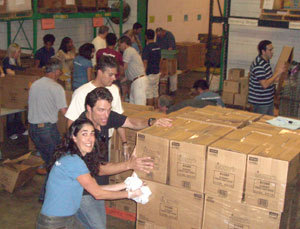 "Boston Properties emerged as our developer of choice," said Haarsager, "not only because of their real estate development expertise in the D.C. market, but also because of their ability to purchase our current building, ensuring a streamlined relocation."
That deal nailed down the final plank setting the stage for NPR's gift.
"Both transactions were advanced concurrently," Schindler says of the CAFB donation and the two-pronged Boston Properties deal. "But NPR felt more comfortable completing the sale/redevelopment arrangement before the CAFB began using the building."

Space Ready to Roll, As-Is
How
the food bank used the building was another matter that NPR needed to resolve. Working with Studley, the media giant decided to eschew drawing up a traditional lease on its space.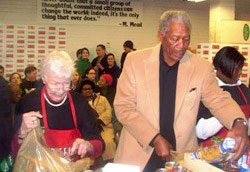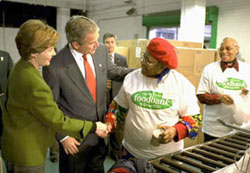 "As NPR's real estate advisor," says Schindler, "we decided that the most efficient way to handle the arrangement was to grant the CAFB a licensing agreement to occupy the space for a temporary period. Although atypical, the NPR real estate team agreed that it made more sense to secure a licensing agreement. That avoided the complexities of lease negotiations. And, most importantly, it expedited the move-in process."
The food bank's move-in was blessedly uncomplicated.
"One of the great things about this entire project was that the CAFB was able to occupy the space as-is, with very little modification," Schindler explains. "Since NPR's new headquarters at 1111 North Capitol is a former telephone warehouse, the loading docks and high ceilings worked out perfectly with CAFB's intended use."
"The process has been easy," food bank COO Smith says of moving his organization into the space. "They are not charging us for utilities, either."
A year from now, however, the food bank may again face an uneasy space situation. By then, the agreement with NPR will have ended, and Boston Properties will be working on redeveloping the NoMa space.
The CAFB did break ground in late October on a new distribution center
that's more than twice the size of the Taylor Street warehouse. That new facility, however, won't open until 2010.
Nevertheless, that uncertain future doesn't negate what's happening right now. NPR's space donation has still stirred up a wee bit of magic, leaving the world a little better place. More food is getting to more hungry people.
So yes, Virginia, there's your proof. There really
is
a Christmas gift that keeps giving.
It lives in the nation's capital. And it's still giving as we speak, glowing like a silver star atop a Christmas tree, throwing a little light out across this holiday season.