A
new leader in Washington says that the cures for America's economic woes won't be found inside the Beltway. Rather, he says, the answers will be discovered by alliances formed between private industry and government at the local and regional level.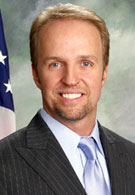 "I am a firm believer that economic development happens at the local level," says Brian McGowan, newly appointed U.S. Deputy Assistant Secretary of Commerce for Economic Development. "My message to corporate executives is that we must create more public-private partnerships. If we are to turn this economy around, we need you to partner with government. We want to partner with you and help you grow your business and hire more Americans."
McGowan, who serves as chief operating officer of the U.S. Economic Development Administration, sat down with
Site Selection
on Oct. 6 in Reno, Nev., for his first national interview since being appointed by President Obama on Sept. 15.
After running California's economic development office for Gov. Arnold Schwarzenegger, McGowan says he wanted a job "where I can have more impact."
"We were coming to the end of the Schwarzenegger administration, and I thought I could be most effective in Washington," McGowan says. "This was a White House appointment to a high-level position in the Obama administration. When the call came from the White House, I said yes."
Just don't expect him to be another federal bureaucrat, he warns. "We don't for one minute pretend or assume that we know it all," says McGowan. "EDA knows that economic developers will play an important and strategic role in economic recovery, and that will occur primarily at the local, regional and state level."
The top priorities of the Obama administration, he notes, are putting more Americans back to work and elevating the quality of the jobs they fill.
"For EDA to accomplish that goal, we must create a more effective organization that collaborates with regional and local economic developers," says McGowan, who holds degrees in political science, economics and business from the University of California and Claremont Graduate University, where he is completing his Ph.D. in American politics and policy.
"My job is to create the vision of a more collaborative EDA and then implement it. There will be more bottom-up idea-sharing and more listening to local experts to find the solutions to America's economic problems."
McGowan began his career in economic development at the local level, serving the Southern California cities of Ontario and Palm Springs before being appointed Economic Development Agency administrator for San Bernardino County.

'A Support Eco-System for Businesses'
Private industry must be part of the long-term fix for the American economy, he adds. "We have to find out what businesses need and then support them. I see EDA and the Department of Commerce becoming a support eco-system for businesses throughout their life cycle."
How EDA accomplishes that goal will be the work of McGowan and his new boss, John R. Fernandez, who on Sept. 11 was confirmed by the U.S. Senate as the new Assistant Secretary of Commerce for Economic Development. McGowan and Fernandez, a former mayor of Bloomington, Ind., work for U.S. Secretary of Commerce Gary Locke.
Together, they are charged with carrying out the mission of EDA: "To lead the federal economic development agenda by promoting innovation and competitiveness, preparing American regions for growth and success in the worldwide economy."
EDA fulfills that mission primarily by awarding grants targeting job creation in distressed communities. EDA investments share two principal goals: attracting capital investment and creating higher-skill, higher-wage jobs.
In fiscal year 2008, EDA awarded grants totaling $302 million. About $220 million went toward construction projects that were projected to create about 59,000 jobs and generate nearly $7 billion in private investment. "This yields an average cost of $3,697 per job and a private capital investment to taxpayer dollar ratio of 31 to one," the Department of Commerce annual report stated.
Most EDA funds go to public works projects that enable distressed communities to upgrade their physical infrastructure and, in turn, encourage business expansion, economic diversification, and job retention and expansion.
"Incentives, I believe, have created a market imperfection... If you are looking to steal a company from another state, why not grow your own business instead?"
— Brian McGowan, COO of EDA
McGowan says EDA must do a better job of evaluating the return on these investments. "There is no generally accepted model for measuring the economic impact of one piece of infrastructure versus another," he says. "But everything is measurable. How many jobs will these projects create? This is the missing element in evaluating EDA grants. We need metrics and standards that are consistent and reliable."
The same logic should be applied to incentives at the state and local level, he contends. "Incentives should be tied to a gap analysis. Companies should be required to prove that a gap exists before they are awarded incentives. In other words, would they have located there anyway, even if the incentives were not given? My advice to communities is this — instead of throwing money at companies, throw it at your work force. Incentives, I believe, have created a market imperfection."
McGowan says he witnessed the impact of incentives firsthand as head of
economic development in California
. Often, he could only watch as one California firm after the other accepted a lucrative offer to relocate to Nevada, Arizona, Utah or Colorado.
"If you are looking to steal a company from another state, why not grow your own business instead?" he asks. "What we need is strategic competition, but one that follows a multi-jurisdictional approach."
He does not advocate federal intervention in these state-vs.-state competitions, but he does suggest that cities and states explore "new opportunities for collaboration."
"When we work together, it makes America more competitive," McGowan says. "We have to recognize that old ways of thinking and old business practices don't work anymore. And while we live in a time of creative destruction, I believe that we also live in a time of incredible opportunity. There are huge opportunities for entrepreneurs and innovative companies in this new globalized economy.
"We must begin to see America as one big regional economy that competes against the rest of the world," he adds. "Chicago needs Los Angeles as much as Los Angeles needs Chicago. We need to ignore the lines drawn by economic developers."

Searching for New Answers
McGowan said his first order of business would be to outline the vision and strategic priorities of EDA over the next 60 days. "We need to create a very clear vision for what we need the EDA to be," he says. "It will take time to climb out of that trough."
Other EDA priorities include the following, he said: increasing the visibility of EDA; increasing the level of communication between the federal and local levels; promoting innovation and entrepreneurship; and "shifting our focus from economic crisis to economic recovery."
The silver lining in the current crisis, he noted, is that "America still does innovation and entrepreneurship better than anyone in the world. We need to support the development of innovation clusters around the country."
He also wants to discover the best way to measure economic development success. "That is an answer I want to find in this job," he admitted. "We have not been very good at measuring success, but ultimately, it's all about measuring growth in wages and growth in quality jobs. We need to develop best practices for metrics and benchmarking."
Finally, McGowan says, EDA will commit to closer collaboration with other agencies and organizations. Among them, he said, are the Invest in America agency, the International Economic Development Council and the National Association of Development Organizations.
"Foreign direct investment represents a huge opportunity as an economic development tool," he says. "International trade has been under-utilized as a tool for growth. We will partner with
Invest in America
in competing for jobs in the global economy."
The key, he said, is for companies and government to work together. "If we are all pushing in the same direction, we will get there faster."