The U.S. State Dept. has approved a request by the Cuban government to purchase $40 million in agriculture, wood and medical products.
The purchase, based on humanitarian needs after severe crop and property damage from Hurricane Michelle, was announced during a Nov. 14 meeting with Cuban officials in Havana to finalize the speakers' agenda for an upcoming conference on U.S. agriculture sales to Cuba.
This is the first Cuban purchase of U.S. products under new laws and regulations that modified U.S. sanctions against Cuba. The changes to the sanctions are the beginning efforts of Congress to open Cuban markets to U.S. business.
Cuba is open to moving quickly toward normalized trade and joint-business ventures, once political conditions allow the lifting of sanctions. This follows a trend of the U.S. signing a full trade agreement with Vietnam and supporting the entry of China into the WTO.

Cuba's Long-Term Goal:
Restore U.S. as Primary Trading Partner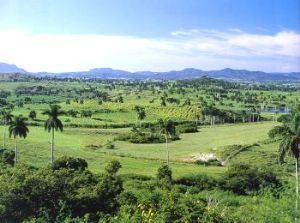 Cuba has noted that this is a one-time purchase. However, Cuban officials say they hope that this purchase will be taken as a goodwill gesture. They hope that Congress will use the gesture as justification to move early next year to lift sanctions on travel and U.S. loans. The long-term goal is to restore the U.S. as the primary trading partner with Cuba.
The U.S. Department of Agriculture estimates that there is an annual $1 billion to $2 billion market in U.S. agricultural and wood products sales to Cuba. This does not include a pent-up consumer demand for domestic goods, medical supplies, construction for a severe housing shortage, and an estimated infrastructure backlog of $4 billion in civil construction.
Several independent sources have estimated that Cuba's tourism will jump from 2 million to 7 million visitors a year when Congress and the administration allow normalized travel to Cuba. Currently, U.S. travel is limited to business from the food, wood and medical product fields, journalists and licensed educational tours.
Cuba is building luxury tourist hotels and facilities as quickly as possible to meet the anticipated flow of American tourists to visit the "forbidden Caribbean jewel." Several U.S.-based cruise lines have finalized plans to shift a significant portion of their operations from Miami to Cuba for the U.S. market. The airlines are tracking pending legislative changes to be prepared to support the cruise lines and vacation packagers as soon as travel restrictions are lifted.
Cuba currently must import from Canada and Europe more than 70 percent of the products consumed by tourists. Cuban officials see the U.S. as their closest and cheapest source to support this multi-billion-dollar market. The U.S. tourist dollars will in turn be used to pay for purchases of American-made goods to meet infrastructure and consumer demands.

Interest in JVs with U.S. Firms
The Cubans also are interested in a broad range of joint business ventures with U.S. companies to become a major manufacturer and net exporter. With a 100 percent literacy rate, and a proportionately high level of advanced-degree professionals seasoned in European, Canadian and Latin business standards, the Cubans are looking forward to a close partnership with the U.S. business community that will turn Cuba into the "Ireland of the Western Hemisphere." Cuba is already one of the top countries for basic medical care and a leader in biomedical research.
The Cuban government intends to send a senior delegation of business and regulatory leaders to the Jan. 30 through Feb. 2 sales conference in Cancun, Mexico. Conway Data Inc., the leading international publisher, research body and organizer of international economic development conferences, is co-organizer of the conference, along with a broad spectrum of business and government agencies.
Details on attending the conference to learn more about current and future market opportunities can be found at
www.WDSweb.com
.
---
©2001 Conway Data, Inc. All rights reserved. Data is from many sources and is not warranted to be accurate or current.