Spectator sports are a growing, multi-billion dollar business in many areas around the world. Facilities are becoming more and more elaborate. Dome-covered "sport cities" may be key activity centers of the future. What does this have to do with corporate facility planning? Perhaps it's time to take a look.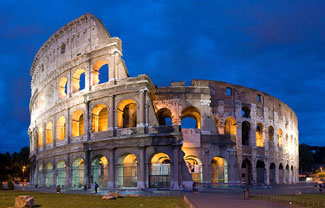 T
he development of spectator sports facilities has been important since the beginning of recorded history. The Greeks built their Olympic stadium in Athens of pure marble. The Colosseum in Rome stands as a monument to keen spectator interest. The amphitheaters located across Europe and the Middle East were wonders of design and construction. There was nothing cheap about those projects.
Today, new domed sports stadiums are the largest and most expensive projects in many of our cities. They stand as proof that spectator sports are important to athletes, fans, investors and civic leaders.
What does this mean to those who plan and locate new headquarters offices, manufacturing plants, research centers, distribution installations and other business facilities?
We believe most veteran site-selection executives would say that sports venues have been inserted far down their list of location factors, if at all. Yet, most of these same executives would say that they are enthusiastic sports fans – as are most of their bosses. Is there a disconnect here?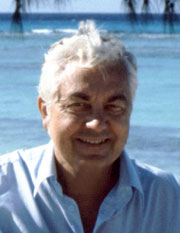 About the Author
McKinley Conway's voluminous and distinguished development history includes founding
Site Selection
,
the first-ever magazine focused on corporate real estate and economic development, and founding two industry associations that set the standard for the professional development – the International Development Research Council (IDRC) and the Industrial Asset Management Council (IAMC). Conway also created the industry's first development-focused Internet site, SiteNet, in 1983. And he founded Spruce Creek, the pioneering fly-in community near New Smyrna Beach. For more on Conway's sizeable development-industry legacy, click here.
More important, what does the future hold? Is this a factor that was not important in the past, but that will loom significantly larger in the years just ahead?
We have plenty of evidence that spectator sports are a strong and growing industry. It is also obvious that new, well-planned facilities are an important business success factor. Thus we find it easy to predict that venues of the future will be bigger, better and more expensive as more states and cities enter the worldwide competition.

A New Database
In order to get a better picture of this opportunity, we have taken a fresh look at the scope and mix of key sports facilities in the U.S. We have compiled a new database that includes the venues of our most substantial spectator sports.
We believe every city that hopes to hold a franchise for a major professional sport will eventually have to provide an all-weather indoor facility. There will be too much money involved to tolerate weather interruptions or customer discomfort. Thus, we started with a survey of domed stadiums large enough to accommodate football games.
Then we looked at sports enjoying strong attendance figures. Major League Baseball (MLB), with its 162-game season, is probably the most consistent attraction, setting attendance records decade after decade. In one recent year, seven teams each drew more than three million customers; 14 teams pulled in more than 2.5 million and 25 attracted two million. The total for all teams was more than 76 million, not counting minor league sites.
The National Basketball Association (NBA) is also a powerful attraction. The average attendance per NBA game has risen to more than 17,000, and the total league gate is more than 21 million a year. Each team plays 82 regular season games. Following that, top teams enter a playoff series that lasts for another six weeks.
The National Football League (NFL) is another growth industry. A new NFL attendance record was set last year, when more than 17 million fans attended 256 games.
College football is an even bigger attraction than pro ball, with more teams playing in many more locations. Altogether, 119 NCAA Division I teams played 745 home games, with an average attendance of 45,800 – a grand total of more than 34 million. The top draw was Michigan, with an average game crowd of 110,918. In second place was Penn State with 105,629 fans; followed by Tennessee (105,038), Ohio State (104,870) and Georgia (92,058). Next came LSU, Florida, Auburn, Texas and Oklahoma.

Bowling for Big Crowds
For another indicator of growth, look at college football bowls. The number has risen from four a few decades ago to 30 the past year. Average attendance zoomed to 51,000, and the total draw to more than 1.4 million for these one-day events.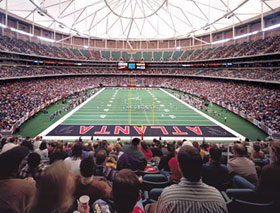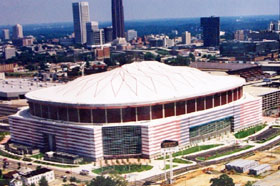 A major factor has been the new dome stadiums that provide fan comfort during adverse weather conditions.
A prime example is the Chick-fil-A Peach Bowl played in the Georgia Dome in Atlanta. Before the dome was built, the Peach Bowl struggled for existence. But since the game moved to the Georgia Dome, it has logged 11 straight sell-out crowds. Attendance last year was 74,413 – more than any other bowl except the BCS National Championship Game and the long-established Rose Bowl.
Golf may be the fastest-growing sport of all. First there was the PGA tour; then the Champions; next the Nationwide; and now there's a TV channel devoted exclusively to golf. You can watch golf around the world 24/7. The FBR Open at Scottsdale, Ariz., is credited with the biggest crowds. On one day during the 2008 tournament, there was a record crowd of more than 170,000. The entire FBR Open drew a grand total of more than 600,000 spectators.
We were also impressed by the size of crowds at NASCAR racing events. The annual Daytona 500 race attracts some 200,000 to Daytona Beach. That crowd is dwarfed by the turnout at Indianapolis for the Indy 500, where there are 250,000 grandstand seats, plus tens of thousands of standees.
For the National Hockey League (NHL), attendance per game runs from about 12,000 to more than 20,000. There are 82 regular-season NHL games. Total season attendance for a leading team may exceed 1.5 million. The outlook for growth is a bit murky, as the league struggles with the fact that hockey is a new and little-known sport for those in Southern states.
Another sport with difficult-to-predict attendance is thoroughbred horse racing. The tracks seem to have shot themselves in the foot by pressing for off-track betting parlors that now draw people away from the racing venues. Some of the best-known tracks, such as Hialeah, have closed. For our survey we did include the Triple Crown sites – the Kentucky Derby, the Preakness and the Belmont Stakes.
We included the venues for the United States Soccer Federation (USSF) because some advocates fervently believe that soccer will soon explode into prominence here as it has around the world. We wish them well.
Tennis at this time is a much stronger sport, even though geographic coverage is spotty. We included venues for U.S. tournaments held under the auspices of the Association of Tennis Professionals (ATP) and the Women's Tennis Association (WTA); typical crowds number several thousand. The biggest event of the year is the U.S. Open held at the 23,000-seat Arthur Ashe Stadium in Flushing, N.Y.

California, Texas and Ohio
Top States for Sports Sites
We left out many activities that may become important in the future, such as other women's teams and minor league clubs. Also, we will be criticized for not covering boxing, bull riding, swimming, ice skating and others. Altogether, we did include several hundred venues in a dozen categories.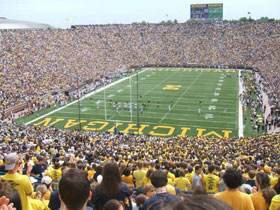 (For the purpose of counting venues we lumped college basketball with college football. The same institutions are involved and venues are on the same campuses.)
Our final tally revealed that the big three states in number of venues are California, Texas, and Florida.
From top to bottom, here are the state-by-state total numbers: California 40; Texas 33; Florida 31; New York 19; Ohio 17; Arizona 14; Michigan 14; Georgia 13; Louisiana 13; North Carolina 13; Pennsylvania 13; Illinois 12; Tennessee 11; Colorado 9; Alabama 8; Indiana 8; Massachusetts 8; District of Columbia 6; Kansas 6; Minnesota 6; Washington 6; Wisconsin 6; Hawaii 5; Idaho 5; Kentucky 5; Maryland 5; Missouri 5; Nevada 5; South Carolina 5; Utah 5; Virginia 5; Connecticut 4; Mississippi 4; New Mexico 4; New Jersey 3; Iowa 3; Oklahoma 3; Arkansas 2; New Hampshire 2; Nebraska 2; Oregon 2; Rhode Island 2; West Virginia 2; Delaware 1; Maine 1; Montana 1; North Dakota 1; South Dakota 1; Vermont 1; Wyoming 1; Alaska 0.
Among metro areas those ranking highest in venues were Los Angeles 12; Atlanta 11; Phoenix 11; Houston 10; New York 10; Chicago 9; Dallas 9; San Francisco 9; Detroit 8; New Orleans 8; San Diego 8; and Boston 7.
What does it all mean? We believe there is ample evidence to justify listing spectator sports venues as a significant quality-of-life factor.
But are sports venues more than that? Is there any direct link between the development of sports venues and, for example, the location of new industrial plants?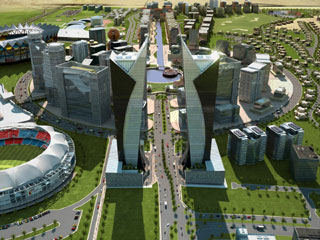 Will Sports Venues Create
Business Expansion Clusters?
We were curious enough to compare our new list of top sports venue states with our state tally of new plants for 2006,
published in the cover story of the March 2007 Site Selection
. We found that five of the top 10 sports venue states were also among the top 10 in number of new industrial plants attracted during the past year. They were Texas, Ohio, New York, Pennsylvania and Michigan. What that proves to us is that the economic appeal of an area attracts a wide range of investments – that may range from sports to manufacturing.
Peering into the future, we may see a more direct relation between sports venues and selected business facilities. At some location, a bold developer will soon launch a "Sports City" that includes a domed stadium surrounded by a cluster of related ventures – all joined by moving sidewalks and pedestrian shuttles. Such complexes are already emerging piecemeal at some existing stadium sites.
The new sports cities of the future will certainly include hotels, convention centers, restaurants and entertainment elements. And for a number of locations, an office park will be attractive. Backers may include manufacturing firms that have products associated with sports and entertainment. These developments will provide exciting new vistas for sports reporters, fans and corporate facility planners alike.
Meanwhile, here's a look at the present status of key sports venue development in the U.S.: