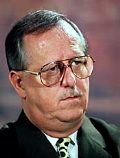 NASHVILLE, Tenn.
- Dennis Pawley has made a career out of making people feel uncomfortable with the status quo.
Whether it was challenging the conventional way of building cars at Chrysler or creating a learning center for professionals, Pawley says that one key thought has always motivated his leadership style: "If you are not driving change in your organization, you are replaceable."
While Pawley's message earlier this month was directed to automotive manufacturers at an industry conference in Nashville, his words could just as easily apply to all corporate real estate executives: Change, he said during the Automotive News New American Manufacturers Conference, or get out of the way and let someone else change your organization.
---
---
"Leadership can be defined as dealing with change," said Pawley, founder of the Lean Learning Center and former executive vice president and manufacturing for Chrysler, under Lee Iaccoca, in North America. "The cycle of change must always lead from the current reality to the vision in your organization. When the vision becomes the current reality, the cycle repeats."
Pawley witnessed this cycle firsthand as a top lieutenant for Iaccoca during Chrysler's turnaround in the 1980s and 1990s. At the pinnacle of his career, Pawley was responsible for more than 80,000 employees and 12 car and truck assembly plants along with five manufacturing technical centers and 18 component stamping and powertrain plants in the United States and Canada.
Every organization, he said, is led by one of two cultures - the slow culture or the speed culture. In the slow culture, change is stagnated by a resistance to change and blaming of others when things go wrong. The speed culture, by contrast, thrives because its leaders propel change by modeling it before the employees and by demanding it from everyone in the organization, from top to bottom, said Pawley.
"Leadership behavior will always drive the culture," he said. "Culture works to perpetuate itself. The larger the organization, the greater the cultural inertia." How do you know whether you are leading a culture of change or settling for the status quo? Pawley said you can tell by asking yourself the following questions:
Do you share an intense dissatisfaction with the status quo, or are you content to manage things the way they are?
Do you espouse a clear vision of the future, or is your vision stuck in the past?
Are you willing to take the mandatory first steps for changing your organization, or are you one of those company men and women who chronically resist change?
If something is not working in your organization, are you one of the first to propose a solution, or are you one of the first to assign blame?
Cherri Musser, chief information officer for General Motors Information Systems and Services Organization, told conference attendees that GM would aggressively pursue change over the next four years by incorporating e-business strategies into every facet of making and selling a vehicle. From supplier to customers, all future GM relationships will by driven by real-time sharing of information.
"All of our automotive processes must change," said Musser. "We have already reduced product complexity and design cycle times, and we must build to individual order."
By the year 2005, she said, GM will make the conversion from manufacturer-to-dealer-network to a "build-to-customer-order" model. Moreover, she said, "GM is committed to engaging the customer and fulfilling customer needs throughout the owner life-cycle."
Pawley says he not only welcomes such change among the Big Three Automakers; he thinks it is essential. "In the speed culture, we must ask ourselves: How do we make our products world class or keep them world class?"
Leadership that's not willing to deal with change, he said, isn't leadership.